Doc & Linda's Taiwan Mission Blog
October 15, 2017
We attended stake conference this morning. The theme was family unity and love in the home. I felt some of the talks were well prepared. The Stake Patriarch gave an excellent talk about reducing contention in the home. He had some personal experiences that were easy to relate to.
Tsomo came and sat between Sister Warner and Sister Abbott. I think she relates to the motherliness the two women exhibit. Since most of the talks were given in Chinese we heard them in translated English. The translation was good sometimes, and inconsistent other times so I don't know how much Tsomo understood.
It has been raining lightly all day. It's the kind of weather that is nice to sit by the window and watch, or work on a good puzzle.
This coming week is starting to fill with travel. We have a set of Elders in the south end who are going to move to a new area. The house they have found is unfurnished. If we rent that house we will need to take many of the appliances and furnishings they will need. We also have some repairs and other delivers to coordinate. I like the busy weeks.
I had an email exchange with Ron Hover last evening. Ron is trying to arrange for some of us who were at Oklahoma State at the same time to come fishing at DW this coming summer. We'll see what develops.
In the afternoon, I worked on my Sunday School lesson for next week, and for my talk on the 29th.
I suspect Blair and Jane are tired of waiting. We look forward to swapping ideas and experiences with them. Each mission, and area, have their own personalities. Mission presidents have learned modes of operation and we learn how to modify our habits to the mission president and his wife's needs. I have written several times recently about my concerns about how some of the missionaries teach. Mostly, about what they don't teach. With all my struggles over this concern, I have found no way to address what I perceive as a big problem. Thus, I'll leave it alone until an opportunity arrises.
October 14, 2017
I rained some today. It's the first rain in almost 2 months here in Taichung. It rains more often in the mountains so there is plenty of water for the plains areas.
We cleaned the apartment and stayed in all morning. I even had a nice nap. Sister Warner has lots of medical things going on right now, and didn't want to nap.
I reviewed that talk I will be giving later today.
I stayed home most of the day, until time to go to the Priesthood Leadership meeting. I gave my talk on Tithing in the meeting. It was hard to tell how well it was received because of the translation lag. I think I was close to my allotted time. Several of the Chinese brethren, who speak English, seemed to follow the subject and often nodded approval. Afterwards, in the meeting, the counselor in the Stake Presidency was teaching about being better husbands. He said he wanted to get some wisdom from the oldest man in the audience. That was me😊
It seems strange to me that I have been privileged to teach the Gospel throughout a large part of the world. I have taught across the United States and on the islands and mainland of Alaska. I have taught in several places in the Yukon Territory in Canada. Now I have preached the Gospel to people who speak Chuukese, Yapese, Bislama, French, Tahitian, Mandarin Chinese. I have taught people whose first languages are Tagalog from the Philippines, Mongolian, Cantonese, Japanese, from Turkey, from Thailand, and from Cambodia. Yet, I only speak English. My patriarchal blessing, given in 1959, promised that I would be a missionary at home and abroad. Why would we not have faith in inspiration and revelation to worthy Priesthood leaders? My life has gone a long way from a humble beginning in Nephi, Utah.
I left immediately following the meeting to pick up Sister Warner. She was waiting for me at Costco with groceries.
The weather is cooler, but very humid. We are forecast for a low of 75 tonight. Later next week the forecast is for lows in the lower 70's. Maybe summer is finally over.
October 13, 2017
We left the office at 7:30 AM and drove to Puli and inspected two apartments, one Elder's and one Sister's. Both were OK, but not sparkling clean. The first thrill is always finding the apartments where the GPS takes us. I knew where the Sister's apartment is so I didn't really need the GPS. Puli is in the mountains. The temperatures were about 10 degrees cooler than in Taichung. The light sprinkle also helped keep depress the temperatures. We thought about staying longer, but didn't.
We got to the office just before 11:00 AM and I finish the mail and went to the Post Office. We walked over to a Subway for a late lunch. We will venture further from the office during noon breaks now that the temperatures are moderating.
Abbotts came back from a missionary discussion and we compared our experiences of being with the young missionaries when they teach. We both felt the missionaries push too hard to get baptisms. I put this into the journal because it is a concern to me know even though I see no way for us to address the problem. Both Catherine and Tsomo have said they don't want to be baptized. In both cases I think it's because too much emphasis is being given to baptizing rather than teaching effectively so people want to be baptized. We pray every day for guidance and to know if there is more we can do.
October 12, 2017
We had a little reprieve from the heat today. Still hot, but not quite as humid.
The days are filled with tasks such as answering questions, sending out supplies, checking on back-orders, and ordering more things.
We finished moving the Sisters we started on yesterday. All we lacked was some desks, office chairs, a fan and a microwave.
At the end of the day, I have trouble remembering what I did that took so much time. Don't know if that's good or bad.
We had another lesion with Catherine this evening. General Conference has a positive impact on her. She is reading more in the Book of Mormon, and seems to be understanding. I don't say much during the discussions. I bring up occasional scriptures and clarify comments. I would like to be in the teaching role, but that's not what this mission is about.
I received two documents from recent apartment inspections. As I entered the information into the computer, I felt that the system was going to be successful. I can see how we can keep better track of apartment adequacy and cleanliness.
Sister Warner is buried in medical calls currently. In one medical issue, the companion won't follow instructions, and seems to think he knows more than Sister Warner. In reality, he's clueless.
October 11, 2017
Things at the office are steady, but slow. I had lots of mail because the Post Office has been closed since Friday. I went early to avoid big lines. It worked.
I worked on my Sacrament meeting talk for October 29th. I've been gathering materials for about a week and took time this morning to sort and compile the information. I have a good draft developed now. The overall subject is Temple Ordinances.
We spent much of the afternoon helping a set of Sisters move to a new apartment. We took the van to their apartment. There, we were joined by the District Leaders, and all of us packed and carried. No big furniture in this move. We made the move in two trips. We helped set up the beds in the new apartment and then left the Sisters to finish the project. It was hot and humid outside so we sweat through our shirts. At least it wasn't raining.
One of the Elders who helped with the move goes home in 10 weeks. He wanted to talk about what he should do about school, dating, and selecting a wife. I assured him that the girl would pick him and he didn't need to worry. I said before offering her a ring and he should meet, and carefully evaluate her mother. If the mother checks out, then go ahead and fall in love.
We came home about 5:00 with the intent to stay home and relax the rest of the evening. We are still doing our normal recovery on Wednesday, from the Tuesday evening English class. Sister Abbott loves shopping, so they go to the stores regularly, especially the grocery stores. They ask us what we need, and pick our groceries up for us. We don't miss the crowded isles of the stores.
October 10, 2017
This was the last day of the Harvest Holiday. I worked on inventory control of missionary supplies for much of the morning. I order things from Taipei and if they have what I order they will send them out immediately. If they don't have what I order, I must remind them again in a few weeks or they will never send the order. This requires me to have a good system of tracking orders sent and orders received.
I walked to the office supply store this morning with Elder Abbott. I found a large tape dispenser like I've been looking for for months. When I need to send out orders that are too large for envelopes, but too small for boxes, I wrap them in wrapping paper. I need to put a small piece of tape to hold the folds until I can put the 2" final tape on. Pulling the tape from the small dispensers is a 2-hand operation because the dispenser slide across the desktop. The new dispenser is heavier and I can pull tape off with one hand.
I spent much of the afternoon working on my Sacrament meeting talk for October 29th. I used the definition of "Sealed by the Holy Spirit of Promise" from page 91 of Preach My Gospel as a beginning point. I have taken some materials from the "Preparing to Enter the Holy Temple" to make sure I'm safe in talking about the ordinances. My descriptions are just scriptures pertaining to the subject under discussion. Plus, some quotes from Elder's Talmage and Widtsoe.
English class was larger than we expected because it was a holiday. Our interactions provide a variety of missionary opportunities. Tonight, a young recently returned missionary who served in Spokane talked with me about trying to get resettled. She has a degree in Statistics, but isn't sure that's what she wants to do. However, she's concerned about upsetting her parents if she goes back to school and studies in a different field. Interesting customs among the Chinese. I told her it didn't matter what she studied she would use her statistics. I will keep encouraging her to go back to school, even if it's through the Pathways program.
I exchanged emails with Matt today. We would like to put together a hunting trip for next fall. I've invited Mark to bring his son(s) and join us. Lisa and our other daughters are also invited if interested. I suggested they coordinate with Ron Jibson. Some of the drawings for permits occur this fall I think.
October 9, 2017
It was a holiday here associated with the harvest season. The office was quiet as far as traffic was concerned. Sister Warner did some refereeing for a set of Elders. One, a local, is the senior and won't let his companion teach, so the companion says. It appears to be a case of supreme micro managing. She was glad to pass the information on to the President.
We had a broken dryer belt to repair, and the GPS couldn't find the apartment. I knew we were close so we called the Sisters and they guided us in.
I had lots of orders to prepare, but can't mail them until after the holidays. That will be Wednesday.
After fixing the dryer we went to Ikea to buy bedding for some Sisters. It was sooo crowded. We had to push a cart, and we moved at the pace of the slowest person in the line. Even the soft ice cream reward for my efforts can't make shopping in these crowded conditions a fun outing.
About the time we were getting settled for the evening, the Abbotts called and wanted us to go to the hospital with them to administer to a several-week-old infant. I put my tie back on and we walked to the hospital with them. The Abbotts weren't sure which hospital building to go to. When we got there the family was there. The baby was in isolation and the staff are very careful about who can go into the area. The father of the child is Melchizedek Priesthood so I felt the chances of being able to give a blessing were better is only two men went in so I stayed out with the ladies.
October 8, 2017
We attended both session of Conference at the chapel. Catherine stayed for both session. We pooled our lunch materials, and invited Tsomo to join us. For Linda and me it was a spiritual feast. A motivator to be better; to do better; to serve more. I don't know how much either Catherine of Tsomo understand so it's hard to judge how much they learn and feel. For Catherine, we hope she feels the truthfulness of the message, and she develops a need to know the Church is true. For Tsomo we hope she decides she wants the Church to be a part of her life.
I finished the puzzle I have been working on. The last 300+ piece were difficult because many pieces were almost the same shape and all were dark. I think I'll wait to closer when Lisa comes before putting my last puzzle up.
The coming Saturday, I have been asked to speak on Tithing in the Priesthood Leadership meeting. I have attached that talk to this journal for those who have time to read it.
Immediately following conference, while we were still in the chapel, a Chinese Sister came and wanted to talk with me. She said she was 60 years old. She spends 6 months of the year in Australia and 6 months in Taiwan. Her husband lives in Taiwan and has a business here. The separation is causing marital disharmony. He is not a member. She wanted to know if she should divorce him. I told her that she had good information from the conference. She should be patient and exercise the privilege of fasting and prayer. I suggested that she make a decision, and take the decision to the Lord, and she would receive an answer. We also suggested that in her considerations she should include giving up her business in Australia and come back to Taiwan and be a full-time wife.
Missionary medical has been busy today. I may start pushing for Sister Warner to do more onsite visits with the missionaries who have problems. I don't like the current routine for mental health issues: complain to the mission president; get a referral to Area Mental Health; have several therapy sessions; if problems persist get an appointment with a psychiatrist so he/she can prescribe drugs; keep trying other drugs to make the person feel good. It seems like such a futile circle. Some of the patients seem to improve; some just keep looking for magic bullets. It makes me weary.
October 7, 2017
We had an appointment with Catherine to watch the morning session of Conference at the Wuquan Chapel. After watching the session, when they announced what time the afternoon session would start, she asked if we were going to watch it. She indicated she would like would like to watch it, we said we would stay. We ate a hamburger together and then watched the afternoon session. Not a bad P-day.
Afterwards, she gave us a ride home and said she would like to come and watch the Sunday sessions. We agreed, but told her we would bring a lunch because we didn't want to shop on Sunday. A discussion of keeping the Sabbath Day holy followed. She was open to the idea. I have said that the difficulty Catherine has been having in gaining a testimony, is because she hasn't been searching for the true religion. Her reason for contacting us was to keep her English current. She didn't perceive a need for a true Church. Maybe, watching conference will be the event that helps her recognize what a treasure she has been exposed to.
I have watched the Priesthood session and Saturday afternoon sessions once each, and the Saturday morning session 3 times. The recurring theme of looking outside yourself has been strong. I can relate to the feelings that sometimes we are just hanging on to do all that we feel is required of us. However, when we start looking outward we see how much more that we can do.
President Nelson's talk about studying the Book of Mormon more is more difficult for us than it seems on the surface. We don't have study time in the morning. We get up about 6. By the time we shower, get dressed for the day, and eat breakfast, it's time to leave for the office. We arrive at work between 8 and 8:15. We don't often have study time during the day. By the time we get home in the evenings and eat it's after 7:00 PM. I read some after this time, but my comprehension and retention are not at their strongest. Maybe, now they can drink caffeinated drinks at the Y I will be able to stay awake better
October 6, 2017
Just after arriving at work we received a call for the Elders in Xinying. The had called yesterday with fridge problems. A technician came and checked their fridge and said it was too old to fix. Parts are no longer available. We had a fridge in the warehouse so Elder Abbott and I loaded it in the van and drove the hour and 20 minutes south to Xinying to deliver the fridge. We also took some shelving to the Elders in Taibao—about 20 minutes driving time from Xinying. While in Taibao we invited to the Elders to go to lunch with us. They said OK, but they were doing exchanges and there were 5 of them, not just the 2 we were talking to. We took them all to McDonald's. Once again, I have decided that to say "good food" and "McDonald's" together in the same sentence, is an oxymoron.
I had an appointment for a consultation with the Endodontist at 3:00 PM Sister Warner and I arrived a few minutes early and we able to visit with the Dr. at 4:15. He spoke good English, and seemed to like talking to us in English. He poked and probed, told me it would hurt which it did, and then said he can't see the condition of the tooth just under the crown. X-rays don't penetrate to porcelain of the crown. He will set up an appointment for the periodontist to remove the crown and put on a temporary crown. They will observe the tooth condition and then decide it the root canal is needed. If needed, I will then then have the root canal. Later, they will put on a permanent crown. He said the whole process will take about 2 months.
One of the take-aways from today's travel was the importance of standardizing equipment and appliance purchases. If you shop sales, you can save money in the short term. But, when repairs are needed, a lot of time can be consumed looking for someone to do the repairs. And, just like today, we may learn that no one carries that brand anymore so no parts are available. However, if we standardize on one brand, in our case Panasonic, it only takes one call to get an appliance serviced anywhere in our mission. If the appliance is not repairable, and we don't have any in storage, I can just tell the vendor to install a new one and haul the old one to the recycler. It greatly reduces time requirements for us and the young missionaries.
October 5, 2017
I went to the Dentist first thing in the morning. I thought they were going to replace a cap. After waiting for about an hour we went in to see an Endodontist. We were pleased with his English. He spent 5 years training in Texas. He looked at the X-rays from yesterday, then poked and tapped on the teeth in the sore area. He then looked closely at the X-rays again and said I have an infection/cyst above the sore tooth. I need a root canal. We meet for a consultation with another doctor tomorrow afternoon. Following the consultation, I anticipate a date will be set of the root canal. On the day they do the canal they will take off the old crown, do the root canal, and put a temporary crown back on the tooth. About a week later they will put a permanent crown on. I'm OK with the diagnosis because I've had a lot of discomfort from this tooth over a period of several years.
We ran errands In the afternoon. We delivered keys to a new apartment to the Sisters who will be moving there. We took some extra small appliances to the warehouse. While we were there Linda saw a chair she wanted to use in our office at the apartment. When I tried to push it I found that the wheels wouldn't turn. The wheels were full of women's hair. I don't know how many years the wheels rolled back and forth in the hair. We took the wheels off when we got back to the office and tried to clean out the hair. I worked on the wheel for 2 hours and cleaned two of them enough that they were usable. Tomorrow, I will work on the other three wheels.
The missionaries taught Catherine again tonight. I worked on the wheels and didn't join the discussion until later. We have a nice friendship with her, but she still seems to have little interest in the gospel. She said she will come and watch the Saturday morning session of conference with us at the Church.
October 4, 2017
It is Harvest Holiday today and things were quiet in the office. I used the open time to clean off my desk and finish some small projects. Both Linda and I were feeling the effects of the late evening, with long time on our feet. We came home about 30 minutes early from the office.
I used some of my free time to work on my Sacrament Meeting talk that will occur on the 29th of October. I read much of the pamphlet "Preparing to go to the Holy Temple" to see how they talked about the temple covenants and ordinances. I want to be careful in what I discuss.
We listened to the Saturday morning session of conference. While listening I worked on the puzzle.
October 3, 2017
I didn't sleep well last night. Partly, because of the big meat meal I ate, and partly because I have some teeth that have been sore the past few days. Sometimes the teeth are so tender I can't bite on them, and other times it doesn't hurt to chew. I had the same problem earlier this summer and it went away when I used mouthwash several times a day. I gave up today and went to the medical center and got an appointment with an Endodontist. I was sure I needed a root canal. They did the X-rays and the Endodontist said the area around the roots of my teeth looked fine. The problem appears to be an old crown on one of my teeth is pushing so closely on the next tooth that food gets trapped and causes a topical infection. They cleaned my teeth (I cost me about $4 US) and I'm scheduled for a crown replacement on Thursday. Pretty tough, you go in prepared for a root canal and get your teeth cleaned.
I finished the first part of the inspection documentation, and we will go live next week. I still need to finish the instructions to the Senior Couples who will be doing the inspections. We talked with President for a few minutes about apartments where missionaries are sleeping with two mattresses that lay on the floor. No bed frames. As part of our upgrading we will look for bedframes, and throw away older, worn and dirty, mattresses.
It's looking like we have another trip going down south to Gaoxiong. We are waiting to hear if we need to deliver a dryer. We already need to check an apartment in Tainan, which is almost to Gaoxiong, and deliver some shelving to Taiboa, which is also in the same area.
Tomorrow is the harvest holiday so most businesses will be closed. They also have more holidays next week. That will limit the work we can get done.
Linda taught the English class tonight. The subject was Getting a Loan. We had 18 students and they knew little about borrowing, interest, principle, rates, and all the things associated with borrowing money.
Mark called toward the end of the class. We talked for some time, sharing ideas and dreams about Doc Warner's. I miss the comparing of ideas. Then seeking to understand the challenges. The working out of solutions. These conversations are solace to my soul.
It was almost 10 PM when we got home.
October 2, 2017
We stayed busy with first-of-month duties this morning. Four car inspections, updating the database for the newly opened missionary proselyting areas, and a trip to Costco for Sister Teh. I spent several hours working on data sheets for apartment inspections and content. I still have several more days of work getting the documents ready for those who will be doing the inspecting. Afterwards, it will just be a matter of keeping documents current.
Tomorrow is Sister Abbott's birthday. Because we have English class tomorrow evening, we celebrated her birthday tonight. Abbotts, Tehs, and Warners went to a Smokey Joes restaurant and ate the Chinese version of Tex-Mex. I've never been much of a ribs fan and tonight I realized why. On your plate it looks like a lot of food when you look at the ribs. However, unless you can find a way to eat the bones, there really isn't much meat on ribs. We are relaxed together as couples which makes for an enjoyable evening.
We learned that our neighbor, Jan Van de Merwe passed away today. Lisa called and gave us the news. His grandson is serving in our mission, and a nice, energetic missionary.
I've decided that much of the fatigue I have felt of late is just age. It isn't going to change so I should just get on with life and quit complaining. It's my choice to either be grumpy or happy. The discomforts of aging don't care how I respond. They will probably be my close associates until the end.
October 1, 2017
We watched the Priesthood Session of General Conference live. It started at 8:00 AM our time. The reception was good until the end of President Eyring's talk. We lost the Internet connection at that point. After Church today we plan to watch some of the morning session.
No one came to our Sunday School class. The past few weeks our numbers have dwindled and today only Sister Warner, Elder Abbott, and me were present. With viewing of General Conference next week, and Stake Conference the following week, I don't have a lesson preparation for 3 weeks. Previously, my class only had one or two members and the rest have been investigators.
We found that nap Lynette has made sound so good. It was. The long, hard days from last week caught up with us. In Priesthood meeting the instructor kept speaking too loud and waking me up. Oh well, Church has never been a place one could get a good nap anyway.
I worked on my talk, to be given at Stake Priesthood Leadership Meeting, on the 14th of October. My subject is Tithing. I have 20 minutes, but using a translator will reduce my talk to about 9 minutes.
September 30, 2017
We went to the Natural History Museum with the Abbotts and Dings. The first section we went into, was about Buddha and the history of the Buddhist religion coming from India into Taiwan. It was brought in by Chinese leaders. Most growth occurred between 500 and 1000 years after Christ. Interestingly, all of the Buddhist scriptures are interpretation of pictures that were drawn. There was no actual text written—just pictures drawn. It's a world of ghosts and spirits, and all male deities. Many of its beliefs would make good fantasy movies. It does have strong doctrines encouraging peaceful living, and respect of others. We see that in Taiwan on a regular basis. The strong base of reincarnation principles gives people the impression they can be wicked (enjoy the baser things in this life) and then be more righteous the next time around.
The had a beautiful arboretum in the complex. It was like wandering through a jungle rainforest.
We went looking for the See's Chocolate store to buy some chocolates for Sister Abbott's birthday on Tuesday. Alas, we found the store but it was a vacant location. We found the location for the new Texas Roadhouse Restaurant. It looks to be several weeks before it will be open for business.
I was tired all day. The effects of a long, strenuous week. Elder Abbott remarked that he would like to just stay home for one day. His wife, and Sister Warner, are similar in their feeling like they need to be out and doing something all the time. They feed off each other.
September 29, 2017
Today at work was intense because of the computer work and measuring that needed to take place. I prepared large envelopes to send the October Liahonas out to the District Leaders. Keeping track of how many English and Chinese copies go to each District requires more concentration than it used to. I made three trips to the Post Office today, with heavy loads. I then launched into a project to convert Excel data on tabs in a spreadsheet into a format that I could print them. Each sheet needed to have instructions on the back so it took more prep time.
We are reprinting some new pamphlets for use with newly arriving missionaries. I received the proofs yesterday and the Assistants proofed them. The printer came today and we discussed the needed changes. They will bring more proofs back next week.
Meanwhile, we are starting a recognition program for missionaries who keep sparkling clean apartments. Today, I wrote some of the instructions to Senior Couples who will do the inspecting. I also started printing the inventory and inspection forms. It is all in English, with a cheat-sheet for the Chinese speakers. I anticipate the follow up will be a never ending process.
We had a nice conversation with Mark this morning, getting caught up on his family. We feel spoiled. In a 24-hour period we talked to Lisa, Lynda, Lynette, and Mark.
President Teh came to the office and visited for about 30 minutes. He was taking a break and finds the office a 'safe' space when there are no young missionaries there.
September 28, 2017
Another early start to a long day. The new missionaries leave at 6:00AM for an hour of exercising. They return to our apartment about 7:10. In the hour they are gone we must get ready for the day, including showers and breakfast. (The missionaries eat at the mission home.) When they return from exercising, they use both bathrooms to get ready for the day. It pushes us to get them all ready and out the door by 8:00AM. As soon as we get to the office the whirlwind begins. Documents, supplies, meal pickups, orders to get out, arrangement for shipping 20 bicycles, phones ready, and supplies purchased in the store.
After all the orientation, the office fills with missionaries picking up supplies and saying goodbye as they head to their new fields of labor. Immediately, we begin our catch-up process from being gone, or doing non-regular activities.
I worked on the documents for apartment inspections. The Assistant who compiled them but each District in a Zone as tabs in the zone file. I learned you can't attach a tab document to an email. So, I had to create a new file for each tab. Tedious and time consuming. I spent several hours addressing envelopes, getting ready to mail out the October Liahonas.
We had another lesson with Catherine tonight. She likes us as friends, but is not diligent in searching for truth. She still not sure about the Spirit World, and likes the idea of reincarnation better. After the Elders left I talk with her about the scriptures being our guide. If someone tells about a person with special powers, find an example in the scriptures before you believe the story.
We got home just before 7:00PM. Both are tired and feeling our ages tonight. Occasionally, I get a glimpse of what lies ahead if we live long enough. Not an exciting look into the future.
September 27, 2017
We enjoy having the young missionaries stay with us. Six of the new Elders slept in our extra rooms last evening, and again tonight. The only downside is that they go exercise at 6:00AM and we must be up and show them where to go. It makes for a long day.
We have been gone from the office most of the last two days. The supplies requests had piled up and it took me most of the day, and two trips to the Post Office to get almost caught up. I will be busy again tomorrow getting mailers ready. I will mail out the October Liahonas to all the missionaries.
I've been thinking a lot about parenting the past few days. I reflected on my knowledge of prophets in the Old Testament, New Testament, Doctrine and Covenants, and Book of Mormon. The only example of a prophet being chastised for lack of parenting effort was Eli in the Old Testament. Joseph Smith was chastised, but not because of his care for his family. One the other hand, Lehi lost 50% of his sons to poor choices. Mosiah was losing three of his sons until the Lord intervened. Alma Sr. was losing one of his sons. Alma the younger almost lost a son. The conclusion I keep coming to, is that when individuals start exercising their agency there is no guarantee of the outcome. We have many acquaintances, who are great people, devoted parents, and often filled with sorrow because of choices loved ones make. The ultimate blame, if one could be assessed, lies with the decision maker. The agency exerciser.
September 26, 2017
Up early and to the office shortly after 7:00AM. After some quick housekeeping tasks we loaded onto the bus and went to Taipei with President and Sister Teh, the Assistants, and 4 Sisters who have finished their mission. We attended the temple and Sister Warner and I were the witness couple. Everything was in Chinese, but we had ear phones. The prayer circle is a different kind of experience when the prayer is in a foreign language.
The 20 new missionaries are a bright, impressive group. They look like they will be good missionaries.
September 25, 2017
We got up a little early so we could have breakfast and be at the office by 7:00AM. Elder Abbott and I left the office at 7:20 and drove to Hengchun. The GPS says it's 289km one way (for you non-metric people, divide the 289 by 1.6 to get miles). We made the trip down in about 3.5 hours.
With the help of the Elders, we put together the bunkbed, 4 chairs, and a metal wardrobe. It took about an hour. Hengchun is the southern-most part of Taiwan, and it's hotter down there even though it has a steady wind coming off the ocean. The Elder's apartment only has A/C in the bedroom and we were working in non-air conditioned rooms. I soaked my shirt with perspiration.
After we finished we took to Elders out for lunch at McDonald's, said goodbye to Elder Tan, and took Elder Davis back to Taichung with us. We took him to his new area in a suburb of Taichung, helped a missionary transport his luggage from that apartment over to Dongying, then went to the office. We had been gone 10 hours and traveled over 600km.
We chatted in the office for a few minutes with Sisters Andrew and Spangler. They both go home tomorrow. Sister Spangler was in the area of Taichung, close to the office, when we arrived. We have enjoyed her outgoing, bubbly personality. On the way home walking, we stopped in at a 7-eleven and bought a soft ice cream. It tasted good in the hot climate.
September 24, 2017
Good experience in Church today. We only had 2 investigators and one recent convert attend. The subject was the scriptures. I did a short definition of the Standard Works and then Elder Abbott did a session on using the scriptural references such as Topical Guide, Bible Dictionary, and Indexes. The class became involved. During one segment, while I was explaining the need for additional scripture because the Bible was incomplete, our Mongolian investigator, Tsomo, started nodding her head in agreement. She understood and accepted the need for additional scriptures.
I learned something today in my lesson preparation that somehow, I have missed in the past. Jared and his brother were contemporaries with Abraham. According to the Bible chronology, Abraham would have been about 42 at the time of the confounding of languages. Additionally, about that same time, Abraham's father, Terah, moved to a new place. Possibly because of the confusion associated with the confounding of tongues.
After dinner, we watched the rebroadcast of Women's Conference. The teachings of the Church leaders are so timely. So correct concerning today's pressures throughout the world.
We (Elder Abbott and I) are planning on leaving about 7:00AM for our trip to Hengchun. It will be a long day. The next day Sister Warner and I will leave for Taipei with President and Sister Teh and the 4 Sisters who are going home. We will attend a temple session, then go to the airport and pick up 20 newly arriving missionaries. When we mark time by transfer dates, we only have three more transfers. Then we come home on the forth one. We'll see how the next 24 weeks bring new challenges.
September 23, 2017
We spent most of the morning taking down a set of bunkbeds in our apartment and loading them into the van for the trip to Hengchun on Monday. We also had the Assistants arrange with Panasonic to install another air conditioner in that apartment. Later in the evening the Elders from Hengchun called and wanted to know why Panasonic wanted to install another air conditioner in their apartment. They were unaware of the transfers which will make their apartment a 4-person abode. I told them of the transfer, but didn't know who the missionaries were who would be coming in.
The weather is hot and humid again. Lots of heavy lifting, accompanied by plenty of perspiration. I hope this is the last blast of summer.
We took a long nap in the afternoon and then worked on our lessons for tomorrow. Sister Warner is teaching a young Primary class and I have the Gospel Principles class.
In the evening, we needed to take some money to the Elders who live above the Dakeng storage unit. While we were there we picked up some shelving for our apartment.
September 22, 2017
It has been a busy and long day. I worked on the inventory and apartment cleanliness project for much of the morning. Sister Warner is buried in medical calls. They begin just after 6 in the morning and sometimes come after 10:30 at night.
I met for a few minutes with the auditor. She has never audited a mission that is as well organized as we are. Mostly, because the office staff in other missions is heavily young missionaries. We've had a lot more experience in inventory and business management. The auditor made some suggestion in how we handle the sale of garments to the missionaries. She thinks the missionaries should order through the ward Liahona Directors. She was trying to lessen our work load. On-the-other-hand, we want to stay busy and giving away some of our work doesn't help with that. More importantly, we are here to serve the young missionaries and I don't think anyone here can do a better job than we are doing.
The Hengchun move bounced around all day. We finally made the decision late this afternoon that we will take the bunkbed and mattresses from here in Taichung, and not take a chance on things not being available down there. Elder Abbott and I will drive the van down and back on Monday. The trip, not counting unloading and assembling furniture, will take 8 to 10 hours. Elder Abbott is going so we will have two drivers.
After work, we grabbed a hamburger and went to Ikea to buy kitchen chairs and pillows to take with us on Monday. Friday night traffic is always heavy, and it takes a long time to purchase even small items in Ikea. I got home just before 9:00 PM.
I offered to teach the Plan of Salvation in District meetings here in our Zone. I'm looking for some way to expand the young missionaries' knowledge and appreciation for the great Plan. After several disappointing experiences watching them teach, I decided to try and be active in helping them improve.
We went with Elder and Sister Ding to look at a potential apartment for the Dongying Sisters. The apartment was OK, nothing fancy. However, it had queen beds in two of the three bedrooms. Missionary standard says missionaries sleep in the same room, on twin sized beds. The landlord said he didn't have any place to store the larger beds and suggested we use one of the bedroom for storage. I said 'no!' because the missionaries would not have a place to put their study desks in an area with air conditioning. The search will continue.
September 21, 2017
The exchange rate for the Taiwanese Dollar versus the US Dollar is 1:34 right now. Two months ago the rate was 1:30. Essentially, things are 12% cheaper now for us than they were two months ago. I thought about buying a new cell phone, but it's not repairable in the US so I gave up on the idea.
We are being audited. The auditor is a young lady from Hong Kong. She graduated from BYU-Idaho in finance. Things are going well, but audits are always a little nerve-racking.
I went to the bank this morning to withdraw some money. I usually take out about $300 US. Today, I asked for $600. The monitor on the ATM indicated that the card had been accepted. It printed out a receipt, but gave me no money. I couldn't tell from the receipt whether our account had been charged $600 or not. I had to wait 20 minutes for the bank to open. I had the usual language difficulties communicating, but finally the teller told me I had exceeded my limit. At first I thought maybe our US checking account had been tapped and drained. The teller then told me that no money had been deducted for the $600 request, and for me to go try a smaller amount. I went back to the ATM and asked for $300. It gave it to me. I then compared the two receipts and could see a difference. To make sure, I called Lisa and she checked our US account and only $300 had been withdrawn. I was relieved.
We sat in another discussion with Catherine tonight. I don't know how to help the Elders in their teaching skills. She's not learning, and they are frustrated because she won't commit to baptism. She won't commit because she doesn't understand the Gospel. She did agree to come to Sunday School this Sunday so we can have more exposure to her with us in the teaching role.
We started preparing for the transfers and new missionaries next week. We will hold mail until the transfers are finalized. Then, we will send out mail to those who are not involved in transfers. I'm getting phones ready for the areas we will be reopening.
September 20, 2017
We took a box springs to some Elders in Yuanlin, and then went on to Taibao to deliver a washer to another set of Elders. We left the office at 9:00AM and got back at 4:00PM. About half of the time was spent driving. It was a nice change to get onto the road for a few hours, but nothing like a ride in the wide open spaces of the western US.
The number of missionaries who are on medications for various forms of mental illness is a growing concern for me. Some are coming into the field already on meds. Mostly, they complain of depression. I've expressed concern about this before in my journal. I'm guessing that as many as 20% of the missionaries may be taking meds for their emotional challenges. Also, the number of missionaries leaving the field early is much higher than on earlier missions. Add to that, the number of YSA, born in the 90's and early 2000's who are leaving activity in the Church has increased dramatically over the past 10 years. Is it all related? I wonder if part of the reason the Brethren have put the mission presidents on a cycle of interview all missionaries every 6 weeks has something to do with dealing with this problem. If this were a mosquito born illness we would call it an epidemic.
September 19, 2017
The Abbotts were out doing apartment inspections and repairs, and we were in the office, with Elder and Sister Ding, during most of the day. I worked on my Sunday School lesson for about an hour.
President wanted a detailed report on where those people who are being baptized, are first contacted. What are the sources of baptisms, and which methods are the most productive. The comparison was among direct missionary contacts, English classes, member referrals, less-active teaching, and self-referrals. I used to give that information to him on a monthly basis before the Church Key Indicators program was changed last January. I think we may start collecting the data again. One of the big questions pertains to if all the effort we put into English classes bears sufficient fruit to continue after the first of the year. I think the conclusion will be to continue teaching English.
Our English class went well. Elder and Sister Abbott will teach for us next week, so they came and observed our class tonight. We have a very loyal class.
I had a nice visit with Mark today. I also learned, sadly, that one of our Bountiful neighbors and friend, Joel Brown, is dying from progressive heart failure. He isn't expected to live much longer.
The new couple that is coming in December will be assigned to Self-Reliance and will live in Gaoxiong. President wants us to find an apartment for them. Elder and Sister Ferguson will do most of the leg-work of finding the apartment, and we will go down to approve it. President, also said today, that he wants to put a second set of Elders in the Hengchun Branch. If he does put the second set there, it will require us to haul beds and other furnishings there before the new missionaries arrive. Hengchun is the southern-most city on the island. It will take over 3 hours driving-time each way.
September 18, 2017
It was slow at the office so we went shopping for groceries, with Elder Abbott, while Sister Abbott stayed to manage the office. We had run low on groceries, but the crowds are so big after about 10:30 in the morning that we went for the 10:00 opening. It's hard to visualize how crowded the stores can be here until you experience the crunch. Costco can park about 300 cars on two levels underground. Within 30 minutes of opening, on a Monday no less, all the parking spots are filled and a line over a block long is waiting to get in. Bountiful Costco never saw crowds like this.
I worked on inventories of various types in the afternoon. President usually comes in on Monday and adds some tasks to our schedules, but Sister Teh is not feeling well so we didn't see him today.
In the past two months, we have been organizing apartment inspections to where every apartment is now being inspected regularly. This now adds a new responsibility for me to track. I must approve, and monitor, many improvements and repairs in the apartments. Much of the load for arranging for the repairs falls to the missionaries, then they report back to me. I track the repairs, and approve payments. Sister Warner is also heavily involved in the process. Elder Abbott is the one who actually pays the bills. I'm developing a log of the repairs, and tying it to each individual apartment.
In the evening, we took Catherine, her aunt, and two nieces to dinner, along with the Assistants, to dinner. We did it as part of the service associated with the death of her sister, Emily. Emily died of colon cancer last week. We ate across the street from the office in a hot-pot restaurant. The tables have built-in cooking surfaces. The servers bring a steady supply of meats, thinly sliced, and a large variety of vegetables. A pan on the heating surface has water, soy sauce, and othering flavorings. The liquid is heated to a boil, and you add the edibles into the pot yourself. You oversee the cooking. The server just keeps bringing more things to put into the pot, until you say enough. We had 8 people for the meal.
The days are still hot, but the evenings have cooled slightly. No moisture in the forecast. Highs in the upper 80's and lows in the mid 70's. This is better than the hot weather.
September 10, 2017
A nice Sunday. The talks in Sacrament Meeting were well prepared and informative. I administered at the Sacrament table, and other than trying to bless the bread twice, I did OK. My Sunday School class went well. I felt better prepared. The languages are always a challenge. Today, I had Chinese, Tagalog, Turkish, and English. The subject was Prayer. I taught the lesson from the perspective of Agency. The main point being that Heavenly Father cannot take away our agency, but when we invite him to help, through our prayers, He can give us the help we need without violating our agency. The class responded a little better. I'll keep working on better participation. Since most of the class cannot come every week, because of work schedules, I'm never quite sure who I'm preparing to teach.
I think all the guests are gone from the lodge now. Even though I'm not involved physically, emotionally I work there almost every day. I just do the easy things.
Our little English Branch has been assigned to sing a choir number at the stake conference the 3rd week of October. Choir practice began today. I'm going to sing bass and lip-sink.
We had a quiet evening at home. I made headway on the new puzzle, and we spent time listening to several chapter from the book of Ether. We also read together from the new book about the last book in the New Testament, Revelation.
Tomorrow we will start the preparations for newly arriving missionaries who are coming in two weeks. We will need to open 5 or 6 apartments, in addition to the one we are closing because it is too old. We also have several apartments that need inspecting, and we need to deliver some furniture to Tainin (about 2 hours driving time, one way).
September 9, 2017
I'm still tired from the long day yesterday. We had a nice conversation with Mark and Lynda. Today was the last day of the fishing season, with guests present. It has been a good summer. Many compliments from guests, and the ones we enjoy most are when people want to bring their families back up. It may start with a group of guys, but the atmosphere, the other guests' families, and the layout of the lodge operation help the guests realize they can have the experience as a family.
We went to the Taiwan Glass Factory and Museum, with the Abbott's. They enjoyed seeing the artistry of the artisans who work with glass. After the tour of the museum and stores, we drove to Lukang. Abbott's wanted to visit the artist who paints LDS Temples on fans. We had an address, and we had been there one other time, so we made the effort. After we parked the cars and walked into the shops, I got a little disoriented. Fortunately, both Elder Abbott and Sister Warner remembered where we were. That made finding the car easier.
We got home about 3:30. I dropped Mom and the Abbotts at the apartment complex, then took the car back to the office. I then walked home.
The hot sun, long walks, and tired body made taking a nap easy.
We sat in another discussion with Catherine tonight. It was better than a week ago, but Catherine is still not having her needs met. Part of the problem seems to be that the Elders get talking too fast, and not thinking about what they are saying. The teach a lot of false doctrine. Tonight, we corrected them when they said the next resurrection will take place at the second coming. We clarified that the 1st resurrection is ongoing currently, and after they Savior comes there will be a resurrection of those going to the Terrestrial Kingdom, followed by the resurrection of those going to the Telestial Kingdom. My worry is that the Holy Ghost can't bear witness to false teachings, and the investigators need the spiritual witness to obtain a testimony. I'm going to ask the Elders to let me teach the banner presentation again, to tie the Plan of Salvation together for Catherine.
September 8, 2017
Happy birthday to Seth.
I'm not sure if it's the added year to my age, or the hot, humid, sticky weather that is keeping me so tired. Some days even a cold Pepsi doesn't do much. But we press on.
We went to the office early so we could get an early start going to Yuanlin. We got caught in rush-hour traffic on the freeway so maybe it wasn't such a good idea. Then, to traumatize the travel even more, when we got about a mile from exit point from the freeway, my cell phone lost the satellites that direct the GPS. The GPS would give some directions, shut off, then come back on and give different directions. I missed the exit, but took the next one and found a quiet road where I could pull off the restart my cell phone. That solved the problem.
We delivered a kitchen table and chairs to a set of Elders, along with a new water filter system. One of the Elders looked at the table that needed assembling and got excited. The other missionary had no interest whatsoever in figuring how to put everything together. Fortunately, I was inspired before we left the office to bring the portable drill. It made putting the screws in much easier. The table came with 4 chairs, but the Elders only had room for 2 chairs so we brought the other two back to Taichung and gave them to a set of Sisters who needed them. We got back from the Yuanlin project about noon.
I took them mail over after lunch, and then worked with Elder Abbott on a redesign of the sheet the senior couples will use when they do apartment inspections. The original form is too complicated and hard to read. The Assistants, who developed the form and gather the data for me, have some ownership feelings about the program so I'm being careful to include them in the redesign. Part of the driving forces for the changes are policy changes in how we code mission expenses. We used to tell the missionaries how much they could spend on an approved item. Under the new guidelines, we must by the things for the missionaries. It adds to our burden, but puts better control over mission expenditures.
Sister Warner stopped at the Beauty Salon on the way home after work to get her hair cut. I came home by myself. When I asked the girls in the beauty salon if they would give me a permanent they looked confused, then laughed.
At 7:20 PM, I received a message on my phone. The Elders had forgotten to tell us that one of our English class members, and her mother, were being baptized tonight. We hurriedly put or missionary clothes back on and walked quickly to the Wuquan chapel. It was a nice baptism and our show of support was important. Afterwards, we set an appointment with her and her mother to do a banner presentation next Wednesday night.
September 7, 2017
The day was spent taking care of missionary needs. First thing in the morning I did the Key Indicators report. While I was doing the report, Sister Warner took the packages to the Post Office. When the report was finished, and Sister Warner back from the Post Office, we drove to Yuanlin. First, we went to the Sister's apartment and delivered a mattress and a toaster oven. Sister Young said her mattress was too soft and she had trouble sleeping.
After finishing at the Sisters, we went over to one of the Elder's apartments and did an inspection and checked on their broken water filter. Somehow, they had forced the wrong end of the filter into the housing. The filter stuck and cracked. I tried to take the broken filter out, but was not successful. We will go back tomorrow with a new system to replace the broken one. They also lack a table and chair to eat from.
When we got back to Taichung, we ate a late lunch and drove to Ikea to buy a table and chairs. We also bought a set for the Sisters in Yongkang. On the way back to the office we stopped at the warehouse and picked up a replacement water filter system.
It was almost 5:00 PM when we got back to the office. We stayed late to catch up on the paper work, and took some home with us.
I received a nice birthday card from Arma. She had developed the card herself, and put many pictures from our past, into the card. It is a nice keep-sake.
September 6, 2017
Some days are really busy, but don't leave much to write about. I'm heavily involved in apartment inspections and water filter exchanges. I now have all the inventories of water filters, and I'm in the process of mailing out replacement filters. Every day I make several trips to the Post Office with a load of packages.
In our conversation with President last evening we agreed to close two more older apartments, and find new ones. Some we will terminate the lease early and pay a 2-month penalty. However, we are making a big push to upgrade the quality of missionary housing so this is what it takes.
The apartment inventory surveys have identified many shortages in apartments. Next week we will begin the process of adding missing, or broken, items. We will travel a little more delivering chairs, tables, microwaves, rice cookers, and other items.
I read an article this afternoon, in the Church News, about Generation Z. There are people born in the late 1990's and early 2000's. As a group, they are much less interested in church attendance. Even in the Church, attendance by this group has fallen. The Abbotts mentioned that when they were in the MTC, in June, there was great concern voiced during their training. I'm guessing, this lack of attendance, is a big cause in why the number of young, full-time, missionaries is dropping.
We learned today that Marv Prestridge has recently passed away. We knew he was sick, but were never able to find an address to contact time. A great friend, who played a major role in the early success of Doc Warner's.
Wednesdays are long days because we are tired from the late night on Tuesday. I thought we were going to get away from the office early tonight. Didn't happen! Missionaries, who had been attending Mission Leaders Training, started coming into the office just before 5:00. We stayed and visited and provided information and supplies to them.
September 5, 2017
The day was busy for me. I spent most of the morning recording the information on water filter changes. The work is tedious because I'm filling in cells on a spreadsheet. I got all but 4 of the apartments to respond. I talked with those who didn't have the numbers in and they promised them tonight—but they didn't come so I will call again tomorrow.
I then analyzed the information to see what are needs are for more filters versus what we have on hand. I know we don't have enough on hand to give each apartment a full year's supply. I ended up going to the warehouse and getting all the #2 and #3 filters and bringing them to the office. Over the next few weeks I will mail about 40 packages to the missionaries to get them the filters they need for the next 6 months. It will be several more days before I have a feeling for how many more filters I need to order before the first of the year.
While we were sitting alone in the office, after work hours, waiting for time to teach English, President came in to sign some papers. He stayed and talked with Sister Warner and me for about 30 minutes. We talked a lot about missionaries who struggle being missionaries. We all think that a big part of the problems comes from so many of these young people have never had a job in their lives. They don't know how to work. Those who have been active in competitive sports don't seem to have any problems with depression, panic attacks, homesickness, or other mental issues. President indicated that many more missionaries return home early now than ever before in the Church. It made me grateful for the work experiences we have had throughout our lives, and for the chance to work with our children. The Lodge has blessed our lives in many ways.
English class went well. After class, Nelson ask me how I knew there was a God. We talked at length about spiritual witnesses, inspiration, confirmation while reading the scriptures or attending Church meetings. He likes to talk about such things but doesn't seem interested in changing his lifestyle.
September 4, 2017
It was a good and busy day. It started early with a Skype call from Alaska and a chance to visit with old friends from when we lived in Juneau. John Schroeder is fishing at the lodge this week, and Lynda used Skype so he could say hello to us.
Between getting lots of packages of supplies ready to mail, and starting the inventory of water filters, I kept busy most of the day.
September 3, 2017
It was Fast Sunday today. I worked on my Sunday School lesson, read for about an hour, and then put a corner in on the puzzle. It gives me a break regularly, about the end of my attention span.
The class was small, but the lesson had a lot of participation. I felt better about the delivery, and my preparation. I still don't get much participation from the Chinese and Japanese in the class, but that's cultural so I can't expect too much. The subject was The Holy Ghost. I followed the manual closely for my subject headings, and supplemented to add questions I thought applied to the people in the class.
I bore my testimony today and talked about what I perceive is a weakness in the youth who are coming on missions today. They are strong on doctrine, but weak on scriptural basis for the doctrines. They can quote the correct doctrine but they have little idea of where the scriptural support is found. When teaching missionary discussions, they seldom refer to the scriptures. I understand that the Spirit gives testimony and converts, but for the future of the young missionaries, in their future lives, they need to know a lot more than just what is in Preach My Gospel. They need to progress to where the Book of Mormon is not just the story of Lehi and Nephi, Alma and some other prophets, and a bunch of wars. But I think that can't happen until they can relate the doctrines to the Atonement, and link that with the First Principles.
The temperatures remained quite moderate today.
It's interesting how just one phone call can rearrange a whole work schedule. A Sister missionary called and was having some chest and arm pains. Sister Warner told her to go to the Emergency Room in the city where she lives. The hospital gave in an IV (they give everyone IV's) and sent her home. She Sister then thought the problem might be cause by her soft mattress. Sister Warner wants to take another mattress to her, but I'm hesitant until I know what she already has. I'm guessing we will make several trips this week out to Yuanlin to resolve the issue. Fortunately, the trip is only about 40 minutes one way. I just don't want to load the mattresses in the van and transport them to Yuanlin, only to find out that isn't the problem. We will solve the problem and do what is best for the missionaries.
September 2, 2017
I got up in a better mood this morning. I decided that the negative experience yesterday afternoon and evening should be a good learning experience for me. I'll look for better ways to accomplish the work, and try not to impact those who already are showing signs of being beyond their capacity to plan and execute. I wouldn't have these problems if all the people here would just speak and understand English.
We cleaned the apartment in the morning. Pamplemousses (sp?), the sweet grapefruit that we liked so well in Vanuatu and Tahiti, are in season. The cost about $.80 US. The big watermelons are gone, and the littler ones don't taste as good, so we will switch to the Pamplemousses for our deserts. Wonderful!
I spent time working on my Sunday School lesson for tomorrow. The subject is The Holy Ghost.
The rains came in the early afternoon and stayed the rest of the day. With the rain came cooler temperatures. I'm writing this paragraph about 9:00PM and we don't have any air conditioners on. It's a little too warm to sleep comfortably so we will run the A/C during the night.
We attended a baptism for a Sister that the Abbotts have been teaching. Miki was there and we visited with her afterwards. Before the meeting started, I began reading a new book I downloaded yesterday. It's Elder Bednar's book, "One on One". (Lynette: it's in my Deseret Book bookshelf). It's a good memory jogger, and offers a lot of comfort pertaining to how much Heavenly Father and Christ are aware of us and our needs.
September 1, 2017
The day was slow and ended on a sour note for me. We had a discussion where we sat in while the Elders taught. The Elders were tired from having driven several hours today. I couldn't understand what they were trying to teach. I thought their examples were poor. And, I didn't think they answered the investigator's questions. I didn't talk during the discussion. I did try to find a scripture that answered her questions, but couldn't even do that. The Elders have been down south and took a toaster oven with them, that I had promised to some Elders down there. They forgot to give it to the Elders. I asked for a call to be made to have the expediter come pick up some boxes. They didn't make the call because they didn't have the number with them. They could have called me and I would have given them the number. This paragraph was written as a vent pipe for my steam. Now on to more pleasant things.
The water filter inventory system seems to be working. Several missionaries texted me to say they had changed their filters, and to give me a count of extra filters they have on hand. Monday will be the big day.
Sister Warner went shopping with the Abbotts while I watched the office and did my Key Indicators report. Having a quiet office while working on that report was nice.
In the evening we watch the movie, "From Homeless to Harvard" on U-tube.
August 31, 2017
We had a fun conversation with Blair this morning, early 😊 We look forward to them getting into the mission field, and learning what will be expected of them. Maybe, we can then offer some good advice.
Sister Warner and I drove to the DaKeng Sister's apartment to work on a water filter problem. Their apartment takes us about 15 minutes to drive there. Their problem was that filter water literally came out of the faucet one slow drip at a time. They would leave the water on, dripping, while they went out for the day, in order to have filtered water to drink the next day. As I began to remove the small fitting that holds the strainer screens (the last part of the filter before the water come out) the water started to spray. Obviously, there was pressure behind the fitting. As I took the fitting off, water sprayed into the sink and onto my hand. In the water was a large amount of plant material—leaves of some type; mostly decayed. The only way the leaves could have gotten to that part of the filter delivery system was for the cartridges to have been removed from the filter housing, and water run for an extended period of time, without the filters in. There was a lot of junk in that system. The escapade took most of the morning.
Elder Abbott and I went to Ikea to see if the small mattresses we need had come in. No luck. They told us about two more weeks. We need them before the 26th.
The changing of water filters, and coming up with a good count of all the filters in storage somewhere in the mission (in apartments mostly) is going to be a tedious job. Adding numbers to one area and deducting them from others. Example: when I send filters to and apartment I need to deduct them from my storage count, and add them to the missionary's apartment.
August 30, 2017
My 78th birthday anniversary. It doesn't seem as old as it once did—most of the time.
Somehow the word spread around the mission that today was my birthday, and many of the missionaries texted me a Happy Birthday. I'm glad we make a difference in their lives. We try hard to always be cheerful and positive. Their emotions, often hidden behind a brave face, are fragile.
I worked on the apartment inspection worksheet and monitoring during the morning. Later, I modified the same spreadsheet to allow the tracking of water filter changes and inventory. The mission-wide filter changing process begins on Monday, P-day. One of my big concerns is having enough filters available to meet the regular schedule. It takes several months to get more filters, especially since they come out of Texas. They may be impacted by the hurricane, although the filters come from the Dallas area. Sister Warner and I went to the storage unit and inventoried all the filters there. The housing for the filters uses O-rings to seal the unit. When the mission used to be on automatic delivery of filters and parts the O-rings just kept coming. I'm going to email the company and ask if I can return about 100 of the parts.
President and Sister Teh gave me a 2000-piece puzzle for a birthday present. We had just bought another one last Saturday of the same size.
August 29, 2017
The days are getting busy again. I spent the morning working of apartment inventories. Specifically, how to keep track of which apartments are being visited, and what reports come back from the visits. I received a report of previous visits to five apartments. These were visits performed before the surveys. I went through the reports, then compared the reports with the survey information. I then wrote back to the senior couple who gave them the report and asked them to check on the deficiencies the missionaries had listed. Fortunately, Elder Ding brought me translated copies of the inspections because they were from Elder and Sister Chen who neither speak nor write in English.
After lunch we drove about 80 minutes down to Taibao to repair a broken dryer. We had been there about a month ago and repaired one dryer. But it had other problems so we sent a Panasonic technician in to work on the heating function. That failed so the Elders picked up another dryer from an apartment that had 2 of them. (It used to be a 4-man apartment.) The dryer fan belt broke in the new dryer yesterday.
We got home from Taibao about 5:30 and worked in the office until time for our English class. The subject was "opening a checking account." No one uses checking accounts here, except a few employers, so we had to dance a little. When the subject migrated over to debit and credit cards the class became quite involved. The discussion on interest and interest rates really caught their attention. They didn't seem to have realized that interest paid adds to the cost of everything you buy. We didn't get away from the chapel where we were teaching until about 9:15. Members of the class gave us bananas and dragon fruit.
August 28, 2017
The morning was busy. I had lots of orders for supplies to fill, and we had several missionaries come into the office since it's P-day. Everyone was wishing me a happy birthday.
At lunch, we went to the mission home and President and Sister Teh hosted a luncheon in honor of my birthday. They served a western meal: hamburgers, pickles, tomatoes, potato and corn chips, and potato salad. It was a great meal, but I ate too much. After the meal, they asked that we tell about our childhoods. We told some of the stories. They were most interest in times of transition from horses to tractors; from predominant agriculture to more industrialization. They were surprised when we told them that when we were very young, some of our living ancestors could tell us about knowing Brigham Young.
I spent time in the afternoon sitting in on a discussion with the Assistants and Tsomo. She is the Mongolian young lady who had been coming to our Sunday School class. Today, she told the Elders she doesn't believe in God, and doesn't want to read the Book of Mormon. I just sat and listened as the Elders asked many questions trying to find the problem. Finally, the asked me to comment. I asked how many years she will be here to attend the university. She said 4 years. I asked how old she will be when she graduates. She said 21. That answer helped me understand why she is struggling. She us just 4 months past her 17th birthday, and her mother sent her to a foreign country, where she didn't speak the language, and where she had no friends. She is a tall girl and it was hard to tell her age. I told her my experience of leaving home at age 17, and how lonely the first few months were until I got involved with other good young people. Then I made many friends. She brightened when she felt understood. She asked how God could help her when she thought she had everything she needed to help herself. I talked about how every day we have many choices to make where we don't have all the information to know which choices are best. She agreed. I told her about how Heavenly Father helps us make decisions to help us, not just now, but for the rest of our lives. I finished by telling the story of buying Willies, and how I went against the good feelings, the help, and we are still paying for the mistake. The meeting ended on a much more positive note.
As we get later in the summer, the days are just as hot when you are in the sun. But, the evenings cool a few more degrees. We notice the difference when we are walking home. We don't sweat as much.
August 27, 2017
Lisa called early to say that Manda had some health problems and was going to the emergency room. The diagnosis was bladder infection, which is easily treated, so we were relieved from our worries about her health.
The Sunday School lesson went better today. I'm learning how to better prepare and present the materials. The teaching must be much slower than I'm used to because there are many words the class members don't understand. Words like 'agency', 'prove yourself', judged, and many more. By the time I get responses from several different language groups much time has expired. I'm learning to do more reviews, and come back to terms again and again. We taught about Adam and Eve today. About the time, after the class, that I was feeling like I had communicated well, one of the participants came up to me and asked if Adam was a good guy or a bad guy because of the fall. Next week!
In my conversations with President the past couple of days, we talked about why some missionaries, and missions, have trouble straying from the rules. As we talked I thought about recent discussions with Mark, about how some of the employees at the lodge, keep pushing the limits of the freedoms they have been given to use lodge equipment. Missions that have problems with missionaries experience the same problems. In trying to express love and friendship to the missionaries, the presidents allow them to deviate slightly from the handbook. That deviation opens the door for more and bigger deviations. Restoration to following handbook then requires a firm hand and some tough love. I think the principle applies well to any management operations, especially those dealing with young adults who have lots of ideas and little practical experience. When Elders ask me a question about a slight deviation from the approved policies (such as selling members copies of our language training materials), I tell them I will check with the President. If he doesn't want to grant that request, he will say "what does the handbook say?" When the boundaries are set, the word spreads, and others with similar questions fall into line with the approved policies. It keeps things running smoothly. Because the President gets letters every week, and interviews the missionaries every six weeks, he stays in turn with how the mission is operating. As his staff, we know the rules and strive diligently to keep those rules, and hold the missionaries to those rules. Good management practice.
The weather is a little cooler today.
August 26, 2017
We ate breakfast together at the small resort and then walked in the Tea plantation, taking pictures and enjoying the scenery. We then drove down from the mountains and ate lunch at a restaurant in Jiayi that served old-time Chinese meals. We ate fish, duck, chicken, multiple kinds of vegetables, 2 kinds of rice, soup, and watermelon. The food was delicious.
We had ridden up to Ali Shan and back with the President. After the meal, it was time to return to Taichung, and my turn to drive the van. Fortunately, the trip home was uneventful. We took a nap when we got home.
August 25, 2017
We left the church parking lot just after 7:00 AM and drove to Jiayi with the Abbotts and Dings. We joined the Fergusons and Chens, plus President and Sister Teh, at the Jiayi Chapel. We held the instructional part of the Couple's Conference at the chapel. Sister Warner started the training with a review of basic medical issues. I then did a presentation on the new Inventory Management System to be used in conjunction with apartment inspections. The couples liked the new systems. It puts more work onto the office (me), but gives us a good system for improving the quality of the missionary housing because it helps set a single standard of apartments contents and conditions.
Elder and Sister Abbott gave a nice presentation of the nice things about Taiwan, and working together as senior missionaries. The presentation was well done. Elder and Sister Chen showed video of some of the interesting facts and attractions in Taiwan. Finally, Elder and Sister Ding gave us a lesson on learning the Chinese language. We had many laughs trying to follow their instructions.
Sister Warner and I gave the last couples presentation by telling some of the spiritual experiences we have had on other missions. We told three stories from Vanuatu.
We ate dinner at a famous chicken restaurant and then drove about an hour up into the mountains to a small resort called, Ali Shan. The small hotel sits in the middle of beautiful tea plantations and bamboo forests. The temperature was in the low 70's and the air was clean. We held a Family Home Evening together in the evening. We retired to bed about 9:00 because we were tired, but neither of us slept well because of the hard mattress and strange surroundings.
August 24, 2017
Typical day. Did the mail; did the Key Indicators report; took Sister Warner to the bank; make preparations for the Couples Conference. We've been asked to take about 20 minutes and tell some of our spiritual experiences.
An orange on my miniature orange tree turned yellow so I picked it. Unfortunately, bugs had been eating it from the bottom. I cut the bad part out and tasted what was left. It was just as bitter as I remember. It would make a lemon proud with its pucker power.
I had long conversations with Lisa and Mark, and Mary sent pictures of her kids headed back to school for the new year. Obviously, Mary and Kelly are feeding their kids well. They looked good and are growing quickly.
August 23, 2017
We were both tired today as a result of the long day yesterday. Then, it turned into a really slow day in the office which made the day seem even longer.
I have printed out instructions to help renew my knowledge of Family History. Not much headway on that front. Too tired to concentrate.
We attended a staff meeting in the late afternoon. We reviewed the last transfer, talking about how to improve the process. Sister Warner had to leave to go to a doctor's appointment with one of the Sisters. I thought the meeting was productive. They end of the meeting was spent planning the Couples Conference for this coming Friday and Saturday. Sister Warner and I have a 30-minute presentation pertaining to apartments.
August 22, 2017
We had a few showers, but the big typhoon went toward Hong Kong, way to the west of us.
I was working in Family Search and found the name Samuel McMann LHQS-L4V. Becky had worked on the family earlier this spring. Becky, I have questions about why the family is constructed the way it is. For example: in the children of Samuel and his two wives are shown the names of Mary A and Alice. Yet neither shows in the 1900, 1911, or 1916 censuses. An Alice shows as the daughter of Samuel's son John in the 1911 census. Also, a Ned is shown in the 1900 census, and Roy in the 1916 census, but neither is shown in the family in Family Search. What am I missing?
We went to the afternoon session of Zone Conference today. The subject of the presentations was Repentance. I couldn't stay awake. I told Sister Teh afterwards that I was repenting for not getting enough sleep last night. I was trying to sleep the right amount. I'm not sure she bought the logic.
English class went well. We had 16 students in the class. The subject was about visit your children's teachers. Not very appropriate for this group, but we had fun with the subject.
August 21, 2017
We have a big storm center several hundred miles to the south of Taiwan. It's just listed as a tropical storm. We are feeling the increase in humidity. Even in the air-conditioned office my clothes stick to my body. One more month of summer, thankfully.
I received a nice email from Frank Gaughan today. I had sent him a copy of the Plan of Salvation banner and they are finding it useful in their teaching. He wants to print some down in Australia so I asked Lynda to send him and electronic copy if possible. It's nice when friends are on missions and have similar needs to ours, so we can share experiences and materials.
I had some free time this afternoon so I logged back into Family Search. Alas, discouragement came quickly. I can find problems in submitted records (a boy lived 4 years and became a father 13 years after he died), but I don't know how to correct them. I also saw where Mom's brother Hugh, and his second wife Laura, do not show as being sealed, but in his obituary, it lists the temple and date of sealing. I don't know how to fix this either. I will keep searching the 'help' menu in hopes I can find the information and processes that will help me. I'm not aware of any Family History Centers here in Taichung, but if there were, they would help in Chinese.
July 9, 2017
Attendance at Church was small because many people are on vacation or have left to go home to the US. Elder Provard attended Sacrament Meeting with us and then I brought him and Sister Warner home. He is on limited activity so the full Church schedule would have been too much.
After Church meeting, the Abbotts and I had a meeting with the Taichung South Stake President to discuss helping them start YSA and SA programs in the stake. Eric, the Bishop/CES Coordinator who invited us to his classes last week, was also there to help translate. Later the Stake YSA council, comprised of 7 YSA's came into the meeting.
Each of these meetings turn into a real learning experience. Working with the Stakes out here, in the past has been frustrating because little seems to happen. I have blamed it on poor follow-through skills. Today, I learned that my prognosis wasn't entirely correct. When we first began the discussion, the Stake President said he really needs help in the Single Adult programs in the Stake. The Taichung South Stake was created about 18 months ago. The Stake has a membership of just over 2000 members. The activity rate among members is about 20%. One third of his Stake members of married, with families. One third are YSA's, and the other third are single adults 31 and older. The activity rate among the singles is lower than for the married members. The Stake has 5 wards and the English Branch. Thus, the active married members are spread among those 6 units. The result is that active members carry multiple callings and don't have time to really focus on one calling. Plus, most members have never experienced the Church anywhere but here in Taiwan. It's a testimony that the Church functions as well as it does with so few dedicated members.
The situation reminded me of President Barbosa, in Cajamarca, Peru. If the local leader's experience is based mostly of being in the Church in Taiwan, where can the learn more about how to administer, and grow, the Church in their area? The Area Presidency can't. The Presidency says Taiwan is the crown jewel of the Church in the Asia Area because it runs so well compared to other locations. Mission Presidents don't have either authority or time to train the Stake leaders—and telling isn't teaching.
The answer to the training solution is the same as in Peru—Senior Couples! The good news is that the number of Senior Couples should steadily increase over the coming years. We represent the last of the Senior Couples, whose husband or wife, served when there were only 5500 missionaries world-wide. The Abbotts represent the RMs who served when there were 15,000 to 30,000 full-time missionaries. This group are just reaching the age to serve Senior Missions. Behind them, in about 30 years, will come those who served when there were 70,000 to 85,000 serving at one time world-wide. If activity rates hold true, there will be enough faithful couples serving to meet the demands of the growing Church.
July 8, 2017
We spent the day at home. Elder Provard doesn't need much help, but can't lift anything yet. He also has limited stamina. He is an experienced puzzler so we are making good headway on the big puzzle now. We have passed the 50% completion point so things move faster.
When we are growing, as youngster, we have growth phases. I'm beginning to think the opposite happens as we get older. We have periods of rapid decline, followed by times of aging being static. I feel like I'm in a rapid aging cycle right now. My balance, while walking, isn't what it used to be. I need a wider swath down the sidewalk. I shuffle/stumble sometimes when I get into a situation where I can't take full strides. This may just be normal, but I've never experienced this kind of normal, so I don't know.
I had a nice conversation with Mark today. Fishing is good and guests are happy. The new motors arrived for Big Blue, but Mark may have discovered the reason for the one old engine missing so badly—the reason they decided to buy new motors. He will test the fixed motor this weekend.
Lisa called last evening, and we had a pleasant conversation. She's working on replacement of the cabinets in the downstairs kitchen. Lots of decisions to consider. Lisa does a good job of developing ideas and concepts.
July 7, 2017
I spent almost all day catching up the work back-up from yesterday. The Post Office has changed their policy and now it costs 5 NT (about 17 cents US) to forward mail. That means every letter that we receive in the mail, for missionaries serving in the field, must be stamped. All missionary mail comes first to the office. Because of the policy change we now charge each missionary the 5 NT to forward their letters.
All the transfers are completed now so we had to update our mailing lists, phone lists, and adjust the apartments. President T does the initial data entry, and then we must go through the lists to make sure they get updated. Address changes, when we close and apartment and open another, are particularly difficult because the addresses are written in Chinese characters. We seek help for those tasks.
Last evening, President T called and asked if we would take Elder Provard into our apartment for a week of so while he continues to heal from the gall bladder removal and UTI infection. We had offered that option earlier in the week. The missionary can't work, and neither can his companion since they can't separate, so this is a workable solution. President also had a 3-some of Elders so this worked well. Elder and Sister Ferguson brought Elder Provard up from Gaozhiong. They will stay overnight with the Teh's. We hope to stay overnight with Ferguson's when Lisa comes this fall. They will be our tour guides for the southern part of Taiwan.
I felt much better, health-wise today. Last evening, Sister Warner fed me some ramen noodles thinking they would be light on my stomach. I thought they tasted good, and spicy. They were too spicy for my poor, abused stomach. I was miserable for hours waiting for the food to move on.
We are in an interesting weather pattern. The skies are clear when we arise in the morning, no clouds. As the day warms, the heat becomes oppressive, and then the clouds form. By midafternoon the clouds are dark and heavy, and we have frequent, heavy downpours. The temperature cools considerably, although we still need our air conditioning. The Randolphs had painted a picture of heavy, oppressive heat, all summer. That has not been the case so for.
Mary sent a short note and said the Marv Prestridge had health issues with his lungs. She didn't think the prognosis sounded good. If anyone knows more, or an email address for Marv and Carla, please let me know.
July 6, 2017
Not a good day for me. I didn't sleep well last night, and when I got up this morning I had a lot of arthritic pain in many joints in my body. Then came the diarrhea. Later the dry heaves. Obviously, I stayed home and rested all day. I think this was the longest day of this mission. I was too uncomfortable to sleep, and too weak to get up and do anything. By evening I was starting to feel better.
Lynda called and was a source of cheer.
July 5, 2017
The day was full, mostly with catching up from being gone all yesterday. I had 14 orders for supplies and had to make two trips to the Post Office. The big group of transfers has stacked up some of the work because we must know all the new companionships in order to ship out some of the supplies that are pending. Assignment of companions for the 11 new missionaries won't happen until noon tomorrow.
We did our usual short presentation to the new missionaries for 30 minutes in the afternoon. They seem like a good, energetic group.
By the time we can walk home in the evening my shirt is wet from perspiration in this hot and muggy climate. Still, the temperatures are more moderate that we were told they would be. Also, we don't get as much rain as we expected. In some ways it's like Tahiti, because the high mountains along the south side of the island, get rain almost every day. Down near sea level where the people live it does not rain as often.
We came home a little earlier tonight, arriving just after 5:30. We are still tired from the long day yesterday. We ate a pre-supper snack of fresh, cold watermelon.
The diagnosis for our sick Elder has changed to a urinary tract infection, probably caused by the catheter from when his gall bladder was removed. He will be in the hospital several more days and then on limited activity for about 2 weeks.
July 4, 2017
We arose at 5:00 AM to get ready to go to the office and catch the bus to Taipei. With 6 Sister Missionaries to get ready we knew it would take time. We made it to the office a few minutes early.
We had 29 people on the bus, including President and Sister Teh, the Assistants, 23 missionaries going home, and us. The atmosphere was filled with laughter and happiness. Sister Warner and I didn't feel a desire to be going home with them. I think we are still locked into the work yet to be done here.
We went to lunch as a group in a small, crowded restaurant, and then attended a temple session as a group. I think the Endowment room holds 29 people and we filled the room. Afterwards, Sister Warner and I did a sealing for the couple we had taken their names through the temple. When we got into the sealing room I was the only male, other than the Sealer and the two witnesses. They asked us to stay and do more sealings. We did. I was interesting because they did our sealing in English (sort of), and the rest in Chinese. I learned two new Chinese sounds, "Su Ga" which represented the 'yes' in the marriage ceremony. In our lifetime we have participated in sealings in English, French, Tahitian, and Chinese.
We picked up the incoming missionaries at the airport and returned to Taichung. Arriving home about 10:30 PM.
Our missionary who had his gall bladder removed has complications and is back in the hospital. He appears to have developed pneumonia, and maybe another infection. The doctors say he may need 10-days of medical care. If that proves true, we will probably have him as our house guest as soon as he is released from the hospital. He will need to go to work with us each day, and rest upstairs above the office, in the Assistants apartment. We will know more tomorrow.
July 3, 2017
It's already the evening of July 3rd. We are really busy during the daytime which makes the days go by quickly.
In the morning, I took Elder Abbott to the Immigration Service to pick up their ARC (Alien Resident Card). It takes two weeks to get one after you arrive, and you must have one to drive and to stay for a full year. I took him to make sure he knew when the building was located.
The office was packed with missionaries all day. We have 24 going home tomorrow and they, along with well-wishers, were in the office all day. It was tough to get work done.
We had some billing issues with Panasonic, so I went to their store to get the problems resolved. It was a quick trip, and hopefully an easy resolution.
We will have 6 Sisters staying with us tonight, all of whom are going home tomorrow.
July 2, 2017
Our bodies objected to sleeping in too long so we go up just a few minutes later than normal.
While reading scriptures this morning, in Mosiah Chapter 9, versus 12 and 13, I gained new insight into the prophetic value of the Book of Mormon. Lemhi's people made a treaty with King Laman, and thought all would be well for them. But when hostilities because a problem, about 12 years later, Lemhi describes the people he had tried to be at peace with. He described them as lazy and idolatrous. When Lemhi's people began to push back, the King responded with wars and contentions in the land. I couldn't help relating this history, of some 2200 years ago, with what I learn from reading the news about current occurrences in the United States. Currently, in the United States and much of the world, we have lazy and idolatrous people who are demanding more and more support for their chosen lifestyles. They want their entitlements, free lunches, free educations, and free medical care for life. When they disagree with others they begin to war through riots, sit-ins, boycotts, disruption of public meetings, and in extreme situations, to murder and other acts of violence. They want freedom to use drugs which destroy their bodies, and free medical coverage to try and repair the self-induced pillage of their body systems. The idolatry of drugs, sex worship, anti-religious rhetoric, and seeking power by corrupt political leaders is appalling.
Church was good today. I decided to get involved in the Sunday School class discussion. I usually don't say much when this particular teacher is teaching. I want more class participation than usually occurs. I talked a little more, and for me it was a better class.
We had five new young single adults in church today. They are here teaching English on contracts ranging from 6 to 12 months. Several are returned missionaries, and one Sister served in Taiwan. Both Elder Abbott and I quickly picked up on the potential help these young college graduates can provide in building a successful YSA program.
The weather is threatening rain, but a little cooler. We have about 90 more days of hot weather so any reprieve from the heat is wonderful.
July 1, 2017
We drove to Nantou for an apartment closing. Sister Warner had carefully instructed the Elders that all mission property needed to be removed. Somewhere along the discussion pathway they misunderstood. The apartment was loaded with furnishings. We carefully went through the apartment and had the Elders list all the things that should be disposed of. The Landlady was kind and let us pay another month's rent in order to have time to get things cleared out. Since next week is transfer week it isn't possible to get things moved then.
We came home and celebrated P-day with a nap. Afterwards we prepared for a dinner at our apartment. We had invited the Hansens (the visiting USU professor and his wife) and the Abbotts. Hansens return to Utah on Monday. The dinner went well and he visited for several hours.
Sister Warner and I took the Hansens back to their apartment. On our return trip to the apartment she checked on a Sister missionary who had she had sent to the Emergency Room because of diarrhea, nausea, and other problems. The Sister was still at the hospital across the street from the office so we went to check on her. The doctors had given her an IV to get her electrolyte balance back in balance. She was feeling better. We decided to take the Sister and her companion back to their apartment since it was late. They live in Houfeng. It was nearing midnight when I finally got home for the night. It's nice that tomorrow is Sunday so we can sleep in.
June 30, 2017
We closed on Randolph's old apartment, added air conditioners to the 2 bedrooms in our apartment that had been without air conditioning, and had two bunkbeds installed in Abbott's apartment. We will add 2 more to our apartment before the next transfer.
In the late afternoon, I did a banner presentation for a member who had wanted to see it. Afterwards we drove to Daya (about 30 minutes in heavy rain) and had a steak dinner. Afterwards, we went to the Daya Chapel and spent time with the Marriage and Family Relations class. This is a different class than the one we met with on Wednesday, but has the same instructor. That was our real purpose for going to Daya, but we didn't miss the opportunity to eat at Heat Steak Restaurant.
The experience with the YSA's in the class was similar to Wednesday, in that they are good, happy young people lacking a culture that teach them how to socialize. It will take some training, and persistence, to develop a YSA program, and Abbotts have a great background (and more energy the us) to train the local people how to build such a program. I can see the inspiration flowing on getting the program started on a small level, and expanding it as the local leaders become trained.
June 29, 2017
We've quit forwarding mail now until after transfers are announced, so I only had one quick trip to the Post Office in the morning.
I took Sister Warner to the bank twice and Elder Abbott once during the morning. Only the Assistants and I are authorized drivers currently.
We went to Dakeng and left three air conditioners we had removed from Randolph's apartment. The Abbotts, Assistants, and I were in the van. I took the Abbotts so they could take some of the furnishings, for their apartment, that are stored there. They took an overstuff chair and some racks. I took a table and chair that Sister Warner wanted for our apartment.
We got back from Dakeng just in time for District Meeting. After the meeting, I drove Elder Abbott to an office supply store and he bought a fanny pack. After that we went back to the chapel for a meeting with two Sister Missionaries and a member, Christine. She wanted to take Sister Warner out for a birthday treat so I went back to the office and the two Sisters, Sister Warner, and Christine went to an early dinner.
We had a lesson with Catherine and the Assistants tonight. She had a several page document comparing Christian Church's teachings with Mormon teachings. The first comparison was on the structure of the Godhead. I had her read about the baptism of Christ, martyrdom of Stephen, and the First Vision, then asked her what the scriptures teach about the Godhead. She has been meeting with the Christian group on Monday evenings, but she scheduled to come meet with us next Monday so I think we are making some progress.
Erick, the CES person who taught the Marriage and Family Relations class last evening, called and asked us to do the same thing in the Daya Chapel tomorrow evening at 8:30. He called back later and has scheduled a meeting with the Taichung South Stake President for Sunday, July 9, in the afternoon. The subject will be YSA programs. Elder and Sister Abbott have a lot of experience in putting YSA Family Home Evenings together. They and we will meet with President Hu.
June 28, 2017
Happy 79th birthday to my wife. I gave her a small planter with bamboo sprouts growing. She had wanted some bamboo and I picked it up on my way home for the evening.
We spent most of the morning in Costco with Abbotts. They needed to stock up on groceries now they have a fridge and cupboards. We also picked up food for the meals next week in the mission home for missionaries coming and going.
After lunch, Elder Abbott and I met the Panasonic technicians at Randolph's old apartment. While they removed the air conditioners, we moved the washer and dryer to Abbott's apartment. We then spent time in Abbott's apartment while Panasonic installed one air conditioner, and swapped out another one. It took most of the afternoon.
I spent a couple of hours in the office catching up on supplies requests. We then went to the Mission Home and had a birthday dinner for Sister Warner. It was a fun, happy with lots of laughing, time.
After the dinner, we went next door to the Wuquan Chapel and met with a Marriage and Family Relations class. They we all young single adults. We were there to answer questions about marriage, but it turned more into a story telling event. Abbotts were with us. Sister Warner took the lead and the class enjoyed the interchange. Afterwards, Elder Abbott and I talked about the need for a YSA program in Taiwan—there currently isn't such a program in the mission we are aware of. The YSA are bashful, don't date, and don't have a vision of activities they could get involved in other that 'hanging out.'
The instructor of the class is a Bishop in the Taichung East Stake. He talked about a big youth center being established. I discourage that idea and said to just get it functioning at the stake level. Then, it could successfully expand to a larger multi-stake activity. Abbotts are willing to work in helping build the program if the stakes are willing to use them and us. Not much we can do if the local leadership isn't supportive. Time will tell.
June 27, 2017
It's still life in the fast lane. The Key Indicators report finally ran so I was able to complete the analysis. We can't run it until Wednesday (Salt Lake time) following the week's activities.
Sister Warner and I went to the Nantun Elder's apartment and I taught them how to change a broken dryer fan belt. From there we drove back to Fengjia to get a deposit back from the apartment we closed yesterday.
President was doing interviews in his office all day so we had a lot of missionary traffic all day. They were happy and just happy to be alive.
We took Randolphs to the bus station and said goodbye to them until we see them in Taipei next Tuesday at the temple. Their mission has ended and they have permission to tour the country for a week before returning to Oregon.
About 4:30 I took the Zone Leaders from our zone and we started emptying the contents of Randolph's old apartment and moving it to the new apartment for Abbott's. Elder Abbott joined us shortly afterwards and we moved furnishings until 8:30 in the hot humid weather. We got everything but the washer and dryer moved. They will be moved in the morning during the time when the A/C units are being removed.
Sister Warner taught the English class without me tonight. The class members brought small gifts to her.
June 26, 2017
It was a busy day. Even though the Randolphs don't leave until tomorrow, it was the Abbott's first day soloing in the office. They felt the pressure of trying to remember all that they were taught last week. The Randolphs didn't come into the office before we left at 3:40.
We drove to Fengjia and closed on the apartment we helped clean last week. The closing went smooth, but later Sister Warner realized she had refunded too much money. When she called, the landlady acknowledged the mistake and we will meet with her tomorrow morning.
I got all the Key Indicators in by 1:30 but we are still unable to run the report. I called Salt Lake, and then sent an email requesting the tech people call President Teh and resolve the problem.
We drove to Huwei in the late afternoon for another closing. The Elders had to move to another apartment when the landlord didn't renew the lease. The Elders told us to bring a box springs and mattress because they were short one set. We drove the van with the extra bed. My GPS doesn't work well for some reason in the van. We got close to the apartments where we were supposed to meet the Elders, but then took a wrong turn because the GPS had quit tracking us. We called the Elders and they directed us to the apartment. We hadn't missed by far. When we got to the Elders we learned that the two twin beds in the old apartment belonged to us after all so we didn't need to bring the set with us. We hauled the beds over to the new apartment, then reloaded the set we had brought with us, and headed back to Taichung. We got home at 8:10 PM.
The weather is hot and muggy. Working indoors is nice.
We learned that two more missionaries are headed home early this week. That will make four for the week. One is medical, and I'm not sure about the others. But since we have not had interactions with two of those headed home early I conclude that the reason for the early release is personal problems. I feel sorry for President Teh because he wants to have all the missionaries succeed.
June 25, 2017
In the morning, after breakfast, I came to the computer to write in the journal. Recently I had noticed many tiny ants on the desk. Today, my mouse was a swarm of ants; thousands of them. They had found a new home and had set up housekeeping. We sprayed, disassembled the mouse and took the battery out, then placed the mouse in the freezer. Now everything on my desk is covered with dead ants.
Enjoyed Church today. Many on vacation, and several families leaving for the US later this week.
In the evening, we had a surprise birthday party for President Teh. He is 52. We gave him a large bag of peanuts. It weighted about 10 pounds. We had given him a pint jar full two weeks ago and he ate it in three days so we knew he liked peanuts.
Weather is summer. Fortunately, the evenings cool into the mid-to-low 70's. The humidity stays around 75%.
I don't read as much news as I used to. I see the wickedness of politics on both sides and wonder how long before more of the talk turns into bloodshed. I find comfort in reading the scriptures, conference talks, and magazine articles.
Mentally, I track what's going on at the lodge each day. The love for the lodge, and all it stands for, will be with me as long as I live. Having been able to share the blessings, and the work, with our family and mine and most of Mom's siblings has been wonderful.
We are sending two missionaries home early this coming week. One has bronchitis, and the other has several compound issues. The second one only has a few months to go and we thought we were going to get him through the mission, but things have fallen apart for him the past couple of weeks. A quick transfer didn't solve the problem. If they will return home grateful for the service they were able to provide, and not beat themselves up over leaving early, they will be OK in life.
I'm making headway on the big puzzle. I'm about 1/3 done now. When we return home in the evening, and I'm hot and tired, I find it relaxing to sit at the puzzle for a time.
The more we are around the Abbotts the more kindred spirit we feel with them.
June 24, 2017
We did a P-day activity with President and Sister Teh, the other senior couples, and the assistants. It served as the going-away dinner for the Randolphs and Elder Smith who will be leaving for home the 1st week of July. Randolphs will leave this coming Tuesday and tour Taiwan for a week before leaving for home.
We went to the Wuqi Fish Market near Shalu. The market has several large open buildings with all kinds of seafood on display. You buy what you want to eat and take it across the road to a café and they cook all the goodies for you. We ate salmon (chum I think), snails, oysters, clams, tuna, squid, some green-leaf vegetables, shrimp, and fish head soup.
After a nice nap, later in the evening, we walked over to the night market with Elder and Sister Abbott. On Saturday evening they have live music. Tonight, it was two brothers, both of whom are essentially blind. One played the keyboard and the other one played the flute. They were very talented. The one who played the flute apparently also teaches music at a university in Taipei.
June 23, 2017
This morning involved more physical labor than usual. We cleaned and apartment we are closing. Most of the furnishings had already been moved, and today they came to remove the air conditioners and we had to be there. While the removal was progressing, we packed stuff down and loaded the car and threw lots of stuff in the garbage. The work wasn't that heavy, but lots of trips up and down the stairs in the mid 90's temperatures and high humidity made for great sweating weather. After all the cleaning was finished we took most of the things in the car to the storage unit.
I worked on mailings in the afternoon. In the early evening we had another lesson with Catherine. The Assistants do most of the teaching and we just add clarification occasionally.
June 22, 2017
The biggest event of the day came when we went home 10 minutes early in the evening, instead of the usual 1 hour late.
June 21, 2017
Everyone is jumping in and helping cover the many issues associated with opening and closing apartments, moving furnishings, meeting with landlords, and negotiating ends to contracts and closings. The willingness to help is great even when it leaves me wondering who is in charge of my responsibilities. Much of the time it doesn't seem like I'm in charge.
We went to buy bunkbeds during the early afternoon. It took longer than expected. We found some for about $325 US, but on closer inspection we didn't think the 5 cm legs would be strong enough so we bought some beds with larger legs. I wanted President's approval but he was in interviews and the beds needed to be ordered today so we could get them before they are needed on July 3rd. I finally gave the go-ahead for beds that cost about $450 US. I wrote the President and told him we bought beds strong enough to withstand the shaking at the 2nd coming. Later he asked my legs would take the shaking of his wrath for the purchase. I responded "Yes" and he laughed.
Medical issues are frequent. An Elder had his gall bladder removed today. Another Elder, who has had a cough for 5 months, even after multiple doctor's visits, now has severe back pain and was sent to the emergency room. Another missionary can only work a couple of hours and then back pain becomes too bad that she must go lay down. And on and on. Several missionaries are probable going to be sent home early because we can't find help for their ailments. Sister Warner is working long days.
I took the Abbotts to the phone company and they were able to get their phones connected so they have WiFi and Internet now.
June 20, 2017
We held a pre-intake staff meeting in the afternoon, in preparation for the 23 missionaries who are leaving and the 11 who are coming the first week in July. We are scheduled to go with the bus to Taipei, which will allow us to go to the temple on July 4th.
The English class went well, but my session afterwards had too much information. I tried to show the chronology of the Old and New Testaments, and relate that to the Book of Mormon. It was too complicated.
June 19, 2017
Elder and Sister Abbott arrived about 10 PM last evening. They are low-key and seem like they will be nice to work with. For the past 20 years, he has worked in an Electrical Wholesale store, supplying parts to electricians. She has been a secretary.
It was the usual Monday, with lots of missionaries in and out. We drove to Fengjia to meet 2 Elders and 2 Sisters and begin the cleaning of the apartment there we will be vacating. Sister Warner, for some strange reason I will never understand, loves to get in and clean, scrub, and make things shine. Sometimes I'm a little too reluctant in my helping. After about 2 hours, we had everything cleaned except in the two rooms where we stacked all the furnishings.
The Assistants helped me unload the washer and dryer, into the warehouse, that we brought from Fengjia. They then went as translators and we ordered the moving and installing of air conditioners by Panasonic.
We checked the contracts on the other 3 apartments we are closing. Two of them are filled with mission-owned furnishings, so more moving is in store. President also told us they are looking for another apartment down in Gaoxiong. He wants to reduce a 4-person apartment to 2 people. That puts the total to 8 apartments that we are in some kind of negotiation, cleaning, and moving. It seems that each afternoon, about 4:30, the phone starts to ring and problems identified, which keeps us from leaving the office until about 6:00 PM.
June 18, 2017
The monsoons continue.
We attended Church today. The Sunday School class was stressful because of the way it was taught. It was mostly just quickly reading scriptures and moving on with no discussion. The subject was supposed to be The Celestial Kingdom and Millennium. But with no discussion I felt like a good teaching experience was wasted. I did some self-talking, calmed myself down, and tried to participate in the class. I had looked at the attendance in Sacrament Meeting and felt that 25% of the people in attendance needed to be in a Gospel Principles class, not Gospel Doctrine. We currently have no Gospel Principles class. After Sacrament Meeting I volunteered to the Branch President to teach the Principles class.
Sometimes we need to step back and evaluate what is reality for our circumstances. This is not the Wasatch Front Church organization and skills. In some ways, the leadership does well. They have good temple attendance. They conduct meetings well. Talks are fluent, but not strong doctrinally. The Church is still in its infancy in some ways. When I take that into account I'm not as critical.
We were invited to dinner tonight at the Hansen's. Dr. Hansen is on a sabbatical leave from USU and will be here two more weeks. We had a nice western dinner and interesting conversations. As always, somehow, Doc Warner's video was viewed.
Later tonight we anticipate the arrival of Elder and Sister Abbott.
June 17, 2017
Happy 43rd birthday to Mary.
The day started early with a call from Elders whose smoke detector was going off. After several failed attempts to resolved the problem, and shut the system down, they filled the sink with water and baptized the monitor. I'll send them a new one Monday.
We began the process of closing several apartments this morning. First step was to find, then visit, the apartment. Once there we determined what belonged to the mission, and what was the property of the landlord. We went to the Fengjia Sisters apartment and met the District leaders there. The apartment has been vacant for several months. The apartment was loaded with furnishings, including about 8 twin bed mattresses, 4 desks, plus lots of other furniture. It all belongs to the mission. We will go back on Monday, joined by a set of Elders and one of Sisters, and clean the apartment in preparation for moving all our things out. Don't ask me why we must clean before the stuff is moved. Two of the desks are new and we will probably confiscate them for our apartment rather than just put them into storage. I will hire a member to do the actual moving of the apartment's goods.
Since our number of missionaries is going to stay the same in the foreseeable future, the furnishings in the 4 apartments we are closing, because they are excess, will go into storage. We don't have enough storage space, and much of the stuff is old, so I will arrange to have the old stuff sent to the recyclers.
We went shopping for us and Elder and Sister Abbott. I forgot it was Saturday. With heavy rain, most of the people choose indoor activities, like shopping, and they like to shop on Saturday. The line of cars waiting for parking at Costco was about 4 blocks long. Fortunately, we can park at the Nantun chapel because we have a remote control which opens the gate into the parking area. The downside of parking at the chapel is you must carry your groceries about a ½ block from the store. The store was crowded.
We came home, did some cleaning and straightening in Abbott's apartment, and then took a wonderful nap. Late in the afternoon I got some puzzle time. My stress level goes down when I can divert from the constant pressures of missionary/office work. The puzzle is my diversion.
June 16, 2017
The rains continue, heavy at times. Mostly, it seems, those heavy times are reserved for when we are out on the street.
We were involved to two separate missionary discussions in the evening. Catherine's appointment was from 6 to 7. She joined an online Christian group to learn more about Christianity. (Bad move). She was concerned about the apparent conflict between dated fossils and when the scriptures teach that Adam and Eve were created. The minister told her not to take the Bible literally, and that baptism wasn't necessary. Baptism was just symbolic of accepting the Lord, and all she really needed to do was confess a belief in Christ. I asked the question, "if we can't take the Bible literally, how do we establish truth?" Without literal scriptures truth is established by argument and vote. It also gave us a chance to review the part in the banner where we talk about the role of Old Testament Prophets in teaching the truth. And, that the role of prophets is to keep the Doctrines pure. She seemed satisfied.
We then traveled to Fengjia to do a banner review with a woman the Sisters are teaching. The Sisters had taught her well, particularly her son who is about 10. She spoke limited English so everything had to be translated. The greatly slows the discussion, and you are never quite sure what the responses are. When we were about through her boyfriend came in and sat to listen. After I finished I asked the woman to teach the banner to the boyfriend. The Sisters were amazed at how much of the presentation she could remember. The visuals are always great triggers for the mind.
It was 10 PM when I finally got home. No supper tonight. It's too late and we don't sleep well when we eat and go straight to bed.
June 15, 2017
This morning was slow, but a noon appointment with an apartment manager was negative. Elder Ding did the negotiations but the apartment manager was not cooperative. It took time to finally determine what had happened. The apartment we rent in the complex comes with a covered parking space which we pay extra for. We didn't have a choice on whether we took the space or not. We sublet the parking space to a lady. Three months ago she gave money for the parking space to the manager, and the manager sent it on to us. In May when the renter sent money to the manager, the manager used it to pay the guard. We already pay the guard as part of our monthly payment. The manager said it wasn't her problem, and we should take up the money problem with the landlady. The discussion ended with us returning back to the office. Elder Ding will call the landlady and tell her we are going to deduct the guard payment from the next payment. We also put a second sticker on the contract file saying, "do not renew this lease!"
In the afternoon, we drove down to Huwei to close on a new apartment for the Elders. We started the negotiation about 3:30 and finished about 7:00. The landlord's daughter did the negotiating and was very cooperative. They were missing several documents so we had to wait for them to be brought to the apartment. The was a critical negotiation because the Elders have been asked to vacate their current apartment by June 23. It ended well.
The monsoon rains continued day and night. On the way back from Huwei we dropped of a washer to the Elders in Xihu. We had an extra one from a recent move by other missionaries, and the Xihu Elder's washer was declared non-repairable by the technician. They off-loaded the washer in the midst of a torrential downpour.
It rained hard most of the way back to Taichung. We were driving the mission van so we were seated higher and had better visibility. I arrived home, after dropping Sister Warner off and taking the van back to the office, at about 8:30.
June 14, 2017
The weather forecast is 100% rain for the next 5 days. Today, it rained several inches. Even though about 80 percent of our walk between home and the office is under covered walkways, by the time we got home tonight I was drenched from the waist down. If this much rain came to the Wasatch Front, Lake Bonneville would reappear.
It was Zone Conference for our zone today and President asked that we attend. The office staff also sang a hymn at the beginning of the afternoon session. I ate so much food it was hard to lip-sync the song. By 2:00 the problems we face on a daily basis had grown to the point we needed to start putting out fires.
We are still not fully organized on the apartment changes. Finding the mission-owned contents is the biggest issue. Coupled with that is now the missionaries are using the A/C's all the time they call reporting all kinds of problems. It's easy to give them a phone number to call, but more difficult to keep track of who called so I can follow up and make sure the repairs are made. The missionaries are notorious for suffering in silence.
During the Zone Conference, I had some ideas on a way to teach the Gospel differently to our English class. I wondered if I could develop short lessons which included a couple of pictures, pertinent to the subject. Give the students the pictures, along with several scriptures, and have them work together to learn the story. For example, we could put in pictures we used to identify the Pre-existence and Creation of the Earth. Add to those pictures, scriptures from Abraham, Jeremiah, New Testament, and Book of Mormon. No more than about 4 scriptures. The students would then take the materials, study them, and then tell the story to the class. It may be too cumbersome, but I think I will try.
June 13, 2017
I spent time in the morning trying to organize the apartment closures and moving of furnishings. We have one of 7 completed, and are close on two others. Time is getting short on a couple.
We drove to Daya and helped serve lunch at the Zone Conference. We cleaned up afterwards and brought all the supplies back to the mission home.
English class went well. The entire class stayed for the Spiritual Share afterwards, nine students. I asked if any of them knew what the Bible was. Only 2 raised their hands. I had a small copy of the banner and tried to use it, but the group was too large. We talked briefly about the three questions of life: where did we come from? Why are we on earth? Where do we go when we die? Several of the class asked questions: including if I thought everyone would be resurrected. I answered very briefly, but felt that because they would ask questions that I could slowly teach them the Gospel. I asked the class, one at a time, if they thought we lived before we came to earth. Everyone thought we had some kind of existence. I then asked how many believe that life existed beyond the grave. Again, everyone thought that some type of life exists. I made the comment that all of us knew there was more to this life than just a short time on earth.
June 12, 2017
It seemed to be a typical Monday in the office. Plenty of orders came in over the weekend for supplies so I packaged them and got them ready to mail. We are working on coordination of closing apartments and moving furnishing to other apartments or into storage. I think I have everything organized and then another phone call comes wanting to change things.
The morning was partly cloudy and not terribly hot or muggy. In the late afternoon the skies opened, and the winds blew, and it rained so hard for about 20 minutes that visibility was only about 100 feet. It rained heavily for the next few hours. I checked the weather forecast during the heavy rain and it said a 50% chance of showers today. If we got this much on a 50% forecast I can't wait until Wednesday, Thursday, and Friday with forecasts of 100% rain.
Elder Randolph and I visited a music shop and he bought a gourde flute. It has three pipes coming out of a gourd and sounds almost like bagpipes.
Linda and I shopped the open market this morning for food items for the Zone Conference on Tuesday and Wednesday of this week. Because of the high population density, they have open markets in many places. They put booths on the sidewalks and leave enough room for motor scooters to get though. The markets stretch for blocks and blocks.
We are eating lots of watermelon. We buy melons weighing between 30 and 40 pounds for about $9 US. We eat it at breakfast and dinner.
June 11, 2017
Attendance at Church seems to grow each week. We have new visitors each week as families come here on vacation, or to visit family members. Most of our visitors are from the US. Our Branch Presidency was reorganized today. Both counselors were released (one is returning to the US; the other was called to the High Council). They called our Branch Mission Leader and Elder's President as the new counselors.
The weather is really hot and sticky today.
Just as we were leaving to go to the Wuquan Chapel to sit in with the Sister Missionaries while they taught a discussion, the heavens opened and the mugginess turned liquid. We waited for the heavy rain to stop before heading to the chapel. Fortunately, most of our walk is under covered store fronts. It's just the first stretch that is quite exposed to the rain.
Mikki, one of our English class students, has been meeting with the Sisters for several months. She committed to baptism, but has not been faithfully attending Sunday meetings. The Sisters wanted us to be in the discussion to help encourage Mikki to be more diligent in attending meetings and studying the gospel. Mikki has a special fondness for Sister Warner. The baptismal date was rescheduled for July 1.
June 10, 2017
We cleaned house in the morning. Later, we drove to Lugang to the Taiwan Glass Museum with the Assistants and Sister Randolph. We had been there before, shortly after we arrived in Taiwan. The Assistants had never been there. This is the place where, if you eat in the small café they serve you on glass dishes, and you can keep the dishes. We got 5 plates and 5 small jars, with lids that have a plastic base so they can be pushed into the jar and make a seal. Tea came in the jars. The skill of the artisans of glass is amazing.
After the museum, we drove into the city and went to the street market. Sister Randolph, and the missionaries, had heard of a place where an artist paints pictures on folding fans, and one of his specialties is painting LDS temples on the fans. It took a little while, but we found the shop and ordered a fan with a picture of the Bountiful Temple painted on it. It will be several weeks before he comes to Taichung and brings the painted fan to us.
It was nice to get home, and out of the 91-degree heat and high humidity.
Sister Warner's phone rings regularly with calls from sick missionaries. My phone is busy with call associated with broken apartment appliances. It's nice to be needed.
Today is Lynette's birthday. We had a nice conversation with her and Dave later in the evening. It's nice to be able to compare experiences. Mission circumstances are so different. We do all the contracts for renting apartments on a 1-year basis. In their mission the missionaries find the apartments and no leases are signed. We lease full apartments. They mostly rent rooms in houses. We share the common factor of apartments are unfurnished so we have lots of household items to keep track of. We have freedom to purchase needed supplies; they must have permission to purchase. Lots more differences.
June 9, 2017
I spent most of the day learning the Financial Secretaries duties even though we learned today that Elder and Sister Abbott will arrive here the evening of June 18th. The Randolph's will have a week to train them. All of the financials have been shifted over to my name since I have an Alien Resident Card and Elder Abbott won't have one until he has been here about 3 weeks. At that time I will shift all the financial signature things over to him.
We have been in the process of finding four new apartments. The moves require sorting out who owns the various items in each apartment; whether it's the landlord or the mission. Today, President gave us a list of 4 empty apartments that he wants to close and vacate. All four are currently unoccupied. We must find them and then go through the process of determining what things belong to the mission. Mission items will need to be brought to Taichung and placed in storage, or put in other missionary apartments. The issue is complicated because the addresses we have are just for the apartment houses, and not the specific apartments. Most of these apartment houses have 50 or more apartments. The assistants will help us find the apartments.
We went shopping late in the afternoon to buy a few groceries for us, but mostly to buy for two Zone Conferences next week.
June 8, 2017
A long day. We got up just before 5 AM to get Sister Richman ready for the Randolph's to take to the airport in Taipei. We laid back down but never went to sleep. We had a long conversation with Lynda about the business and life in general.
We went to work and stayed about 30 minutes then drove to Huwei to inspect a potential apartment for the Elders there. They must move by July 4th. The apartment was dirty and worn, but the location was good. The landlady was not available so we left a list of things we needed and things that needed to be done to spruce up the apartment. I don't think she will comply. If she does we will probably end up going back again. Meanwhile, the Guiren Elders called to say their dryer doesn't blow air—a broken fan belt. We were in the area two days ago and could have fixed it if it had broken quicker. I'm not sure how we will handle this one.
With the 5 apartments changes we are currently working with, we have a problem keeping track of Church owned items. We must keep track of fridges, washers, dryers, A/C's, beds, wardrobes, tables and chairs, desks etc. If the new apartment already has those items then we must make arrangement to store the unused items. That means transporting them back to Taichung. In one change we have an excess of 1 washer, 2 fridges, and 4 A/C's because the new apartment has all of them already. I can't fit all those items into the van in one trip (and I'm not going to lift the fridges.)
The lesson with Catherine was interesting. She brought a book from the Korean fellow who has started a Church and she likes his book. When she told us he is God, I asked if only those people who know him can go to heaven she said 'Yes'. I then asked how she felt about her grandparents not going to heaven because they died before this guy started teaching in 1998. She didn't have an answer. It led into a discussion of the rest of the Plan of Salvation; the part we didn't cover last week. She is a nice person, and sincere, but needs a strong spiritual witness of the truth to help overcome her doubts.
I spent several hours working of the financial secretary's functions. I'm becoming more familiar, but still a long ways to go.
We finally got home about 8:00 PM.
June 7, 2017
My work is changing now that I don't have as many reports and the President is on a shorter schedule for Zone Conferences and interviews. I have less to do in the office. I have more to do outside of the office. Some of the changes are seasonal I think. We will go back to Huwei in the morning to look at another apartment. That will take all morning since driving time is about 1 hour and 20 minutes each way.
The shipment of Books of Mormon came today. Delivery time is much faster than last year. This order of 30 cases only took 2 weeks to arrive.
I'm still spending time learning the Financial Secretary role. I'm getting comfortable with the basics.
It seems there is always a crisis in the Recorders area. Sister Warner has done a great job of learning what the various forms are, and deciphering the meaning of invoices and receipts written mostly in Chinese characters. However, it takes a lot of time, and she is never quite sure if she has made the correct read on the paper.
We found a source of fresh peanuts last week. We went back there this afternoon and bought a big bag—about 2-gallon size—for about $18 US.
June 6, 2017
Sister Richman stays with us all day and night since Sister Warner is now her companion. Sister Richman will leave for home the morning of June 8. Her foot is healing and the broken bones have stayed in place so surgery does not appear to be part of her immediate future.
Sister Warner and I drove to Yuanlin and repaired a dryer drum belt for the Elders there. As we visit the various apartments to do repairs, we also inspect the apartments. We are responsible for inspecting the apartments in the Zhongxing Zone, and Yuanlin is in that zone. We are making a list of the apartments that we should quit renting when the contracts expire. This apartment fits into that group. The Elders have been renting this unit for a long time and it's worn out, and too large.
The English class went well. We only had one new person tonight so it makes teaching easier. Afterwards, we sat in a circle with three of our class members/investigators, and read a small portion of the vision in Section 138. Based on some of their comments, the thoughts of needing to join the Church have been present in their minds. We are not pushing for baptism, we are pushing for conversion in a slow and easy fashion.
After the rains, the weather is changing. Tomorrows high is forecast to be 89, and the low 76. Summer appears to have arrived. We walk a little slower, sweat a little more, and give thanks for the air conditioners that work.
June 5, 2017
The rains calmed down and the sun came out. A little humid and not too hot. Unfortunately, it won't be long before the heat arrives, along with its companion humidity.
Much of the morning was spent getting packages ready for mailing, and preparing a list of mailing labels. All of the Liahonas for the mission come to the office and must be distributed to the missionaries. I've tried having the mission president take them to Zone Conferences and that didn't work well because no one controlled who took how many. Not all missionaries would get copies. I tried sending boxes to each Zone Leader to distribute. Mostly, they sit in the Zone Leaders apartment because they don't see their zone members often, and they can't carry large packages on their bikes. My next approach is to mail the Liahonas to the District Leaders, who see their district members weekly. They would have smaller quantities to carry on their bikes and we should get better distribution. If I don't get them out they stack up in the store room.
Many sick missionaries. Colds, bronchitis, viruses, sinus infections, are just a few of the maladies. Sister Warner's phone rings several times each hour. She does the best she can to diagnose over the phone, with the intent that she can advise whether the missionary should go to a doctor, or treat it with over-the-counter medicines.
My phone rings a lot right now also. Everything from needing name tags to complaints that neighbors are throwing their cigarette butts onto the missionary's porches. The missionaries are good at following through on my advice.
Sister Reeves went home this morning. Sister Richman, who is staying with us, will be returning home later this week. President called her last evening and told her she would be going home this week.
We have seen a shift in our stamina recently. Another aging awareness. We still work the long hours, but don't feel quite as rested each morning.
June 4, 2017
President sent a message late last night asking if we would house Sister Richman for a few days while he works through her medical details so he can decide if she will go home or try to get the foot fixed here. Here companion will fly home tomorrow to seek help in getting her back problems fixed. Sister Richman likes puzzles so my poor puzzle may get a lift over the next few days.
Church was good today. We are losing about 4 family units this month as they return to the US. That will reduce our branch numbers by about 25%.
The monsoon rains continue.
After Church we drove to Dali, with the Assistants following in the van, and picked up Sisters Reeve and Richman to vacate their apartment. The President asked the Assistants to help and take care of the heavy lifting. He was aware of our needs.
When we got back to the mission home with the Sisters, President was waiting for us and helped with the unloading. As I was leaving he called me back and said he had something for me. I stood under my umbrella waiting for him. He came back out of the home and presented me with two bottles of Miracle Whip. His only comment was: "don't ask me how I got these!" I won't. I'll just be grateful because we were beginning to run low.
Life is soggy, but good.
June 3, 2017
Today was P-day. We walked to the office in the morning, picked up the car, and drove to Dali to pick up the Sisters so Sister Richman could go for her doctor's appointment with her broken foot. An interesting dilemma has arisen. President Teh has contacted her father to keep the family appraised of her situation. Her father is a podiatrist. He wrote a set of instructions for taking care of her foot after he had seen her X-rays. Meanwhile, the Area Medical Advisor and the Orthopedist in the hospital gave opinions that were similar to each other's, but different than the father's instructions. President can't follow both sets of recommendations, but must make a choice. My opinion is that his only safe decision is to send the Sister home for her father to take care of. Get her healed, then have her come back and finish her mission.
After the doctor's appointment, we drove to Jiayi again today. The Chen's had found another apartment they thought would be good for the Elders. We had to drive down and approve the apartment and pay the deposit and first month's rent. We finished the paperwork and negotiations about 4:00 PM.
We then drove about 50 minutes back to Huwei to look at another apartment. We are having monsoon rains so travel is slow and sometimes treacherous. We arrived in Huwei about dark and met the potential landlord at the Carrefour Store. The GPS couldn't find the apartment address so we had to select an alternate location. We looked at the apartment. It is still occupied by some college students so it didn't show well. We started the negotiations and learned, again, that the missionaries hadn't done their homework, so the apartment owner didn't have a tax number. We spent an hour talking with the landlord's son (he speaks English) explaining the documents and proofs that we required. We agreed to pay the extra taxes, but not until they produced the tax license number. We weren't about to close the lease. We will need to back next week when they have the necessary documents.
The drive home was stressful. Normally, it would have taken us about 45 minutes, but because it was raining so hard we couldn't see the road very well. We had to drive much slower. I dropped Linda off at our apartment just after 9 PM, then drove to the office and dropped of the car and walked home in the rain.
June 2, 2017
It rained off-and-on most of the day. We left the office about 8:30 AM and drove to Jiayi to look at an apartment and negotiate a lease. It's always exciting when the location we are trying to find is the same place the GPS takes us.
The apartment was nice and we said we would take it. Negotiation was difficult only because the landlady only spoke Taiwanese and none of the missionaries could speak much of that dialect. The Chen's, a senior couple from Taiwan who live in the area and inspect apartments there, helped with the negotiations. We were successful in getting the apartment. We still have two more to find.
We got back to the office just before 4:00 and tried to do some paperwork. Both Sister Warner and I were tired. At 6:00 PM we had a missionary lesson with Catherine. I taught the Plan of Salvation using the banner. She has all these strange ideas about meditation mixed with Salvation. At the first of the lesson I had to end those discussions and move to reading scriptures. I started with Abraham 3: 22-26 to get her attention. The inspiration to use that scripture made a great lead into the discussion. We quit after an hour and 15 minutes. We briefly touched on Spirit World and it was obvious she was beginning to tier. We meet again next Wednesday and will see how much she understood.
June 1, 2017
The two Sisters who have been on complete rest for the past month got restless last evening. One of them decided she needed more exercise so she started dancing around the room. I don't know what happened during the dance but she came down wrong on her foot. We took her to the hospital this morning and she has a broken bone in her foot. The other sister, who has severe lower back pain was notified today that she will be headed home the first of the week. The broken foot takes about 6 weeks before it will withstand much weight. We may end up with a house guest for a few days.
Yesterday one of the Elder's landlords informed them that the least on the apartment would not be renewed. Today another set of missionaries received the same message. We will probably head back to Jiayi tomorrow to look at new apartments. We will take the broken footed missionary back to the doctor on Saturday. It looks like another pleasant P-day coming up.
The sores on my legs where I fell through the stool have been healing well until last evening. Three of the four still look good, but the 4th, which is on the same leg I have the cellulitis problems in Alaska a few years ago, has another cellulitis going.
In the midst of all this chaos we are trying to learn the duties of the Mission Financial and Secretarial positions. It seems that every time we sit down to learn from the Randolph's the phone rings and another crisis announces itself. There is always good news mixed in though. Sister Warner needed some beans for the Zone Conferences she is preparing food for next week. They don't eat many beans in Taiwan. We asked the cook in the mission home, Way Nu, where we could find red beans. She offered to take us to the store. We found the store and they had some salted peanuts in a large (think 2 gallon) bags, and they looked fresh. (We have found few peanuts here, and no fresh ones.) I bought a small package and they are wonderful so we will go back and get the big bag.
We had tropical rains today. They hardest, and most persistent rains we have had some coming to Taiwan. They weather is supposed to continue through tomorrow.
May 31, 2017
As we learn more of the roles of Secretary and Finance we are becoming much busier.
Sister Warner and I drove to Puli and showed the Elders how to repair a broken dryer fan belt. Puli is a valley in the lush green mountains. I think it's a beautiful area. As we were leaving we told the Elders we wanted to find a market where we could buy a watermelon. The said to follow them on their bikes. They took us into some narrow streets and then turned into a street that was impassible for a car. The Elders stopped, came back to us and said, "we forgot you were in a car! I don't think cars can drive down this street." They were right. We turned around, hooked up Esther (our GPS) and headed back to Taichung. We didn't find any watermelon.
May 30, 2017
It rained much of the day and evening. We are in the 4th day of a 4-day holiday in Taiwan. Elder Randolph and I made a quick run to Ikea this morning and beat the rush. As we left the store cars were lined up waiting for parking.
I did me Key Indicators report, but didn't check the source material close enough. Last week's data was omitted from the data so the report will need to be run again tomorrow. Unfortunately, President is down in the southern part of the mission so it takes longer for him to get time to rerun the report.
I had worked on my part of English class for the past few days. The class had so many first-timers tonight that most of what I had prepared was not appropriate. We showed the old movie, "Man's Search for Happiness." For those who could understand the English it went well. However, several of the class didn't understand much. The class members are interested and willing to learn, but the gap in knowledge of English is a problem. We will think and pray about this problem during the week.
We have two sets of Elders in Jiaji. Yesterday we visited with one set and tried to get them a new apartment. I wrote about that yesterday. Tonight the other set called and said their landlord told them they need to find a new apartment because he wants to more into theirs the first of July. So, the search for another apartment begins tomorrow. Fortunately, the new Service Missionary couple are very capable and willing people. They will take some of this load from us. Sister Warner has remarked several times about how quickly the senior couple catches onto what needs to be done.
Two members of our English class gave us big pineapples tonight. They are in season now, but they are really an expression of love from the class members towards us. Lots to be grateful for.
May 29, 2017
The Elders in Chiayi (Jiayi) are trying to move to a new apartment. They located one in the same building they currently live in. We had explained to them the need for the landlord to have a Taiwan Tax Number or we would not lease from them. The Elders talked with the landlady and told us everything was in order. We drove the 104 km to Chiayi to inspect the apartment. Language problems again. The Elders didn't understand what we meant by the tax number, and didn't have sufficient Chinese language to explain it to the landlady. Lesson learned: we will have the Chinese Service Missionaries, the Ding's, talk with all perspective landlords and explain how the system works. They will have this conversation before we every go visit and inspect a potential apartment.
The weather continues milder than we had anticipated. It's warm in the sun, and humid; but not hot yet.
May 28, 2017
Lisa called early in the morning to report that, 23.5 hours late, she had arrived home. A cancelled plane in Cajamarca resulted in a rerouting. After we talked with her Mark called and gave us an update on the lodge preparations. I think of all the things I miss by not being at home, it's the early time at the lodge. So much gets done so quickly that it creates a great feeling of accomplishment.
My leg seems to be healing fine. It's still a little sore, but no redness around the wound.
Sister Warner will be teaching a combined Primary class, and I will find out when we get to Church if I'm going to teach a Family Relations class.
No class for me to teach today. In fact, I don't think the class will ever happen because the spouses don't seem to be interested in attending. All the spouses are less actives.
The classes in Church today were interesting. The teachers were well prepared. I don't say much during class unless someone makes a comment about Church doctrine that is incorrect. I make a simple comment to bring the wrong statement to light, without embarrassing the person who made the comment. In Priesthood meeting a brother said the God is progressing as we progress. I simply said he should be careful about that statement because God already has all knowledge and is perfect, therefore he has a great interest in our progression.
The past few weeks President Teh has turned over the purchasing of most supplies to my judgement. When an A/C fails, and the technician says it is not repairable, I just go buy a new one as part of my job. I don't need permission each time. I approve the purchase of small items like fans, mops, garbage cans, etc., as the need arises, and don't need permission. This level of trust makes things move much quicker because I don't need to wait for permission. I'm also getting a good inventory of appliances so when one breaks I know if we have an unused one that come now be used. Thus, it eliminates the need to purchase a new one.
May 27, 2017
We knew that Lisa would be tired when she returned from Peru so we slept in this morning in hopes it would give her a boost. It helped on our end. We then used the rest of the morning to vacuum, mop, laundry, and prepare some meals in advance. I chopped 8 onions. It was so emotional the experience brought tears to my eyes.
After finishing our Saturday cleaning we decided to go to Ikea to do some shopping. When we got to the store the line of cars waiting to get into the parking area was over a block long. Welcome to holidays in Taiwan. We turned around and came back to the apartment fearing that all the stores would be crowded. The people here work long hours, but they also have lots of long holidays. We are in a 4-day Dragon Boats Festival. That means the government offices will be closed until Wednesday, and the stores will be crowded to overflowing until Wednesday.
We took an nap and then I worked on the puzzle while Linda had fun being creative in the kitchen.
May 26, 2017
Lots of orders to fill during the day. It must be that the missionaries hold off ordering when transfer time comes. When they learn how the transfers affect them they then replenish their supplies. I had decided last time when I ran out of Book of Mormon that I would order again when I got down to 9 cases. Yesterday morning I got down to 9 cases so I ordered 30 cases. By the time we left the office today I was down to 5 cases. It will take two weeks for the new books to arrive.
One of our Elders has had problems with migraine headaches. He went home about a year ago, and while he was home, they found medicine that would keep him from having the headaches. His parents sent more medicine to him but it never arrived in Taiwan. The Area Medical Advisor was able to get some of the meds in Hong Kong. A couple from the Area Office brought the meds to us today at the Mission Office. Sister Warner and I then made the 45-minute drive to deliver the meds.
On Friday afternoons I try to restock the shelves in the store and order supplies from the Service Center in Taipei. When I need to look into things that are on shelves above my eye level I have a small plastic stool that is about 20 inches high. I put the stool in front of the shelves and stepped up onto if. The top of the stool blew apart, with shards of plastic flying. I stayed on my feet, but ended up standing on the floor with my foot through the hole in the top of the stool. I quick check of my legs told me that I had scrapes, below the knees, on both legs. Shortly thereafter, I could feel something wet running down the back of my leg. I lifted my pantleg and saw where a piece of plastic had pierced the skin at the lower end of the calf. I called Sister Warner in to the room where I was and we quietly cleaned the wounds and put a dressing on the punctured skin. I'll survive, and be a little sore tomorrow, but it's a long distance from my heart.
My evening's activity is sitting on the bed, with my leg elevated, and on an ice pack. Life has it's small challenges.
A set of Sister Missionaries came into the office seeking guidance today on how to deal with their ward's lack of interest in helping new investigators and members. Retention is an awful problem here, and many the members who do come struggle with filling callings. Many wards have average Sacrament Meeting attendances of less than 50 people. The Sister's problem is that the Gospel Principles teacher never teaches the class, and it gets dumped on them at the last minute. They wanted to know how to approach the Bishop to get the problem solved. I told them to take advantage of the opportunity to teach the class, and that way they could have more effect on the investigators and new converts. They shouldn't worry about the ward's problems. They should do the best they can with the opportunities given to them. The concept seemed to help them.
Sister Warner has many sick missionaries she is tracking. Flu, bacterial respiratory infections, panic attacks, headaches, depression, chronic back pain, etc.
May 25, 2017
Much of the morning was spent cross-training with the Randolph's. Linda worked with Sister Randolph, learning the secretarial duties. I worked on finances with Elder Randolph.
In the evening, we had another lesson with Catherine. She had picked up some anti literature about polygamy. The discussion was not being productive so I told the Elders to present the lesson they had prepared. They shifted away from asking questions about how she felt, into teaching the principles of the Gospel and the discussion became much more productive.
We were walking home after the lesson and Catherine saw us and stopped her car and asked if we would like a ride home. We took her up on the offer. When we got to the apartment she came up and spent about an hour with us. We showed her some pictures from other missions. We even showed her the Doc Warner's video. It was a good experience for all of us.
By the time we finished visiting with Catherine it was too late to eat so I had a few handfuls of peanuts for supper.
May 24, 2017
Wednesday is always the toughest day of the week on our new schedule. We work late Tuesday evening in the English class, and don't have enough recovery time before starting the next day. We also got up early because we had 8 Elders who had to be at the mission home before 8:00 AM.
The morning was merciful. We were able to spend the entire morning away from the office doing repairs after I finished doing the Key Indicators report. A broken dryer turned out to be the main belt, that turns the dryer drum, was broken. Before we finished that repair, another call came from Sister whose water sprayed when they tried to get filter water from the tap. That one turned out to be a broken rubber connector. It was also an easy fix. The best part of that repair was I corrected the address in the GPS and we actually found their apartment. Last time we went there, we got lost and they had to come find us and lead us to their apartment.
I spent several hours in the afternoon working with a set of Sisters, the same ones who had the spraying water, on the banner presentation in the office. I found it interesting when they expressed their concerns about giving the baptism challenge, even though they knew the investigators did not understand the importance, or purpose, of baptism. We talked about how, if they taught well, the people would want to be baptized. I felt it was a productive session.
May 23, 2017
Today was transfer day and 14 missionaries going home. The office was full of missionaries all day long. Sometimes as many as 12 were here at a time. Lots of fun conversations and renewing friendships. Not much productive work for us though.
The set of Sisters with health issues that have mostly confined them to their apartment do not seem to be improving. I don't think President has many options left before sending them home to get long-term help.
Late this afternoon President asked if we were going to the temple in Taipei with them tomorrow. It caught us off guard. We have appointments scheduled for tomorrow so we can't go. He said we can go to the temple on any of the trips taking missionaries to Taipei. We will arrange to go on the early July trip.
English class was interesting. With transfers one of the missionary areas was closed and it eliminated a set of English teachers. Thus, three classes were combined into two classes. The other class gets most of the beginners because the young missionaries who teach the class can speak Chinese. After the class we announced that we were going to show a video about the Restoration of the Church of Jesus Christ. Usually, about 6 from our class will stay for the class-after-the-class. Tonight, almost everyone stayed. I think we have about 12 nonmembers in attendance. We had a new young couple attend. He's Taiwanese and she is from Venezuela. She seemed very interested, him less so.
We housed 4 leaving missionaries in our apartment tonight, and 4 more upstairs in what will be Abbott's apartment.
May 22, 2017
Since transfer are this week, P-day will be tomorrow so things were quiet in the office. I spent time straightening supplies on shelves and trying to come up with a scheme for arranging pamphlets where I just have a few in various languages. I have pamphlets in about 10 languages, and Book of Mormon in about 15 languages. I even found a BOM in Finish today.
We learned about a flower shop, close to where we live, that has orchids. They put together sprays mostly for funerals. We stopped in on the way home and bought a nice vase with 5 different orchids planted in it. This is great country for orchids. Lots of humidity and skies are often occluded so there isn't as much bright sunlight. Linda was happily involved in arranging, and rearranging, the front room in the evening.
We closed on apartment 9F-1 this morning. Tomorrow evening we will have 4 Elders sleeping in our apartment, and another 4 sleeping upstairs in the new apartment. All 8 of them finish their missions this week.
May 21, 2017
We went to Sacrament Meeting. During the week the Branch Mission Leader had asked if we would bare our testimonies as part of the Sacrament Meeting program on missionary work. Just before the meeting started the Branch President came to us and said the High Councilor, who was supposed to be part of the program, was a no-show. The president asked if we would each take 10 minutes in the program. We did and it seemed to go well. Linda talked about how obedience can lead to missionary opportunities. I spoke about how all of missionary work is trying to get people to fully benefit from the Atonement of the Savior.
We have a contingent of 6 to 10 Filipino's who regularly come to our branch meetings. Several of them are returned missionaries. They are in Taiwan on work contracts, and leave their families in the Philippines. I watched them during the Sunday School class and felt strongly that, even though they can converse in English, they are limited in their understanding of the lessons which are taught in English. After the class, I talked with the Sunday School President, who also taught the class, about having a Sunday School class in Tagalog for the Filipinos. He said he would bring it up again in Ward Council. Later, I talked with the Branch President about the same subject. He didn't seem too interested, which I understand because I think he's near overload in running the branch.
After church today a Filipino couple were baptized.
We talked briefly with the Assistants about transfers that were announced last night. Five areas are temporarily closing during the temporary decrease in our number of missionaries. We need to capture phones and keys from these areas. Two areas are white-washing so we need to track their phones and keys also. We also need to track the 13 bicycles that those missionaries, who are going home, are leaving.
Still have not seen President and Sister Teh for a week now. Rumor says they have been in a meeting in Taipei with other General Authorities, including Elder Cook.
I'm feeling a lot of stress again. Part of the stress comes from anticipation; another part from not knowing what's going to happen. If there is going to be a change in assignments in the office I should hear about that tomorrow or Tuesday.
May 20, 2017
This would have been my parents 81st wedding anniversary date today. It's also Zack Battenfield's birthday. We celebrated by going to the Nantun Chapel early and helping clean for two hours. I vacuumed the entire upstairs with a small vacuum. Afterwards, we went to Costco and did a $400 grocery shopping. Our supplies have not been replenished since we moved into the new apartment. They had some nice-looking tenderloin steaks, but the $8/pound price put them out of the range I was willing to pay. We bought hamburger instead.
It continues to rain off-and-on, but nothing hard. It's nice because it keeps the temperatures cool.
We tried to take a nap in the afternoon but the phone kept interrupting the quiet. The Beitun Sisters called and asked if we would sit in a lesson they were teaching at 6:00 PM tonight, and we agreed to come. About 4:00 PM we showered and headed toward the office. We wanted to find some shower curtains and rods for the Abbott's apartment. On the way walking to the office the Sisters called and said the appointment had been cancelled.
We checked the big department store near the office and they didn't have shower curtains or rods. We drove to the RT-Mart which has a large inventory of household items. We found the curtains and rods we needed. We also picked up a watermelon and other grocery items we weren't able to get a Costco this morning.
I dropped Linda at the apartment with the groceries and took the car back to the office, and walked back home. My feet were tired and my legs ached. About the time I got home my cell phone beeped and announced that I had set a new record for the number of steps I had taken today. (My phone keeps track of that type of things.) It said I had taken 12,738 steps.
After dinner, I was reading the lesson we are scheduled to present on Family Relations tomorrow. I was pondering what kinds of reactions I may receive if some of the couples attend who have been invited. In almost every case, the wife of each couple is Taiwanese and less active. The husbands are white Americans and they are active in the Branch. I've never met any of the women, but I understand that most couples were married in the temple.
After pondering the lesson, I read Chapter 24 in Teachings of the Prophets, Gordon B. Hinckley. The chapter is President Hinckley's testimony of the Atonement. As I read the thought struck me that all of the teaching we do is aimed at trying to get people to live such that they can enjoy the full blessings of the Atonement. The Resurrection is the gift from the Atonement that everyone will enjoy. Eternal life, eternal families, family associations, righteous dominions and all predicated on being found worthy to enjoy the full blessings of the Atonement. The First Principles are guidelines and requirements on how we must live to find the true happiness that each of us seek. I hadn't quite looked at the teachings of the Gospel in the context before. We have been given commandments, which if followed, lead us into Life Eternal.
May 19, 2017
President and Sister Teh have been absent from the office most of the week. They haven't been by the office. They aren't scheduled on the calendar for interviews. They respond to texts, belatedly. We were concerned that maybe they were sick. I looked in their garage and the car was not there so we know they have traveled somewhere.
We drove to Dali to check on the two sick Sisters that were put together last week to recuperate. They were pleasant and upbeat, but the problems mostly remain. One with back problems, the other having severe panic attacks. It will take a miracle for either of them to heal sufficiently to stay on their missions.
I studied the Children's New Testament Stories book looking for ways to use the presentation there to teach along with the banner. Not much help. The Children's book is mostly history and would be hard to teach doctrine from. I checked the Book of Mormon Children's storybook and found the same problem. Great for acquainting people with the story of the scriptures. Lacking in content to teach the doctrines. I then read through the three lessons in Preach My Gospel and found that the missionaries in our small sample size of one, are not following the lessons as put forth in the manual. It may just be because Catherine asks so many questions that the missionaries get distracted from the lesson format. The commitment at the end of the first lesson is to asks if the investigator will pray to learn the truthfulness of the Book of Mormon. Nothing about preparing for baptism is mentioned. After the second lesson, in which the First Principles and explained, and the purpose of baptism has been taught, then the challenge concerning baptism is issued. I will investigate further to see if the sequence of the lessons I have just observed is the norm, or if most of the missionaries follow PMG commitments.
The weather was moderate and cloudy all day. It didn't feel like rain, but the temperatures were pleasant. Just about the time we were leaving the office for the day the rains came. It was a steady, though not too heavy of a rain. Sufficient moisture was falling to warrant Linda and I carrying our own umbrellas.
Elder Randolph and I have agreed that on Monday I will start learning his Financial Secretary role. President hasn't made any specific assignments, but we are running out of time to insure a smooth transition. I know President is hoping the Abbott's get sped up on their visa approval, but as of quitting time tonight no information is forthcoming indicating that is happening.
May 18, 2017
We are happy this week is coming to an end. Consecutive late nights have made home and relaxation seem like a dream.
We were supposed to close on the apartment on 9th floor today but they had to reschedule. We got the beds made and water system hooked up while we waited so the time was not wasted.
We drove to Yuanlin and delivered some medicine to a Sister who's been having intestinal problems. It was a nice break away from the office, but only about a 45-minute drive so it wasn't too tiring.
Things are slow at the office with the President occupied heavily with involved in transfers and missionaries going home. We lose 14 missionaries and only get 3 so it will cause lots of movement. The two transfers following this one involve about 20 missionaries coming each time, and a large number leaving. Things will settle again in September.
Good news from the lodge. Mark discovered a small leak in a gas line on Big Blue. The leak allowed air into the line, which in turn caused the motor to run rough and not at full power when under a load. We were worried that the fix would require a big expenditure for two new motors. Start-up at the lodge seems to be going well.
May 17, 2017
I spent most of the morning at the Toyota dealership getting the oil changed on the car I drive most of the time. In the afternoon, Sister Warner and I spent 2.5 hours with Achilles, one of our English students, helping him rewrite his resume' and cover letter. It was a tedious process and I start to struggle after about 90 minutes of intense editing. Part of my aging process I guess.
In the evening, we had another lesson with Catherine. We mostly just observe and answer a few questions. Tonight was upsetting to me because I don't feel the missionaries are teaching her any doctrine. They asked if she had read the Book of Mormon and she said she has read the first 7 chapters. She had some of the character's names, but missed most of the story. We then read most of 1 Nephi 8 together. They then followed with questions about if she knew if the Book was true. She said she didn't know. They then asked her about being baptized when she came to know the book is true. She balked at the question. I tried to rescue the missionaries and get them to listen more carefully to what she was saying.
The missionaries are either very weak on doctrine, poor in teaching skills, or both. The only scripture they used in the entire 90 minutes with Moroni 10: 4-5. I had her read Alma 32, about planting the seed of faith. I'm not sure how to help improve the teaching. I wonder if the emphasis on missionary work here is on how to find and teach, but not on what to teach. If Catherine continues to listen and study, and is baptized, at the rate she is being taught the Gospel she will know almost nothing of the Restored Doctrines. If this is a typical example of the sharing of the doctrines of the Gospel, then it's no wonder that retention rates are so poor. People join the Church with a small testimony and friendship with the missionaries. The question burning within me tonight is: "what can I do to make a difference?" How do I make sure I'm in harmony with the current teaching approach?
May 16, 2017
Our English class this evening was on "Family Night." So, we held a Family Home Evening with our class. We did our usual vocabulary drill and then played some games. They especially liked the 9 books on the floor, and trying to figure out how the person who left the room could tell which book was selected.
After English class the entire group stayed for the religious portion. That's the first time that has ever happened. We read about half of the Proclamation on the Family in English as a group. Some of the words we hard, but the message came across strong. The group just kept asking questions. They always want to know how we perceive them as people, as a Taiwanese society. I try to choose my words carefully so I don't offend. They asked how the LDS Church is different here than in America. I told them the organization, doctrine, and administration were the same. The biggest difference we saw is that the people here work much longer hours so they don't do as much visiting of other members as we do in the US. I told them that good people are good people no matter where they live. I think next week we will invited them to come to one of the wards that meet in the chapel where we teach. We will meet them there and attend with them.
The new couple, the Ding's, came today and will be a great help. She set up an appointment for me to take a car in for an oil change tomorrow. They will come to an apartment closing, and another final check off for opening another one. I hope they feel needed.
May 15, 2017
The morning started early with a call from a sick Elder just before 5 AM. He apparently had some food poisoning creating much discomfort. Sister Warner is good at phone diagnostics after her many years of practice. We then had delightful Mother's Day calls from Mark, and Lisa and Lynette. Even though we talk often with them, it is still special each time they call.
We spent most of the day looking for a bedframe for the new couple who will be coming in June. In a population this large, with miles and miles of stores in every direction, it can be difficult to find what you need. We finally talked Wen Nu, the housekeeper and cook in the mission home, to go with us to find a bedframe. It took all afternoon, we finally found one we liked, at a price that is within budget. We paid about $300 US for a nice solid wood, queen-sized frame.
We are preparing for the Ding senior couple to come tomorrow. They are service missionaries and will work about 10 hours per week. It appears that we will be doing the orientation as we have been given no specific instructions other than to identify the two zones they will be doing apartments inspections in.
May 14, 2017
Mother's Day. Linda liked her Gold Fish. Now she wants earrings to match.
In Priesthood meeting today, the subject was making your marriage strong. Since we are in a Branch there is only a Melchizedek Priesthood Quorum and we don't separate into Elders and High Priests. Most who attend are Elder's age, so the conversation is based mostly on theory (they lack experience) and what they understand from what they have read. At the end of the meeting, the Stake President who had been attending, ask me to tell the class what really works to make for a successful marriage.
Afterward, I reflected on how fortunate I have been to have Linda as my wife and companion. From our earliest years, she encouraged me to become more; to do better. Even when it meant moving across the country multiple times, she packed the bags, loaded the family with me, and away we went to a new experience. All of the early moves came during her child-bearing years, and the time we were raising our family. It was hard. It was difficult. Yet, she was always there making a home wherever we were. Filling Church assignments was just a part of raising a good family to her. For the better part of 17 years I sat on the stand and Church, leaving her to handle the kids and keep them reverent during church meetings. The last eight years I was away from home on Church assignments more on weekends than I was at home. It was never easy for her. But, she was a fearless supported of principles of righteousness.
When we started the lodge, it was she, who when our Bishop said she should quit her job and go with me, quit her job the next day, even when she knew it would leave us without an income. She referred to this kind of response to the Bishop as, "being Priesthood broke." The early years of the lodge, when construction was heavy, and hours were long, she set the example to all of us with her dedication to task. She would work until time to fix meals, go fix and serve the meals, clean up after the meals, and come back to the construction tasks. Never complaining about anything except not having enough time.
The missions have had many rewards spiritually. We have met many new friends and thrilled to see many of our brothers and sisters accept the Gospel and join the Church. But missions are also hard. The hours are long, and sometimes the isolation seems as though it will never end. The long hours sitting the Church meetings and never understanding what it being spoken are not always easy either. The to-numerous-to-count sick calls. The long nights and early mornings on the phone comforting those with all kinds of maladies. Hours, that stretched into weeks, sitting in doctor's offices with sick missionaries, were just part of her great desire to help the missionaries become healthy again. Never a complaint. Even when it was her turn to be sick, she took care of others. Doing washing by hand. Boiling water to drink. Sitting alone for two weeks while I was out with the missionaries, waiting for the Shingles to subside were just part of her faithfulness.
Not just one mission, but four. Knowing before each additional mission that the next one would have to be done with less physical strength and ability because of the impact of aging.
I have such a great companion. The doctrine of Eternal Marriage is so sweet to me because of my testimony that if we continue to keep our covenants all these years together are but a prelude to what lies ahead. I love my companion!
May 13, 2017
It seems the moving will never end, so we spent several hours this morning packing things from our apartments up into the new apartment. Our front room has been the storage area for bedding, furniture, and other items. The upstairs room was painted yesterday, but had not been cleaned up today so we were hesitant to move things that could be damaged by paint. We did put together the two sets of bunkbeds.
After lunch, we went shopping for several hours, mostly for the 9th floor apartment. Afterwards, we came home and had a nice nap. I spent several hours relaxing on the puzzle. Later, we finished moving most of the bedding upstairs when we discovered they had cleaned up after the painting.
May 12, 2017
I spent most of the morning with the Panasonic people as they removed A/Cs from our old apartment and put them in the new couple's apartment upstairs from us. After lunch, we went to the hardware store and I bought 2 self-adhesive plastic thresholds and stuck them along the edges of my new desk/table. I now have a nice, inexpensive puzzle board.
I bought Mom a Gold Fish for Mother's Day. I think it will surprise her. Hope she likes it.
May 11, 2017
Things were slow at the office this morning so I left and went to our old apartment and took down the last bunkbed that belongs to the mission and loaded it in the van. I removed the water filter and when that removal was completed, the old apartment was empty of all our mission belongings. Loading the van was tedious. Remove a mattress from a bed, take it to the elevator, go down 7 floors. Leave the elevator and carry the mattress about 50 yards to where the van was parked out on the street. Load the mattress in the van, then go back and repeat the process for 3 more mattresses, 2 mattress pads, plus multiple trips with parts of the frame. I was tired in the 89-degree heat. The Assistants helped me unload and put the things in the new apartment. That was much easier.
We met the new Service Missionaries, the Ding's. They are retired Chinese who seem to speak good English. They will help us on Tuesdays and Thursday from 8 until 2. We think they will handle housing contracts and repairs. That will certainly free up our time.
Four of the Sister Missionaries spent an hour with Linda at the old apartment cleaning and mopping in a final clean up. They were a real blessing in our life. Three of the Sisters are ones I worked with in the Banner presentations.
I had the Assistants help me haul two heavy items from our apartment up to the new apartment, before they left. Later, I used the furniture dolly and moved most to the remaining furniture from our place. The landlord has not finished painting in the new unit so we can't do much more than stack things in the middle of rooms. However, we are slowly reclaiming our living space.
I'm not totally better from my virus, but I can see improvement.
May 10, 2017
I'm doing better health-wise today. The discomfort in my stomach is less, but I'm still quite bloated. I feel it most when I drop a puzzle piece on the floor and must bend over to pick it up.
I've been trying to get an inventory of air conditioner units owned by the mission. Thus far, however, I have almost no information and that caught me today. The Panasonic people are telling me the size of units we need, but the mission only authorizes A/C's in the bedrooms of the apartments. Two apartments, I'm aware of, have no units so we may need to buy some. Before I can do this I must find which room the missionaries are scoping out for the units. I visited with President tonight about the problem, and will call the missionaries tomorrow to clarify which room(s) they are trying to cool. (Blair and Jane, I wrote this as maybe help for you.)
We attended dinner tonight at the mission home. It was honoring Elder Kuo, one of the Assistants, who will be going back to the field on the next transfer. He finishes in July, and will go back to medical school. He completed one year before coming on his mission. He's from Taipei, but the Medical School is across the street from our office so I anticipate seeing him occasionally.
President told us tonight that he will interview a local couple tomorrow who will help part-time in the office. They will also take care of Self-Reliance for the mission. He asked us to make sure the new couple feel welcome and needed. No problem.
We sat in on another lesson with Catherine (wrong spelling before) this afternoon. The Assistants are doing the teaching, and we agreed ahead of time that we would begin with the 20-minute video of the 1st Vision. That went well. As we were walking into the room where we showed the video we passed a picture of the First Presidency, and told Catherine that was the prophet. She said she thought Joseph Smith had been murdered. We explained that President Monson was the current prophet and righteous people always had prophets on the earth. She was perplexed by the concept of prophets living today. I think after the discussion she was beginning to think it was a real benefit to us to have living prophets. Real missionary work is great.
Short Skype visit with Lisa and Lynette today, and nice email from Mary.
May 9, 2017
Lynda called early this morning with a good report on the startup at the lodge. Mark had all the generators running, the flight over to the lodge was smooth, as was the water when they landed.
I did my key indicators report this morning. It takes me less than an hour now, but I remember when it took 12 hours, and then Matt came to my rescue with his programming of pivot tables.
As the weather has warmed I get more calls on air conditioners. We deal mostly with Panasonic. The people in the store only speak Chinese so I must take a translator with me—one of the young missionaries. It often becomes frustrating to me because my translator is Taiwanese and English is his second language. I think I'm simplifying my speech but it doesn't take long before I realize the translator doesn't have enough English, in the technical world, to understand simple things. Today, I just gave up and decided it would be easier to fix the messes than it would be to try and get it right the first time. I wanted to know if a small air conditioner would cool a small bedroom. He interpreted it as if I was asking if the hole in the wall was big enough for the unit to fit into. We also had a big discussion on whether one of the units we had taken to the shop to be repaired had been fixed. One time he said it couldn't be fixed. Then he said it would work fine in the big room. I never did figure that one out. They young missionaries try, but they aren't very experienced in the world of communication.
I kept busy most of the day by filling orders and responding to phone calls. I seemed to relapse on my stomach problems, and by four in the afternoon I was quite uncomfortable sitting up. After work, we started looking for a place to grab a quick bite to eat before the English class. The more I walked the more discomfort I felt. We changed our plans and headed for the apartments. We bought a package of fried rice from a street vendor to be my supper. As quick as Linda got me home, she returned to the chapel to teach the English class alone tonight. I ate the rice and laid down for a few minutes. After about 30 minutes most of the pain was gone. It didn't take long after I got up before the discomfort began to increase. We've decided that if it persists into tomorrow I will go to an ENT doctor.
May 8, 2017
We talked with Mark for a few minutes while he was waiting for his plane in Salt Lake, headed to Alaska. It made me think of the song, "Oh, How I want to Go Home." I would like to have accompanied him for the start-up of the lodge this spring.
Linda was busy all day with medical issues and made several trips across the street to the hospital to help missionaries get appointments with doctors. Some of our more serious situations seem to be improving, but we are not sure they can improve enough to be functional missionaries.
We met with President for a few minutes tonight and he and Sister Warner reviewed medical information. He's hopeful that the new senior couple can come earlier that the late June time currently scheduled. He'll wait one more week to see if things can be sped up before deciding how he is going to handle the transition of Randolph's leaving. We're guessing that Abbots won't be able to come early, and Sister Warner will train on the financial while I learn the duties of the mission secretary.
We sat in with the Elders again while they taught Kathryn. It's hard for me to just sit back and observe. She drives the direction of the discussion with her questions. However, she knows almost nothing about the Gospel Principles so the conversation is not focused. She said she is coming to our English class tomorrow, and she has another lesson with the Elders on Wednesday afternoon.
May 7, 2017
When I read back over my last few journal days I can see that my stress level is high right now. I think it's a combination of illness, long trips and long days, no down time, coupled with frustration because I can't do everything as quickly as some that I work with thing things should be done.
Kathryn, the non-member we are fellowshipping, came to the full block of meetings today. We had told her about the testimony meeting format. Fortunately, it was a good testimony meeting, and should have been a good experience for her.
After Church, I came home and napped for about 30 minutes. I then took Linda to the Wuquan Chapel so she could sit in a discussion the Sisters were teaching Mikki. Mikki is from our English class and has been taking the discussions, but not progressing. The Sisters wanted help in trying to decide if they should keep teaching Mikki.
I stopped by Randolph's and took a dryer belt to them because they said their dryer had broken last evening. I quick check of the dryer indicated it was not the dryer fan belt. It sounds like a motor problem. He didn't want to work on the dryer tonight so I came on back to the apartment.
The Sunday School President asked us to teach lesson one of the Family Relations class next Sunday. We agreed, but aren't sure if they should try to start the class on Mother's Day since most of the wives they are trying to reach on locals and will probably go visit their mothers. Mother's Day is celebrated in Taiwan.
May 6, 2017
I didn't sleep well last night, awaking every hour, mostly, I think from a sore back from laying down so much on Friday. I felt a little better in the morning.
We went to the office about 10, got the van, and drove to Ikea to buy a table and chairs to be shipped south next Friday. I also bought two plastic trays to put puzzle pieces on because the table isn't large enough to hold all of the pieces. The clerk we had purchase the bedframe from, printed me a set of assembly instructions so I would know where all the extra parts went. I came home and rebuilt the missing portions of the bedframe.
I'm doing better health-wise. My problem seems to be an intestinal virus, which I will need to wear out. We had a nice nap.
Sister's Call and Scharff came to visit and brought us a fresh green salad. They are the closest set of Sisters to us. I forget that the young missionaries, particularly the Sisters, need to have motherly conversations with an adult female. Sister Teh is a comfort to them, but because she always travels with President, she is not available to befriend them. I suspect we will see more visits from the Sisters when the word gets out that we are a safe retreat.
The barrage of medical calls continues. Most are still mental-related. I have my own feelings about why we are seeing so many emotional issues. I think the Mental Health community, in much the same fashion at the Chiropractic community, establishes a dependency in the young people. They keep bringing them in for treatments, then put them on antidepressant medications, to help them feel good about their life. They bring their medications on their missions, and then have problems dealing with the every-day stress of their missions. I wish I knew how many of the problems we see have their roots directly related to the mental health providers, and who have been raised to believe they shouldn't have to cope with stress. There are some who deal with genetic disorders and the mental health practitioners can really help them. Surely, all of these problems can't be genetic disorders.
I suspect we will see a tightening of requirements for serving missions by those who are on heavy drugs. They will serve closer to home and family. The 6 or 8 who have the mental health problems occupy a major portion of the mission leadership's time and effort. Our mission president keeps saying, "I haven't done enough to help a given missionary yet." In the meantime, the companions take an emotional beating as they try to help. Counseling is arranged, but the problems never really go away, and the Area Mental Health Advisor works long-long days trying to help the missionaries survive.
May 5, 2017
I missed part of the day at work for the first time on this mission. I was just so tired, that after I got up and got ready for the day, all I wanted to do was lay down. I slept on the sofa for about 2.5 hours. Linda also slept for about 2 hours. We finally got to work about 11:00 AM. I lasted until 2:00 and then went home and slept for another hour. No specific aches and pains, just tired.
Linda's phone rings regularly. Panic attacks, cysts, painful backs, and a spectrum on other maladies afflict the young missionaries. We have several young missionaries who are on the verge of going home early because of physical and emotional ailments.
May 4, 2017
A very tiring day. A phone call at 5:00 AM got us up for the day. We were at the office just before 8:00, and left about 9:00 AM. We drove to Dali and picked up a Sister Missionary who's been transferred to Tainan. Her companion has a bad back and couldn't ride that far without laying down so she stayed home alone. The drive took about 2 hours and 10 minutes, and was uneventful.
We did a quick swap of Sisters and headed back to Dali. The Sister we picked up was debilitated by panic attacks, complicated by companion conflicts. One companion was a somewhat reserved farm girl, and the other spent a year at the Naval Academy in Annapolis, Maryland. The missionary we took with us couldn't walk without assistance. We knew her from when she served near the office.
The trip home went safely. By the time we got to Dali our passenger was keeping up a full conversation, asking and answering questions, and visibly better. The new companionship in Dali will be a "sick ward" for a couple of weeks while they both heal. We will check on them regularly.
By 4:00 PM, back at the office, I was so tired I couldn't write a coherent sentence. I went into the back room and laid on the bench seat we had removed from the van, for about 30 minutes. We had planned on going to Ikea to buy furniture for a set of missionaries down south, but the Assistants hadn't had time to take the van in for a check-up. An indicator light kept coming on and saying we were low on Urea (CO(NH4)2) I think it's windshield washer fluid. That took the van away from us, which was really a blessing.
We went with Elders to a lesson at the chapel next door to the office. They were teaching a first discussion to Kathryn, the lady who went to Church with us on Sunday. She had so many questions that after an hour we quit with teaching the restoration lesson. When she had a question, I would find a scripture (mostly in the Bible) and have her read the answer for herself. Afterwards, I had a short visit with the Elders and they seemed to appreciate how quickly questions were satisfied when Kathryn read the scriptures. We will be with her at Church on Sunday, and the next lesson on Monday evening. She may come to our English class.
We finally got home for supper at 8:15.
May 3, 2017
Most of the day was a mess for me. I needed to take the van in to have a warning light checked, but my phone was needed at 10:00 AM for a Skype call to Area Mental Health so I needed to stay at the office. It turned out that the call had been changed until 2:00 but I wasn't told. We had district meeting at 1:00, then back to the office while my phone was used.
We went to exchange a curtain and it turned into a patience-trying ordeal. We didn't have a sales receipt so they said to let them use the credit card and they would put money back on it and charge us separately for the new curtain. I drove back to the office because I hadn't brought the wallet with the mission credit card in it, with me. Half way back to the store I found that I had left the key to the storage unit, where we needed to go after the store, back in the office. I turned around and went back to the office and got the key. When we started the transaction again we learned that the credit card they needed was the one I had in my pocket all the time.
President called and asked if we would house a single missionary who arrives tonight; an Elder Van der Merwe. He had served in the Taipei Mission for a few months, then went home on a medical, and when he came back they assigned him to the Taichung Mission.
Later, President called again and he wants to set up a sick ward for two Sister Missionaries who are unable to work right now. He asked if we would help move them. At first they will be in an apartment about 15 minutes from us. But, if they are unable to care for themselves, we will probably either take them into our apartment while they heal for a few weeks. Or, we will move them upstairs from us where they can live independent, but we can still watch them closely.
We picked up a large desk table from the storage unit and brought it to our apartment and assembled it. The top surface is about 4' by 8'. Perfect for a puzzle table. After dinner, we walked over to a puzzle store a few blocks away to look for a puzzle. The store has mostly Ravensburger Puzzles. I bought the same 3000 piece we have at home of the castle in Germany in wintertime.
May 2, 2017
Car inspection time: I had Elders Yang and Davis inspect two of the vehicles, and will have them do the other two tomorrow. I also finished the Key Indicators report.
The English class went well. The message was about shopping at an auto parts store. We explained what the various parts of the list were for. Why we need oil, spark plugs, brake pads, etc. The showed them many of the parts on one of the mission cars. At the end of the class one of the participants asked what is the difference between Heaven and Paradise. I gave a short explanation.
In the class-after-the-class we tried a new approach. We are trying to help them have greater reading understanding. We brought 4 Children's Story of the New Testament books to the class. We had them take turns reading and then would ask questions. It worked well. The first chapter in that book is about pre-earth life so it was a nice review. One of the students asked if she could take the book home and read it. She has been trying to read the English Book of Mormon but her vocabulary is too limited for much success in understanding.
We had a new class member tonight. A 42-year-old member who has spent time in the US. She was a nice addition to the class, and stayed for the after-class activities.
Toward the end of the after-class I received a phone call that a set of Elders in Zhongming were locked out of their apartment. They were on splits with the Zone Leaders and the other set had the apartment keys. They brought the keys to us at the chapel and we drove to the Elder's apartment and gave them their keys. Fortunately, the GPS told the truth, and the trip was only about 15 minutes each way. We got home just after 10 PM.
May 1, 2017
We spent the morning shopping for groceries for Sister Teh to serve at a meeting tomorrow. Today was a holiday, equivalent to our Labor Day in the US. While we were shopping at Costco I felt the impact of so many people in such a small location. The next closest Costco is about 30 miles away, so about 4 million people live in the proximity of the one we went to. The cars, waiting to get into the 2 stories of underground parking stretched for 3 blocks. The Nantun LDS chapel is ½ block from Costco so we park at the chapel and walk to Costco. We have a remote key to open the gate into the church parking.
Inside the store is was packed with people. There is a definite traffic flow and if you don't stay with the flow, if you turn against the flow, an immense traffic jam will result. There are about 15 checkout stations, at any given time all the lines are fulled with 3 or 4 people waiting in each line. We don't feel the panic we once did because of the large crowds, but it will make crowds at home seem small.
I worked on getting the Key Indicator reports in and partially finished the report. I tried to do the car inspections but couldn't get the program to print the inspection forms. That may require a call to Salt Lake tomorrow.
In the evening, Sister Freulich took us and the Randolph's out to a park in the mountains south of Taichung. She has made friends with people who own large tracts of land, which include some of the park. The big event this time of year is to watch the fire flies. As we sat in the darkness of the night, listening to the frog s chirp, and watching the fireflies, I thought that when you have so many people in such a confined area, they find great pleasure in small things. Thus, riding out to the mountains, paying a fee to enter the park, and watching the fireflies is a popular event.
April 30, 2017
One of our English class students asked us to review his resume and cover letter to help him clean up his English. Linda accepted the task and gave it to me to do. After reading both documents I was grateful for my writing experiences at Shipley Associates. I don't want to just rewrite the document. Rather, I want to teach him how to organize his materials so writing the document becomes more logical.
We like our new apartment. I have always liked light, bright atmospheres and the big windows. The positioning of our apartment in relation to the sun's path makes for a light environment without direct sunlight coming in the windows during most of the day.
Just before we arrived at the chapel, the Randolph's mentioned that there may be an investigator there named Kathryn. She is Taiwanese, who has lived in Dallas, Texas for 27 years, and doesn't want to lose her English skills now she is back living in Taiwan. She was there when we arrived and Sister Warner and I stayed with her for the entire block of meetings. Sacrament meeting talks were well prepared, and the members came and introduced themselves to Kathryn. The Gospel Principles class had 13 people in it, about 4 were non-members, and several we recent converts. The lesson was supposed to be on the Priesthood. I had to step in a couple of times to clarify women versus the priesthood, and the teacher was also tending their 16-month-old child because his wife was teaching Gospel Doctrine. Gratefully, the Spirit will do the teaching anyway, I hope. Finally, the 3rd hour was the joint meeting. It was mostly business with a short presentation on why we should go to the temple. All-in-all it was a heavy first day for a new investigator.
The weather continues to be mild, with spring-like temperatures.
April 29, 2017
We are still tired from the extracurricular activities of this week so we took a nap in the late morning. Sister Warner had a Relief Society social from 2 to 4 in the afternoon. I took her and Sister Randolph to the event and Elder Randolph picked them up afterwards. The round trip was almost an hour.
I had big plans for the two hours Linda would be gone, but by the time I got home I needed another nap.
We went out to a new little restaurant in the evening. Linda didn't eat anything because she was still full from the Relief Society function. I ate some rice and cabbage. It was good so we will go back and try a few more things. The restaurant is about 5 minutes' walk from our apartment.
At the end of the day we had three rooms in almost finished condition: an office, the master bedroom, and one other bedroom. The front room is full of extra furniture that will move to the new apartment next week. We can't do much more until the new apartment is available.
April 28, 2017
The temperatures are wonderful right now. We don't need air conditioning. A quick look at the curtains and we saw what we couldn't see last evening. We hung one bedroom curtain. We had scheduled 6 Sisters to come do a service project with us on Monday. However, since we will close on the new apartment for the Abbott's on Tuesday, and much of the excess in our apartment will go to that apartment, we rescheduled the project until Saturday so we can move all the things from our apartment that go upstairs.
April 27, 2017
It rained all day. We spent about six hours at the office and made several shopping runs to buy things for the new apartment. The sink had a leak so the landlord sent over a plumber and he replaced the kitchen faucet. While he was working on the faucet, we put away more stuff. In the evening, we set up the office so I could work on the journal for the first time since Monday.
I spent an hour in the mid-day teaching a Plan of Salvation, using the banner, to a Sister Missionary who had just transferred into the area. She has been out for a year. I'm always amazed at how little the young missionaries understand about the gospel, but how willing they are to learn. I have mostly given up trying to use the program because of no support from the stakes and wards.
Sister Warner and I took the same Sisters I had been teaching, to the store with us to translate while we purchased curtains for our new apartment. Crazy, we got a clerk who spoke enough English that we didn't need a translator. We special ordered curtains for our front room, and bought some off the shelf for the bedrooms.
We went to a baptism for Sean Hsu in the evening, and did some shopping at Costco before the baptism.
After we got home we tried to hang a set of bedroom curtains. We were really tired and couldn't determine where the hooks went in the curtain. We gave up and went to bed.
April 25 & 26, 2017
Much of the day was spent moving. In the afternoon, Elder Randolph and I went to Ikea about bought a bed frame for our apartment. We also bought two office chairs. He stayed at the office and put the chairs together and Sister Warner and I went home to put the bed frame together and to organize the bedroom. The bed came with a ribbed, wooden-slat base, instead of a box springs. It was an interesting design, with the slats bowed upwards so they could bend downward when weight is placed on the bed. The instructions were good. However, the bed frame itself came with no instructions. I figured out most of the construction, but I'm concerned about the number of parts I have leftover. I will go to Ikea Friday, take the extra parts, and ask for a set of instructions. It was nice, after 8 months of sleeping on a mattress with other mattresses, to sleep in a normal bed.
April 24, 2017
I'm getting too old for days like today. We hurried to the office early to take care of necessities and then started moving to the new apartment. We had 6 Elders helping, and a member with a truck whom we hired as transport for the stuff. He hauled 3 loads before he ran out of time. He will come back tomorrow and it will take about 3 more loads to finish. We are scheduled for air conditioners to start being installed tomorrow afternoon. We still don't have a bed frame so if we sleep there tomorrow it will be on the mattress on the floor.
We got back to the office about 3:00 PM and then went shopping for Sister Teh. She needs supplies to take with them as they head to the southern part of the mission for Zone Conferences this week. Mixed in with the shopping we tried to find some Sisters and take a mattress cover to them. We couldn't find their apartment because of a faulty GPS coordinate.
We got back to the office about 7:00 PM and spent an hour there while Sister Warner updated her medical records from today's activities.
April 23, 2017
We attended Stake Conference this morning. The translation system worked well and we were able to understand the speakers. The member of the Area Presidency said that, even though President Monson's talks were short the past few years, we should read them carefully and regularly. Interesting!
Sister Warner decided that after yesterday's fruitless 5-hour trip that we will do contracts differently. Elder and Sister Ferguson can take care of the contract work for the four districts on the south end of the mission. Sister Warner will send signed contracts to Ferguson's, and Ferguson's can meet with the owners and get them to sign the documents. We'll need to work out how to get funds to them for closings.
We received the second set of bids for the air conditioner for the main room in the new apartment and it was lower than the Panasonic bid so we will go with the lower bidder. When we move depends on when the air conditioners can be installed.
We went back to the office and worked for several hours tonight. It gave us a chance to talk with the President. We decided on which furnishings to buy for the new apartment. We will only buy one new air conditioner and move old ones from our current apartment. We will leave the two middle bedrooms, in the new apartment, without air conditioning for the next while and evaluate if we can get by without. Most of our furniture will move tomorrow.
April 22, 2017
First medical call came at 7 AM. We got to the office just before 9 and drove down to the south end of the island—to Gaoxiong. According to the GPS the drive time was 2 hours 33 minutes. It was 233 km away. We went to the Elder's old apartment and showed them what they must do to have the apartment ready to be closed.
Elder and Sister Ferguson joined us and they, Elder's Choi and Stroud, and us went to lunch together.
We met the landlord for the new apartment and worked on negotiation to lease the apartment. The most difficult part of the negotiation is that the landlady speaks Taiwanese, not Chinese. We used a counselor in a bishopric to translate between the landlady and the Elder's, who then translated for us. It was a slow process.
The tax situation here reminds me of my Canadian experiences when we tried to buy the lodge in northern British Columbia. Taxes are high to pay for all the Socialize health and other benefits. The owners of the lodge told us that if we could get people to pay us in US cash we could save lots of money. They (the lodge owners) could pay cash for boat and pay $40,000 US. However, if the funds were known to the government the same boat would cost $60,000. Things were cheaper on the black market because they didn't pay taxes. They have socialized medicine for everyone here, like in Canada, so taxes are high. People love the almost free, health care, but don't like paying for it. They are always looking for ways to keep from paying taxes. There is a 2% tax on room leases and rents. However, if the apartment owner does not register and get a tax number, there is almost no way for the government to find out and tax them for leasing an apartment. From the Church's perspective, we won't rent or lease any structure without the owner giving us their tax number and a copy of their tax certificate. If the landlord won't provide a copy of their tax certificate, the Church won't lease the property.
Several times we have turned down potential apartments because the owner would not provide the proper tax information. The negotiation today started to falter over this same point. We increased our offer to rent to cover the cost of the taxes. That helped at that point, but the next sticking point was proof of ownership—which strangely enough is for the owner's protection. We finally got the landlady to agree. It turned out that she was negotiating for her daughter, who owns the apartment. Sister Warner signed our part of the lease agreement, but we would not give them the deposit until the owner-daughter signs the papers. That is supposed to happen tomorrow. We left the money with the Elder's and made them promise not to dispense the money until they see the signed document.
The return trip to Taichung was a little slower than going down. We had rain much of the time, and it was heavy at times. I dropped Sister Warner at our apartment about 7:30PM, and took the car back to the office. Grateful to be home.
We just learned that after our long negotiation today, the landlady will not provide tax forms. Deals off: a long, wasted day.
April 21, 2017
The days quickly pass, but the work load never seems to get smaller. I spent several hours editing a survey of missionary apartment inspections. The input is insightful. However, the further I get into the analysis the less I can see how we can possible do many inspections.
Sister Warner spent most of the morning at medical offices with missionaries. We went back to the new apartment and met another air conditioning engineer. He's done work in the building before and showed us how we can air condition the two middle rooms we were concerned about. The property manager said we cannot drill holes through the outside walls, but the new guy showed how we can use existing holes to complete the install. I'm waiting for a bid from him. I talked briefly to President this morning and he wants the missionaries to always have access to A/C when they stay with us.
Missionaries down in Shizong are changing apartments tomorrow. The floor in their old one is being eaten away by termites. Sister Warner must sign the papers on the new apartment. That means we drive to Shizong and back tomorrow. My GPS says it's 2 hours 35 minutes each way. Working between two apartments will end up making it an 8-hour day.
We had a couple of short period of rain today.
We were peacefully watching a movie tonight when the phone rang. A set of Elders in Yongkang had locked themselves out of their apartment. The wanted us to bring them a spare key from the office. We walked over to the office in the rain and looked for a key. We didn't have one. I looked at my GPS to see how long it would take to drive to Yongkang: 1 hour 43 minutes. The drama came to an end when the missionaries called the ward Bishop and he knew someone who could pick the lock and get them back into their apartment. Counting our blessings.
April 20, 2017
We drove to Houfeng and did a repair on the water filter system for the Sisters there, and also took them two new kitchen chairs. The chairs were two we bought at Ikea last evening and required assembly. The Sisters did the assembling and enjoyed the task.
We met with President and Sister Teh for 15 minutes first thing in the morning and he approved our buying a bed frame and chest-of-drawers. We also have approval to buy an air conditioner for the new apartment. We are going to look more from front room furniture.
We met with the Panasonic engineer about air conditioning for the new apartment. He can use two of our existing units, but we will need a larger new one for the large room. The bid for the larger unit is about $1200 US. We will get another bid tomorrow.
We are watermelon poor right now. We have the big one we cut up and put in the fridge last evening. There are leftover quart-size bags of watermelon chunks from the Zone Conferences and they are being given to us. At all our mealtimes Sister Warner asks me, "what do you want to go with your watermelon for this meal.
We went to the new apartment long enough to put together a small metal table we bought yesterday at Ikea. It will set at the end of the kitchen counter and hold the microwave.
April 19, 2017
Some days are really busy, but at the end of the day there is little to write about. Such was today.
The most exciting thing was cutting the big watermelon we bought several days ago into small pieces and trying to fit it in the fridge. As a last resort, I removed my Pepsi stash from the tray just under the freezer, lined the tray with clear wrap, and filled it with chunks of watermelon.
We made a trip to Ikea to look for furnishing for our new apartment. President wants to upgrade our furnishings so we took pictures of a variety of bed frames, couches, and wardrobes. We will meet with him for a few minutes in the morning to get his approval to purchase.
Tomorrow's schedule has altered. The Panasonic engineer can't come until 1:00PM and the mover isn't coming at all. The mover will try to come on Monday, but if he doesn't I'll use the missionary help and we'll make the move using the mission van.
Our stake is having Stake Conference this weekend. A member of the Area Presidency will come and preside. He will stay at the mission home and President needs the van cleaned, and the 3rd seat put back in before Saturday noon. The Assistants will handle most of that load. I can't use the van until after the weekend.
For the past three days, the forecast has been for about ½ inch of rain every day. So far, not a drop of rain has fallen. However, there is no shortage of heat and humidity.
April 18, 2017
The morning kept me busy filling orders and planning for the move later this week, with a trip taking Linda to the bank mixed in. I did the Key Indicators report and that always takes a little over an hour.
In the afternoon, we worked on air conditioner issues. We went to the Panasonic repair shop and discussed what kinds of air conditioners we need in our new apartment. Two of the rooms don't have a place in the wall for a window air conditioner. The engineer (repairman) agreed to come a look at the rooms and help decide what kind of unit are needed. We then drove to Dakeng (the warehouse) and picked up the air conditioner that has been sitting there on the floor since before we arrived. We took it to the Panasonic shop and they will see if it is a functioning unit. I was grateful to get that unit out of storage and headed either into use, to the dump.
We arranged with the Panasonic engineer to go with us to both the new and our current apartments to decide which units to buy. Luck wasn't good on the visit time. He wants to come Thursday morning at 10:30 to look at both apartments. We are supposed to pick up the food for the Zone Conference in Daya at 11:15 and then drive 30 minutes to deliver it. Then at 2:00 PM we are scheduled to move beds from our old building to the new apartment. It's too tight of a schedule so I will ask Elder Randolph, or the Assistants, to deliver the food.
President Teh told Sister Warner that he's still hopeful a new couple will be assigned to take Randolph's place. He also confirmed that one of our Sister Missionaries who has been trying for months to get a legitimate reason to go home early seems to have found a way. She's been hard on her companions and had 4 transfers in the last 8 weeks. She's supposed to go home in July, but will go within the next week. Sister Warner recognized her symptoms back in November and predicted that she would eventually find an early way home.
In the class after the class, I put both Chinese and English Book of Mormon on the table with the intent that we would read from both. I was surprised by the same problem we have discovered on our other missions. The basic population, regardless of where they live, read very little and therefore have limited reading comprehension. I think they understood as much reading English as they did reading Chinese. However, even with the limited comprehension, they asked lots of questions as we reviewed Alma 34 concerning not procrastinating our repentance. Next week we will modify our gospel discussion portion, to account for the not understanding what they read, problem.
April 17, 2017
We were busy outside the office for most of the day. We drove to Nantun early and met the Elders. They loaded a queen-size mattress into the van, and then we took them to their old apartment where we met the landlord and did the final closure on that apartment. We then hurried back to the office, picked up another set of Elders and went to the opening of our new apartment. The Elders served as our translators, and carried the queen-sized mattress to the apartment.
We got back to the office just before noon. We then picked up the mission home cook and took her to Subway so she could help order Subway sandwiches for the missionaries in two of the Zone Conferences that will be held this week. She then showed Sister Warner where some nice fabric stores are located. After that we went to an open market to buy watermelon for the conferences. I thought we paid too much but Way-Nu, the mission home cook, thought they were a good buy. I paid over $20 for a 30+ pound watermelon. They were about $9 in Costco.
We took Way-Nu back to the mission home and drove to Costco to buy the rest of the supplies for the conferences. We got back to the office just before 4 PM. We worked until 6:30 before going home.
After dinner, we walked over to the new apartment and did measurements in the smaller bedrooms to see if we could put 2 sets of bunkbeds in the smaller rooms. We also measured for cabinets to hold the microwave and other items in the kitchen.
We exchanged correspondence with Lynette concerning maintaining inventories of the items in missionary apartments. We have some similarities in our needs so it's helpful to see how the other one has addressed them.
Things are done differently in a society like this where you have so many people packed closely together. Twice, when we have parked in an open spot in front of the new apartment building the vehicle has been ticketed. I was only in the building about 20 minutes and didn't understand why I'm getting the tickets. Today, we had a Chinese Elder with us and I asked him why I was ticketed. He pointed to painting on the road by the parking space and said you are charged for parking here. However, instead of having parking meters like we do in the US, they have human parking meters who patrol a small area of parking and put the ticket on each car as they park in those spots. You then take the ticket and go to 7/eleven and pay the 50 cent parking fee. They employ a lot of people in menial jobs.
April 16, 2017
The talks went well. The entire Stake Presidency was in attendance. I realized afterwards how little English they really understand even though two of them can keep up an English conversation. After the talks, several of the American members came up to Linda and me and made comments about specific points in our talks. The Stake Presidency shook our hands, but made no comments. It's another evidence of the language barrier.
It was nice to attend Sunday School and Priesthood meetings again. Either is preferable to Primary closing exercises.
In the Sunday School class, the teacher mentioned that his sister-in-law had started reading anti-Mormon stuff on the web and had left the Church. She lives in Idaho. I thought as I listened to the few comments that were made during the short discussion, how to me the basic problem lies in the lack of understanding of the Plan of Salvation. Without understanding the depth and magnitude of that plan people are easily led astray. They are also led astray by pride and foolishness.
Our banner teaching has essentially stopped. I had felt strongly, after my meeting with the high councilor about teaching the ward mission leaders, that nothing would happen. In a later meeting with that high councilor and some Zone Leaders there was expressions of 'turf' protection. This morning, we went to the office early to get some supplies for some Sisters. We had several hours before leaving for our meetings so I was studying at my desk. I noticed a scratch pad on top of a file stack under my counter. I pulled the pad and on it was written my notes from the meeting about a month ago with the HC and ZL's. I hadn't looked at those notes since they were written. I was amazed at what I had written. They were statements made in opposition to teaching the Plan of Salvation in that meeting. The statements included: 1) The Sisters spend too much time learning how to teach the Plan and it negatively impacts their proselyting time; 2) The investigators need more fellowshipping and less doctrine; 3) You put too much focus on the scriptures. Since that meeting, nothing has happened pertaining to the banner presentations in that stake. In fact, the whole program is on hold. I conclude that the leadership here is not ready for this program, and the language barrier is a big part of that weakness.
We went to Randolph's apartment and looked at their furniture and appliances. That apartment will close in late June and most of the furnishings will need to be removed. We can take some of their furniture for the new apartment, including 2 sets of bunkbeds. After tomorrow we can start putting things in the new apartment.
April 15, 2017
The day started with phone calls. Some Elders didn't have any hot water and they had just replaced the battery. That call was followed by a call from a Sister having a panic attack. At the end of that conversation we finished breakfast. It's P-day.
We drove to Houfeng to do dryer and water filter repairs. The trip and repairs took about 3 hours. We returned home and went shopping for part of the lunch materials for two Zone Conferences coming next week. Finally, at 2:00 PM we laid down for a nap. I got up after 2 hours and worked on my talk for tomorrow. Linda, slept until almost 5. We have obviously been running tired.
Sister Warner's phone has been busy, with medical calls, all day. Panic attacks, congestion, and depression. Mine is much simpler: "How do you decide what size garments to order?"
We spent much of the remained of the afternoon and early evening working on our talks.
April 14, 2017
We tried to do the final closure on an apartment today and everything went well until we were supposed to give him all the keys. We were one set short so we have to come back on Monday to finish the closing after we retrieve the keys from some missionaries.
The lesson we were scheduled to teach for the Nantun Sisters cancelled so that will happen next week.
My anxiety level is staying high. The combining factors of apartment inspections, closing apartments, inventorying furniture, appliances, and bicycles, and equipment maintenance each contribute to my pressures. I was parting the bushes, looking for a water buffalo, and came face-to-face with an elephant. The prey was much bigger than expected. The past two days I have looked for where to take the first bite. My big concern is that we need to do as much as we can in one visit, otherwise we must take multiple visits to single locations which is highly inefficient.
It was 8:00 PM when I got home for supper tonight. As I read Lynette's journal today I saw that she is dealing with similar issues. I've always said that "when you finally understand the problem, then you can effectively solve it." I'm still in the understanding part of the solution.
President Teh has the same problem, but he has 200 young missionaries to deal with as well. It isn't realistic to expect him to solve the problem. Our role is to take some of the burden from him, not add more.
Sister Teh went to the new apartment with us this afternoon. She liked the apartment and gave us the go-ahead to start finding furniture and appliances to furnish it with. We will slowly start moving items next week. I think it will take several weeks before we actually move.
April 13, 2017
The new missionaries didn't arrive last evening until almost midnight. We had to be up before 6:00 AM to get them to their first appointments this morning. We have been tired all day.
I'm having some personal struggles now with deciding what projects to tackle at work. Particularly, those projects which I would initiate and conduct myself. I'm feeling like I've laid back too much in fear of stepping outside of what the President would like me to do. However, that's not realistic because he is too busy to even see some of the small projects. One project I started today was to try and identify all of the bicycles in the mission that are not assigned to a specific missionary. Often, when missionary go home they leave their bike in their last location. The bikes are used for splits. However, we have no record of which bikes are where. We have regular requests for a lady's bike when we moved Sisters into an area previously occupied by Elders. The Sisters need the extra bike for splits with ward members or other Sisters.
A second area that has just come to my awareness is household content. I tried to buy an air conditioner and the price we were trying to spend was 15,000 NT. We couldn't find one that cheap, but that was the price on the allowance sheet. After struggling for several weeks, I did some checking and found that the last air conditioner we bought, we paid 19,300 NT. I now realize the allowance sheet is out of date. To update the list, I need to visit stores that supply the items we regularly stock in apartments and find out the current cost for about 40 items. In the process of updating the list, I discovered that we have no inventory of what furniture, appliances, and utensils are in any of the apartments. Should I undertake the task of building the inventory list?
The new apartment that we have been negotiating was approved today and papers were signed by our people in Taipei today. We can take occupancy on the 17th, but we won't really move for several more weeks because we won't really have many of the furnishings we need until Randolph's apartment vacates in late June. For right now the Mission will keep our existing apartment as a backup.
Taiwan had an air raid drill today. For 30 minutes no traffic of any kind was allowed on the streets. It was announced ahead of time. A siren sounded and people moved into store or under trees (it was raining). No one walked on the street, and no vehicles of any kind were moving. When the second siren sounded life quickly moved back to normal.
April 12, 2017
We are always tired on the day following the English class because we stand for a long time and get to bed late. It was so today.
I completed the Key Indicators report during the morning, We drove to Dongfeng and repaired a broken dryer fan. We were grateful for the call because it gave us a chance to get out of the office. I had the Elders run the screwdriver and I just coached. One the way home we shopped for some printer ink and Flash Drives.
I spent time in the afternoon preparing for my New Missionary Orientation that will take place tomorrow morning.
A counselor in the English Branch Presidency called and asked if Sister Warner and I would be the Sacrament Meeting speakers on Sunday. Our subject is "The example of Christ."
April 11, 2017
The weather was much nicer today. We had rain showers and a breeze. I think the high temperature for the day was in the low 80's.
It was a typical transfer day, with missionaries going home day, at the office. Lots of missionaries coming and going. Friends and ward members came to say their goodbyes to the parting missionaries. New companionships joining up at the office, transfers of keys and phones, and final interviews with the President ensured a steady procession of people through the office most of the day.
I wrote a review of the past five months of apartment inspections in the mission. I have talked with other Senior Couples to get their perspectives on what worked well, and on things they felt were probably a waste of time. Several things stood out, including: taking pictures should occur after site visits; inspections, either in person or by phone, needed to happen in the morning between 8 and 10 to keep from impacting proselyting time; those doing the inspections need some knowledge of minor repairs needed in the apartments; and two onsite inspections per day is about all a couple can realistically do in a day with their other duties.
The Taipei Service Center is taking the lead on helping us complete the paperwork/contract for the new apartment. This is a pleasant experience working with them in comparison with earlier experiences with Service Centers. Unless something happens in the next couple of days, we will rent the new apartment.
We are coordinating the move from one apartment to another in the same area with a set of Elders. They came by the office and I drew a map for them. This is an area they are familiar with and understand the landmarks. They called when they got to the area and said they couldn't find the apartment. On further questioning, they had found the correct location, but didn't trust the map so they went to another location. Between us and the Assistants I think we covered the bases. Disruptions occur when areas are white-washed because it takes extra care to make sure keys and phones end up in the correct hands, and missionaries get to the proper apartments. Tomorrow will be back to normal—whatever that is.
We had our English class in the evening. Sister Warner prepares well and keeps the class involved and active. Afterwards, I finished teaching the Plan of Salvation using the banner. We had 4 nonmembers and 1 member, besides us, in the class. They don't talk much but when they do I try to keep them involved. We spent extra time on the origin and content of the Book of Mormon. It seemed to resonate well with the class.
April 10, 2017
It was a pleasant day at the office. Because it's a transfer week, and the President's efforts to shorten the disruption time caused by transfers, all transfers will occur tomorrow except for those missionaries who will be training the new missionaries. Thus, my reports won't happen until tomorrow.
Nine areas are white-washing (being kept open but old missionaries are leaving and new ones coming in.). That creates a lot of paperwork and records changes for us as we make sure addresses match the missionaries. We made it fun and even joked with President about how he decided to white-wash an area. I told him he comes and looks at the mailing labels we use to forward mail out to the field. (All incoming mail comes to the office and we forward it to the field.) I said it was obvious that he comes and looks at the number of labels we have pre-printed, and those areas with a large number of printed labels are the ones he changes from Elders to Sisters, or Sisters to Elders. He said he had never thought of that method, but it seems very logical.
Our apartment hunting keeps moving. The Service Center in Taipei is working with the property manager who showed us the apartment last week. That's a good sign. We looked at another apartment near to office today but it was not close to being acceptable. It has a nice location, but no kitchen stove, or even running water. Elder Randolph looked at one in the same area that was nice, but too small.
The weather hit 91 today with 50% humidity. Rain is forecast for the next 6 days.
April 9, 2017
We watched the remainder of the Sunday morning session of conference this morning and then took a prolonged nap. I know we are both carrying a virus that sometimes manifests itself as a cold. I thought we both slept well last night, but both enjoyed the nap again this morning.
I also attribute some of our tiredness to just getting older in a somewhat chaotic lifestyle. Life in the mission office is not a steady constant, well-planned activity. Instead, it is a life of constant changing priorities and uncontrollable disruptions. Phone calls, texts, and office visits come at irregular intervals, and are not under your control. Often the requirements for changing your plans come with conflicting demands on your time and schedule. When the conflicts for time arise, our anxiety levels quickly increase and we become more tense. Our desires to do things, not only correctly, but well, also creates more anxiety and stress. In all these counteracting and conflicting stresses, there is seldom another person who could be termed "the agitator." It's just life in the middle of a very busy world of missionary work.
The purpose for writing the above paragraph is that I believe part of our being tired comes from the level of stress that we frequently experience. It wears us out, and our ages make our recovery a little slower than in our younger years. PS We are not unhappy with the opportunity to serve here in Taiwan, just trying to better understand some of our tired feelings.
Yesterday, I rediscovered [ I'd used it before but forgotten the process] the use of the note taking routines available when reading the scriptures, online and signed in to LDS.org. When you are signed in to your LDS account, and highlight a part of the scripture, the program then pops up an option to write your thoughts about what you just highlighted. You can also put a subject tag, such as "Revelation", of the part you just highlighted. Often, when reading I have had ideas, but didn't write them down.
An example of how I used the online note taking: in 1 Nephi 2:3 it states that Lehi was obedient to the Lord's commandments and took his family into the wilderness. As I read the next verse I realized that it contained some of the specific commandments Lehi was given. (Go read verse 4.) I highlighted the words pertaining to keeping the commandments, and wrote in the note the specific commandments Lehi was given. The reason I didn't just write a reference to the next verse, is because the note is saved under the Revelation category, and the note can be retrieved without going to the specific scriptures. I may be the last one in the family to learn this, but it's a good thing for me.
We walked to the office, picked up a case of The Book of Mormon, and drove to the Nantun Chapel and delivered it to the missionaries there. They had called yesterday asking how they could get more copies and said they have been without for several weeks. I reminded them that all the need to do is text me and I'll have the books to them within 24 hours.
Today was our first hot and muggy day. The thermometer on the car read 88 degrees when we were driving to Nantun. Our apartment has individual window air conditioners in each room so we can cool a room quickly. Thank goodness.
April 8, 2017
We chose to have a more relaxed day. We had enjoyable conversations with Lynette, Lisa, and Mark. Later, we watched the remainder of the Saturday afternoon session of this past General Conference. We were particularly moved by Elder Gary Sabin's talk. I think because we know some of his background, it made the talk more meaningful.
Later, we walked to the office and met 3 sets of Sisters there. We set up my computer and speaker so they could watch the Women's Session of General Conference. We then returned home, and Linda took a long nap while I read. I had taken a nap earlier today.
It was warm outside, but not muggy. The temperature high was 86 F and is a reminder of what is coming.
After Linda's nap, and a nice session reading the scriptures, we walked to a small grocery store to buy some milk and produce. It felt nice to be back in the air-conditioned apartment.
Brother Jan called and has another apartment for us to look at next week. He's been on vacation for about 10 days in China. I told him when we finish our mission we want he and his wife to take us on a sight-seeing trip to China before we go home. Maybe!
When we were walking to the office earlier today, I had three bags of unpopped microwave popcorn in my back pocket. I thought, "I'm glad it takes more than just a little hot sunshine to make this stuff pop. I'd be in real trouble if it started popping in my pocket."
April 7, 2017
The Cold-Eze seems to be working its magic. My cold hasn't gotten any worse, and I feel better tonight than I did this morning.
We visited the storage area this morning, but the mover didn't come to finish the job because he has an open, flatbed truck and it was raining. Most of the things we wanted have been removed but we still need to spend several hours cleaning and straightening. By September we will be down 5 sets of missionaries and several more apartments will close. When the apartments close, we will have more things to store. We arranged for the air conditioners to be pulled from the apartment that closes next week. The A/C's will be serviced and then either put in storage or if our apartment comes through, they will go into it.
We are working through a set-back on renting the new apartment. Neither the Church, nor the apartment owner, want to sign two contracts. Each side wants to use their own contract. We sent a request to Taipei to have a Church lawyer review the apartment owner's contract. President Teh doesn't think they will review it. If that's the case, then we won't close on this apartment and will be back in the apartment hunting mode again.
In the evening, we ate dinner at the mission home. It was a farewell dinner for Elder Parker, one of the Assistants. He leaves on Wednesday and returns to his home in Australia. He is a pleasant, diligent missionary.
We talked with Lisa and Lynda for a few minutes. They are up to their waist's in painting bear TP holders for the lodge. They always seem so pleasant and happy to be working together.
April 6, 2017
The move of stuff from the storage unit, that was supposed to happen on Friday, happened today. I had an appointment so I missed the whole process. Elder Erwin, one of the missionaries living in the apartment above the storage unit, has been a solid help to me. He follows decisions, thinks for himself, and is pleasant to work with.
We met with a landlord for an apartment we are moving Elders out of next week to talk about damages caused by the Elder's having a dart board hung on the wall, and missing the board with thrown darts. It turned out more pleasant than I feared. Other good news, when I saw the amount of furniture that needs to be moved, it was obvious that we need to hire someone to do the move. It would take about 6 loads in the van.
We have submitted all the paperwork for renting the new apartment for us. We are waiting for the management company to get back to us.
We shopped for Sister Tey for meals next week with missionaries coming and leaving. We did most of the shopping at Costco, but had to go to three other stores to find everything she needed.
We had district meeting in the afternoon.
I've decided that the Cold virus can move across Skype lines. It takes about 2 weeks to get from Peru to Taiwan. Lynette is the only person I've talked to, who I knew had a cold, so obviously she must be guilty of giving me her cold. I run out of energy as the day moves on.
April 5, 2017
I drove to Daya in the morning to get the batteries changed in the remote car keys for President's car. The trip took about 1 ½ hours including travel time. When I returned, the case of Chinese Triple Combinations that was ordered last November arrived. I spent time getting the books that had been ordered ready to be shipped.
About the same time the books arrived, an order of name tags arrived, and I prepared them for shipment also.
We had a meeting at 2 PM with the property manager for the new apartment. We did another inspection and liked the apartment even more. After the inspection, we came back to the office and compared contracts and agreed that each would submit the other's contract to be reviewed. Our review came back fairly quickly, and the response was not what we had hoped. We planned that we would sign their contract and they would sign ours. Our financial people in Taipei only want to use our contract. Tomorrow there will be some internal negotiations for us. Rats!
Later in the afternoon I took a set of Elders and picked up two twin mattresses and took them to the storage unit. They will be thrown away on Friday with the rest of the old mattresses.
April 4, 2017
I think my father would have celebrated his 100th birthday today if he were still alive.
I spent time in the warehouse this morning with a member who has a truck and is willing to haul all our junk away. The actual task will occur on Friday.
I came home a little early from work and took a nap. I seem to be getting more tired each day, and the longer driving trips, in heavy traffic, take their toll on my physical stamina. I felt better after the nap and went to the English class with Sister Warner.
Because it was a holiday, we knew some of our students would not be there, so we opted not to do the class afterwards on the Plan of Salvation. At the end of the class, in the portion called "Spiritual Share", I talked about Easter and what it represents. We had a good discussion, not only about what Easter stood for, but on other aspects of the Church. Mostly, we just responded to the class' questions.
April 3, 2017
We are in the third day of a 4-day holiday so things around the office are slow. Fortunately, we had a dryer to fix in Douliu. It's about an hour drive to the south. The traffic on the highways was really crowded, especially on our return trip home. Most of the time we were on a freeway, but traffic was slow, stop, slow, and stop for almost 20 miles.
There was some serendipity while we were in Douliu. Both Sister Missionaries are Taiwanese and neither speaks great English. We had a nice lunch that they prepared at the Church, and then we were showing them the banner. We were having a tough time explaining how President Teh wants to use the program. Then a young man came in and watched for a minute. I asked the Sisters if he was an investigator. He responded 'Yes' so I knew he spoke English. I took a wild guess and asked where he had served his mission. I was right. He was a returned missionary who had served in Edmonton, Alberta, Canada, and he was the Ward Mission Leader. After we had chatted for a few minutes he said he didn't know what he was supposed to do in his calling. This is an ideal situation for us. We can work with a Ward Mission Leader who wants to learn his correct role, he speaks English, and will be coming the Taichung on a regular basis. We set up for him to come to the office next week (hopefully, the new banners will be here by then), we will start teaching him both the banner presentation, and how to be a Ward Mission Leader as outlined in Handbook #2.
We are feeling pressure about where to store furniture and appliances as we close an apartment next week, and probably about 5 more by the end of June. We just don't have room to store a lot of things. Also, I don't want to move things twice but it's beginning to look like we will stack things in occupied apartments while we wait for storage area to open up.
We shopped for a few minutes after work and bought a nice watermelon, corn on the cob, pineapple, and some kind of apple or pear. The fresh fruits and vegetables are starting to be plentiful and prices are dropping.
April 2, 2017
Because of time differences I was able to watch the General Priesthood Meeting live on the Internet. I was impressed with President Monson's clarity of thought and the details he taught pertaining to charity. Elder Bednar's message, defining the differences between 'callings' and 'assignments' will be a great help and comfort to those who need to leave their missions early. Bishop Causse' talk reminded me of Elder Rasband's experience of being hired by Huntsman's as a result of the impression he made on Jon Huntsman. Elder Rasband was an Elder's President at the U of U, while Brother Huntsman was a High Councilor assigned that quorum. The noble and great ones don't just happen.
Today was our last Primary class. We've made progress with Thomas and I've become his friend. Adam is still extremely immature and has an attention span of Nano seconds. I leave as their friend, but not unhappy that the experience has been completed.
I enjoyed church today. Because of time delays we will have Conference next week, and Stake Conference two weeks after that. Randolph's have had the teaching assignment for investigators who come to the English Branch. They are handing that off to us. We will have an opportunity to teach a young Filipino woman the end of April. She was taught in the Philippines two years ago, but came to work in Taiwan before being baptized. We have several Filipino returned missionaries who attend our branch and we can use them as translators as needed.
I talked briefly with President Teh about sending the pictures we are taking during our apartment checks to Sister Teh and letting her create a slide presentation on cleaning apartments. She could then use the slide show as part of her training during Zone Conferences. This is my third attempt at trying to find a workable solution for keeping apartments cleaner, especially among the Elders. My idea is to establish what clean looks like in the minds of the missionaries. Then, when we do an inspection, we have a better standard from which to operate.
The spring here has been cooler than I anticipated. Some of the missionaries have talked about how hot and muggy the weather is during the summer. They have talked about how long the summer is. When I looked on the map, at the location of Taiwan, I thought it's a little too far north to have weather similar to what we experienced on several of our previous missions. Now I'm thinking we will have muggy weather, but not any different than before. The perception by the missionaries comes from them having no other basis of reference, other than their homes in the mountain west.
We receive regular phone calls from missionaries seeking help. I just got a call telling me their apartment has no electricity. I asked if others in the apartment building had lights. The missionaries thought others had power. I asked if they knew what an electrical panel was. No! I described what they should be looking for. They found it. I told them to open it and see if all the switches were facing the same direction. They said they were. I had them turn each of the three switches off, one at a time, and turn them back on. Their lights came on. I briefly explained what it means to overload a circuit. I feel so talented😊
We had a quiet evening at home watching the Saturday morning session of General Conference.
April 1, 2017
It's P-day. President called early in the morning and we talked about renting the apartment we have been looking at. He authorized us to spend a little more money and make an offer of about 21,000NT (about $700) a month. I made the call and made an offer and the agent thought it would be accepted. We won't know until Wednesday because we are in a 4-day holiday, beginning today. The Chinese know how to celebrate. This holiday is for sweeping the graves, and apparently, it's also a big shopping spree where they close out the winter merchandise.
We shopped for a few groceries and spent some time in the morning at the office taking care of the never-ending tasks. We left for Daya about 1:00PM. We did inspections of two apartments: one was the Zone Leader's and the other a set of Sisters. The Sisters are a lot tidier than the Elders. Since we had not warned them we were going to do inspections we did not do a regular inspection. We just took pictures of the apartments for the mission records.
We taught the Plan of Salvation for a contact of Sisters Beus and Skidmore. He's a graduate student, working on a Master's Degree, in mechanical engineering, studying robotics. He had fair English so it didn't take as much translation. He asked lots of questions, but the nice part is when he started answering his own questions by looking at the banner. After I finished the presentation, we had him then teach the Sisters the Plan. It amazed them about how much he remembered. He has some ways to go to gain a testimony, but the Spirit was strong and he recognized that something special was being taught. He asked enough questions that the lesson lasted over 90 minutes.
After the lesson, we went out to eat with the Sisters. I bought. We had our first steaks since leaving America almost 7 months ago. They seared the steak on both sides for 7 minutes and then brought it to the table with the inside rare. The metal dish the meat was on was very hot. The waiter then cut the steak, while it was on the table in front of us, into strips about an inch wide. By turning the strips over and over on the hot plate it cooked the meat to a nice, tender, medium-well steak. It tasted so good. As a side dish they had an all-you-can-eat fruit bar with pineapple, watermelon, cantaloupe, and guava. They also had a delicious hot chocolate with was nice because the temperature outside is a cool 60 degrees.
March 31, 2017
A slow Friday. I spent a large portion of the day editing the Operations Manual and finished the first draft. Other than still needing to write several more sections, it is almost finished.
I cut the angle iron I bought yesterday to the lengths needed to support the two shelves in our fridge. We have a Matabo type grinder in the office and it made for quick work. I brought the grinder home to help with the final fitting. Other than looking like two pieces of angle iron holding up the shelves, it looks fine.
March 30, 2017
I called the Property Manager about the new apartments this morning. She said our bid of 18,000NT (about $600) had been turned down by the owner. She said she would get back to me later, but never did. I don't know what's going on. I'll check again tomorrow.
It was a normal day at the office. I did go to the hardware store looking for something to brace the broken refrigerator shelves for our apartment. I ended up with some angle iron I will try and make work.
We had District Meeting in the afternoon.
In the evening, we took our 100% attender from English class to dinner. In class she is very quiet, but she talked a lot during dinner. She has been taking missionary lessons from the Sisters and talked about being baptized. She doesn't understand much yet. She wants to be baptized on her birthday in December. She thinks Sister Warner and I are the kind of family she wants to be. Apparently, her parents fight and quarrel. Mikki will be 30 on her next birthday and is single.
March 29, 2017
We laid in bed this morning and enjoyed a pleasant conversation with Lynda and Mark as they drove home from work. Later, we were able to read the adventures of Dave and Lynette in flood ravaged Peru. We may be a long way from home, but we are close to family.
Things were slower at work. I finished my key indicators report, then spent 30 minutes with the Global Service Center in Salt Lake getting access back into my Vehicle Coordinator website. Also, the printer technician came and fixed the printer so we can scan, fax, and print now from our computers. Life is getting better.
I edited the Operations manual and still have about 25% left to do. Not a good project on days when you are tired.
I could tell I was tired this morning when I was doing the Key Indicators report. I had trouble remembering how to get started. Then I struggled with were the data was I was to use. I would go as far as I could remember, and then I would remember the next step. That happened throughout the entire process. I don't think I'm losing my mind; I'm just too tired to go looking for it.
Still no information on the negotiations for new apartments. The brother who is doing the negotiations for us has become nonresponsive. I have to call him to get a status report, which is usually "I'll call and check on it right now."
March 28, 2017
When we were walking to the office this morning, we remarked that neither of us had much to do today. That certainly turned out to be wrong. President hadn't run his report, so I couldn't do my Key Indicators report first thing as I had planned. I worked the order filling part of my duties and then the phone rang. A set of Elders about 25 minutes away called to say their dryer wasn't drying. A quick check over the phone and a diagnosis of a broken fan belt was confirmed. We waited while Sister Warner worked on a medical situation involving a missionary who is going home early to have surgery on her foot.
About the time we were ready to leave, we receive another call. This time from the Sisters in Puli. The attachment to their kitchen faucet, to which they attach the water filter, had fallen off. They had no filtered water to drink. The repair of the dryer in Dali took about 10 minutes after the 20 minute drive. We also did an apartment inspection while we were there.
The drive from Dali to Puli took about 40 minutes. The repair there didn't go as well. The faucet had no easy way to connect the water filter. No threaded spout. I slid a rubber bushing on and hoped it would work. It didn't, the hose popped off the first time it was pushed a little when the water pressure was on. The previous part was just a tapered fitting pushed up into the spout. I told the Sisters to keep pushing the fitting up into the spout and we would arrange for a new kitchen faucet.
I spent 2 hours in the morning, and another 2 ½ hours in the late afternoon, on the phone talking to the Global Service Center in Salt Lake. My Outlook had malfunctioned and I could neither send nor receive emails. At the end of the morning shift, they removed the Office package and tried to install it again. I learned when we got back from Puli that the download had locked up about 25% of the way into the download. I called SLC again. After 2 ½ hours they seemed to have successfully reloaded the software. In the meantime, a technician had been working on our faxing system because it was down. When he left, we discovered we could not print. None of the printers in the office could see the big printer. Tomorrow?
The English class went well. We were both tired. Surprisingly, the lesson went well. Mostly old-timers were there. Afterwards, we had 6 students for the continuation of the Plan of Salvation. I had to spend most of the time reviewing because Melody had missed the last two weeks, and I had to catch her up. We have a young college student, Mel, and he really took an interest in the presentation. His responses to questions showed that he was grasping the concepts. Mikki, a young women who has been to all of our classes, is being taught be Sister's Unquez and Call and has a May baptismal date. I challenged them to watch some of General Conference this week on LDS.org.
We got home about 10:10PM. I think I'll sleep in in the morning.
March 27, 2017
It has been a long day. We arrived at the office just before 8:00AM and got home at 8:15PM.
I packaged orders for shipping out to the missionaries in the early morning. Afterwards, we took a set of Sisters with us to see the proposed new apartments. We needed someone who spoke Chinese. One is on the 6th floor, the other on the 8th. The configurations are similar, but not quite the same. We liked the one of the 8th floor better because it will be easier to install air conditioners, and it should be on the other side of the building from the afternoon and evening sun.
Brother Jan (Young) made an offer for both apartments. He offered $NT18,000 per month (that's approximately $600 per month US). This evening we were still waiting for the owner's response. We made our offer to the owner's agent. We proposed to move about May 1, but may move a little earlier if it helps in the negotiations.
We went to Subway with 6 Sisters. Four were the ones we've been training and the other two are part of a quick transfer. Being with the young missionaries is always uplifting.
We received a phone call from some Sisters about 1 ½ hours south of the mission office. The fan belt on the dryer had broken. We didn't have anyone close who could fix it, so Sister Warner and I drove to Xinying to repair the dryer. It was a simple fix, except that we drove about 150 miles round-trip to make the repair.
When we got back to the office, Sister Warner had to work on medical paperwork for a missionary we are sending home early. She had surgery on her broken ankle before her mission, but the surgical repair seems to be failing. Walking and riding the bike have proven to be too much stress on the ankle. She's only been out a few months.
March 26, 2017
We attended church today and taught our Primary class. We had all 5 but they have become more willing to be a part of the class and the disruptions are fewer. We have all become friends. After the class the counselor in the branch presidency over Primary came in and told us we were being released to do our other missionary work. They have called another teacher. We are grateful the experience ended on a peaceful note.
The meeting on using the banner went well. From the beginning the idea has been to be a supplement to the work of activation and retention in the stakes. That still exists but the mechanism has changed. The young Sisters we have been training will no longer be used as trainers. They will take what they have learned and go be regular missionaries. Any team teaching, and training will be done by Sister Warner and me. Success or failure of the program rests on the shoulders of the high councilor in charge of missionary work in the Taichung South Stake. We are still free to teach investigators as invited by the missionaries. That will work for us. The coordination of trying to teach many different groups was becoming cumbersome so the new change frees us up from pushing the program.
President also asked the Stake Presidents in the mission yesterday to recommend Service Missionary Couples who can take over the role of apartment inspections. That will be a welcome relief if he can get qualified people. He also told us to keep moving ahead on finding better housing for us.
We went back to the chapel for a 7:30PM meeting with the Ward Mission Leader and two Sister Missionaries. No one showed up. I called the Sisters and they said they had been told to cancel all banner teaching meetings, that they weren't going to teach the banner anymore. I told the Sisters the results of my meeting with President Teh this afternoon and said they can set up meetings for Sister Warner and me to teach. It would be easy to get mad at the inexperienced Zone Leaders, but foolish. They are only trying to do what they feel is correct—with a little pride mixed in. I told Sister Warner, "The Lord called us here. He's in charge and will use us whenever and wherever we are willing to serve. Fighting young missionaries is not our calling."
This ought to keep our journal readers interested in at least one more episodic week of our mission.
March 24 & 25, 2017
I'm writing these two days together because of overlap and finishing the stories.
In meetings this week with young missionary leaders and the stake high councilor over missionary work, I sensed some resistance to our approach to not only the training, but to our delivery of the banner Plan of Salvation. I talked with President to make sure I was lined up with where he wanted to go. He has been mostly just letting me move ahead and keep him posted. But now that resistance has come, and people are calling him, he's being forced into being more involved. We have a meeting scheduled tomorrow (Sunday) after Church between the President, the high councilor, and me.
The issues seemed to be both the control of the training and beliefs in what is appropriate in fellowshipping less-actives. The Zone Leader's feel their missionaries are being redirected without their approval. Understandable! President's solution was to just have the missionaries work within their own wards and not train outside their areas. That leaves me to train the wards and stakes, plus the missionaries. I'm game to try, but at the same time we are being asked to inspect 44 apartments on a regular basis. Also, with Randolph's leaving the end of June we will begin picking up responsibilities there also. Inspiration will solve these issues so I'm not worried. (Who knows, maybe Blair and Jane will volunteer to come join us.)
The other part of the issue, the one concerning the high councilor, is potentially more troublesome. I get along well with him, and he is helping us try to negotiate leases on two new apartments in our area. One for us, and the other for a new couple, if and when they come. He's Taiwanese who lived in the US for about 30 years. He retired back to Taiwan. He's a great source of strength to the stake, especially in visiting and working with less-active members. Our difference comes because he seems to think that visiting and friend shipping is sufficient, and teaching Gospel lessons (i.e. teaching the Plan of Salvation using the banner) will drive people further away from the Church. I'm more in line with how I interpret Alma 31:5, and feel teaching the doctrine is the most effective way to reactivate people. I think we can clarify both our feelings in the meeting with President tomorrow.
From my perspective, I need to make sure there are no turf wars. The only protection I feel toward the banner Plan of Salvation is that it be taught by Discovery Learning. Otherwise, it just becomes a lecture on the Plan of Salvation. Hopefully, tomorrow's meeting will clarify how we can work together and ensure the proper teaching using the banner.
Last evening, after dinner, Linda and I walked down to a night market a short distance from our apartment. We listened to live music from two saxophone players and browsed the clothing in the shops. The weather was a comfortable mid-70's and clear skies. My favorite part was walking back to the apartment we walked past some flower shops. They had many beautiful arrangements using orchids as the center pieces. The evening was a pleasant finish to an interesting and fruitful week. We are enjoying being useful.
About mid-day we walked over to the office to drop off some pictures on a missionary's foot and ankle. We then went looking for spray starch—it's a lot harder to find here than you would think. We took a picture of the can and showed it to a clerk in the big department store near us and she directed us to the floor where it could be found. Success. On the way home, we went by the open market, but it was mostly closed for the day. We bought a few fruit and vegetable items.
When things get a little upset I find solace in reading. I read the first chapter of "Wherefore, Ye Must Press Forward." The things that stood out to me had nothing to do with my current situation. Rather, in a book published 40 years ago, Elder Maxwell so accurately prophesied our current situation in the US. He's statement, which I've read before, that the government bodies are not going to legislate us out of our current social ills. Only the second coming can make the necessary correction.
March 23, 2017
The past few days the potential workload has been increasing. We've had discussions on doing physical inspections of some 44 apartments. We will have about 8 more vacant apartments by summer and some of them need to be closed and all their furniture and appliances either sold or put in storage. Either of which requires physically moving them. We are getting ready for new missionaries and loosing the other couple in the office in 12 weeks and no replacement has been identified. President wants us to upgrade our living conditions, and find an apartment for another set of missionaries, either young or senior, close to the office.
We met after work in a meeting with the office staff and President and Sister Teh to begin preparations for the new intake of missionaries in 2+ weeks. After the meeting, President stayed and talked with Sister Warner and me for about an hour after everyone else had gone home. It was a good exchange of ideas. I like these sessions because they help me feel a part of the administrative side of the mission. We were asked to begin negotiations on two of the apartments we looked at yesterday; to investigate hiring someone to move apartment items associated with closing apartments and cleaning up items that need to be disposed of. We also have more specialty items to discuss with the printer tomorrow.
While everyone else was in Zone Conference today I sat at the automobile service center having President's car serviced, brake pads replaced, and other worn parts fixed. Fortunately, I was able to watch most of the World Baseball Championship on TV.
We inspected an apartment late in the afternoon. The Senior Couple who are living there will finish their mission in 3 weeks and we wanted to know if the apartment was better than the one the Elders in the area are living in. It was. We will close the Elder's apartment and move them into the Sr. couples apartment when it is vacated.
March 22, 2017
Sometimes in the evening I have to think for a minute to remember what we did in the morning. Today is one of those days. I spent the morning packaging items for shipping and mailing. We ran out of Book of Mormons last week and I expected to receive the order for new ones this week. When the requests for more books kept increasing I ordered and additional 20 cases 2 days ago. Today, both orders, 40 cases, of Book of Mormons arrived. Feast or famine. I did ship 6 cases out today so we were able to meet the needs.
At lunch we drove to Dongying and picked up the lunch materials from the Zone Conference, same as yesterday, so they could be cleaned and readied for tomorrow before the housekeeper/cook left the mission home.
At 2:00 PM we went with Brother Jan to look at apartments in anticipation that we may be receiving another couple, and the apartment Randolph's are in won't be available after they leave. We looked at 5 apartments: three were rejected because they were of such poor quality. We liked two of them. Later in the evening when we were at the mission home we told the Teh's what we had found. Sister Teh asked if they were better than our current one. We said yes. She asked when we wanted to move. Our contract here doesn't end until next year so I don't think that will happen.
I had a coordination meeting with the Zone Leaders and High Councilor over missionary work in the Taichung South Stake. I'm glad we had the meeting because there was some differences of opinion on how we should be working together. We weren't able to resolve all the issues, but I did feel like I understood their perspective much better. In the evening, after we returned from another shopping run for Sister Teh, I had a chance to talk with the president about the differences and gain a better understanding of his vision.
The final plan is that the Ward Mission Leader will request the training. He will coordinate with the full-time missionaries on time and place. He will also coordinate with when the trainers are available. The members and missionaries will be taught at the same time, and, other than the trainer missionaries, there will be no distinction between the students. The missionaries are being trained to teach the Plan of Salvation using the banner so, when they are on splits with members to visit less-actives, they will be able to help the members teach. The role to training coordinator will reside with one of the missionaries I have been training because of the language issue.
March 21, 2017
I was just finishing my Key indicators report and received a call from Sister Teh to help transport food containers from the Zone Conference in Daya. After returning to the office I took a new printer back to the store because it wouldn't turn on. They said they will fix it and call me.
I was working at my desk and felt a drop of water hit me. Our air conditioning was on so I thought maybe it was a little condensation. A short time later another drop him me. The Elders live upstairs from us but there is no water in the part over our heads. Yesterday technicians had worked on our air conditioning. I took the ceiling panel down and it had a lot of water on top of it. As I looked up into the hole I could feel a fine spray of water, but couldn't locate a source. I called all the numbers I had for the physical facilities people and couldn't get anyone to answer a phone. Linda went next door and found the president's maid and she knew the people who had worked on the A/C yesterday and called them. By the time they arrived we had a large wet spot on the carpet. We had turned off all the A/C and that reduced the flow some, but not completely. We left for supper while they were working on the problem.
Lynda, if you have time would you forward Lynette's journal, that came today, to my siblings. Dave and Lynette are having a unique missionary experience right now because of the flooding in Peru.
English class is different each week. We had 19 people tonight and almost half were there for the first time. They all seem to have fun. Afterwards, I taught more of the Plan of Salvation to a group of 6. I learned later that 3 were members. Nelson, a man who has lots of questions, asked me about the Jews and Constantine, and Moses leading the children of Israel. I covered it all. We had a young, 1st year medical student who stayed for the entire lesson (I only got as far as the Atonement tonight). I had to start at the first again because of the new people.
Life is certainly in the fast lane right now.
March 20, 2017
We regularly receive nice comments and suggestions from family after they have read our recent journal entries. Often, their comments address questions that we are pondering.
Today was what is beginning to be a typical Monday. We spend the morning doing shopping for food for Zone Conferences this week. Sister Teh often asks us to do the shopping for her. We are happy to serve, and especially happy we don't have to do the food preparation. One nice surprise at Costco today—the cups of grapefruit are again available. Lisa and I always shared one at home but I don't have anyone to share with here as Linda isn't fond of them, primarily because they are packed in sugar water.
I met for sometime with President Teh this afternoon. We reviewed the meeting yesterday and talked about where to go from here. We had a good exchange of ideas. I appreciate his openness to consider all the factors. For example, he suggested that I be the one to train the Ward Mission Leaders in how to present the Plan of Salvation using the banner. I told him that I was willing, but we had a language problem. The Ward Mission Leaders don't speak English. He accepted that and we decided that we will teach the missionaries and the Ward Mission Leaders together, one ward at a time. This means I will have either 2 or 4 missionaries, plus the mission leader in each session. That way I can do more of the teaching. I liked the compromise.
During the meeting, President told me that the Taichung Stake President had told him that some of the wards were doing a good job of going out and visiting the less-active. But, those doing the visiting didn't know what to say to those they were visiting other than asking them to come back to Church. The Stake President then said that teaching the Plan of Salvation, using the banner, is the tool that was lacking. I had prayed for months during this mission to know how to use the banner. The program that is developing is not what I had initially visualized—it's more applicable to the circumstances that what I could see. Inspiration is a wonderful guide.
Last week we found a Subway close to the office, about 10 minutes walking time, and I'm enjoying the change in lunch diet. Unfortunately, the weather has begun to warm and it won't be long before it is too hot to walk there.
One of the Sisters, who was present when we taught Lucy last week, came by the office today. She has about 2 months left on her mission. She said that after seeing the lesson she has tools for teaching Christian contacts. Before seeing the questions we used in the discussion she wasn't comfortable with how to teach people with a Christian background. After seeing our use of questions, the kinds and subject, she now feels much more at ease. The great majority of people the young missionaries talk with are non-Christian. We've known for a long time that our first converts are always the missionaries. I had mentioned to President Teh that one of the biggest blessings from the banner presentation was the improvement in teaching skills among the missionaries. Today was a good example of that improvement and confidence.
Counting money here is interesting. They only have one money term—dollars. Everything is priced in terms of dollars. On the way home we stopped at a little bakery and Sister Warner bought 2 small custard-type treats. The clerk packaged them for us to carry and then said to me, in clear English, that will be 100 dollars. It sounded funny at first, and really expensive. I gave her a 100 "dollar" bill and we left. The small coin we call a penny in America is called one dollar here. The exchange rate right now is about 32 Taiwanese dollars to one American dollar.
March 19, 2017
We left the apartment just after 6:00 AM and drove to the Taichung North Stake Center. The drive was about 25 minutes. We thought we were scheduled to meet with the Stake Presidency but it turned out to be the entire High Council and Stake Presidency. I had only taken a small banner and wished I had a larger one. I had assumed we would be given about 20 minutes to make our presentation: we were given 45 minutes. Everything had to be translated into Chinese so it was nice we had the additional time.
The presentation went well. Afterwards, there was a lot of excitement among the group. The presidency wants a copy of the banner in every home to be used in Family Home Evenings. They are setting up a training session for wards in early June, but want us to help train their ward leaders before that time. They want copies of the banner and I will send them an electronic copy. It's always nice to see the excitement build as they gain the vision.
Afterwards, when we were out in the hall and leaving, the Stake President came out the thank us. He then wanted to know how old we were. His remark upon learning our being in our late 70's is that we are a great example to their members about going on missions. Sister Warner and I said afterwards that we need to be more aware of how blessed we are to be able, both physically and mentally, to still be serving as missionaries.
Another blessing, if you will, is that when you're old and you buy a regular size watermelon, you get to eat most of it yourself if you don't have a lot of company. There is a downside to that blessing in that what goes in must come out. Thus, regular trips to the bathrooms within a short time of the feast.
Church meetings were good today. The talks in Sacrament meeting were well prepared and thought provoking. The subject was living prophets. Sister Warner handled the Primary class well with a nice mix of activities. Adam was there, but Thomas only comes every other week and was not there.
The presentation at the Stake meeting went well. Sister's Wong and McOmber did the banner presentation and it flowed smoothly. The ward leaders, who were seeing it for the first time, got involved in discussing how it will work in their activation and retention. I was pleased for the Sister's sake because they have fasted and prayed that the presentation will go well. It has been a long but happy day.
On Tuesday, we will do our plans for how we will teach missionaries in about 10 wards, and extend that teaching into the ward membership. It will be a challenge to find the time to do all the teaching. One of the challenges we became aware of tonight was that two of the wards in the Taichung South Stake had no one in the presentation tonight. Another ward had 7 people, including the Bishop.
March 18, 2017
We got up at 5:15 AM so we could leave for Qishan at 6:30. We traveled with Elder and Sister Randolph, and met the Teh's and Ferguson's at 9:00 AM in Qishan at the Fo Guang Shan Buddha Museum. The museum is considered one of the "must see" sights on Taiwan. It is a large campus, ornately decorated in both buildings and grounds. Many beautiful carvings in Jade and wood. The Buddha statue is built up on a mount and the figure itself is 40 meters high. (about 120 feet). We took lots of pictures and learned more about the beliefs of Buddhist. As a religion they promote peaceful thoughts and actions. A lot of their history is pure folklore. For example, they believe the Buddha, as a child, entered back into his mother's womb riding a white elephant. Buddha was born about 2500 years ago and elephants may have been a little smaller then, but not that small.
It was nice to get home after about 5 hours and near 250 miles of travel.
We had a long conversation with Lynette last evening. The area around them in Peru is having major flooding problems. Landslides are pushing buses loaded with people into swollen rivers. Access to remote cities and villages has been cut off because of washed out roads and landslides. She said they are expecting more rain over the next 10 days.
March 17, 2017
I spent the morning working on a plan for inspecting apartments. The idea is to have the missionaries send in pictures of the various areas in their apartments, on P-day, after they have finished cleaning. We will notify the apartments when it's their turn to send in the reports, probably on a quarterly basis. We will then make a composite of the pictures and print it and put it in a file. We will review the pictures and decide if we need more information, if we need to visit, and then make a phone call to talk about things like needed repairs, maintenance issues, and general cleanliness. I will present the concept to Sister Teh tomorrow, and I think she will be OK with it. If, for no other reason than we don't have time to do onsite visits to 44 apartments, especially when travel time alone to the further ones will be up to 2 hours round-trip.
For lunch today we found a Subway. It smelled just like being home. I had my favorite, but they didn't have vinegar to go with the mustard so it didn't quite taste the same. It was good and a nice change of pace.
March 16, 2017
The big changes in air temperatures make it difficult for us to get enough rest. We have no heat available in the apartment so we can't keep a uniform temperature. At night we have a comforter which is plenty adequate to handle the cold, but when it's not so cold we end up being too warm because we pull the comforter too far up on us, or not warm enough if we don't pull it up enough. The results are awaking many times during the night either too warm or too cold. We've been tired all week. We are headed into a warming trend now so it will be better since the cooling air conditioners run on thermostats and will maintain a more constant temperature.
The presentation we are scheduled to present Sunday evening has been modified and we will have less time. I don't need to talk at all. Since we are just trying to be a support to the wards and stake, the change is OK with me.
I've been working on getting many of the scriptures loaded on a flash drive in the hopes I could improve the quality of the missionary discussions in the chapel next door. Alas, the scriptures are in Word documents and I can't find a way to put them on a monitor without using a laptop computer—which we don't have and I'm not going to buy one.
Being tired is offset by being together, and being happy together. We also have regular pleasant conversations with family. An exception today: apparently our water heater is dying at our home in Bountiful.
March 15, 2017
The Ides of March, whatever that means. Sister Warner's work has slowed considerable and she is enjoying not having the deadlines and rush jobs to work on. Mine is steady, and growing. I had a meeting with the High Councilor over missionary work in our stake today. He's conducting the meeting this coming Sunday evening. He's doesn't understand what we bring to the table, but was cooperative. He will encourage the counselor in the Bishopric, who is supposed to come to the meeting, to have us come and present to the Ward Council. If we present well, that should provide more opportunities to teach less-active members.
The High Councilor said that because the Chinese often work 12 hours a day that it's hard to have meetings with them in the evenings. All I can hope is that enough of those we need to teach, are available at times we can teach them. We will offer and then see what happens.
Many of the missionaries have colds and other illnesses that slow them down but don't require any special treatment. Linda and I were both tired today,but hoping we are not going to take a turn with the colds.
The Assistants gave the Phone Analytical Report to me to be in charge of each month. I think the program that analyzed and prepares the President's report is robust enough that it will only take me a short time to run the report.
March 14, 2017
Days are busy, but not much to write about. I did my Key Indicators report without a hiccup until I tried to use the fax. The fax server is down, but I was able to print the report as a PDF and send it out that way.
The training session on the banner with the Sisters went well. Whereas, in Tahiti, we taught mostly groups of people, now most of the banner teaching appears to be headed toward teaching individuals. The lack of a gathering location, like the Temple in Tahiti, means the missionaries will teach more individuals. Thus, we will print more small banners, the questions and manner of teaching will alter to match the audience, and we will have more one-on-one conversations. I think the adjustments will be positive. The Sister's teaching skills are improving rapidly, and they are no longer worried about forgetting where they are in the presentation, or being asked questions they don't know an answer to.
The English class tonight was pleasant. We love the members of our class, especially those who have been with us almost from the start. We share a great bond with them. Tonight's subject, renting an apartment, wasn't very exciting but Sister Warner made it interesting. At the end, I played the video of Elder Holland's story about the two brothers climbing the rock face in Southern Utah. The English was understandable for most of the class, and the end has a great introduction into the Savior.
Six class members, one member and five nonmembers, stayed for the Plan of Salvation afterwards. I must teach slow and quote the scriptures because it's too hard from them to read and understand in English. But they trust me so telling them the scriptures works. We reviewed through the Plan from the beginning through the Old Testament. Then, I taught the mortal journey of the Savior and ended with the organization of His Church. The class is quiet during most of the presentation, but when I pause and ask them questions they respond. I can tell by their answers that they understand. Next week we will do the Atonement.
A young mother we had met at a store brought her 3 1/2 -year-old to the class. She has good English already but wants to improve. After the class the young boy came up to me and said, "I love you." I knelt down next to him, in front of this mother, and told him I love him too. He and his mother left and didn't stay for the religious presentation. About 10 minutes into the Plan presentation the young boy and his mother come back into the class and she said he wanted to have his picture taken with me. I stopped my teaching, knelt beside him, and had my picture taken with him. Special.
March 13, 2017
We were both busy all day. Orders to fill, reports to work on, and a quick trip to Costco (only takes 2 hours when travel included) for Sister Teh. President is making a change and the missionaries will no longer use handouts to give to people they meet on the street. That eliminated one entire metal rack of supplies for me to keep track of.
Two of the District Leaders sent pictures of their apartment as I had requested. Both apartments look clean. I think we will need to do follow up phone calls to make the process work.
Arma sent an email and is having some medical test to see if they can determine the cause of some of her discomforts. She said she will have an MRI on her brain.
March 12, 2017
We went to the North Stake center and attended Lucy's baptism, along with her 3 children. It was special, the Spirit strong, and support by members was good. Both the Bishop and Stake President attended the baptism, and President Teh called just after the baptism. President and Sister Teh had taught her a lesson earlier.
While we were waiting for those who were baptized to dress, I had a chance to talk with the Stake President. I told him about the Plan of Salvation banner and how we were using it to teach less-actives and new converts. He asked Sister Warner and me to attend their Stake Presidency meeting next Sunday at 7:00AM and do a short presentation to them. Meanwhile, the full-time missionaries have heard about the two lessons we have taught in their zone, and the positive results achieved, and they are anxious to become involved. I've got to come up with a plan to train and monitor the quality of the training.
We got to our Branch just in time to teach our Primary class. We had 2 new students today. A young lady (about 11) and her brother (about 8). Interesting situation: the children were given visas by the Taiwan government to go to the US, but the mother was stopped here by the Taiwan Customs people. The kids have come back to join her. The kids have been living in Kaysville and obviously the young lady was in a good Church environment because she knew the Articles of Faith and Church History/Book of Mormon questions. Although our young boys are only 9, the presence of a pretty young lady in the class greatly altered their behavior. Hoorah for hormones I guess? One of the boys even said the closing prayer in class and sang some of the songs in closing exercises. We are a Church of Miracles.
I've had several exchanges with the Taichung South Stake concerning the Ward Missionary Leader's training next week. The Stake President's and his counselor are on different pages on who should attend. The Counselor told President Teh it would be OK for all the missionaries in the Zone to come, but the Stake President told the High Councilor the missionaries shouldn't come. I'm working through the High Councilor to resolve the attendance question.
It was about 20 years ago that we were discussing the auction that would be held that fall for land in Excursion Inlet, Alaska. We were trying to get an idea of how much we could spend on a piece of land to camp on. We didn't even know, for sure, where the land was located or what it looked like. We just knew we couldn't continue camping on the Gordon's property. In those early, simple planning activities, little did we recognize what lay ahead for the next 20 years and beyond.
I've spent time this evening reading from Handbook #2, Chapter 5 (The Work of Salvation . . . ) and Chapter 22 from The Teachings of the Prophets "Gordon B Hinckley." I'm trying to understand, in this broad world of missionary work, what my role should be. I'm a missionary, therefore, I'm on the finding and teaching side of the Work. I don't know how well the Wards and Stakes here are functioning in their duties as outlined in Chapter 5. But, I do know that retention levels are not good. The teaching, using the banner, is designed to move investigators, new converts, and less-actives further along the path to conversion. We want to deliver stronger converts to the Wards and Stakes. We want to strengthen those who have joined the Church and then wavered.
Since our role is diminished after baptism we need to more clearly understand how we can better assist the brother who plays the key role in the transition from investigator to converted member of the Church. The Ward Mission Leader sits at the interface between the missionaries and the Bishopric. Question: should we encourage strongly, mediumly, or mildly, the Ward Mission Leader to learn to teach the Banner, Plan of Salvation? Since I don't know how well the Wards and Stakes function in the Work of Salvation as outlined in Chapter 5, I can only make assumptions.
The Stake President in Taichung South Stake said he wants the Ward Mission Leaders to learn to teach the presentation so the skill doesn't leave when the missionaries do. I will do as he asks. But you can feel my worries that if we have too much emphasis on the teaching, which is very satisfying, and less emphasis on the transition from ain't to Saint, will we make a difference in retention and activation. We don't need more emphasis on doing things to feel good. We need more members visiting in the homes, or other direct means of fellowshipping of those we are trying to help become converted.
March 11, 2017
P-day! We mopped floors, made beds, did laundry, cut my hair, and then got cleaned up. It was 10:30AM.
We headed to the office and Linda stopped along the way to get her hair cut. It cost about $15. I went to the office and worked on building an outline for the scriptures we can us in the Plan of Salvation presentation. It's part of building the hyper-links for the scriptures. I picked up a set of Zone Leaders and gave them a ride to the chapel by the office. Elder Tsu has a sprained foot and can't walk far, nor ride a bike. While I was doing that service, Linda went to the hospital to get an appointment with an oncologist for a young Sister Missionary who has swollen lymph nodes.
We walked home for lunch and then headed back to the office. We left for the Daya Chapel in the early afternoon to meet a set of Sisters and go teach a Plan for them to a perpetual investigator. I forgot to write down our agreement on a meeting place and ended up where they weren't. We went too far. We finally found them after an 8 km backtrack. Sometimes 'Maps' GPS doesn't quite get you to the desired location, but we finally found the Sisters.
We took Sister's Hendricks and Young over to meet with Lucy, a Filipino lady who married a Chinese and has lived in Taiwan for 17 years. She has been taught by many missionaries and attends Church often. Her three children are scheduled to be baptized tomorrow. She speaks enough English that I could teach in English. When we got to the beginning of Christ's ministry she had several questions about the Book of Mormon versus the Bible. I took more time to explain the difference and she only seem partly satisfied. At that point in the lesson I was inspired to go to almost exclusive New Testament scriptures. The lesson moved smoothly until we got the Judgment and she wanted to know about why the Church had practiced polygamy. At that point I realized that someone had been feeding her anti-Mormon materials. I answered her questions without giving any big justifications. She seemed satisfied again.
At the end of the lesson I wasn't quite sure where to go next. I did a poor presentation move and asked her two questions at once. She misunderstood and thought I asked her to present the Plan to us. She said she would, and did a good presentation, using the Banner. I'm always amazed at how much the investigators can recall. After her presentation, I told her to let me know when she was going to be baptized because Sister Warner and I wanted to come. She chatted with the Sisters, in Chinese, and then went and got a baptism form that she had been given when she took her children to be interviewed for their baptisms tomorrow. She had also been interviewed but would not commit.
I could tell they were talking about her baptism, but because they were speaking in Chinese I didn't know what they were talking about. Lucy then finished filling out her baptism form and announced she will be baptized tomorrow with her three children. A great thrill of missionary work.
We will miss our English Branch Sacrament Meeting but should get there in time to teach the Primary class because we will attend Lucy's baptism.
I like to come home in the evening, write in the journal, and then read/watch the news on the Internet. Lately, my time has been reduced because it's so hard to find anything worth reading. The bickering, deceitfulness, and fault-finding are abysmal. However, the added free time is allowing me to work on improvement in the Banner presentation.
I talked with Paul Yan (Young), the High Councilor over missionary work, this morning. We will go first next Sunday evening with the Banner presentation. There will be 10-12 people in attendance unless more missionaries are invited. It will be small in scope and easier to present our part.
March 10, 2017
The day started with the Skype buzzer going off. The results were delightful as we were able to talk with Lynda and Mark extensively, and Lisa a few comments while Lynda was talking with us. We are so grateful for our close relationship with all of our children.
Work is quite routine now. Fill orders, go to the Post Office and mail the packages, meet with the Printer and review samples, and go to the warehouse the pickup supplies. While we were there, Linda inspected the Elder's apartment, who live upstairs above the storage unit. She took pictures of the various locations in the apartment and later I compiled them into a report. Monday we will test the same approach, but this time the District Leaders will photo their own apartments and send me the photos.
I did a little late in the afternoon learning to hyperlink scriptural references to the scriptures. I want to be able to bring up the pictures on a screen when it's appropriate for the participants in the Plan of Salvation presentation to read them. I can't link to the Internet because most places we will teach in do not have Internet connections. Therefore, everything needs to be saved, probably in a Word file, and liked to a list of scriptures in an Excel file. I was able to link the English scriptures, but couldn't follow the Chinese instructions to link Chinese scriptures. I'll get help tomorrow from the Assistants.
March 9, 2017
Some mornings, in the cool unheated apartment, I consider wearing my clothes when I get into the shower so I won't have to undress in the cold air. On further consideration, the plan seeking to maintain body heat seemed to have too many flaws.
The President sent Randolph's and us an email requesting that we attend District Meetings. There is one set of regular Elders, the AP's, Randolph's, and us in the District. We were good soldiers and went.
The training session with the Sisters was better today—much improved. The AP's stayed to watch the presentation and we used them as our investigators. We timed each presenter and gave each 10 minutes, then the next presenter picked up where the last one ended. We did the whole presentation in about 45 minutes which is a big improvement.
We are 10 days from the introduction of the Banner presentation and I haven't heard anything from the Stake. I'm getting worried. I don't know really what they want us to do. I don't know how well organized they are. I don't know their execution skills. President Teh doesn't want us to drive the program so I'm holding back and not pushing. Otherwise, it could end up being a missionary-drive program.
March 8, 2017
The morning in the office was busy. Lots of phone calls for supplies. One of the Zone Leader's sprained his foot last evening so we went to their apartment and ended up bring him back to the hospital for X-rays.
I had to purchase Velcro for strips to go on a small banner for the lesson in the afternoon. I didn't want to take the big banner. I'm using plastic shelf liners (semi-clear, thin plastic sheet made to put on metal storage racks) to make the strips to cover the words on the banner. Linda and I hurriedly made the strips, put a strip of white Teflon paper on the back to make sure people couldn't read through them, and put the Velcro tabs on the strips and banner. We were about 10 minutes late leaving the office.
We picked up the Sisters and drove to Tanzi for the lesson. The Elders in the area joined us for the presentation. The investigators were a couple the Sisters had found when they were assigned to the area. Now the Sisters have been moved out the Elders are doing the teaching. The couple have two children, 8 and 14. The 14-year-old was not there but was baptized several weeks ago. The mother is Catholic and the father is Buddhist. I presented the first part of the lesson, the part the includes the pre-existence to the birth of Christ, and the Sisters mostly taught the remainder of the lesson. This was the Sisters first time teaching investigators and I was encouraged with the improvement in their skills, but they still need practice. They use scriptures better and tell the story of the scripture before reading it to set the background. The wife mentioned that it was hard to read and understand the scriptures. When I probed her response, she admitted that she concentrated on pronouncing the words correctly, not on the subject matter. The lesson learned for us: we will read the scriptures and have them follow along.
The first part of the presentation that the Sisters presented drug somewhat. They were presenting too much information. As a result, there was little discussion involving the couple. In the latter part of the discussion I helped to shorten answers and the couple become much more involved commenting and asking questions. After the presentation was though, I asked the couple to teach the lesson to the 8-year-old daughter who had just joined us. The mother went first and covered from the beginning until the Spirit world very well. Her husband, the Buddhist, had commented little during the presentation. When she finished, he said he wanted to try and present the Plan to his daughter. We were all surprise. He was even more detailed than his wife. When he got to the Judgment he had questions about qualifications for each of the Degrees of Glory. He clarified that those who went to the Telestial Kingdom could not go back to the Pre-existence and start again. (His Buddhist reincarnation beliefs.)
When I had the missionaries read Alma 34, about not procrastinating our repentance. He admitted that he enjoyed reading from the Book of Mormon. The young Missionaries were not even aware he had been reading the Book of Mormon.
End result: the Sisters are doing better; the Elders learned more of the Plan of Salvation; and the couple had a good experience studying the doctrines of Salvation.
March 7, 2017
I spent 2 hours this morning doing training with the Sisters for the banner presentation. They are coming in their skill and using more scriptures they find themselves. We will have 3 more practices before the big event. I will just exercise faith that it will be OK.
The weather is cold again, with high humidity and sprinkles of rain. It's before English class time right now but because of the weather I think attendance will be small. If we don't have much of a group I will wait another week to teach the Plan of Salvation after the class.
I'm feeling swamped at work because of the things I need to leave the office to do. Sister Warner needs help with her computer, and I need to shop for toaster ovens, light fixtures, getting mattresses to used furniture dealers are all on the list.
Later: The English class went well and all our faithful students were there, plus we had some new ones. Afterwards, I set up the banner and 6 students and 2 Elders stayed for the Plan of Salvation lesson. It's different teaching people with no Bible background. I went slow and tried to ask questions they could understand—remember, I was teaching in English and their first language is Chinese. After 30 minutes I had covered the Plan through the Old Testament. That's where I stopped. During the presentation, they were quiet and not very responsive to questions, so I felt like they weren't following the discussion. But when we got to where I quit they started asking questions and I could tell they had followed the presentation. After the meeting was over, several of the class stayed and asked more questions. I like missionary work.
We received a call from some Elders inviting us to come teach one of their investigators tomorrow afternoon. We will take one of the training Sister companionships to teach some of the lesson. The investigator speaks English.
March 6, 2017
After reading Dave and Lynette's journal I think we tried to match their effort today, unsuccessfully. They are fully and anxiously engaged in gathering Israel. We are busy also.
It was P-day here for the missionaries so the office is always crowded most of the day. I was able to stay on task because I had lots to do. I called the printer and he came over to talk about printing envelopes, thank-you cards, returned addresses on envelopes, certificates for English classes, and a poster for Sister Teh to hand out.
Sister Teh brought me the inspection reports for about 15 apartments so I can do follow-ups. I gave permission to buy a washer, air conditioner, and dishes for an apartment down in Gaoxiong. Fortunately, Elder and Sister Ferguson are in the Gaoxiong area and they do all the onsite work. Sister Teh was also concerned because only about 50 of the 90+ apartments in the mission, are being inspected on a regular basis. She asked if we would try harder to do inspections. We said we would try to get to each of the 44 apartments once a quarter. She would like a report, with pictures, about the condition of each of the apartments.
I met again with President Teh to discuss the Banner program. As we strategized about follow-up to the presentation on the 19th I expressed my worries about having time to do the additional training that will be involved. He said before I had mentioned the problems with the Primary class yesterday, that since our first priority to working with the full-time missionaries, we should be released from the Primary calling so we were free to travel to different wards on Sunday. President said that we are just on loan to the branch anyway, not real members. We will call the branch president this week and resign our positions.
Several of the Sisters who came into the office today asked when they could learn about the banner program. The sets of Sisters we are currently training have been practicing on the other Sisters. I love the enthusiasm the young missionaries have to be more effective teachers of the gospel.
As we were getting ready to leave for the evening I received a call from some Elders. They had dropped their phone in the toilet and it quit working. I told them to come to the office and get a new one, we would wait. While we were waiting, a set of Sisters who live near the office came in frantically hoping we would be there. They had locked themselves out of their apartment.
Yesterday, at the dinner after church meetings, one of the members had brought some cookies they had purchased at a store. They were neatly packaged in a clear plastic wrapper, with beautiful pink and white flowers printed on the wrapper. They looked like sugar cookies: same color, texture, and appearance. On top of the cookies it looked like a light frosting had been sprinkled for decoration. As I bit into the cookie, expecting it to taste like a sugar cookie, it wasn't as sweet as I expected. The texture was about the same, but there was something different; something not quite right. I chewed for just a few seconds, then suddenly my mouth was on fire. It was a pepper cookie. I'd never tasted something like that. Later, as I thought about the experience, I related it to how sometimes we get into innocent trouble in our lives when we end up differently that we thought was our destination, or the results of our choices.
March 5, 2017
The scriptures say that without tasting bitter we would not appreciate sweet. The past few weeks in our Primary class have been sweet. Today, however, was bitter. We had all three boys and one girl. The girl is teachable, and one of the boys is a little teachable. But the three of them together was too much. I went and found one of the fathers and brought him into the class. Things only improved slightly. In the middle of the struggles he excused himself to go to the restroom, and never came back. After class I saw him sitting out in the hall. I was very disheartened by the experience. We both think the two fathers should be called as the teachers. (The mothers are both less-active.)
I met for a few minutes with the member of the Stake Presidency who is heading up the Plan of Salvation training. He is still interested and is having a banner reproduced in the familiar Chinese format of reading from top to bottom instead of side-to-side. I identified two more sets of missionaries, one set of Elders and one of Sisters, to start training as soon we are clear with what the Stake will really do. If it turns out positive, and we expand the teachers pool, it will tie up my Sundays and we will give up the Primary class. Our first responsibilities as missionaries is to support missionary work.
After Church meetings, on Fast Sunday's, we always have a pot luck dinner because people come from so many different places. After the meal, we took the Hansen couple (He's a visiting Food and Nutrition Professor from USU) with us to Zhonghua to check on the water filtering system I worked on yesterday. We had a nice visit with them. The water problem was that when they replaced the filter they had dislodged some dirt and it plugged the output spout. They also had a hole in a delivery line. Brother Hansen and I replaced the plugged fitting and trimmed the leaking part out of the line.
Sister Warner is having problems with her spreadsheets at the office. The sheets are on Office 365 and she keeps getting the spreadsheets saved in different places, which makes it difficult to know if any of the spreadsheets are correct. We tried to resolve the problem last night and went back over to the office. Unfortunately, the Assistants were on our computers doing their P-day writing so we chose not to interrupt them. It will be priority #1 in the morning.
One of the pleasant events of this week is that we talked with all but one of our children. Skype makes home seem much closer.
March 4, 2017
We left the apartment early and drove to Zhanghua to help some Sisters repair their water filter system. They couldn't remove the housing for one of the filters. It took about 2 minutes to complete the task. Alas, about the time we were ready to go to bed the Sisters called to say no water would come through the filter now. It worked when we left. We will go back after Church tomorrow to resolve the problem. I suspect some particulate matter has plugged the hose.
I met with 4 Sisters, for 3 hours, doing training for teaching the Plan of Salvation using the banner. Their progress was encouraging. They are becoming more comfortable with what we are trying to do. I teach them that we ask good questions so we will know what they understand. Once we know what they understand we can connect the teachings so they get a more complete understanding of the Plan. Those being training are asking better questions and feeling more comfortable using the banner.
We spent the evening at home. I read source materials, written while we were in Tahiti, while preparing for more training in the Banner presentation. I was surprised at the wealth of materials I have saved on my computer (and backed up on an external hard drive). Afterwards, we listened to Easy Listening music and danced to several of the tunes.
March 3, 2017
I didn't sleep well last evening. My mind was working on trying to understand what we just got started with the Taichung South Stake, and how we should proceed. I will need to retrieve the "discovery learning" materials that Clif developed while we were in Tahiti. Effective teaching is key in delivering a well scripted message. I see two challenges: 1) teach the presenters how to ask good questions. 2) expand the presenter's knowledge to where they are teaching from a knowledge base, not a memorized script. Expand these challenges to teaching across a language barrier and not being sure how your remarks are translated. I'm lucky I slept at all last night.
Today at the office was the final day of orientation, and announcing of new companionships for the new missionaries. In the afternoon, those who had been training for 6 weeks came in, with their companions, and had a 2-hour training session. The office was full of missionaries all day which is great for socializing, but poor for getting much done.
I grabbed two of the missionaries and had them help me do the monthly inspections on 4 of our vehicles and got that out-of-the-way for another month. In the evening we had a dinner celebrating Elder Randolph's 69th birthday.
March 2, 2017
I had just gotten out of the shower when the phone rang and a set of Sisters had locked themselves out of their apartment when they went to exercise. We hurried and ate, went to the office and picked up a spare key, and drove to their apartment. Fortunately, the apartment is only about 20 minutes from the office. We rescued them.
I did a 90-minute training session with two Sisters on the Banner training. The skills are still being developed but we are making progress. The training for the new missionaries takes place in the same building and President came by and stepped into our training. He said he was really excited about what we are trying to do. I appreciated the vote of confidence.
I had a lot of packages to prepare for mailing. Having the Post Office closed for 3 days slowed down our progress.
Sister Warner and I each did our short presentations, to the new missionaries, about how we help them.
The presentation of the Plan of Salvation, using the banner, to the Taichung South Stake Presidency went very well. I did an abbreviated version because everything had to be translated into Mandarin. Mostly, I just told them the answers and quoted the scriptures. When we finished the Stake President said he wanted this program in his stake and wants us to teach the local leaders how to teach it so the program doesn't leave when we leave. He kept us for 30 minutes talking about what he would like to see happen. Then, he scheduled us to present to all his Stake mission leaders on March 19th and gave us 90 minutes to teach and tell of our experiences. Tonight, as I contemplate the impact on our lives of all the teaching that we will need to do, I feel a little overwhelmed. I can give people the script, but they need to be trained to teach the message for it to be effective. We can only teach 4 to 6 at a time and give them sufficient practice teaching time to be effective. The Stake President was talking about us teaching 30 people to teach, to cover 6 wards. This will be a growing experience for us.
March 1, 2017
We left for Taipei at 8:15 in the morning. It's about a 2-hour run and we were in a rented bus. In Taipei we spent about an hour at the Chang Chi Check memorial. He was an impressive man and fought against the Communist's takeover of China. We got home at about 10:45PM.
February 28, 2017
I spent much of the day editing the Operations Manual. The office was full of missionaries most of the day because it's transfer day. It's hard to focus with so many coming and going, and wanting to talk, so we just enjoy them.
English class was small because of the holiday. We only had 4 students and will probably repeat the same lesson next week. One of our students, Nelson, is a single man in his mid-60's. His wife died from cancer many years ago and his only child, a son, fled from the law and Nelson doesn't know where he is. He spends time on the Internet and has lots of questions about Christianity, good questions.
About 9:00PM we learned that we will be housing 4 Elders tonight. They have finished their missions. Time is too short to get to know them in such a short time. One, Elder Clayson, is from Spanish Fork, and is our relative. I showed them the DW website and video.
February 27, 2017
The weather continues to be on the cool side. With no heat in our apartment, except a little electric space heater, the temperature stay in the low-to-mid 60's.
The national holiday today and tomorrow means the government offices are closed—no Post Office—so that part of my duties will wait until Thursday, after we get back from Taipei.
We visited with President Teh in the late afternoon, after everyone else had left the office. It was a good opportunity to share ideas about missionary work in general, and the banner presentation specifically. His daughter will be giving her farewell on June 11th, in our ward in Bountiful, before leaving for her mission to Preston, England—Mandarin speaking.
February 26, 2017
Our cool weather is expected to last another week. I'm surprised that it stays as cool as it does here. We had heard so much about how warm it was, and had little winter, so we are surprised that it is nearly March and coats and jackets are needed for outerwear.
Because of the long holiday weekend here, the Primary President called and said she thinks the number of children coming to church today will be small. They are combining all the children into our class. We ended up with 2 children, a brother and sister. I'm still not accustomed to teaching children. Their lack of attention, and short attention spans, bothers me.
We went to a missionary musical fireside this evening. The missionaries did an excellent job and it was a pleasant experience. Unfortunately, it is a holiday weekend, and the weather is cold, so attendance was poor. At the end of the meeting the Taichung South Stake President, who did attend, came and visited with us. I told him about the banner presentation and he invited me to come to Stake Presidency meeting on Thursday and present the program to the presidency. The Zone Leaders will be there and I will be the presenter. At least two members of the presidency speak sufficient English that I should be OK. This could be a real opportunity to help in reactivation activities.
February 25, 2017
Today is supposed to be P-day. We arrived at the office just before 9:00 AM and met two sets of Sisters to do Banner training. Sister's Wong and Hsieh had texted last evening and asked if I would teach a banner presentation to one of their investigators. I thought it would be a good opportunity for them to see a 'live' presentation so I agreed to teach. The investigator came about 11:30. She was a single young woman, about 30, and very sharp. She had some English.
As is usually the case, in these first banner lessons, the missionaries are the best students, and it started that way. Soon, however, the Sisters became quiet, except for helping to translate phrases Michelle didn't understand in English. The presentation flowed smoothly, but was a little longer than I would have liked. After I finished I asked her (Michelle) to go to the banner and summarize what I had just taught. She was hesitant, but when Sister Wong went to the banner and started pointing to the pictures and headers, Michelle picked up the story and went through the entire presentation. I was amazed at her recall. After we were through Michelle said, "now I understand why the missionaries must come and teach". She then told us that she didn't want to come today because it was about a 20 mile drive for her. But, she said a voice came to her and told her to go to the appointment. We told her that she had received promptings from the Holy Ghost.
Aside from the great experience with Michelle, I learned (or relearned) some things about young missionaries teaching skills and lack of gospel knowledge. They have almost no knowledge of the New Testament scriptures. They don't know how to ask good questions. They are willing students and easy to teach. They don't know what is in the pamphlets they hand out.
In the training before Michelle came, I had the Sisters read 1 Cor 15:40-43. They didn't even know that scriptures about the Three Degrees of Glory were in the Bible. I feel fortunate to be in a situation to help make the young missionaries better teachers, and to build their knowledge, testimony, and conversion. It isn't hard to understand why not all returning missionaries stay active in the Church. They never really learn much doctrine as missionaries, and aren't diligent in building their knowledge after they return home.
Today, at home, we sat in the room we use for the office, with the electric heater on and the door closed, because it's too cold to do otherwise. The cold is supposed to last most of next week. The temperatures aren't that cold (low 50's) but the 85% humidity makes it uncomfortable.
Food storage report: we have about 1 gallon of MW (Miracle Whip) on hand so we have many months' supply.
February 24, 2017
It's winter here again. High was in 50's, wind blowing, and humidity 87% and threatening to rain. We will be grateful for nice blankets tonight.
We inspected an apartment of Elders where they complained of smoker's smoke coming into the apartment and not much privacy because of noisy neighbors. We will move them, either into an apartment that will be vacated in April when Elder and Sister Chen return to Utah, or we will have them find a new apartment. They find their own apartments but we must approve them.
There is a restaurant near us the steam cooks filled rolls. There is always a line waiting. We took a chance in the afternoon, braving the cold wind, and walked over there. It is a 10-minute walk. We got there 20 minutes before closing (They close at 3:00PM) but were turned away. They had already sold all the rolls they had prepared. We will try again another day.
Transfers will be announced tomorrow, and today through Tuesday is another holiday period. I think it's like their Memorial Day. Anyway, between transfer and the holidays, we can't mail anything until next Wednesday. It makes for slower time in the office.
February 23, 2017
The past 2 evenings we have run the A/C all night to cool our room, and keep it cool. The temperatures were on the fringe of being too warm. That won't be a problem tonight. A big cold front has moved in and we will again drop into the low 50's tonight through Sunday.
President asked Elder Randolph and me to give a Priesthood Blessing to one of the sick Sisters because he's down south until Monday. I think there should be a special class in the MTC about how to give directions. Using the GPS we got within 100 yards of their apartment, but even describing landmarks such as a 30-foot high statue, they couldn't tell us where they were. They were across the street from the statue and finally saw it.
I worked on new methods for hanging the banner too make it easier, and to reduce the amount of supplies required. We're using a plastic chain, hooked to Command Hooks on the wall, and connecting the banner to the chain with small carabiners.
Each day has some new and interesting events. Lynette called from Peru to talk about one of their Elders who had a large sore on his neck. It didn't seem to be getting better with local treatment so she sent a picture to Sister Warner and then called. Sister Warner diagnosed the problem, and recommended treatment, to help resolve the issue. Missions get closer together every day.
February 22, 2017
I spent the morning getting ready for the Sisters to teach the first time with the banner. The investigator didn't come so we had a 2-hour study session. My latest revision on the dialogue works much better and the Sisters are getting a clearer vision of how the lesson should progress. I had a fun experience as we were starting when I had a Sister Read Job 38:4-7. She stopped in the middle of the last verse and let out a gasp and said, "Whoa, that's powerful stuff". Discovery learning is fun.
I didn't get lunch, and we didn't get away from the office until 6:00PM so we went across the street to eat at a restaurant that had been recommended to us. They put a pan filled with seasoned water on a hotplate built into the table. They then brought all kinds of vegetables and some beef to our table. We cooked the stuff ourselves. They kept coming back and giving us more veggies until we said we had enough. It cost us about $15 each so it's comparable with US prices.
The English class went well. One set of missionaries had the flu so we only had 2 classes instead of the usual 3. I think we had 22 students in our class; about half of them were first timers. Our old timers carry the class and participate really well so the newbie's just follow along because they think that's how it's done.
The class after the class was special. Four of the ladies instructed Linda on how to use the software program "Line". The program is more popular than FaceBook in Taiwan. The two students that talked with me first wanted to work on pronunciation, then it shifted to religion. Using the white board, I taught a discussion on the Apostasy. The room we are in is the same room we do our banner study in so the wall has command hooks on it where we hang the banner. I mentioned that to the after-class. My two students asked when I was going to teach the Plan to them. I said I would in two more weeks, as a class-after-the-class. The 4 ladies who had been talking with Linda said they wanted to come also. On Monday, President Teh had said we should think about teaching the banner to our English class.
It's 10:30 so I'm headed to bed. Two ibuprofen and I'll sleep well tonight.
February 21, 2017
Matt saved the day for me when he repaired the software program for processing the Key Indicator reports. I was able to get the numbers out to all the Zones, Districts, and the President.
Things, project-wise, are slow right now so I spend more time editing the manual. The poor word structure, because it was written by young missionaries, reminds me of my own weak skills years ago. Some of the things written in the manual are funny.
Our weather was quite warm in the morning with humidity near 80%. In the afternoon it began to cool and feel like rain.
February 20, 2017
We had our transfer meeting with President this morning. It provides a nice format for us to discuss multiple things in addition to transfers. We are receiving 10 missionaries and losing 9 so changes are minor.
I discussed the Banner with President again. I clarified that the use of the banner was driven by the wards and stakes, using the missionaries as the teachers. He had worried that we were trying to run the program instead of augmenting ward and stake efforts. The new banners had some surprises for me. I liked the smaller banners in both English and Chinese. I sent the little Chinese banners home with the Sisters who are training to teach so they can study at home. One of the local trainers is a Visa hold and got her visa today so we will lose her this week.
Sister Warner was tired today. The weekend didn't provide much rest time and the trip to Gaoxiong Sunday was taxing. The bus ride was 2 hours each way; food was all sweets so she couldn't eat. I think she would have really suffered if we had gone to the Taipei Temple Saturday.
The Stake we live in is going to a full-blown Mutual program it was announced to us today. I'm not sure what that means since we don't work with the wards at all. The impact on us is that our English class will move from Wednesday evening to Tuesday evening. Moving to Tuesday does make it possible that we can go to Taipei Temple on March 1 because we won't have an English class that evening.
We had some showers this morning. That's the first rain in over a month. The latter part of this week is forecast for rain.
February 19, 2017
I survived another Primary class. All the female contingent of Primary went to Gaoxiong to a meeting with one of the Presidency of the General Primary. I stayed behind—I'm the only male who teaches/does crowd control of 2 boys, in Primary. The Lord is patient with me and my murmurings about the class, and today when I went solo in the class, because Linda was gone, neither of the boys came to Church. I taught one young lady, age 9.
We had 55 in Sacrament Meeting today, and that's the most we have had since we arrived. Just as it seemed like maybe we would start to grow I learned that two of the main families will be leaving this summer to go back to the US. Those families include: 2nd counselor in the branch presidency, Young women's president, Primary President, and Sunday School President. Randolph's also leave and she is a counselor in the Primary.
Tomorrow we have a pre-intake meeting with President Teh. I also want to discuss the physical side of vacating apartments. Currently, when apartments are vacated, if it's because of a reduction in missionary numbers, the Operations Manager and Recorder (Sister Warner and me) are tasked with helping with the physical moving of furniture and appliances. That's not realistic for us. Several companies have been used in the past to help with moving, but that was before President Teh came. I want to make sure we are all on the same page. Also, if a replacement is coming for Randolph's we should know in March. If one doesn't get assigned, we need to start planning, and maybe training, to fill their roles. Therefore, it's time to start thinking of plans.
Sister Warner is clever. Since I volunteered to stay behind while she went to a meeting she wanted to attend, she left me with a ready-made dinner for when I returned home from Church. Potato salad! Thanks to all those who have sent MW.
I'm not used to having an evening home alone, but I took several hours to read more in the book on the Book of Revelation in the New Testament. I found it more interesting when I skipped the descriptions of parts of speech. I did fortify myself with two bags of microwaves popcorn to help stay awake in the warm apartment. As the temperature creep into the high 70's and low 80's our apartment is becoming warmer. We even run the A/C a little just to freshen the air.
February 18, 2017
We got up in the morning and started preparing to go to Taipei and attend the temple with our branch. I called President Teh to make sure it was alright to leave our mission boundaries. It is not! To do so requires approval from the Area Presidency. We can go, however, on March 1st because we will be with the mission president to take missionaries who have completed their missions, and pick up new arrivals. Part of the process of taking missionaries to catch a plane home is to attend the temple.
I was working on the Banner presentation this morning and was inspired with the thoughts that after we teach the basic Plan of Salvation, we need to go back and carefully show the relationships between Agency, the Fall (as a complete package including Knowledge of Good and Evil, Sin, and Death), and the Atonement. Telling the story of the Plan flows easy. People get caught up in the stories associated with the important events, and we should take them a step further and carefully tie it all together. We need, in our teaching the Banner, to simplify the stories, and emphasize the process of gaining Immortality and Eternal Life.
Thursday, when we were at Costco, a Chinese couple about age 60, talked with us. Her father wanted to meet us an to know how old we were. He was 88. Today, while shopping at another store, we met them again. We talked for about 20 minutes and they invited us to come to their apartment this evening for dinner. They know enough about the Church to know Word of Wisdom, and obviously come from some kind of Christian background. We have about a mile walk to get to where they will meet us.
The dinner turned out lovely. It turned out that the couple live in the metropolitan Denver area, and have lived there for almost 40 years. He is a retired geophysicist and received his PhD in Laramie, Wyoming. They have three children-two live in Denver and one in Tennessee. They came back to Taiwan to spend the Chinese New Year with her father. Her 88-year-old father fled China when he was 18 and came to Formosa (Taiwan) at the same time the Communists took over China. They thought the father came here to escape the Communists, but a friend of their father told them the father left China to avoid an arranged marriage. The mother died about a year ago. Her father was the one who wanted to visit with us in both stores. He only speaks Mandarin so conversation was limited. The father wanted to make sure we had enough money to buy what we needed, and ended up sending us home with pots, pans, silverware, and other things for the kitchen. After giving us all those things they gave us a ride home.
The geophysicist father wanted to talk a little politics. They were Trump supporters and very upset at the US media.
February 17, 2017
We prepared food for the Sister Missionary Conference. While Sister Warner and Sister Randolph put the finishing touches on the salads and desserts I drove to Costco to pick up the cooked chicken. Going from Costco to the Daya Chapel my GPS loses its way. The trip is about 6 miles. It tells me to exit too soon from the freeway, then puts me into big circles going nowhere. I finally take off in the general direction and the GPS then gets smart again.
The banners with Chinese characters arrived today. We will start preparing cloth strips to cover some of the words during this coming week. I think about two more weeks and we will try a live session.
February 16, 2017
I enjoyed reading Dave and Lynette's journal for the past days. As I read about how busy they are, and the service they are providing to so many missionaries, it was a reconfirmation of how important senior missionaries are to the missionaries and mission presidents. No one else can do the work that dedicated, hard-working senior missionaries do. In a selfish way, I read Bentley's journal thinking that because we have served they had a little more expectation of the roles they can play.
More editing today. In the afternoon we went to Costco and picked up supplies for the Sister's Conference tomorrow where Sister Warner is responsible for the food.
February 15, 2017
We celebrated our 55th wedding anniversary today by going to work and teaching an English class in the evening. Some of the missionaries gave us a nice card.
Sister Warner seemed to spend the day on the phone with sick missionaries. A bicycle wreck with scrapes and bruises, and a bent wheel. An object in the eye which required explaining the difference between an optometrist and an Ophthalmologist. Trying to get missionaries off meds and supplements their parents have insisted they take, which really just pass through their system because the body can't use it all. Several Sisters who have trouble sleeping at night; some Elders too. Not my problem, I have more trouble getting out from under the warm covers and into the cooler air.
My life was much simpler. Water won't heat in an apartment so Elders are showering in cold water (problem with the gas and will be fixed tomorrow). Appliance repairman says it will cost almost the price of a new washer to fix the old one (will order a new one tomorrow). Tap leaking—told them to call landlord—landlord said for us to fix the problem and deduct from the rent. My biggest thrill of the day was editing the Operations Manual again. Three hour's work got me through 2 pages. Many things have changed.
When we walked to the park on Monday night we saw a puzzle store. We tried to find it during our lunch time today. It wasn't where we thought it was so we headed back to work. We found it much closer to work than we remembered. They have some beautiful 1000 to 4000 piece puzzles. I don't have a place to work on them so we didn't buy.
We haven't heard from Dave and Lynette for a while. We know they are busy/overwhelmed.
English class went well, but one of our Chinese students, who is also an English teacher, brought a young college-aged student with him. The young student said he wanted to know more about the LDS religion. After the English class, almost the entire group stayed to listen to the discussion. The young student seemed to be most interested in proving there is no God, and that we are the product of evolution. He said we come from nothing and when we die it's all over. The discussion stayed civil.
February 14, 2017
The day was unorganized and I like more structure.
We had our second training session on the banner, and the first one where the Sister's actually did some of the presentation. I think they did well for a first time, and in the discussion afterwards they had good insight into how they can improve next time. Because of schedules we won't meet again for another week. I'm worried about how we will get people to come when the Sisters are ready to present. For me right now, it's a Faith precedes the Miracle event.
Our daytime temperatures were nice today, up into the 70's. The evening is still cool enough that a jacket feels good. Next week we will have temperatures into the 80's.
February 13, 2017
You never really forget where you are in the time on a mission. That doesn't mean you count the days until you can go home, but it gives a sense of fulfillment as you look back at the time spent. We begin our 6th month today.
The change in P-day rules was evident today. Normally, we have a lot of activity on Mondays but that didn't happen today. The office was quiet most of the time. I spent more time editing the Operations Handbook. It takes a long time to clean up language, change procedures, and correct methodology to reflect our current mode of operations. It takes me about an hour on most of the pages. The manual is about 45 pages in length.
I was able to spend time working on the Banner presentation. Sisters Unquez and Call, who will be teaching on the first time, came by the office and we talked about what they are learning as it pertains to teaching their investigators. They were having good experiences.
I'm amazed at how many more BOM we are putting out into the field now that the process has been simplified. We received 20 cases last week and we have sent out 13 already. My inventory system is working as long as I keep going and looking at the shelves.
February 12, 2017
Our apartment is cold so Sister Warner wears her coat and I my jacket while we are inside. The temperatures will start warming tomorrow.
I spent much of the morning working on the banner presentation. The original script is always too long and complicated, so it takes several iterations to get the message simple enough to be taught effectively. After the basic script seems good I must then decide where to introduce scripture. When people read scripture for the first time they may need to be guided to get the full meaning. If we are not careful the reading becomes a disruption rather than an augmentation. At the same time we recognize the great power that comes from reading the scriptures, and we want people to read and understand the scriptures.
Our Primary class was the best behaved it has ever been. We had the two boys who usually give us problems, and the young girl. All three participated well. Sister Warner had them involved in multiple activities.
I'm having to be very selective about the news I watch. The lack of civility and promotion of descent seems to be constant headlines. I hope that in the upcoming General Conference there will be counsel on proper behavior in these tumultuous times. I don't see how our nation can survive amid all the social unrest. I suspect my feelings are honed by being away from home, in a foreign country, where the specialness of the United States is vivid in my mind. I hope the Yankees have a good team this year so I have something positive to root for.
By chance (or divine intervention), while perusing LDS.Org I went to the music selections from the recent Roots Conference. That music switched me to YouTube and the Tabernacle Choir music. For the next several hours I found peace and comfort listening to the music. I needed the down time.
February 11, 2017
I worked on the banner presentation most of the morning; focusing on the pre-earth life. As I contemplated the events there I had an interesting thought about then versus now. It seems to me that all the rioting, complaining, posturing before was about personal gratification. Spirits wanted cradle to grave protection against their own foolish choices. They wanted to exercise their agency, but not bear the consequences. Strident voices preached against self-reliance, while pushing responsibility for their own well-being onto some kind of government thats main interest was obtaining more power. Maybe in some ways, things haven't changed much over time.
The training on the banner presentation went well. I had changed the front end of the presentation to build more foundation about Prophets and Scriptures. Since most of the people being taught have no background to understand these basic tenants of the Gospel I felt that teaching would go better if we strengthened the teaching of these important facets. During the week, I felt impressed to read again the story of Aaron teaching King Lamoni's father, and using the story to guide our teaching approach. (Alma 22: 12-13). The new approach I presented today had the investigators reading more from the scriptures and 'discovering' the answers to the questions we posed in the presentation. The Sisters in the training liked the new approach to the lesson. We meet again next Tuesday and they will come prepared to present the new first part of the presentation. It will be done in both English and Chinese, depending upon who is presenting. Between now and then I will edit the next section.
I still have a struggle in preparing for our Primary class. The factors of my not relating well to this age of children, and their lack of interest in the subject, make me feel like we are wasting our time. Last week the father of one of the boys, while in the class with us, told his son that if he didn't participate the father wouldn't let the son play with his pad during Sacrament Meeting. The comment is indicative of the parenting skills level of our troublesome boys.
While I'm in the worrying mood, I'm not sure what kind of help we will get once the banner presentation is ready to go live. In Tahiti, we had about 100 missionaries close enough to the Temple that they could bring their investigators and less-active to the presentations. Those missionaries were baptizing about 700 people a year. Compare that with here. We have about 20 missionaries close enough to bring contacts to the presentation, and those 20 missionaries are baptizing about 50 people a year. The solution seems to be taking the presentation out to the wards and branches.
Lots of sick missionaries every day. Linda spends a lot of time, 7 days a week, one the phone encouraging and comforting the sick and afflicted.
February 10, 2017
Today, Matt was helping me with Pivot Tables to quickly summarize spreadsheets full of data. I asked him where he learned to program Pivot Tables. If I have the story correct, he had heard about them in Alaska, and when he came to work at Willie's he was frustrated by the cumbersome methods of trying to track the parts system. Maybe even the whole record keeping system. He learned Pivot Tables to solve the problems at Willie's. In his current job he saw a great need for similar data manipulation and used, and improved, his programming skills there using the Pivot Tables. Now, many years later, the Taiwan Taichung Mission is greatly benefitting from skills that began for Matt in Alaska. I think it's marvelous how the Lord is always training us for a future we know nothing about.
I was cold today with the high of about 60, but the wind chill was in the mid 40's. The office stays warm, if we can keep the front door closed. I spent part of the afternoon editing the Operations Manual. That project will go on forever.
After work we went to a big grocery store looking for juice concentrate. Sister Teh wants red punch for a dinner on the 17th. The only concentrate we found was lemon juice in the liquor section. Not very red. We will look again tomorrow. I did find aftershave lotion. That's the first time I've been able to find it in Taiwan.
February 9, 2017
I think today is the coldest day we have had since arriving in Taiwan. Tonight's low is forecast to be 50 degrees; there's a cold, moist wind blowing from the north, and the chill factor makes you hurry to get back inside the buildings. I turned our little electric heater on in our apartment—it heats one room nicely.
On the way home from the office we stopped in a small clothing store so Linda could try on coats. Her little sweater was grossly inadequate. Her Valentine's and Anniversary present is a beautiful pink coat. It's heavy enough to block the wind, and pretty enough to wear anywhere. Being this close to China clothing is generally much cheaper than in the US, and we got a season end—35% off the price.
I spent hours today trying to learn Pivot Tables in Excel. I finally color-coded the different values in order to understand how the values were laid out. I'm pushed in the project because the missionary leaders in the field have no metrics now to evaluate their success. Later in the afternoon I had a breakthrough when I simplified the tables, and built the final version doing a little cut-and-paste. I showed the results to President and he liked the product. I'm still hoping Matt will help me sort out the data so I can print individual zones and districts. Inspiration often follows perspiration, although it was too cool to work up much of a sweat today.
Sister Warner has several serious (missionary) medical issues she's dealing with right now.
February 8, 2017
During the day it was slow at work. Sister Teh asked Sister Warner to prepare a meal for 27 people on February 17th so we spent some time at Costco buying groceries for that meal. We had tentatively planned on going to the temple on the 18th with our branch, but may wait and go on the 1st of March when missionaries leave to go home and new ones are picked up at the airport.
English class went very well. Most of our regular class was there, with one new young lady. Sister Warner kept them entertained. The after-class visiting was special again. They are so willing to listen, and so interested in learning. For the Spiritual Share after the lesson I talked about building our characters, and we talked about how that is done. I invited several of the after-class to let me know when they are ready to listen to the missionaries. They said they were getting ready.
We talked about how the Holy Spirit helps us to know the truth. One of the fellows talked about how he feels when he comes into the church and see us. It was a wonderful lead into being led by the Spirit.
We received a box from Mike and Becky today. They provided more sugar free candy for Linda, and gave me two small puzzles. I got the border put together while my computer in the office was being used by other missionaries. I told them I would wait until I had worked on them for a while before I would know if I was grateful for them.
February 7, 2017
Some days are really eventful. We started with fun conversations with Lynette, and then Mark. They are doing well.
Almost immediately at work things got exciting. We had missionaries going to the hospital for appointments and they were in and out most of the morning. Late in the morning we received a call and one of our Elders had been in a bike wreck. A car ran a red light and the Elder slammed on his brakes and went over the handlebars. He ended up breaking his collar bone in two places. Much of the rest of the afternoon was spent coordinating, and getting permissions, for him to have surgery tomorrow. He is in the Gaoxiong area which is about 2 hours south from us. When we left for home in the evening we still didn't know if I was going to go there in the morning to pay the hospital cash before they would do the surgery. There is a good chance they will take Elder Ferguson's credit card and we can reimburse him. He and Sister Ferguson have lifted Sister Warner's load by serving the young missionaries in the southern part of our mission.
I did my first training session with potential teachers for the banner presentation this afternoon. I'm a little rusty on the presentation, but didn't try to do a live session with the Sisters. We went through the dialogue, answering and asking questions. I love working with the young missionaries because they are so teachable.
As soon as we get the Sisters to where they can solo then I will approach President about trying to get all new converts, over the age of 12, to the Taipei Temple to do baptisms for the dead within the first month after their baptism. We can use the fast train to bring people from down south, and buses from here in Taichung. I know what happened in Tahiti when new converts sat in front of the Temple and talked about eternal families and marriages. We keep searching for ways to make a difference.
We had repairmen in our apartment much of the afternoon and early evening. We now have water in our second shower again, water pressure in the bathroom sink, and most of all, for the first time we have enough water pressure in the kitchen sink that it turns on the on-demand water heater when the hot water is turned on high. We have hot water in the kitchen without heating it on the stove. Life is good.
In the late evening, just before retiring to bed, I was pondering the training that was conducted this afternoon, on teaching the banner presentation. It seemed that the early part of the presentation was not quite right. I tried to recall how the dialogue was presented, and where it seemed to lack the Spirit. I came to the conclusion, that even though I had lengthened the introduction, it was not enough. Because of the lack of Christian background we need to do more teaching in the beginning. If the missionaries struggle in following the process, and are weak in their knowledge of basic Church doctrines, then surely investigators and less-actives, need more help in the beginning of the presentation. When we meet again on Saturday afternoon, we will take time to review what they have learned in the teaching opportunities they have had. We will talk about what went well, and where the dialogue seems to lose the participants.
February 6, 2017
I had a great session via Skype with Matt this morning. He was able to show me how I can save about 8 hours a week in report building by using built-in functions in Excel. We will do more work later this week. It was so simple it shocked me—almost worth flying him out here to complete the task.
I gave the Plan of Salvation script to two sets of Sisters today and set an appointment for tomorrow afternoon to do our first practice session. One set is from the US, the other are both Taiwanese but speak good English. I'm optimistic we can make a difference in retention of new converts, and activation of less-actives.
Sister Warner spent the afternoon in the hospital with an Elder who had a colonoscopy. They won't get the results until Thursday or Friday. Afterward we took the Elders back to their apartment in Yuanlin (a 45-minute drive one-way). From there we went on to Huwei and delivered a set of English class materials to the Elder's there (another 45-minute drive from Yuanlin). The Elder's in Huwei seemed a little down to me so we spent time in pleasant conversation with them. Their branch only has about 20 active members, but a total membership of over 300 members. Retention and activation in most of the units in Taiwan are big challenges.
February 5, 2017
A quiet and relaxing morning at home. I had a nice conversation with Mark as he was leaving the show in Harrisburg, PA. I also had a short conversation with Lisa and she updated me on the work Matt and her having been doing on the lighting systems in our home.
We only had 2 students, a boy and a girl, for Primary, and the boy's father sat in the class so things went smoothly. We used Lego's as a reward for good behavior and the results were a little different than I expected. The 2 students had trouble sharing and cooperating. Even, when I encouraged them they worked independent until right at the end. I need to put more thought into how we use this activity in the future.
I worked on the banner script again. This week I will start training several Sister missionaries in the presentation. We won't actually present it until the new Chinese banners arrive. Clif also continues working on ideas to modify the presentation to a Power Point show.
I'm anxious to get started on next week's work. I have new reports to develop, buy new tires for the President's car, take care of an Elder who's having a colonoscopy, deliver some English training materials to Elders about 90 minutes' drive from here, catch up on orders needing mailing. That schedule will take me though Tuesday.
We were invited, as Primary teachers, to attend a meeting in two weeks, on Sunday afternoon, with a counselor in the General Primary Presidency. The meeting will be about 2 hours south of here in Gaoxiong. I told Sister Warner she could go if she wants but I'm not going to go.
February 4, 2017
We have had problems with our hot water in one of the showers for some time. We had a repairman come this morning. He found that one of our water pumps, the one that drives that water line, had broken. It will be repaired next week. Fortunately, we have two bathrooms and the other one has hot water to shower in.
We spent the rest of the morning at the church helping to clean. It's our branch's turn for February and we wanted to get our turn in early. Afterwards, we did a big grocery shopping at Costco. Later in the afternoon we went to the storage unit at Dakeng with the Jan's to look at mattresses. He's on the High Council and thought he might be able to help us get rid of old mattresses. After he and his wife had looked at the old mattresses they didn't think most members would want them. We will try to interest members for a few weeks, then haul the remainder out to a recycling place.
We spent the evening working on the Primary lesson for tomorrow.
February 3, 2017
I finished the new Key Indicator reports for the Zones but didn't have time to work on the Presidents. I'm looking for a quicker way to sort the numbers each week. I finished car inspections except for the Ferguson's in the south end of the island. I scheduled an appointment to get new tires on the Presidents car.
February 2, 2017
I spent most of the day building new reports using the Key Indicators. It required a lot of cut-and-paste, but now I have reports that can easily be updated and sent to the Zone and District Leaders to help them track the progress of their missionaries.
I'm working with a High Councilor from our stake to dispose of old mattresses. We were able to give two away today.
We stopped at a new little restaurant, near our apartment, and ate dinner tonight. It's a Japanese noodle shop. The food was tasty, but next time I won't add any additional spices. My sinuses are clear.
Businesses are running again now the holidays are over. I took two loads of packages to the Post Office today.
February 1, 2017
I had planned on editing the Plan of Salvation presentation today because we didn't have a heavy schedule. Wrong! I filled orders for the first hour even though the Post Office doesn't open again, after the New Year, until tomorrow.
We drove out to Wufeng to negotiate a contract with a landlady. It seemed that the phone rang all the way out and back. The negotiation went well. We go back to the office about noon and went to lunch. There were so many people on the streets and in the stores that we ordered a take-out lunch and went back to the office to eat.
In the afternoon I worked on designing a new report, showing Key Indicators, for the President. I was just getting started and Sister Warner called from the hospital asking if I would come and go the one doctor with an Elder while she went to another doctor with another Elder. As I walked out the gate in front of the office, I was a man reading the sign on the wall about the name of the church. I walked around the corner and stopped, waiting for the light to change. The man came up to me and asked if I could answer some questions for him. We talked for several minutes and I realized he was sincerely interested so I took him back to the office and got one of the assistants to sit with him and answer questions. The assistant ended up giving him several pamphlets and a Book of Mormon. The man said he would come back.
The wait in the doctor's office gave me time to finish planning for the new report for President. It was late afternoon when I got back to the office and I built a report for the month of January for one zone. I think the new system will work.
Our English class had 8 students tonight. They were all repeat students. Sister Warner always does a good job involving all the class. The class, after the class, is always the most fun. Half the class stays for that discussion. One of the men asked the question: "What is our purpose for being here on earth?" Several others asked similar questions. I try to assess what the group is feeling before launching into a Plan of Salvation. We ended up doing a short version of the Plan. The class members are 'tender' in the Gospel so everything needs to stay simple. I don't think any of them are Christian. I felt good about their being able to understand why prayer is so important; why we should live a good of a life as possible; and that marriage and family are meant to last for eternity.
It makes our class members happy when Sister Warner and I hold hands, and show our love and concern for each other. They tell us we are good examples.
January 31, 2017
I called SLC first thing in the morning to see what happened to the program that keys three other reports I'm responsible to produce. The program has been discontinued. Later, in the afternoon, I met with President to discuss our options. We found another report that contains some of the same information, but only he can get to it. He will send it to me each week and I will put it into a format to send out to the zones and districts to help them track their progress. It will be simpler than in the past.
President and I talked about the banner program that I've started working on again. He thinks it's the right time to introduce it. We are defining our audience and delivery method. I felt like I had his full support, even to having some of the missionaries train as teachers. I always feel good when I get confirmation that I'm on the same track as my Priesthood Leaders. Clif is working on some ideas for teaching using a Power Point approach. My emphasis first is to get the dialogue written and revised.
In the afternoon, Elder Randolph and I went to Ikea and bought two mattresses for some Sisters who have been sleeping with only a mattress pad on their beds.
Last night was not a good sleeping night. I'm beginning to worry that we may have trouble keeping our apartment cool when the weather gets hot. We are on the top floor and the sun heats the concrete roof and walls during the day. They retain the heat and it makes our bedroom hot at nights when it's not quite hot enough to use the air conditioning.
January 30, 2017
The city came back to life this afternoon. Many of the people who live here have migrated into the city over the years. They still have family ties in the outlying areas, and they go to those areas to celebrate the new year.
I bought Sister Warner a small printer to put on her desk. The Wi-Fi connection to my printer would not work consistently and I got tired of trying to make if function. The new printer is a better solution.
I worked some on the dialogue for the new banner presentation, but as the day wore on more and more missionaries came into the office and it became impossible to concentrate. I just took care of the needs of those who came in.
When I went into the Church software to get ready for doing my big weekly report, the part I needed had been removed. I looked in other directories and could not find the module. I called President Teh and told him I couldn't run any of his report without that module. He didn't know anything about the module being dropped. I'm to call SLC tomorrow. Without that module about the only reporting function, I have to make sure the missionaries enter their Key Indicators. If the module is truly gone then my weekly and monthly duties will be different.
I spent the evening working more on the text of the Plan of Salvation presentation.
January 22, 2017
We spent the morning of the 20th in the office and getting the new missionaries prepared and sent with their new companions. It's always a busy, and somewhat stressful time. It was better this time than it was last December. We have learned more how to prepare.
In the afternoon we drove, with the Teh's and Randolph's, down to the southern-most point of land on Taiwan—Hengchun. We arrived there about 6:30PM, met Elder and Sister Ferguson, and then went to a seafood diner and eat as a group. The menu said all seafood. We ordered a dinner 16 (we had the 3 Elders with us by then). I'm not sure what all I ate but I know it included shrimp, fish skins, sea cucumber, cooked fish, raw tuna, sea weed, chewy stuff, green stuff, tasty stuff, greasy stuff, and some more other things. My stomach handled the variety just fine.
Yesterday morning we drove down to the southern tip of Taiwan and walked trails of the Kenting National Park. Other than being able to say we went to the tip of the island, I thought the Alaska shorelines were prettier. The wind was blowing hard, temperature in the low 70's, and sky was mostly cloudy to it was a good time to visit the area. We visited an old lighthouse and learned some of the early history of the island. The early natives were not very friendly. An American ship hit the reef, off the point where the lighthouse now sits, in 1867. All the sailors made it safely to the shore where the natives killed all but one of them.
In the afternoon we went to the Branch Presidents store. He is an artist who works with wood. He has some beautiful paintings on canvas banners, detailed wood-burning figures on a banjo looking instrument, and wooden shoes. The wooden shoes were like flip-flops. We arranged for him to make a banner with our pictures painted on it. (He took pictures on Sunday that he will use to paint us.
In the evening we walked downtown to the night market. There were a lot of vendors there, mostly selling clothing and food items. We ate roasted corn, flavorless corn dogs, several kinds of fruits including some ripe watermelon, steamed pork in dumplings, and several other things. I passed on the roasted squid.
Today, we went to the Hengchun Branch for church meetings today. The Randolph's and us both gave our testimonies. I liked the feeling in the branch. It's small, with an attendance in the 20's and 30's, but has about 5 RM's. The people here work such long hours that they have little time to go visiting. The results are that HT and VT numbers are always low, fellowshipping is weak, and retentions rates are not good. The long hours are such a part of their culture that it makes an uphill battle to get the visiting numbers up because it's counter-culture.
We read a little of the activities associated with the inauguration. I'm hopeful that the new administration will put more emphasis on self-reliance. The clarity in how decadent our society has become was evident in the purposes for the protests. In most cases I interpreted them as objecting to things which question one's moral values. The protester seemed to be afraid that someone is going to revert back to calling a sin a sin. The Brethren has such a large task to keep the Church steady and avoid punitive Government. What wicked times we live in.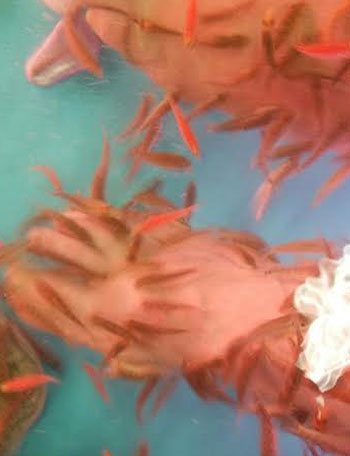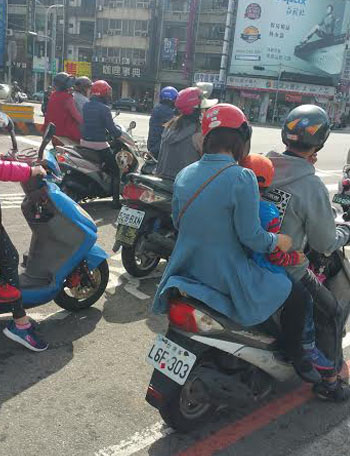 January 19, 2017
The mornings are always filled with questions, filling orders, ordering materials, and getting the mail ready. We ate lunch at the mission home with the new missionaries. We were up at 5:30 this morning so we were tired in the afternoon.
I had another big learning experience today. The missionaries who are from Taiwan, and went to the MTC in the Philippines, were not given the chance to apply for name tags. I order all name tags. I didn't know I was supposed to order for them, and Sister Randolph assumed that I was taking care of getting them. I won't miss on that again.
January 18, 2017
With new missionaries coming tonight there was a lot of flurry in the office. My big surprise came when I learned that each new missionary is given a packet of materials. All the materials come from the supply center that I'm responsible for. I didn't know about the packet until today. There are about 15 different items that are needed. I started inventorying supplies as quick as I learned and found we had enough for this intake of missionaries, but if I hadn't learned about the need on this intake, we would have been short of supplies for the next one in six weeks. I have time to recover, fortunately.
We had a going away luncheon for Elder Porter. He's been an assistant to the president for about six months. He's going to be training until he goes home in May.
The subject of our English class tonight was "Asking For Help with English?" Our approach of having Sister Warner lead the discussion continues to work well. I contribute to the lesson, then conduct the Spiritual Share at the conclusion. Several of the women are bonding with Sister Warner. None of them are LDS, yet!
I talked with President Teh today about teaching the English comprehension class using the banner. He liked the idea so I will start working on the dialogue, with a goal to teach our first class in early March. We will select 10 to 15 good students, include some missionaries who would be trained to teach the banner dialogue, and teach the class on Thursday evenings at the church. Most of the missionary discussions are taught in the church buildings here as apartments are generally too crowded.
January 17, 2017
The morning started with a run to Nantun to fix the filtered water in some Sisters apartment. The connector was old, and when the Sisters tried to turn it they cracked the small distribution hose. I replaced the connector, cut the broken hose tip off, and reconnected the system. It worked fine.
Today was Key Indicators Report preparation day. That's my big weekly report. It takes about two hours, but has so much repetition of key strokes that it can become monotonous and you lose your place. That results with putting the wrong data into a zone or district.
I spent time editing the Operations Manual to bring it up to current operational procedures. We have reduced the complexity to some of the processes, such as missionaries ordering supplies from the field. We have new missionaries arriving tomorrow and Sister Randolph prepares a packet of information for each new missionary. In a conversation with the President I realized that no one had told me what supplies they were putting in the packet. They just expected that I would have all the supplies they needed. I think we finally got the process outlined, but it took some discussion before others realized that ordering supplies just didn't happen.
Both Sister Warner and I were tired today. Sleepy tired. We decided it was Clif and Blair's fault because they stayed up too late driving home from Denver.
January 16, 2017
I quit taking the medicine the doctor had given me for my dizziness. The meds seemed to make it worse. As the day wore on, and the level of meds in my system diminished, much of the dizziness abated. I think I'm healing more from prayer than from medication.
It was a slow, but busy, day at work. I had a few orders to fill and many repairs requested. In the morning, we will go to Nantun and fix the Sister's faucet and water filter system. It leaks and sprays from the fitting attached to the spout, and the canister holding the filters also leaks. Easy fixes and help the Sisters to feel cared about. That's the most important part of the repairs.
In the afternoon, I drove Sister Warner and Sister Teh to Costco to grocery shop. Sister Teh wants us to let her know when we go there. President isn't big on shopping so this is another way we lighten his load. One January 28th there will be a world-wide broadcast for missionaries. It's an annual thing. We will help setting up the luncheon. The broadcast will go from 10 to noon, then there will be multi-zone conferences afterwards. That weekend is also the celebration of the Chinese New Year. Here that celebration is larger than Christmas.
Apparently, they give presents as part of the celebration.
After dinner, while I was writing in the journal, Linda came into the study area and we danced to some of Daniel O'Donnell's music. It was a nice touch to an evening together. We have obviously slowed our lifestyle some out of necessity in our older years. But the fruits of the slowing have been more enjoyable time together. Life's good.
Under our current system of having the missionaries text their orders in to me, I get text from early morning until bedtime. I forward the requests to the office email address so it's there as a reminder for me in the morning, in addition to being on my phone as a text. I keeping working on improving my system so things don't get forgotten.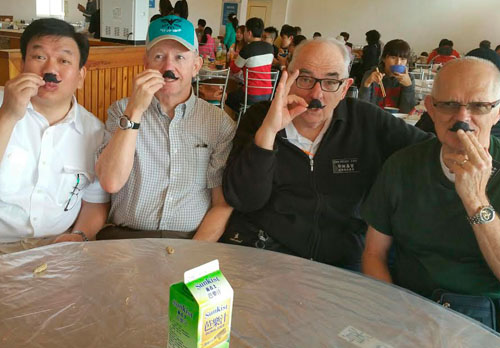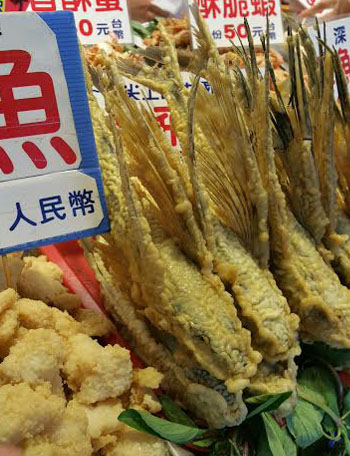 January 15, 2017
My current favorite time on Sunday's is 3:00PM—when Primary ends. Actually, today went better, partly because one of our more difficult boys was not there. However, we had two additional boys, one of whom came last week, and brought a friend with him this week. I think the new boy is a member. Linda is finding more ways to involve the boys. One of the father's, who sat in with us today, said he will keep coming to help with the class because his son has teachers who really care about him.
We gave a Filipino Sister a ride to church. She is here working on a contract at a nursing home. The businesses here in Taiwan hire people from the Philippines on contracts. The contracts are usually about 3 years long, and allow the person to return home once a year for about 4 weeks. One of the young Philippine fathers who comes to church every Sunday has a family with two children back at his home and one gets to see them in December of each year. The young Sister today said she Skypes her boyfriend every night and they would get married but he can't find work in the Philippines. He's a RM and introduced her to the Church. We are blessed to not have these kinds of problems being together as families.
I observed an interesting behavior after Church today. I was talking with an older brother in the hall and a young, single adult aged lady, came by. He turned and talked with her. When he and I were talking, it was an adult-to-adult conversation. Immediately, when he began speaking to her, he was talking down to her. It was parent to child conversation. I doubt that he recognizes that he talks down to people. I will always hurt his relationships with younger people.
We are in winter temperatures here. Last night the temperature dropped to 58 degrees. The high today was forecast to be 67 with light rain. I wore my suit to Church. It was the first time I've had my suit on since the day we arrived in Taiwan. I was a little warn the latter part of closing exercises in Primary. As I write in this journal entry, I have an electric heater running in the room, and I'm wearing my jacket. This comment isn't to solicit sympathy from the Utah folks because of our discomforts—which I could never get from them at these balmy temperatures. It's just a comment for the journal.
I'm wondering about how to include more missionary work into the limited contacts, and available time Linda and I have available. We have had the banner translated into Chinese characters and is in final proofing in Utah. That will enable us to use the banner in teaching. But where? I'm thinking about developing a banner presentation, with the English banner, for our English class participants. The new class would be called English Reading Comprehension. I would give the class 3 or 4 scriptures, from all the Standard Works, and have them define the central theme, and supporting details from the scriptures. For example: combining Jeremiah 1:5, with Hebrews 12:9, Ephesians 1:4, combined with Moses 3, and a Book of Mormon scripture (maybe Alma 13:3). The theme would be the first picture on the banner which depicts the pre-existence. In this scenario, it would take several weeks to get completely through the Plan of Salvation, but the class should have a strong understanding because they would have discovered the answers for themselves.
January 14, 2017
We slept in, sort of, this morning. We had Skype conversations with Mark, Lisa, and Lynette. We enjoy keeping up with what's happening in their lives. We are blessed that our 6 living children enjoy spending time with us even though we are many miles away. It helps us keep track of grand children as well as their parents.
We went to a flea market with Elder Randolph and the two Assistants for a couple of hours in the morning. We bought some fresh fruit, but no other items. I did see a clock that I liked, but I will wait to get more choices. I took some phone time while at the market and help Elder Ferguson and two Elders change the drive belt on a dryer. I've done the repairs enough now that I can give clear instructions over the phone. The operation succeeded.
We took a nap after lunch and then worked on our Primary lesson for tomorrow. In the late afternoon we walked to the grocery store. The high temperature today was forecast to be 67 and it feels about that warm. I wore my jacket all day.
January 13, 2017
Friday the 13th. The medicine I was given to combat the dizziness works by making me dopey. Can't win, just have to choose between being dopey or dizzy.
President Teh wanted me to send some Chinese language training materials to President Ron Burt in Vancouver, BC. I had to go to the storage unit to find enough of some of the materials. Elder Randolph and I spent almost two hours at the post office mailing the 6 boxes of supplies. The Moss Hill Ward connection is benefitting two missions in different parts of the world.
The work that I go to when all my rush tasks are done is to edit the Operations Handbook for our mission. The mission has changed enough since we arrived that a portion of the handbook is incorrect now.
After a nice supper Linda started feeling sick. She threw up several times and then went to bed for the evening. Strange, I'm the one who hasn't been feeling well, but she's the one who really gets sick.
January 12, 2017
We begin our 5th month today.
My dizziness was worse today so I went to the doctor. They checked my ears, including doing a brief hearing test, to try and find a problem. The test showed that I have a hearing loss, especially in my right ear. Following that the put an endoscope into my nose and looked at my sinuses. No sinusitis. They gave me some acetaminophen for my non-existent headaches in case they do come, and another drug they hope will either reduce or eliminate my dizziness. I wander down the street like I am drunk because of the problems. I go back next week if the meds don't help, or if I want more drugs.
We have a cold front moving into the area. Low tonight is forecast to be 54 F. I will need to put on a jacket tomorrow.
Both of us continue to be busy as work. With about 100 sets of missionaries I received 5 – 10 requests per day for supplies. Sister Warner will talk to multiple missionaries every day about health issues, and some of the conversations are quite lengthy. We are happy when we get home at night and only need to deal with a few phone calls.
January 11, 2017
I'm sick enough to not feel good and energetic, but not sick enough to be ill. I seemed to be trapped in between. I came home early from work and took a short nap between phone calls. We had already decided the Linda would take the lead in the English class tonight so I just prepared materials and served as a backup.
The office was primarily filling orders and trying to be responsive to Taipei Service Centers request to update our vehicle software. Stanley, my contact for vehicles, tries to help me get everything perfect. But when we run into problems beyond his knowledge, which isn't very deep, he wants me to call Hong Kong to solve the problems. I try to please him.
The English class went better than I expected. Since I wasn't feeling well I debated staying home, but didn't feel I could leave Sister Warner unsupported, so I went to the class. Usually a set of Elders sit at a table just inside the building and direct traffic for English students. Our classroom is the first one inside the door of the building. The Elders were not there tonight, just two sets of Sisters both of whom were teaching English classes. Last week we had 8 students. This week I would look out our door and see people standing in the hall wondering where they should go. I'd step out and invite them into our class. We ended up with about 20 students before the night was over. They understand enough English that they can laugh at each other, help each other, and just enjoy being in the class. As our Spiritual Share at the end of the class we showed the video "Enduring Love." Sister Warner then went to each student and ask them how it made them feel about family. Even though most are not Christian their answers were similar to what you would expect from an LDS group. The single young women wanted husbands who cared for them as much as the man in the video. Some of the older men said the couple had true love. A young man said the video made him feel warm inside.
After the meeting four of the women stayed and talked with Sister Warner for about 20 minutes. They were interested in her. They saw her as a positive role-model for them in their lives. We asked the class to come to our party on Wednesday (our regular class night) February 15, and help us celebrate our 55th wedding anniversary. We said the only presents they could bring was their smiles.
January 10, 2017
I didn't sleep well last evening and it took a toll on my energy today. I kept busy because there is always plenty to do, but I went home a little early. Sister Warner is heavily involved in housing contract renewals and I do some of the computer work for her. We have two Elders who come and work for us on Tuesday and Thursday afternoons and they handle the heavy Chinese translation part of those renewals.
Two of the Zone Leaders came in last week with nice looking new suits. They found a tailor shop that makes them using a laser measuring and cutting process. They paid about $180 for their suits. We got the address and will go and look at the store at a later date.
January 9, 2017
I was cooler today with a moderate wind. It felt a little chilly walking to and from work in the morning and evening, but very pleasant during the daytime. When we talked with Lisa today and she told us how cold it has been, and we read Clif's email it gave even more details on the cold.
I stayed busy all day by filling orders, taking a load of packages to the post office, and taking our new Toyota to the dealership for its 1000 km checkup. I went by myself to the dealership, using my GPS to guide me. When the GPS announced that I was there I couldn't see a Toyota sign anywhere. I was parked behind a large truck. Down the road several hundred yards I could see a Hyundai dealership so I decided to drive there and ask them where the Toyota Service Center was. As I pulled out to go around the big truck I saw the Toyota sign across the street from the Hyundai sign so I could relax. While the car was being serviced they gave me orange juice and cookies.
Elder Randolph and I went to an electronics store to pick up some ink for the President's printer and I bought two mouse pads. I'm trying to find a good adapter for Linda's new Casio organ. The earphones we bought her have a small tip on the end of the cord that goes to the organ. But the organ requires a larger standard stereo tip. I got one when we bought the earphones but the connection between the tip of the earphone cord and the adapter must be just perfect, otherwise the line has a lot of static in it. None of the stores we looked in today had any connectors. Any suggestions from Utah?
I started my weekly report while Sister Warner worked on housing contracts. I mostly just set it up because I was tired and it's so easy to make mistakes because the report is so tedious.
January 8, 2017
We had fast day today. The meeting had excellent testimonies borne concerning the witness of the Spirit in directing our lives. It brought to my mind many memories of when I was prompted by the Holy Ghost, paid attention to those promptings, and we greatly blessed. One memory that came to mind was just before we turned in our papers for this mission I had a strong impression that we could survive the rigors of the mission, that our family would prosper, and that all would be well on the home front. The impression was strong and vivid, and has been reconfirmed several times thus far during this mission.
Our Primary class was better (relatively speaking) this week. One of the father of one of our boys stayed for the entire class. His son behaved. We had a less-active 10-year-old there today, who seldom comes. He is a year older by I was amazed at even though he did not participate well he was easy to control with just being talked to. I suspect our younger boys will begin to come into line more with time.
The closing exercises in Primary were a disaster. The 3 boys sat on the back row (there were only two rows) and talked out loud to each other for the entire 50 minutes. We had 3 and sometimes 4 adults sitting between them trying to get them to participate. No luck. I can't completely fault the boys. The closing exercises are geared to the younger kids, by necessity, and thus are boring to these older boys. I told the counselor in the Branch Presidency and the counselor in the Primary that I thought we have an impossible situation. Nine kids in Primary; 4 ages 8 to 10; and the rest younger. It's just two disparate groups with very dissimilar interest levels. I think maybe we should keep them longer in class.
We had a young physician from Brazil at out meeting today. She is here for three weeks studying Chinese medicine associated with acupuncture.
January 7, 2017
We spent about an hour and a half with Randolph's visiting a Buddhist Temple and a Confucius Temple and taking pictures of the artwork and decorations. It struck me as interesting that I haven't seen any evidence that these non-Christian churches hold church meetings. They come to their temple, burn some incense, offer a silent prayer either kneeing or standing in front of an alter, and then leave. The beliefs of their church must be passed on within the home. They are strong on loyalty to family, and believe in some kind of afterlife which contributes to the very prevalent ancestor worship activities.
Linda and I drove to Puli (about an hour's drive) to repair a dryer. I replaced both belts but when I turned the dryer on neither the drum nor the fan would turn. I could hear the motor hum but nothing seemed to be turning. When I hand-started the drum, while the motor was humming, the drum would then turn via the motor. I did that several times but afterwards the drum would not start without turning the drum. I concluded that the dryer has motor problems, which is beyond my skill level. The Sisters will call Panasonic on Monday to get a repairman to come work on the dryer.
We were both tired when we got home in the late afternoon. We walked about ½ mile to a new grocery store to pick up a few groceries. We also filled the car with gas and had it washed.
January 6, 2017
We had a nice conversation with Mark this morning, and learned from Lisa that the snow is 19" deep on our front lawn in Bountiful. As Mark outlined their thinking about the future of Doc Warner's it's obvious that we will have all the involvement in the lodge we want when we finish here. I learned from my conversation that I've worried a week early about Clif and Blair's trip to Denver. They go next week while Lisa, Lynda, and Mark are at the All Sports Show in Las Vegas buying fishing supplies.
Elder Randolph and I drove to Wufeng in the morning and repaired a broken dryer fan. While we were there I learned that the Sisters in Puli also have a broken dryer fan belt. I arranged for Sister Warner and me to go there mid-day tomorrow and make that repair. That trip will put us into the mountains and away from the city. It should be a pleasant afternoon ride. The repair takes about 15 minutes but we feel it's important for the young missionaries to feel cared for.
Sister Warner is making progress on her contracting, and making up new housing contracts, in Chinese, to continue renting units for the missionaries. I print labels and send faxes for here because her computer still won't do those tasks. All missionaries have their mail sent to the office. We put address stickers on the mail and forward them out to where the missionaries live. This process means that we must maintain, in Chinese, address labels for nearly 90 apartments. We print the labels several sheets at a time. It has been a challenge getting label formats that fit the labels we can buy here. I had to email a company in Hong Kong to get the template for some labels we bought from them.
January 5, 2017
I talked with President Teh early in the morning by phone. He wants to do another senior retreat and go spend a weekend at the southern-most point of the island. The Teh's, Randolph's, and the Warner's would take the van and go together. I'm not sure if Ferguson's will also join us. We will go on January 20th, as soon as the new missionaries have left with their new companions. I also talked with President about the classes last evening and we decided that we would have a short meeting with English trainers following the zone conference today. It will be mostly a debriefing from last evening experiences.
I worked on a report for President that is in Excel with the Church's IMOS system. The problem I was dealing with is that President likes the report, but it was dropped from IMOS this past month. I spent about 4 hours working on the report until I proved to myself that the linkages between the two programs are broken making reproduction of the report impossible based on my knowledge.
We held a 15 minute debriefing in the afternoon with some of the missionaries who taught the new English class last evening. I felt it was a good sharing of ideas.
Sister Warner's computer was being upgraded when we left for the day. Tomorrow always holds excitement for us when these adjustments occur.
I've been tired all day. I think it's from reading about all the snow in Utah. No one has called to report. I think Clif and Blair drove to Denver today which may have been a wild drive.
January 4, 2017
Calls on ear aches and faulty washing machines started our day early. The missionaries are really good at calling, receiving instructions from us, and taking care of the problems themselves.
Kind of a slow day at work other than we had an hour meeting with President and Sister Teh in preparation for incoming missionaries in two weeks. We had asked for a coordination meeting prior to each intake because of the confusion we felt during the December intake.
We team taught our first English class in the evening. We weren't quite sure what to expect. The teaching portion went well, and the class participated well. We finished in about 45 minutes. Our class had 8 students and their English ability varied considerably.
January 3, 2017
I finished two of my big reports this morning. I tried to do the third one but it has been removed from the Church system. I think President wants me to try and do it tomorrow but I'm not sure it's possible because of missing links.
President came in tonight and asked Sister Warner and me if we would teach the new English classes, at the chapel next to the office, beginning tomorrow evening at 7:00 PM. We will spend time tonight working on the presentations.
Sister Warner's computer is still not fixed. We spent time talking with Hong Kong today, and they will send us a flash driver tomorrow so we can install Windows 10. The program that's used to enter baptismal records just recently was upgraded to where it will run on 10.
I spend several hours almost every day solving housing repair problems, and preparing supply orders. I still must be careful about forgetting things because requests always come in flurries.
January 2, 2017
I was a local holiday so no mail or other deliveries which made our workload much lighter. Sister Warner's computer still have some problems, mostly I think it is with pathways and passwords created by so many different people working on it.
Last evening Sister Warner said she wanted to play the piano over at the Chapel. We walked over, and while we were walking we decided we should buy her a keyboard to put in our apartment for her relaxation. So today we went to Costco and bought her a belated Christmas gift, a Yamaha keyboard. We later added a nice set of headphones so she can enjoy her music without worrying about disturbing the neighbors.
I have four reports due this week because it's first of the month. I did the car inspections today, and got all my data in for the Key Indicators report. I'll do that report in the morning and probably fishing the monthly baptisms report also.
January 1, 2017
Our phone rang early. CO monitors going off in Elder's apartments, mission president doing follow up on the monitors, and apartments that need fixing. We've had regular failures on the Smoke/CO monitors so I have a set routine I go through with the missionaries. I have them open the windows to get air flow through their apartments, then have them go outside and take the monitor into the fresh air with them. If the alarm keeps going outside we have a bad monitor. Because the apartments have no sources of heat, other than occasional electric heaters, we don't have a great source of CO to worry about.
Lisa call and talked about how the household is handling New Year's Eve. Six Elders and two Sisters are coming to hour home to watch a movie because they are not to be out after 6:00 PM. Lisa will be at a Single Adult activity so Lynda and Tyler are coming to our home to supervise the activity there. Lisa made popcorn and other missionary-appropriate food stuffs.
We didn't have anyone to attend our Primary class today. One young man came but didn't want to be the only one in class so he went with his father to Priesthood and Sunday School classes.
I decided while I was alone in the building, and reviewing some of my feelings, that I would rearrange my study area in the apartment. I've been in a corner in our bedroom which is cramped for space, and the room is dark. After we got home from church I moved my study area into the extra bedroom that has only served as laundry (ironing and hanging after clothes come out of the dryer) and storage areas. The room is lighter, brighter, and has more room. We have so much stuff that the move took 4 trips between rooms and 10 minutes.
We went back to the chapel near the office tonight so Sister Warner could play the piano. Afterwards, Lynette called and we had a fun conversation. They are experiencing life as office missionaries. It's a big switch from working in the field.
December 31, 2016
We slept in and then swept and mopped the apartment. Feeling better than the grumpy old man of last night.
We went shopping and I found a small, adhesive, plastic threshold that I could use in our shower to direct the water to the drain. Most apartments have a shower where the drain is just part of the bathroom floor, with no lip to hold the water in the shower area, so it goes all over the floor. I cut and fitted the part to the floor, and sealed it with caulking in addition to the adhesive that came with the threshold.
We went looking for Legos to use as part of our teaching activities in Primary. All we could find were kits that made specific toys, but we wanted just the bricks so we could have our energetic boys build something associated with our Primary lesson. We couldn't find an Legos that met our needs.
We slept the New Year in. The exploding fireworks awoke us as the locals celebrated.
December 30, 2016
Disorganization has always been a frustration to me, and having a computer down, with the associated disruptions of getting things back online has been bad today. They need to use my computer to access information while they try and bring Sister Warner's computer back online. Added to the chaos is that the Dell technician came and install the new hardware, then left the bringing the computer back online to the missionaries. In essence, they gave it to young men who have been out of high school, barely, to be the IT specialists. They read the instructions, try to implement. Read again, and try to figure why it isn't working. The minutes go into hours of me trying to find something meaningful to occupy my time. Everyone in the office is doing the best they know how, it just takes so long.
When we left for the night things were still not completely operational. The operating system that was installed doesn't display English, only Chinese. There is another system that will do both, so the Elder's are trying to install it. Our real IT help will come from Hong Kong, but they are about a 1000 miles away and won't be back to work until Tuesday at the soonest.
We got a break this morning when the Assistants decided to go to the South end of the mission on an exchange and offered to take the supplies we were planning on taking today and tomorrow. Instead of making an 8 hours round trip run to 6 locations, we only had to delivery to one zone and were through by noon.
At the end of the day at the office I wanted to come back to the US and help with the shows.
December 29, 2016
Not much time left in 2016. Last evening I connected to the Microsoft Music app for a free 31 day trial. I built a playlist of Paul Cardall music. In the office today I played the music over my little speaker. The impact was amazing. A calm, peaceful feeling, that exemplified by the music, filled the room and the tensions lessened. It was a good choice.
Two trips to the post office, one trip out to the Dongying Chapel to deliver the new English teaching materials, and helping Sister Warner fax and email baptism records filled much of the day. We have another run tonight to deliver more English materials to Norman Greenhalgh's granddaughter.
The Dell Computer tech delayed until tomorrow so the Recorders (Sister Warner's) computer is still down.
I've been taking cases of BOM with me on my visits to get the inventory out into the field. I've reduced the number in the office by 6 cases over the last two days, and expect to move 6 more between Friday and Saturday.
December 28, 2016
Zach Battenfield got married. Our first grandchild to get married. He and Ellen were married in the Mount Timpanogus Temple.
We reaped more negative effects from Linda's computer failure. The technician from Dell will come tomorrow and put a new computer into service. We are concerned that several of the small routines Sister Warner uses all the time are on the hard drive and not the Cloud. If that's the case they may be gone.
It rained as a steady drizzle all day, with temperatures in the mid to upper 60's. A jacket felt good when we were outside. I received another 30 cases of BOM today. I did more rearranging in the storage area and made room for the boxes. I think I can move 4 or 5 more out during the remainder of this week. We are taking the posters out to the Zones tomorrow through Saturday so the new English classes can start next Wednesday. I'll take copies for BOM with me an should be able to offload some.
Sleep was hard to come by last evening. Two emergencies. An Elder had a severe allergic reaction and a Sister had her jaw lock open. Both required trips to the hospital. We didn't go with them, but Sister Warner stayed up to monitor the progress by phone.
December 27, 2016
My mother's birthday anniversary today.
The wind blew cold out of the north today, and for the first time since we arrived in Taiwan I wore a jacket to work today. It wasn't cold by Utah standards, but temperatures in the low 60's with a brisk wind made it feel much colder.
I finished my big weekly report and made two trips to the post office in the morning. Linda's computer was still down and Hong Kong, where our IT help resides, was on a holiday today so nothing happened to solve the problem. In the afternoon I was able to get into her files on the web so I could do some faxing and printing for her.
We have a new set of Elders who are scheduled to help us 2 hours on Tuesday, and another 2 hours on Thursday. They are much different than those we have had in the past—more self-motivated and not so interested in being the teachers or leaders because they think our computer skills are weak. They helped us solve problems which was great.
If anyone tells you all the Church runs perfectly, find out where they get their information. My saga of Books of Mormon continued today. Last week I was told by the Service Center in Taipei that we have all the Books that we have ordered, no more are coming. I was pleased with that information because I have 7 boxes on the shelves, and most missionaries have been supplied. Today the expediter called and said they will be bringing another order of BOM's tomorrow—the order I thought had been cancelled. I think we will receive nearly 40 cases tomorrow. I wonder how the President will feel about storing the books in his office
We got the van back today, running fine after the gasoline was removed and diesel was put back in.
Last evening Linda was having problems with her cough and worried about sleeping. Our prayers were answered, she slept well, and felt even better as the day progressed.
We bought two boxes of label paper online and they wouldn't line up with any templates we have in Word. I emailed the supplier in Hong Kong, twice, and we got a satisfactory solution.
Sister Morrill and Sister Call will stay with us again tonight. Sister Morrill goes back to the doctor tomorrow to learn the results of her brain scan.
In the past few weeks I have had a desire to read more. I finished the Book of Mormon again, read some of the book on Revelation, and read half of The Infinite Atonement. Other than the Book of Mormon, the other books left me unsatisfied and wanting something else. Then, the thought came into my mind to look at the new Priesthood/Relief Society manual for 2017—President Gordon B. Hinckley. Because of our Primary class I don't get to attend the meetings where the Teachings of the Prophets are taught. As I read the introduction my soul was calmed, I felt a peace come over me that seemed to quell the beast that was hungering for something different. For me this is a good choice.
December 26, 2016
Three fun conversations with family in Utah was a great start to the day. We don't miss the snow they reported, but do miss being together.
Our time at the office seemed stressful all day. The two Elders who have been helping us in the office transferred out and two new ones came in. Nothing stressful about that for us. Made two trips to the post office; nothing stressful about that. Boxed up supplies to send to all 9 zones and arranged for two of the boxes to be hand-carried to the areas. Neither one was taken so I mailed them; a little stress there. The wrecker came and towed the van to the service department to remove the gas from the diesel tank, and to do the 1000 km servicing; a little stress here. Several times during the day both Sister Warner and I were interrupted and redirected by other in the office; plenty of stress because the one who was suddenly in a hurry had been on Facebook for a long time.
Just as we wrapping up for the evening, Sister Warner's hard drive apparently crashed. One of the Elder's worked on it for a few minutes but could get the computer to boot up.
By 5:00 PM I was worn out and we headed for home. We diverted and went to the shopping center and I bought Linda a nice paring knife.
December 18, 2016
Our Primary class was much better today. We had prepared many hands-on type of activities, one of the fathers of a rowdy boy was there, and the other rowdy came in for the last 10 minutes of class. The general session of Primary, which is a stretch for me also, was also better. The young man, Thomas, who has been the least cooperative in our class, moved over and sat on a chair next to me. During the other activities, we talked and he actually responded to my questions. Mentally he stayed with me for almost the entire meeting. When the person leading the program would ask questions, sometimes I would whisper the answers to him and he would raise his hand and respond to the questions. He has never been willing to do that before. Maybe we have better days ahead.
The weather has been cool the past few evenings. Lisa called and said it was 23 degrees there. I said we are cold also. Our outside temp is just 21. Her's is in Fahrenheit and our Celsius. Big difference.
Clif told me about a new book on the Book of Revelation. I downloaded a copy and have been reading it for several days. I quit reading it yesterday because I have so little use for that detailed of information in my current circumstances. It will make a good read when I get home.
December 17, 2016
We left the office at 8:05AM and returned at 5:40 PM, having traveled 390 KM for the day. The trip was somewhat uneventful except for the GPS on my phone. When we had tried to input a new address for the Elders in Jiayi it wouldn't take it. Finally, it let us put a modified one in that turned out to be a location about 2 miles from the correct location. On top of that problem the GPS on my phone kept losing the signal and we weren't sure where we were. Finally, the Elder's found us and led us to their apartment. I entered the location onsite so next time we will have it correct.
I had plugged my cell phone into a USB port on the built-in GPS unit on the van and thought it was being charged. After we left Jiayi, headed to Huwei, the GPS kept losing the signal again. We found the Elders apartment and dropped of their desks and chairs. We then headed further south to Yongkang to deliver more chairs. The GPS struggled, then I noticed that the phone had almost no charge left. It was not being charged by the in-van unit. The only charging port in the van required a cigarette lighter attachment. We got to the location where the GPS said the Sisters lived after stopping a few times so the GPS could find the satellites again. My charge on the phone said 11%. We walked down the street, after delivering our supplies, and found a store that sold the adapters so we could plug in the cell phone to the cigarette lighter portal.
On the two hour trip back to Taichung the GPS never lost the satellites, and was plugged in and charging the entire trip. I concluded that the phone's battery is not strong enough to run the phone and GPS when the battery starts to get low. When the phone was charging the GPS never lost signal, but when the battery was getting low the Maps App struggled to stay connected to the satellites.
I was happy to get home.
December 16, 2016
Strange days in the land of the Taiwanian Sun. I spent most of the morning in Ikea buying office chairs, desks, comforters and pillows, and shelving. The afternoon was spent catching up around the office and working in the storeroom. A contractor repaired a water-damaged wall in the storeroom which required moving several shelf stacks that were loaded with pamphlets and books. I put all of that back together in the afternoon.
We received an order of 8 cases of the pamphlet "Learning and Serving in the Church." I couldn't find where they have been ordered, let alone that many. I called Taipei to tell them I was sending most of them back to them. I was informed that we had received the big order because someone in Salt Lake headquarters instructed Taipei to send us that many. I don't have storage for that volume of supplies. My biggest worry though is that these 8 cases were mistaken for the order of Book of Mormon that I was told was in Taipei yesterday.
The pest control people sprayed the upstairs of our building, where the Elders live, this morning and came in at 5:00PM to spray the office area. Sister Warner spent most of the afternoon across the street, in the hospital, at the psychiatrist office, waiting for an appointment for an Elder. I walked home alone after work because Sister Warner was still at the hospital.
We received a card from Mike and Becky, and a CC from Lisa in the mail today. We also received what we think is a Christmas present from our ward in Bountiful. We put it under our make-believe tree.
Our plan is to spend the day on the road tomorrow delivering supplies to missionaries in Jiayi and Tainan. We will help assemble desks and chairs. I asked one of the Elder's we will be visiting, if he knew which end of the screwdriver was the business end. He wasn't sure.
December 15, 2016
For Taiwan it's cold today. The forecast low is 56 degrees F, and there is a stiff breeze blowing. My short sleeve shirts, with no other topping, is a little thin today.
Pressures have been building in the office for some time so today in staff meeting I brought up several things that needed to happen for us to be better prepared. No pointing out other's short comings, just talking about how things could work better in the future. A good discussion followed and everyone pointed to things they would take care of. The resulting feeling was more light and less stressful than it has been for some time. I hope the others feel as relieved as Sister Warner and I do.
The office is packed with Christmas gifts, even though we move them through in one day, and supplies in preparation for the 3 Christmas parties next week. We tried to combine sending water filters to the apartments, and updating the 72-hour packs, with the supplies for the parties next week. The logistics and space requirements got to big so I said we would postpone the 72-hour packs updating until next month.
Either tomorrow or Saturday I anticipate Sister Warner and I will spend much of the day delivering furniture to several locations in the mission. We need to deliver two desks and 4 office type chairs. We buy the Ikea type and hope the missionaries can assemble them. Where's Mark when I need him?
December 14, 2016
I spent the first couple of hours in the morning hauling packages to the little Post Office about three blocks from the office. If I get there between 9 and 11 I don't need to wait. I haul 10 to 15 packages on my little luggage cart.
The big computer in Salt Lake finally updated our transfer records and I spent time cleaning up the list and printing me a copy for my quick and personal reference.
I talked with the Global Supply people in Salt Lake trying to find Chinese Book of Mormon. I learned that the order that was miss-sent to Washington State is still stuck somewhere. The second order was shipped yesterday. I ordered more today. When the orders start arriving I will have a storage problem, but at least we will have the books.
I'm trying to make the best of having the extra set of missionaries in the office. I found several projects for Elder Hsu and he does a good job.
We went to Costco tonight and bought lots of supplies for the three Mission Christmas Parties that will happen next week. Sister Randolph bought for the party she is assisting with. Sister Warner bought for the one we are helping with. I shopped for our own personal items.
December 13, 2016
Sometimes it's easy to feel picked on if you don't consider the alternatives. All the office staff but us went to Taipei today to take missionaries to the temple and put them on the plane to go home. We stayed behind–by our own decision. We could have gone if we wanted to, but chose to stay behind because of our workload. I'd rather be extra busy than sit at the computer and read Facebook. No complaints on the day.
The stars didn't line up too well for us this holiday season. Just as all the Christmas mail is arriving we received 13 new missionaries and sent 17 home. Instead of just being able to forward packages and letters, as we usually do, we had to wait until transfers were complete before we were sure when to send things. The transfer information does not show on the computer for about 4 days after the transfers. Thus, for each letter and package we must check to see if that person was transferred before assigning a forwarding address. That process includes going into the President's office and finding the missionary on his big board, finding the correct address label, and then putting labels on packages and letters. Just for mail that came in today the forwarding exercise took us over 3 hours.
This morning I hauled three loads of mail to the post office. Tomorrow I think with just the mail already in the office it will take 4 loads.
I came home from the office just after 7:00 PM. Sister Warner had two sets of Sister missionaries with doctor's appointments at the hospital so she stayed at the office to wait for them to come. Sister's Lundquist and Beus will stay overnight with us tonight.
December 12, 2016
We have 17 missionaries going home tomorrow. They were all at the office today, along with companions, friends, and others most of the day. Associated with the missionaries leaving is the massive transfer, so new companionships were also forming at the office, and they needed supplies, new phones, transfer of phones, and just a chance to visit. This was our first big change and I wasn't quite prepared to the confusion and pressures that were present. I did my best to not let requests go unanswered. It was 2:00 PM when we snuck out for lunch.
I had hoped to do my key indicators report tonight, but because of transfers, closing apartments, and white-washing (removing one set of missionaries and replacing them with a completely new set), and missionaries going home it got too late. I will do it first thing in the morning, after all the missionaries leave for the airport in Taipei.
Because of the transfers, we have lots of mail stacked up in the office. Christmas gifts and mail that will be forwarded as soon as we have a new list of where everyone now resides.
We will have 4 Elders staying with us tonight, and 2 Sisters tomorrow night. The Sisters have a medical appointment and asked if they could stay with us. It's really Sister Warner they want to talk with, while they tolerate me. One of the Sisters' father died three weeks ago so Sister Warner is a great comfort to her.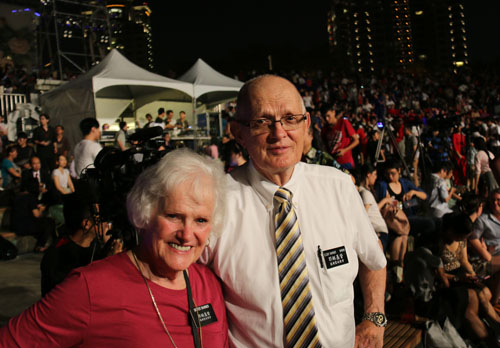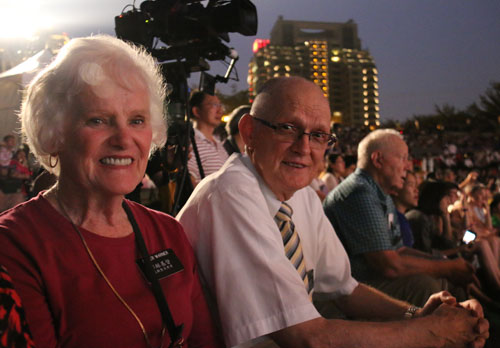 December 11, 2016
After awaking this morning and feeling more refreshed we realized that the intensity of the past two weeks had made us tired. The extra naps yesterday revived some of our energy and helps face the activities ahead.
We had both troublesome boys in our Primary class today. We made a little headway with one but none with the other. About ½ way through the class another Sister, who knows the boys well because they come to her home to play, came into the class and said she would show us how to take care of the boys. It started very well, but after about 20 minutes she left the class with the most difficult boy in hand. Later the boy, escorted by the branch president, came into the Primary general session. We are making progress with the other class members but Thomas doesn't want to come to Church, but his father makes him come. It will take divine intervention for us to make a difference. The solution lies within his father reach, but beyond his capabilities.
Age keeps rearing its ugly head. Sister Warner's sugar levels are too high even though she is being careful in what she eats. She's going to try and take a few pounds off that have gathered since coming to Taiwan and see if that helps. Last evening we checked our blood pressures and they were both well into the safe range so we didn't take our blood pressure pills this morning. Tonight, both of our pressures were too high, so it's back on the pills.
I received a call from some Sisters while we were in church. They had changed their water filters and now water won't flow through the filter system. After our church meetings Sister Warner and I went by the office and picked up supplies to make the repair. I couldn't find the Sister's address in my GPS—it was listed as Beiten/Dakeng Sisters and I was looking for Dakeng Sisters—so we tried to find their apartment with them giving directions. Didn't work. They don't know they names of the streets close to their apartment, they memorize landmarks to get around their area. Finally, we drove to an area we both knew and they came on the bikes and found us. When they changed their water filters today a particle of something plugged the outlets on the part that attaches to the faucet. I replaced the faucet attachment and everything worked fine.
December 10, 2016
We slept in a little late and had a call from Lynda. I need to find some kind of diversion, but nothing even sounds good. The long days, combined with pressures of the situation, have drained me so I've got to find a rejuvenation.
We walked, with Randolph's, over to a Confucius Temple a few blocks from our apartment. We walked around the grounds and took some pictures of the buildings and decorations. I found it quite sparse, in terms of embellishments, but clean and orderly. The method of worship seemed similar to the Buddhist temples we have seen, except they do not have any statues, or idols, of Confucius present. They also had a temple to the martyrs but we couldn't find information about who they were. Apparently, back in their history, one of the Chinese dynasty's beheaded about 700 followers of Confucius.
Sister Warner got dizzy when we were walking home, through an outdoor market. It was hot (about 80 degrees) and a little stuffy. We came home and she napped for two hours. We ate lunch and learned that we will be housing 6 missionaries, who have finished their missions, on Monday night so we cleaned both other bedrooms and made beds.
We took another nap later in the afternoon, and then took our blood pressures. Both were about 103 over 65 so we are in good shape, but maybe just a little low. I worked with Sister Warner on how to use spreadsheets. She still struggles with simple things like hiding and unhiding columns and rows. We made some headway.
During dinner we put on some Christmas music. It creates a quiet and peaceful atmosphere in the apartment.
December 9, 2016
The missionaries always say nice things to us but my favorite is when one who had some worries tells us they are feeling better now. So far we haven't had any leave the mission early, yet. I tell Sister Warner that she needs to be more willing to talk with those who are having a tough time, and not be so quick to refer them on to Area Mental Health.
The new Elder, Elder Andersen, stayed with us again last evening and I got up before 6 AM to walk with him over to the office so he could exercise with the other young missionaries. Newly arriving missionaries always causes lots of action. After training finished this afternoon they all come to the office to get supplies. They have lots of questions, need supplies, their companions have phone problems, and thus we are extremely busy. In the midst of the hub-bub I learned that one of the Sister's had a broken fan belt in their dryer. After everything quieted down we took the Sisters to their apartment in Zhongming and I repaired the dryer and fixed their washing machine so the drain water went down the drain and not out onto their floor.
We had nice Skype conversations with Dave and Lynette, Mark, and Lisa during the day. All seemed to be happy.
In a short conversation with President today during lunch he confirmed that all mission president's around the world are now interviewing each missionary, and holding zone conferences, every 6 weeks. I'm sure the closer attention to the missionaries comes from the results of studies conducted in various places by the brethren.
December 8, 2016
Faith precedes the miracle and stress often precedes a cold. I had a dry throat and congestion last evening and today. Thus far the symptoms have been mild except I have trouble understanding what people are saying because my ears are plugged.
I worked on the banner with Elder Wang for an hour this afternoon. He's assigned to Elder S. for right now and wants to work. We bought some poster paper and he's experimenting with printing Chinese characters and gluing the printed copies onto the poster board, and attaching them to the banner so it can be taught to people who don't read English.
I also asked Elder Wang to contact every companionship and survey them on how many water filters their apartments will need for 2017. I had previously sent a text to all Zone Leaders asking for the same information and didn't receive a single response back. Elder S. intervened and wanted to gather the information through the Zone Leaders, the same process I have already tried. I gave them until Monday to have the data in so we can start putting together orders to be distributed in Zone Conferences between December 20 & 22.
December 7, 2016
We have been uptight now for several weeks trying to keep up with our work and cover while Randolph's have been gone. They return tonight.
I finished the new inventory list and President signed off on it today. I taught Sister Oakeson, using diagrams, how to repair a broken belt on their dryer. I received a text late in the afternoon that the repair was successful. She goes home next week to Layton.
Elder Huang left today for South Africa. He has been indispensable to us over the past three weeks. We will miss him. He's the Electrical Engineer. His replacement is an artist who is willing to do anything we ask. President asked me to keep him busy while Elder Starkweather is working with Sister Warner. I'm familiar enough with my work now that I can keep up with it and it will be difficult to find enough things to keep Elder Wong busy.
Our weather is cool at night. I'm OK in my short sleeved shirts, but when the wind blows I'm more comfortable away from the wind.
December 6, 2016
I did a short presentation at the Mission Leaders Conference on the new English teaching program. President Teh did most of the presentation.
Sister Warner and I drove to Jiayi to inspect a new apartment for the Elders there. The road seemed just as long today as it did yesterday. The apartment was nice, though a little large for two missionaries, and we signed a contract to rent it.
Still having lots of emotional situations to deal with among the young missionaries. We waited at the office, after returned from Jiayi about 6 PM, until 9 PM for a young missionary who was at the hospital in an appointment with a psychiatrist. Between the long visit in Jiayi and the doctor's appointment we missed both lunch and dinner. We snacked just before going to bed.
I'm still trying to learn how to work with President Teh. It makes life better for both of us when I know what he expects, and what he likes to do himself. He's very kind and when I offer to help he lets me but I think afterwards things would have been better if he had not shared the load with me. I'm learning how to anticipate his needs better.
December 5, 2016
A day full of surprises. We got to work just before 8 AM because Linda had to take an Elder to a medical appointment. My plan was to work on inventory control. I was just getting started when the Assistants came and asked me to take a passport to a visa-hold missionary out in Jiayi. He was supposed to pick it up over the weekend but for some reason he didn't. Now there wasn't time to mail it to him so I was the choice to take it out. I went alone with one hand on the steering wheel and the GPS in my lap. I noticed as I was starting that my cell phone (my GPS source) was not fully charged but thought I would be OK. The trip turned out to be 200 km round trip (about 120 miles). It took me out along the edge of the mountains and through an agriculture area. The air was smoky, with visibility of about 2 miles unless I was looking up at mountains then it was further.
The trip out was uneventful and the GPS got me to the right place. I delivered the passport and headed back to the office. I checked the charge on my cell phone and didn't like the less than 30% charge that was showing. I would be alright on the freeway, but once I left it I had little hope of finding the mission home. By the time I came to the departure point from the freeway I was at 12% charge. I noted my next exit number from a secondary highway, and tried to remember how I had come onto that road on my way out. About 5 miles short of my next exit the phone when blank; it gave up the light that was guiding me. I exited at the proper point but things looked different than I remembered in the morning. I drove a short distance and realized I had no idea where I was. My phone was dead, I didn't speak the language, and there was no place to pull off and cry.
I knew I needed to find a store that sold cords that would allow me to plug my phone into a charger in the car. Obviously, prayers had been offered. I came to a stop light and a store on the corner looked like it had racks of cell phone cases being displayed. I found a parking spot and walked back to the store. Success! I bought a cord, plugged it into the USB port in the car, and waiting until the phone had enough charge to come back to life. I headed down the road I had been on, as directed by the GPS, and went about ½ mile and intersected a road that I was familiar with. I wasn't as lost as I had presumed. However, I was in a different part of the city than I had thought I was, and going the opposite direction of what I thought.
At work things were busy. Tomorrow is a Mission Leaders conference and I have a 20-minute presentation on the Daily Dose English teaching program the mission will start using in January. I met with President Teh to discuss how we would do the presentation and clear up some questions.
My computer was working today, but Linda's had lots of problems until late in the afternoon, when she finally got some relief.
Blair, Clif, and Lisa all responded with suggestions on dealing with our Primary class. We will try and implement some of their suggestions. No one suggested masking tape and a cage, probably because they feared I would move to implementation.
December 4, 2016
We went to the office and worked for a couple of hours before going to Church. Not a good way to start the Sabbath.
Another downer in Primary. After 20 minutes of trying to get the two boys to let us try and teach the lesson I grabbed the worst of the two, walked him to the classroom door, opened it and put him out in the hall. I told him he was welcome to come back when he was ready to behave. (Note to readers: I'm using this journal entry to try and relieve my stress.) The young girl and boy who remained in the class were a little better. Then, in sharing time, it was upheaval again. Only 4 children and 6 adult leaders, but it's still chaos. I mustered all the courage I could find to even stay in the room during the sharing time. The obvious lack of parental guidance is frightening.
After Church we visited with the father of the boy I had removed from the class. He said if the boy acts up just bring him to him in the Gospel Doctrine class. He has given his boy two choices: stay in the Primary class or attend the adult class with his father. I will do that.
The experience ended 4 hours ago and my stress level is still high. I see no solutions since the problems are much deeper than just irreverence in a Primary.
I worked on the Daily Dose English presentations yesterday and today. I've been trying to ensure the overall success of the program but have decided to back off some and let President take his preferred approach before making suggestions.
Tonight I'm and old man trying to do a young man's work. Tomorrow will be better.
December 3, 2016
Today was P-day. We arrived at the office at 8:00 AM because we had a truck coming to haul a fridge out to some Elders and I had to open the storage area for him. We did some shopping on the way back to the office
The computer problems are mostly resolved now, or can be quickly resolved when discovered. I put together the book case that we bought last evening. After that I worked on inventory control.
We went home about 3:00 PM and I took a short nap. Then, the phone rang and we headed back to the office so Linda could take a sister missionary to the hospital with severe pain in her sinuses. While Linda was at the hospital I worked on my presentation for Mission Leaders Conference on Wednesday. I outlined the Daily Dose video training presentation. The program recommends teaching in groups of about 5 people, but President want to try doing it with 15. I don't think people will participate as well in larger groups. I'm sure we will do some testing to see how the larger groups perform.
The sick sister was diagnosed as stress caused. We have more stress here among the missionaries than we have observed in previous missions. I'm not sure of the cause. One big difference is that the mission president meets more often with the missionaries than in the past, and splits among the missionaries are also quite frequent. The record keeping is also more intense. The poor behavior among missionaries seems to be greatly reduced from the previous regimes. We seldom see rebellious missionaries now. I suspect that somewhere in the broad scope of things lies the answer to why stress is such a big part of the health issues now.
We took the Sisters home after the hospital visit. It made for a long P-day. We got home at 10 PM.
December 2, 2016
The saga of computers took a slight turn for the better today. About 30 minutes on the phone to Salt Lake reconnected the pathways that had been severed and I was able to load the vehicle inspection report. However, two or our new vehicles are not on the list and I couldn't put them in; that must happen in Hong Kong so I only finished part of the report. The next task was the Monthly Stake Baptismal Report and it had a severed pathway as well. Elder Huang helped solve that problem and I ran the report.
We had to make two trips to the Post Office today to mail and forward packages. We have a luggage cart so I don't have to carry all the packages. I was also able to either send out all the supply orders with President Teh or mail them. I have one more zone to send out and then I will be current. Feeling better tonight.
Made another trip to Ikea (always a downer) and bought a bookshelf for the main part of the office. We had picked one out last evening and got approval to buy it, but tonight we found a better fit and color so we bought that one instead.
Temperatures outside in the evening are invigorating. Not too cold so I still just wear my short sleeved shirts with no jacket.
December 1, 2016
We went over and looked at the apartment again and talked price with the landlady. She doesn't want to pay taxes, which is common here, so we were hesitant to commit. She gave us a quote and we talked with President Teh and he didn't want to spend that much. She was asking about $650 per month.
My frustrations with computers in the office are ongoing. Entire programs are missing. I don't know, and probably never will know, if the problem was caused by the crash or the incompetence of the Elder who has been doing the changes. I fear he deleted many programs he didn't know why they were there. I talked with the Global Service Center in Salt Lake and got one problem resolved; had Taipei reinstall a program that had disappeared; and still can't get into the program. I was so happy Tuesday because I had done my vehicle inspections and was ahead of the time frame, but I can't enter the data into the computer so I lost my lead.
We have changed the ordering process for missionaries needing supplies. They text me their needs and I send out the materials either by courier or mail, depending on the size of the order. All the new printed materials for Daily Dose came in today and we will introduce the program next week.
Both Linda and I were tired tonight so we just pushed ourselves away from the computers and went home, leaving piles of work to do.
November 30, 2016
We didn't get home until almost 9 so I didn't write in the journal. The high councilor assigned to our branch came by to office in the evening and wanted us to come and look at a nice apartment in the building where he lives. We went over with him and looked at it. It is much newer than our current abode.
November 29, 2016
The changing of our computer system caused many disruptions and made the day drag because it seemed each time I wanted to work on something my computer wasn't available. We were promised it would be ready in the morning.
I finished the monthly baptism report for the president. 24 baptisms will be counted for November. The numbers stay steady in the 20 to 40 range.
Sister Teh asked that we buy a book shelf to put in the office so people won't stack things on the counter. Linda and I went to Ikea after work to buy one. I don't like shopping at Ikea because it takes so long. We looked at several items and took pictures but didn't buy. We'll check with Sister Teh to make sure of what she wants. The little trip after work made it so we didn't get home for dinner until 7:30.
We had a nice visit with Mary and her kids via Skype. They are growing up so nicely.
November 28, 2016
Monday's are always busy. Two missionaries were changing apartments this morning and the missionaries from the office who were helping them called for help so I took the van and went to the rescue. It turned out to be a panic attack by our troubled Elder. Emotionally, he is unable to handle any situation the changes from how he has planned it. President has asked us to try and nurture him so we try.
Last evening we actually had to put a blanket over the sheet we normally sleep under. The temperature dropped to 64 F.
I've picked up two large assignments today. We have a flash drive that we sell to the missionaries and it contains about 29 gig of videos from Mormon.org. It has been several years since it was upgraded so I'm to work on bringing in some of the newer Mormon Messages and deleting some of the older ones. The second assignment is to do a 20-minute presentation on December 6th at the Mission Leaders Conference on the new Daily Dose language program for teaching English as a second language.
This coming Wednesday evening we are going to teach a First Lesson to an English-speaking investigator for some Elders. They have another appointment at that time so we'll go out and teach for them.
Clif wrote a nice email and told of a Sister he has home taught for some time, who is currently serving in the Philippines, and met Sister Koster. We went through the MTC with Sister Koster and her daughter who were going to service in the Philippines with their son/brother who is the mission president.
November 27, 2016
Today was raining most of the day. The forecast is for about 1", but it wasn't coming down hard.
Our Primary class went OK. We still have room for improvement. Only one of our boys was there so we didn't have to deal with double distractions. It helped because we were able to learn more about what motivates these young men. They won't read, but they will do math problems. Adam, today's boy, loved the Book of Mormon story book but struggled with matching terms and definitions. Discipline is more difficult in the Primary meeting than in class.
I was starving, at least it felt like I was starving, when we got home from church. I feasted on the Tootsie Rolls that Mike and Becky had sent. That gave me enough nourishment to wait until dinner was ready.
My health summary for the week, as recorded by me phone was: 42,087 steps, 19.1 miles walked, with an average of 2.72 miles walked per day. I think those stats are supposed to make me feel good rather than more tired.
November 26, 2016
Linda worked on her medical records in the morning and I mopped floor and fixed breakfast.
We fixed a water filter system for some Sisters and then went shopping for several hours during the day. I'm always amazed at how a little shopping trip takes so much time. We did find some 32 gig flash drives for the office for $259 Taiwan dollars ($8.36 US).
We attended the English Branch Thanksgiving Party tonight. It was a nice pot-luck dinner. I played catch with one of our Primary boys in an effort to become his friend. At the dinner one of the members asked if we would take a mission vehicle and transport 4 Elders up to Sun Moon Lake on Monday for P-day. The Randolph's said they would if they hadn't been going home the next day. We were uncomfortable taking the mission van to transport missionaries on P-day so I called the President to get his feelings. He didn't know anything about the excursion, and wasn't comfortable with us using the van for such activities. We liked his decision.
The Taiwanese are all bundled up in coats and hats and we are loving the shirt sleeve evenings. The forecast low for Sunday evening is 64 degrees with 60% chance of showers.
My tablet won't hold a charge and I found a Samsung Service Center today. I went in to ask if they would look at the tablet. Alas, no one spoke English. I'll take an Elder with me next time.
November 25, 2016
It was Thanksgiving in Utah today. We worked here in preparation for Randolph's leaving on Monday for 10 days and new missionaries coming in about 13 days. The results of the computer crash are still becoming manifest. I lost all my historic and current data on missionary badge orders. I worked several hours trying to reconstruct a pending order for new badges, and to find the form letter we send to missionaries in the MTC asking for information to be put on their name tags. I think I was successful.
Off-and-on we were unable to print during the day. Then, I kept finding files missing. Each time I found a problem, I would step aside from my computer and let one of the missionaries play with the computer and try to fix the problem. In the meantime, the phone would ring and I would have operations problems to solve: "our dryer drum only turns part of the time and we must tape the door shut"; "the freezer part of our fridge works fine but the fridge part doesn't cool"; "the lights won't come on in some of the rooms in our apartment and we can't reach the light bulbs to check and see if that is the problem"; "the repairman said the company no longer makes parts for our washing machine". These are the questions that give me a chance to serve others.
Meanwhile, Sister Warner is responding to: "I've had lots of strep throats and I'm sure that's what I have now"; "I'm throwing up and my fever hit 103"; "I woke up in the night and had trouble breathing"; "When I bend over and put my head down it feel like my eyes are going to fall out"; "A bus swerved over and knocked me off my bike and my elbow is sore and swollen". Just your everyday opportunities to serve if you're the mission nurse.
We received another vehicle for the mission today; a Toyota Corolla. My job is to receive the car, check it out, and sign the papers.
I spent some time reviewing the Vehicle Coordinators manual today. I have inspections coming next week and need a better understanding of the criteria the Church has established for maintaining the vehicles.
We have a mentally retarded lady, nicknamed Princess by the staff, who comes by the office multiple times every week. We keep the front door locked so people can't just walk in mainly because of her. She claims the US Government owes her millions of dollars and she is supposed to collect that money from us.
By the end of the day I was dragging. The walk home was slow and deliberate. It's been a stressful week with many long days at the office. Even when we get home, Linda works on updating medical records and responds to calls from sick missionaries. I work on planning, reading some news, and reading our Primary lesson.
A set of Elders called tonight and asked if we would teach an investigator a 1st discussion for them next Wednesday. They teach English classes that night so they aren't available but he is. He's a native English speaker. It should be fun.
We received Mike and Becky's Christmas box today. In celebration, we had a toasted cheese, tomato, and sliced chicken sandwich, smothered with Miracle Whip, for supper. Life is good!
I keep an active to-do list on my computer in One Note. It helps me keep track of requests, action items, orders, and other daily activities. I started the list on November 1 and will start a new one of December 1, keeping monthly lists. I will keep previous months open until all tasks are completed. For November my task list hit 112 separate tasks today for the month to date. I'd be dead without the list.
November 24, 2016
I'm learning more about the virtues of patience. Part of Linda's responsibilities is to help, or arrange for, missionaries moving apartments when one apartment is closed and another opened. The apartments are on a 1-year contract and sometimes the landlords won't renew, so the missionaries must move. Those kinds of moves happened twice this week. Today the help involved physically going to the apartment with the mission van and moving clothing and some furniture. It seems like it takes forever to do a 1 hour job. The move today took four hours.
The computer was down until late in the afternoon so I really didn't lose any work time from helping with the move.
We took the mail over and then went to grab a sandwich at the food court. It was 2:30 when we started eating. My frustration and anxiety levels were high and I had to chew the food extra to make sure I didn't gulp and choke myself. When we got back to the office I learned we were having a District meeting for the office staff missionaries. It lasted two hours. Fortunately, the computer files were available again so I thought I could start catching up. However, one of the missionaries was using my computer to complete a task I had asked him to do for me.
I gave up at about 5:30 and Linda and I went to the store trying to find pumpkin pies for the Branch Thanksgiving dinner on Saturday. No luck on the pies so far. I did buy her a toaster and new frying pan as early Christmas presents. I dropped her off at the apartment with our groceries and took the car back to the office. I checked into the office and learned that Elder Starkweather, in response to a request from me, had found a courier who will deliver our packages of missionary supplies anywhere in the mission for between $3 and $4 per box. That will solve an immense problem for getting supplies to the field under the new approach President Teh wants to implement.
November 23, 2016
We get lots of work done at the office now that we are more oriented to our tasks. We are also experiencing some of the difficulties of adjusting to other adult's personalities. We pray for patience and our prayers are being answered.
I got all the bids in for the Daily Dose English program, and President had me order the materials. We also needed some 9 x 13 envelopes and I got a quote of 2.4 Qui each, but we can buy them in small packages for 1.9. I pushed the printer to drop his prices, and since we had just put the big order in for Daily Dose materials, they gave us the 1.9 price. I'm getting a good relationship with the printer. Tomorrow he's bringing some boxes by for me to look at because President wants to mail packages out to the Zones instead of waiting until he travels out.
We had computer problems again today and couldn't access the files I work with all the time. I'm updating the list of supplies available through the mission office, so I took the time I couldn't get on the computer and looked up order numbers for Church materials. The Hong Kong area office technician said they will move us to the "cloud" probably tonight. We hope that solves our problems.
It rained most of the day.
November 22, 2016
Linda's phone rang all day on medical issues. We are not sure if we are having more sick missionaries or if Linda is famous as a mission nurse.
We drove out to Daya, in the country, to repair a dryer with a broken fan belt. The distance was only about 8 miles but it took 30 minutes each way plus the time on site. We stopped at the bank to submit some documents. We were at the bank almost an hour, mostly waiting.
I got the bids for President Teh for some posters for the new English program we will start in January. He asked me how I would like to teach English using the new program on Wednesday evening. I said I would prepare to teach.
The days are intensely busy at the office. We stay late but aren't gaining much on the workload as new things come in as fast as we get the old things finished.
Lisa, Lynda, and Mark attended a corporate retreat with the board today and it seemed to be a great learning session.
November 21, 2016
It was a satisfying and diverse day for both Linda and me. We left the office about 8:00 AM and drove to another part of the city to replace a CO monitor that kept going off in the middle of the night. I drove with my right hand on the steering wheel and my phone, with GPS loaded, in my left hand. It was an adventure on big roads, small roads, and alleys amongst the rain.
Next stop was about 30 KM away to another set of Sisters who couldn't hook up the water purifying system in the apartment. I did the connection. We then checked their dryer which they said worked OK but took a long time to dry clothes. We removed a hand full of lint from the filter and promised them that life would be even better.
We got back to the office about noon. Another set of Sisters was waiting for us asking if I would come hook up their water filter system. We drove over and found their faucet was a different type, and I had to use a rubber connector to hook the dispenser system on. It used a hose clamp, but someone had put lots of Teflon tape on the threads at the attachment point. The tape made the surface too slick for the attachment to stay on. I removed the tape and all was well.
Elder Randolph announced today that he's turning all the mail duties over to Linda. I was a little surprised by his actions but said nothing. The Randolph's are going home next week to resolve some renter problems in their home in Oregon and I think that has him upset. They are scheduled to be gone for about 10 days.
Friday, President had given me some posters and worksheets and wanted me to get a quote from a printer to print a large volume for him. They are for a new ESL (English as a Second Language) the Church has developed. I got a printer in today and he will give me a quote tomorrow. Meanwhile, President brought in a DVD, which teaches about the new program, and left it on my desk and told the Assistants to tell me to become familiar with the program. I wonder if another duty is going to be added to my assignments?
The Assistants asked if I would get the Key Indicators reports finished tonight. They said they would help get the information in from the District. They did as promised and we stayed until almost 8:00PM finishing the reports.
November 20, 2016
We met Sam Kuan at the office at 8:00 AM this morning. Sam lives across the street, and just south, from us in Bountiful. He was born in Taiwan and moved to the US 40 years ago when he was 14. He comes to the orient regularly as part of his work. We had a great conversation with Sam and he brought us up to date on our ward in Bountiful.
We took Sam to church with us. Our Primary class went better today for several reasons. I had read up on 9-year-olds and better understood them and their interests. Also, only one of the two boys, who gave us so much trouble last week, showed up this week. He said he wasn't coming to our class so I didn't go after him. I few minutes later the Primary president brought him to class. He laid on the floor near the table we had set up. We knew he could hear the lesson so we let him lay there. He never made a sound during the entire class. Our participating class consisted on one 9 year old girl. She seemed to enjoy the class and particpated by asking questions, reading scriptures, and answering questions. The method of teaching worked well, but children that age can't read as good as I had imagined so we will simplify more next week.
After church we returned home and brought Sam with us. We snacked and visited for several hours and then walked to the office. A little later we went to the mission home and were joined by the Dorius family for a lovely dinner. Dorius's also live in our ward in Bountiful and just picked up their son from the Taipei mission. The dinner was essentially a Moss Hill Ward mini-reunion.
One of my conversations with Sam today was ideas for better using social media in proselyting and reactivation work. It adds to some of my previous thoughts about sending links to specific Mormon Messages via texting to less active and investigators. I'm not comfortable yet with some of the concepts so I will keep studying ideas.
November 19, 2016
We spent several hours this morning cleaning the chapel building where we attend church. This month it's the responsibility of the English branch to do the cleaning so we took our turn. It took about 2 hours. The temperature was very warm and I sweat enough to soak my shirt. Afterwards we walked to Costco and bought some groceries.
We met with President Teh in the afternoon to discuss distribution of supplies. We decided to send out Books of Mormon by courier and mail and have him carry smaller supplies. He's in every zone 2 out of every three months. Also, the missionaries are now going to order supplies by texting directly to me. The process is simpler but adds to my work load.
We spent the evening at home watching Mormon Messages on the Internet. It was an enjoyable evening. It helped to better understand some of the roles we need to fill better in the office. Some of the missionaries will always struggle with the emotional pressures of missionary work. We sometimes forget how fragile their feelings really are. They are easily put down even when we don't mean to cause that type of emotional response. After talking about how we could do better, we received a phone call from some Elders who need help moving another set of missionaries on Tuesday of this week. Tuesdays are my most stressful days because of the report I must generate that day. It takes lots of concentration. We said we would help.
November 18, 2016
I spent much of the day copying and pasting addresses into the GPS (Maps app) on my phone. Since my phone app is Google, and we have access to Google on the computer, it was a simple, though tedious, process. I entered about 100 apartment addresses and about 25 addresses of chapels. Now, any time we need to go see a missionary we have built-in directions.
It seems when I start feeling like I'm getting ahead, I remember something I've forgotten to do, or someone brings another task to me. I can tell my mind isn't as quick as it once was.
Reservations for next year continue to run strong.
I joked with President Teh when he took the new van on the road this week while I was getting his car serviced. I said I was glad he was taking the van because I didn't want to put the first dent in it. It turned out that while he was eating dinner last evening, two motor scooters collided by the van and one of them scratched the paint on a door.
November 17, 2016
Each day passes so quickly but is also accompanied with stress associated with what needs to be done at the office versus what we are capable of doing. We spent several hours negotiating the apartment contract we had worked on Tuesday. The landlord wanted equivalent of 3 months rent as a deposit. We didn't have that much cash in the office. The agent talked with the landlady, who lives in Taipei, and tried to negotiate half down today and the remainder next week. The landlady said no. I wanted to back out but we finally found enough money in the office to make the payment.
Afterwards, there were concerns that we paid too much for the apartment. However, Sister Teh wants to upgrade some of the missionary apartments so we went ahead with the deal. We cannot negotiate with the owners or their agents most of the time because they don't speak English. It creates stress because we must rely on 19-year-olds, with no experience in monetary events, to do the negotiating.
The best lesson of the day for me was that I learned that if I hold down with my finger on a text message it allows me to forward or share the text.
We had a discussion on locating missionary apartments without knowing the area. Elder Huang helped me use Google Maps on the internet to copy and post addresses into my cell phone. They come into the phone in Chinese characters, and then I can put an English title on them. I'll spend some time doing that tomorrow. Then, I can find any apartment in the mission.
Sister Teh has asked that we consider shipping all the supplies out to the missonaries instead of having them carry boxes on their bike, buses, and trains. It's part of a bigger problem for us. The missionaries can order from me online. I put the orders together and then arrange for someone going that direction to deliver the supplies. However, each transfer makes the online system out of date. The last two transfers the database for ordering hasn't been updated so supplies are being pulled and sent to the missionaries' old areas. Tomorrow we will start working on that problem and then meet with President on Monday to get agreement on how to take care of the multiple issues.
Another long day. Spent two hours in the storage unit organizing and inventoring in addition to all the other excitement. We got home in the evening at 6:45.
November 16, 2016
I had to take two cars in to be serviced today and both service centers were about 8-10 miles away. The Assistants came to my rescue and drove one of the cars. We dropped the President's car off at the Luxgen (Taiwanese made car) at their service center and then drove another 6 km to the Ford dealer to get the Kuga serviced. We had no choice but to sit and wait while the cars were serviced. It was 4.5 hours later when we got back to the office.
While we were waiting I worked with the Assistants on using cell phones to send text messages of links. We are going to send links to videos on Mormon.org that have Chinese subscripts. We are testing to see if we can rekinldle interest with previous contacts. We will run several small blasts, with several different videos, and see what kind of results the texts generate.
The rest of the afternoon I spent catching up on the small stuff, mostly inventory and sales related. When we got home to stay for the evening it was 6:20.
The first week we were here on the island we went to a grocery store to pick up our initial load of groceries. While I was in the produce section a lady came up and asked me our Church's view of homosexuality. I gave her a brief synopsis, then she asked for scriptual references so I gave her several scriptures. I had never heard any more from her, until today. She called and we visited for about 10 minutes. She wants Sister Warner and me to come to her house in January and meet with her and her husband and some friends to talk about the scriptures. I invited her to come by the office and meet with us also. I wonder how this will progress?
November 15, 2016
Another long day. We got to work about 8 AM and got home in the evening about 7 PM. President Teh had interviews and training with new trainers and their companions so that brought a lot of traffic into the office. In the afternoon, I drove Sister Warner and two Chinese speaking Elders to two separate apartments to sign contracts. These are new apartments for missionaries moving out of their old ones because of contracts ending. All the contracts are written in Chinese characters so we can't read anything. It's interesting as we watch the process and learn that Chinese character writing is not good for expressing clear meanings. The negotiating people keep going back and forth trying to decide what the documents really say. Each negotiation lasted about 90 minutes and we didn't sign the last one because we couldn't agree on what the owner would provide. We were working with an agent on the second negotiation.
I'm keeping up on most of my small jobs in the office but can't get to the bigger ones. I need several blocks of time, of several hours each, to make headway on my bigger projects. Sister Warner still struggles with her computer skills, combined with so much of the paperwork she deals with is written with Chinese characters. We will always require help working with documents.
November 14, 2016
The health meter on my cell phone says I walked 17.89 miles last week. One lap around the Ikea store must have used up half of that mileage.
President Teh called last evening and said he had looked at the changes I had made in the office storage area. He said it will now affect our going home from the mission. He said we will need to stay and go home when they go home now. I told him we couldn't do that without our family's approval. He said he will take care of that little problem.
When days are really busy in the office I don't have much to write about. I took the president car to the dealer to be serviced. The people at the dealership said I should take the car back to the office and call their service department, which is located at a different location, and they would come pick up the car. By the time I got back to the office I had been gone over an hour. I had one of the Chinese speaking Elder's call to have the Service Department come get the car. The Service Department said they don't come pick up cars I needed to bring it in, and they could take it right now. I check with the Assistants and they could come and get me after the car was dropped off, the service department said it would take 3.5 hours to service the car. I called back to the service department to tell them we were coming. They informed us that they couldn't take the car until Wednesday morning. I understand a little better about Chinese fire drills now.
Sister Teh asked me to go to the Dakeng storage unit and pick up all the Christmas decorations. I took Sister Warner and we ventured off in search of the unit. I got close, then missed a turn, and was temporarily lost again. We found the unit with one quick phone call. There was too much stuff to put in the Ford Kuga we were driving. Later, the Assistants went by the storage unit, after their other errand, and brought in the rest of the Christmas decorations.
I worked on organizing the inventory and consolidating the items we have. I arranged to send seven boxes of English tracts to Taipei next Friday when they bring our new Toyota Corolla. Some of the tracts have been here since last century I think. We have almost no use for tracts in English.
For a family home evening activity we drilled holes in concrete walls and hung some drapes in our front room.
November 13, 2016
I think Grandma Warner, my dad's mother, is smiling in heaven as she watches the Primary class that we are teaching. She endured 5 years as my Sunday School teacher when no one else would teach the class because several of us seemed "unteachable." We only have 3 students, 2 boys and 1 girl, ages 8 and 9. The young lady is polite and participates well. The two young men are out of control. I kept my cool but may have felt better if I could have thrown them out the 3rd story window, at least once. Both young men come from families with fathers from the US and mothers from Taiwan. Although both mothers are members, neither is active in the Church. I wonder what kind of parenting skills are developed in families with only one child, or being raised as an only child. Whatever the case, I'm going to read up on how to teach 8-9 year-old boys successfully.
The primary only had 7 children today for the annual Primary Program, but I thought they did well. All the young people participated, and their songs sounded good.
I've believed for many years that the history recounted in the latter part of Helaman and first part of 3 Nephi were prophetic (telling the future) and well as historic (telling the past). I read on the news about people wanting to influence the Electoral College to vote for Hillary Clinton although they are pledged to Donald Trump because he won the most votes in their states. If a small group of dissatisfied people can change the law, and put their candidate into the winning position, then anarchy must shortly follow. When Satan rules, rationale thought is a seldom seen event.
November 12, 2016
We enjoyed sleeping in to almost 7:00 AM. We cleaned the apartment, removed bathroom fan covers and removed a decade of grime.
I've been reading the latter part of Alma and early Helaman the past few days and the events post-election protests have similarities. People are willing to go to great lengths to justify their lifestyles without considering the eternal consequences. I'm reminded of how the King-men didn't like the laws of the chief judge so, through violence and murder, they sought to take over the government.
Taiwan is a long distance from the US as far as politics are concerned. The populace here doesn't care about what happened in the US, only the expatriates. Most of them are in management positions and dependent on capitalism so they favor conservative government.
I talk with the young missionaries about their work, what works in finding new investigators, and what times during the day are less productive for them. I'm trying to find a proper place to use the Plan of Salvation banner. Nothing seems to fit yet so I'm not going to rush things.
In the afternoon, we ventured out to do some shopping, just Sister Warner and me. We were headed to Ikea and I thought I knew the way, but just in case I used the directions on the Maps App on my cell phone. We hadn't gone far when I disagreed with the GPS and kept going down what I thought was the correct road. It wasn't! Fortunately, the GPS kept track of us and when we became more obedient we ended up at the correct destination. The Ikea building is a large structure with two levels of parking underground and one at ground level. There are three more stories above the parking.
It was so crowded that they were metering cars in and out. We sat in a line of cars out on the street about 30 minutes waiting to get into the parking garage. When we got in we just went a short distance and were directed into a nice parking spot by the security people.
We bought some trays for the office and some supplies for our apartment. When we came out we couldn't find our car. We thought we were on the correct level but nothing looked right. Soon a security person came by on a motor scooter, recognizing that we looked bewildered, and asked if he could help. He asked for the license plate number—we didn't know it. We tried to describe the vehicle and our parking spot. He would drive off, circling two levels of parking and come back and ask us more question. I tried calling Elder Randolph and he wasn't sure of the plate number, but gave me his best guest, which turned out wrong. The parking garage was hot and stuffy. Finally, another security person came over and I drew a diagram for him where we had entered and parked. He looked at it for a minute, then said, you didn't park on this level of the parking garage, B1, you parked up on level one. He was correct. The land is not level where the building sits. We entered on ground level from the North side of the building into level 1. The entrance from the south side of the building enters at level B1, one floor down, but still ground level.
Enough adventure for one day. We told the GPS to take us home and it gave good directions, which we followed.
November 11, 2016
I spent the morning making file folders and trying to solve the problem of so many demands coming at me so quickly that I have trouble keeping track of them all. I get requests for orders from 9 zones and part of each request is for something we don't have in stock, so I have to keep track of who wants what and get it ordered. I was able to find a source for some items by calling the Taipei mission today. I also made a contact in the service center and she ordered a Book of Mormon in Tamil.
In the afternoon we hauled boxes of supplies out to the storage garage and brought some items back in with us. I can now find the storage garage, Dakeng, without a guide now. I still need to spend half a day there straightening and inventorying. Lots of lifting and moving.
We went to a baptism in the evening and I gave a talk on Baptism. We got home about 9:30: just in time for supper☺
After the baptism, while we were visiting and refreshments were being served, I noticed a toddler who had recently learned to walk. She was standing in the floor with a cookie in each hand, and bent over at the waist with her face against the floor. I thought that was a strange position, in addition to marveling that she could bend over so far. Finally, she dropped one of the cookies and stood up to reveal the reason for the strange stance. She had dropped her pacifier on the floor and was trying to pick it up with her mouth so she didn't lose her cookies. Funny.
November 10, 2016
My days are busy but I don't have lots to put in the journal. I pulled orders for the zones and straightened the cabinet with the water filter parts in it. I've got to put a big order in, enough for 100 apartments to change a lot of filters next year, and need everything organized and identified so I can do the order.
We had a district meeting today and studied Preach My Gospel for an hour. I had trouble staying awake and was glad when it was time for me to leave and go meet Stanley from Taipei. He brought our new Hyundai van and I had to receive it. They took the old VW van back to Taipei to sell it. We couldn't find the registration papers for the old van and it was upsetting to me not to know enough to help. Stanley finally left and went back to Taipei and will get the registration problem solved there.
The issue with the registration papers put a lot of pressure on me to get my area organized in terms of filing and record keeping.
I was tired when I got home for the evening. We put in 10 hours at the office today.
November 9, 2016
I was able to complete another report today so I'm getting settled in better. We cleaned up the new storage area and it looked nice. We can store more materials than we first envisioned. In the midst of all the cleaning, another 13 boxes of Chinese Books of Mormon were delivered. About the same time, Sister Teh sent a text requesting many books because some of the missionaries have run out. I ordered another 20 cases today.
We were happy the election ended.
In the late afternoon, I went with the Assistants over to the storage unit and delivered some of the boxes from the big delivery yesterday and picked up boxes and the seats for the van we are losing tomorrow. Earlier today I talked with Stanley, the person delivering the new van tomorrow, and asked if he would take some supplies, that we don't need, back to the big warehouse in Taipei. He said as long as we don't want credit back he would take them. I'm sending about 10 cases of books with him tomorrow. Most were Books of Mormon for languages we seldom must teach: Portuguese, Indonesian, simplified Chinese, Tagalog, Mongolian. They have accumulated over the years and been stored. It will be nice to free up the shelf space.
November 8, 2016
Today seemed normal at first. I completed my Key Indicator report, amid many disruptions, and determined the logic behind the various key strokes. Once I got the logic down, I could then set up the folders necessary to save the compiled data.
Things started to get wild just before lunch. We learned that the printer was bringing about 40 boxes of printed supplies about 2:00 PM. No one was sure what all they were bringing and storage was a big concern for me. About that time, the Taipei Service Center called and said they would be delivering our new van on Thursday afternoon. We have a lot of dust covered boxes to move as I set up better storage in the office building and we decided we wanted to haul the dirty stuff in the old van. The Assistants jumped in to help me get the materials hauled and purchase some new shelves.
Blair had responded to our journal and shared some inventory control ideas that were helpful. About half of our inventory is stored in a garage several miles from the mission office. It is inconvenient to get to and difficult to have good organization of materials. I wanted the backup inventory close where I can easily see it. Today, the printer's delivery, was an excellent example of the problems of no inventory control. I had ordered a 5000 copies of a form because we could not find any of the forms. Today, as they were bringing supplies to the office from the storage area they brought 5000 copies of the form. No one knew they were there. The 40 boxes the printer brought today all contained the same cards; 50 cases, each containing 10 boxes of 1000 each. What should have been ordered was 50 boxes of 1000 each. We have a 10-year supply. I told the Elder's, in jest, that we needed that that many because there are 23 million unbaptized people on this island.
November 7, 2016
It was a good day in the office and a great teaching day for me. We arrived early and then I went with the Assistants to visit some Sister missionaries in Yuanlin. Their dryer wasn't blowing any air so their clothes didn't dry. I showed the Elders how to replace a broken fan belt on the dryer. I wanted them to see how simple it was so we can then let Zone and District leaders keep a supply of the belts and change them quickly when one breaks. The Sister's hadn't been able to dry clothes since last week and were grateful to get their dryer working again. It was a good time, as we were driving home afterwards, to talk about how good service to our missionaries helps them feel that the leadership of the mission cares about them.
Our conversation shifted as to why some missionaries don't work very hard and get baptisms handed to them and others labor diligently and don't have baptisms. The discussion was about having bad feelings as a good missionary because less valiant missionaries were having the success. We talked about bad feelings coming because our focus turned internal, to ourselves, versus acknowledging that all people have their agency. Often, we are just planting seeds that take multiple times of being nourished before they finally sprout. It was a good discussion our how we feel when we are thinking about ourselves versus when we are thinking of others.
I was trying to print the reports on supplies being ordered for the Zones but couldn't find the forms on the computer. I was shown the program the first week we were in the office but couldn't remember how to retrieve it. I called Elder Pothier and he couldn't remember either. I finally called his predecessor, Elder Sims, and he walked me through the creation of the report.
Sister Warner is also becoming more comfortable in her role in the office. She had four missionaries in for medical diagnosis, in various hospitals, today. We send the missionaries to the hospitals rather than trying to find clinics. The hospitals will refer us to clinics when needed. The medical system is quite efficient and modern here.
November 6, 2016
We attended Church today. It was Fast Meeting, and people were slow in getting up to bear their testimonies, but I decided not to because I have spoken in the branch 3 of the last 5 Sundays. Afterwards, I went to the Primary program practice to help with the reverence program. There were only 7 children in attendance. I stayed with two 9-year-old boys who were having reverence problems. (I thought the whole organization was conducive to lots of noise and disruption.) I decided I would like the rowdy boys even though they were older than the class we are assigned to teach. The practice for next week's program was two hours long by the clock, but closer to two days on the patience scale.
After the meeting on Fast Sunday the branch always has a potluck dinner. While we were getting ready for the luncheon the Primary President came up to Sister Warner and me and said there was to change to our Primary teaching assignment and to have us teach the 9-year-old class—3 boys and 1 girl. I must have looked like I was enjoying the experience☺
The faucet that isn't used now on the new washer, the new one only has a hose connection for cold water, has leaked since the new washer was installed. I tried to tighten it last night and it only caused it to leak worse. Fortunately, although it gets the floor on the porch wet, there is a drain for the water to go down. After church today, Elder Randolph and I went looking for a hose bib, with valves on it, so I could shut off the drip. It took three stops before we found one.
We spent over 2 hours at the office Sunday evening so Sister Warner could work with Elder Starkweather on baptismal reports. While they were doing that, I labeled pictures until I ran out of the ability to sit still any longer.
November 5, 2016
After breakfast, we drove up to Sun Moon Lake. The lake is a turquoise blue, nestled in among steep mountains. The land alongside the lake is populated in areas where there is enough flat land to build on. I thought the setting was pretty, but the usual smog in the air detracts from the beauty.
The government has built a cable car system called the Sun Moon Ropeway. It goes up over one mountain and down into an adjacent valley. There is meets another cable car system that goes to the aboriginal culture village. We took the two cable car systems and spent several hours in the village. The aboriginal culture was partly in existence until about the 1960 when the refuges for communism came over from China. There were lots of similarities between the traditions of these people and what we saw in Vanuatu. President Teh remarked about commonalities between the Taiwanese mountain people and those from the Philippines.
We walked much more than I'm used to today, and I was happy to get home and off my feet for a while.
November 4, 2016
I thought we were going to replace the broken dryer belt on our way to Sun Moon lake but we decided it was too far out of the way, so we postponed that part of the trip until Monday. We drove to Puli with the Randolph's. We were joined in Puli by the Tehs, Chens 1, Chens 2, and the Fergusons. After lunch we went to the Puli chapel and held the training portion of our senior couples conference. Sister Warner spoke about missionary health for seniors, and I introduced the new phone interviews for apartment inspections. I did my presentation as a discussion and had lots of good comments. I confirmed that Sister Teh had divided the 9 zone inspections among four senior couples and I only ended up with one zone. I pushed the idea that our role as 'inspectors' is to teach cleanliness that will last a lifetime with the missionaries. It seems to go over well.
One of the Chinese couples, Chen 2, do not speak English, but I was particularly impressed with how I felt the spirit when she gave her presentation even though I couldn't understand her language and the translation wasn't good enough to follow along. They are live-at-home missionaries in Taiwan. He is a Stake Patriarch.
The training session lasted until about 6:00 PM. We went to the resort where we were staying and ate dinner together. It has become obvious to me that the society in which we are currently living has much different eating preferences to ours. The Chinese and Filipino's like the fat in meat. One of the meat dishes was pork leg. The kitchen people cut the leg cross-ways and cook it. The piece of meat is essentially skin, two small bones, some tendon, layers of fat, and very little meat. Those who were used to a high fat diet thought it was wonderful. I thought it tasted like a big piece of fat. Right now I hope I don't have to adjust to liking the fat.
November 3, 2016
I had more success today, and with the help of Global Services IT, in Salt Lake, and Stanley, in Taipei, I was able to finish my car inspections. I had to reset the password to be able to get into the program.
Sister Warner is coming along in her training but has difficulties following her trainer because he doesn't understand how to help her learn. Too many computer games before he came on his mission. She's a trooper though and keeps trying.
We went to Ikea and bought three office chairs today. I don't care for the store because it takes so long to get out of the store once you get in.
I met with President Teh and Elder Randolph for a few minutes and finalized the program for the couple's conference tomorrow. He asked me to conduct so I made a copy of the program and got his approval.
A Sister called to say their dryer wasn't drying their clothes. Because of my experience with our dryer I could ask the right questions and determine that the fan belt was broken. We will stop by tomorrow morning on our way to Sun Moon Lake and repair the dryer.
The washer delivery people came about 7:00 PM to deliver our new washer. We were concerned that they may not speak English. Fortunately, both men spoke enough that we could communicate. I was impressed at their care and concern. The washer only takes cold water, but when they tried to remove the old cold water hose the faucet broke. One of the repairman went out and bought another faucet, they had the water turned off in our building for a short time, and they installed the new faucet. An excellent example of giving people more than what they expect.
November 2, 2016
We continue in the transition into our roles in the office. I couldn't run the big report I had due today because something got corrupted in the pathway. The Elder who had my job before Elder Pothier came in remotely and solved the problem and did the report. It took him about 5 minutes to build the report; it would have taken me at least 30. I didn't have time to resolve the auto inspection software. I will call Hong Kong in the morning to see if we can get into the program.
The weather has cooled considerably. High today was about 79 and low about 69. Still good short-sleeve weather.
Sister Warner has a lot more detailed work than I do and seems to have more than she can do much of the time. We are looking for things she can hand off to me because I'm almost caught up and need to find more to do sometimes. It's all part of the problems mentioned yesterday with how the previous office Elders split up the work.
I drove for the first time today. One of the districts needed a new fax machine so I drove down and met them at the store and bought one. A little later we found a projection screen I had been tasked to buy, so I drove to the store and we bought it. It turned out that it was across the street from where we went earlier. We have a missionary, Elder Huang, who is visa-waiting to go to South Africa and he is assigned to work with Elder Starkweather. He already has graduated from college with a degree in Electrical Engineering. He had lived in Logan, Utah from about ages 7 to 11 and joined the Church there. His English is wonderful, he's mature, and sharp. I have him help me talk with people who don't speak English. Today, he found the projection screen, checked on an order for a new washing machine for us, and ordered an air conditioner for one of the apartments. I will have him to lean on for the next month.
I spent the evening in the apartment working on my presentation for the Couples Conference this weekend. I have 20 minutes to talk about the telephone apartment inspections. I'm going to teach that these inspections are teaching opportunities for the people doing the inspections. They need to look at themselves as teachers and use good teaching techniques.
November 1, 2016
We cancelled our trip to Taipei today because we felt we needed to spend the time in the office. I finished my major Key Indicators report for the first time without any help. It took me awhile to get my head around the logic behind the key strokes, then it went smooth.
It was a transition day for Elder Starkweather leaving the office. He doesn't want to leave and go back into the field. He's not a real social person and spent lots of days playing computer games before his mission so social interactions are difficult for him.
I'm feeling quite restive about my role in the office. I can see many things that need to be taken care of, but I'm having trouble finding the ways to go after them. The previous office Elders mixed roles with each other and so the duties chart doesn't work. Part of the issue is one of the Elders has a problem trusting others' work and felt he must do everything himself. While his motives were honorable, his actions have been disruptive to a smooth operation. It ended up that no one was in charge. As the week progresses, I hope to bring more order to our side of the room. Elder and Sister Randolph take care of the financial and secretarial duties so they have well defined duties.
I worked some on inventory control today but don't have a good solution yet. It doesn't need to be labor intensive, but it does need to keep us from running out of supplies.
The wind blew today, but not hard, and we saw some hazy blue sky overhead.
October 31, 2016
Today was transfer day, and the office was full of missionaries most of the day. It was difficult to get much work done, but I stayed busy. In the late morning, an email came in from the mother of a recently arriving missionary. The apartment she and her companion moved into had been vacant for a few months and was damaged by the recent big storm. A window had been left open when the apartment was vacated and the apartment is on the 10th floor. Basically, the apartment was quite trashed.
I talked with the senior companion about the condition of the apartment before we received the email from the mother. The Sisters had spent much of the day yesterday cleaning and trying to get the apartment into livable conditions. Apparently, the new missionary painted a very negative picture of the proposed living conditions, which then caused the mother to write to President Teh. I saw the letter when I checked my emails (there are three accounts that come in together on Outlook and two of them are mine). I called the Sr companion again and asked more questions about the condition of the apartment, then called Elder and Sister Ferguson, the senior couple living in that area. They went over to the apartment and did a detail inspection and reported back to me on the conditions. I worked out a plan with them and the Sisters wherein we will ask the landlord to come in and fix the apartment quickly. Of particular concern is the mold growing on many wood surfaces. If the landlord will respond quickly we will not start looking for another apartment, rather we will look for short-term housing for the Sisters.
I met twice with President Teh apprising him of the situation. We ended with we will immediately find temporary housing for the Sisters, and then, depending on the landlord's response, decide where to go from there.
Monday is always the big report day and I had intended to stay late and complete the Key Indicators report so the Zone and District Leaders would have their information for their meetings tomorrow morning. However, we are housing two Elders tonight who leave for home in the morning. Randolph's were going to house them but he must take a visa-hold missionary to Taipei early in the morning and the two Elders couldn't be alone with his wife after he left. The added assignment precluded my doing the report tonight.
We decided today that we won't go to Taipei with the group tomorrow. We think it's best for us to stay here.
October 30, 2016
We attended the Branch for church today and Sister Warner and I were the Sacrament Meeting speakers. She gave a great talk about prayers of faith. I decided this morning, before church, that I would change my talk. It was a wrong choice as far as the results I ended up getting. My talk turned into a ramble, and as I realized I was doing a poor job I tried to make some corrections and it seemed to go worse. I feel bad because I know I can do better.
The Taiwan English Branch is a different experience. We have about 50 people present when the meeting began. Most are from the US, but some are from the Philippine's, some from Europe, and at least one from Australia. The administrative approach is much more laid-back than I'm use to having. In some ways it seems disorganized, but it still functions. I participate to do my part.
Beginning next week we will be in Primary during the class periods so I won't be in the Gospel Doctrine or Melchizedek Priesthood class.
One of the things that continue to impress me is the use of stainless steel in some much of the infrastructure in Taiwan. Most of the screen doors are a heavy, reinforced stainless steel. On the sidewalks, there are barricades that you can walk through but bicycles and motor scooters cannot go through, and they are made of stainless. Bars over porches, coverings on many types, decorations, and many more things are all stainless.
In some ways I feel caught in two competing worlds. I can see things here that I can do that I really think can help in missionary work. But I don't seem to have time because once you start one of these bigger projects it takes time and effort to make them happen. Time is limited because I'm just becoming familiar with my duties at the office and beginning tomorrow I'm essentially on my own. Second, big projects like starting the Plan of Salvation banner presentation will take a lot of evening work and my stamina goes home much earlier than it did several years ago. I think after this coming week I will try to expand my contributions to the mission—just don't know what yet.
October 29, 2016
We took part of our P-day and drove up into the mountain with the Randolph's. The steep mountains and lust vegetation reminded me of the other Pacific Islands we have been on. The only disappointing part of the trip is there is some much air pollution here that visibility is less than a mile, even when we were up several thousand feet elevation. I think most of the pollution comes down from mainland China.
When we got out of the population areas and into the broad river valleys we saw wonderful amounts of agriculture. Neat, carefully laid-out farms, devoid of weeds, and beautifully spaced rows and plants. I recognized some of the crops like bananas, tea, papaya, tomatoes, cabbage, rice, and kiwi. Many of the plants I didn't recognize.
We returned home and I worked on cleaning up and labelling pictures on my computer. I have lots to do but I'm learning some of the software. I haven't even tried to edit individual photos. That will come later.
We went back to the office at 6:00 PM and Sister Warner worked with Elder Starkweather on cleaning up and labelling files. Shortly after I arrived Elder Porter, the remaining Assistant, asked me what I thought he could do to make a difference. He didn't want to just do reports and run errands. He wanted to be a very effective missionary. We visited for a few minutes then ideas, some of which came from a conversation with President Teh yesterday, about using electronic media more effectively. Elder Pothier had joined us. I suggested that we could do a better job of staying in touch with our investigators using our cell phones. The Taiwanese all have smart phones. I suggested sending texts to the investigators, between visits, with links to selected videos on Mormon.org. The missionaries do not have very good cell phones but they can send and receive texts. Elder Porter tested the method by sending me links to two different videos. I could connect and watch both. Both missionaries plan to test the idea this coming week. I will monitor their success.
The text that Doc Warner's sent out this week got me to thinking about ways to be better missionaries.
Later in the conversation we talked about teaching skills and asking good questions. I'm grateful for the inspiration that is such a prevalent part of being missionaries.
October 28, 2016
The three Elders we have had staying with us joined their new companions today so we are empty nesters again. We will have two Elders who are going home staying with us next Monday night. On Tuesday morning, we are scheduled to go to Taipei with them, President and Sister Teh, and the Randolph's. We will attend the temple and then return home in the evening. We will take a bus up and back.
The office was really busy in the afternoon with all the new missionaries and their companions coming in for supplies and getting ready to go into the field.
October 27, 2016
We had to get up about 5:30 AM to get the Elders to their physical exercise on time. Fortunately, we didn't have to join them.
Busy in the office all day. We did a short presentation to the new missionaries on our roles and ate lunch with them in the mission home.
October 26, 2016
I received permission today to start doing telephone inspections of apartments in the mission, and to present the program to the other Senior Couples who are also doing some inspections. I will make a presentation at the couple conference next week. Later today I had a long conversation with Elder Ferguson about the inspections. He has been doing onsite inspections in the southern part of the mission and somehow learned what I have been testing. We discussed concepts and how to keep the inspections as a positive experience for the missionaries.
We had lunch at the President's home today. Three of the four missionaries working in the office will be transferring out this weekend, and it was also a birthday party for Sister Randolph. President told us that he is going to move Elder Starkweather, Sister Warner's trainer, from the office but he will stay in the same apartment. That will make him available to continue helping on an as needed basis.
Our Sister Missionary who has been having ear and eye problems was diagnosed today with a bacterial infection of the cornea. She will be spending two days in the hospital down in the southern part of the mission. The doctor wants her in the hospital so they can treat the eye every hour around the clock. We are grateful to have a member nurse down there to help. The member's husband is the top US official in the US Consulate there so they have great connections with medical people.
The package that Lisa sent arrived to day. I now have 3 jars of Miracle Whip on hand, plus hair clippers and some Probiotics. Life is good.
For lunch today we had pumpkin pie and some ice cream. I ate little of the ice cream—it must have been heavy in lactose because my system went into heavy rejection. I left the office an hour early and walked home to lay down. Sister Warner stayed behind to work. When I got to the apartment house a repairman was working on the elevator. I walked up the seven stories to our apartment in the suffocating heat of the stairwell. After an hour nap, I felt better.
October 25, 2016
We are getting busy at work now. I went with Elder Porter, one of the assistants, this morning and inspected the 4 apartments that I had previously call and inspected over the phone. We needed a comparison between what I heard and what I saw. Basically, I learned that the missionaries had answered my questions accurately, but I need to change some of the questions. Several of the apartments have two bathrooms and I only asked about one. I need to ask with the bathroom faucets are bright and shiny or if they are dull and dirty. All four apartments had pulled their fridges out and cleaned under them in the P-day cleaning yesterday. As expected the Sisters are much tidier than the Elders. The inspections took about 2.5 hours, including travel.
Two people from the Service Center in Taipei came and gave us training today. Mostly it was in Sister Warner's area but they were able to lighten the load she and I were expected to carry, and answered many of Sister Warner's questions. After the one-on-one meeting President and Sister Teh held a general meeting with all of us, including the two ladies from Taipei. It was a question and answer session. I was impressed with his ability to clearly identify the issues or problems. I like working with him.
Later in the afternoon we had a staff meeting. It was a little longer than I had hoped but worked well for coordination purposes. We have 13 new missionaries coming tomorrow evening and all of us have a role in getting them settled in. Sister Warner and I will do short presentations at mid-day on Thursday in addition to housing 4 of the Elders at night. We are losing 6 missionaries who are finishing their missions so the net result is an increase in the number of missionaries. We must open 4 new apartments. I will work on that tomorrow.
I'm working on a talk for the baptism on Friday; a talk for sacrament meeting Sunday; and arranging trips to Taipei next Tuesday and to Sun Moon Lake next Friday and Saturday for a Senior Couples conference.
Tuesdays are always busy anyway because the Key Indicators must be run and distributed. That process takes me the better part of 2 hours.
We got home just before 6:30 PM. We had gone to the office early this morning, arriving at 7:30 AM, so Sister Warner could take a Sister Missionary to meet with a psychiatrist.
October 24, 2016
Last evening, after I had sent last week's journal, we started working on our talks for Sacrament Meeting next Sunday. Our subject is "Prayer of Faith." The texts started coming in from the mission home and before long we had multiple activities scheduled for this coming week. One big one is a mental health issue with a Sister missionary that Sister Warner must address this coming week. Most of the other assignments pertain to the new missionaries who will arrive this week. I think we get about 3 medical calls a day, but fortunately most of them can be handled over the phone.
Each missionary in the mission is supposed to have a 72-hour kit. The mission provides them initially, and when some of the food stuffs approach their expiration date the we buy new food. The missionaries eat that which is about to expire. The missionaries pay for the food they eat and that covers replacement costs. We spent about 5 hours today buying groceries and supplies to fill 20 new kits which will make sure every missionary has one. I'm learning my way around and can find Costco, but had to use my Maps app to find the Carrefour store.
Tomorrow we will assemble the new packs. In addition, we have someone coming from Taipei to train us in some of our duties. Meanwhile, I will go to the 4 apartments I did the phone surveys with to compare what I see versus what they reported on the survey. I think the missionaries were honest with me and the phone findings will closely relate to what I observe.
As I was working on my talk for this coming Sunday I saw D&C 4 a little differently than I have in the past. Previously, the statements of the attributes that qualify us for the work were read as somewhat of requirements. Today, I realized that these traits are the results of godly service. We grow in all these categories as we faithfully serve.
October 23, 2016
During the morning, we did a little straightening in the apartment and I worked on journal entries. Church begins at noon. When we factor in travel, we leave the apartment at 11 AM and don't get back home until about 4 PM, every Sunday is a fast Sunday of sorts.
We went to the branch this morning with Randolph's. We find the people friendly and accepting but a little stressed. The branch members come from long distances around Taichung which makes visiting the homes of members, as Visiting or Home teachers, difficult. Many of the husbands travel regularly with their employment which contributes some to the feelings of instability. Finally, we are expatriates and not in our familiar home surroundings so that in and of itself creates anxiety.
After Priesthood meeting today a Chinese gentleman, about 60 years old, asked me to tell him about Home Teaching. He's been less-active for some time. He wanted to know what it was and why we do it. I spent about 20 minutes with him, opened the Gospel Library app, and explained the why's and how's of the program. I enjoyed to opportunity to help someone learn more about how caring the Church is for its members.
October 22, 2016
Today was P-day so we spent all morning cleaning and preparing for the 4 Elders who are coming new from the west on Wednesday. They will stay with us on Wednesday and Thursday evenings. All we do is house them. Meals and training take place at the mission home.
In the early afternoon, we received a phone call from a Sister who had severe stomach pain during the night and was still having lots of discomfort. We ate lunch and then met her at the office and Sister Warner walked across the street to the hospital with her. They were at the hospital for 4.5 hours. I stayed in the office and studied and read. The diagnosis of the sick sister was probably a ruptured ovarian cyst. She went back to apartment but Sister Warner will take her back to the Dr. on Monday.
I did 3 telephone apartment inspections this morning to get a large sample size. I then summarized my data and gave a report to President and Sister Teh. When I would identify something that needed to improve the missionaries would remark, without my saying anything, that they would make sure the problem got fixed. I kept the conversation positive and didn't threaten any punitive actions. It's next to impossible to do visits to check the apartments without taking a lot of time. Namely, there is no place to park a car if we drove to the apartments so we would have to take taxis. Because we only have a 2 hour window in the morning when we know they would be home we would be limited to about 2 inspections a day. Even if we divide up the apartments 3 ways it would take several weeks to complete the inspections, not counting follow-ups. I'm hoping President will give us the go-ahead.
I'm reading Neal A. Maxwell's book, "We Will Prove Them Herewith" and enjoying the content. He spends a lot of time on how we are preparing for the next life.
October 21, 2016
We are becoming better at doing our jobs in terms of knowing where on the computer the various files are found. It helps when someone calls, or comes in, and asks for specific information. I feel like I've scored a victory when I can find their answer.
Elder Pothier did a lot of organizing and doing inventory on supplies last evening. Today he and I went to the storage unit and inventoried and organized all of the supplies that are there. It was hot and muggy but we got the job done. I came back to the office and started entering the data into the spreadsheet and then realized all of our inventory counts at the office are for items. The inventory from the storage unit is in cases. Now I must learn how many books, pamphlets, etc., come in a case. I couldn't find the information online so I have email the Church Store for help. I'm not sure the inventory system is practical as currently designed, too much effort to keep inventories updated.
When the President holds training meetings with the mission leaders it creates a lot of congestion and traffic in the office. We are learning to plan on that happening and to be available and not too busy.
We received the first rain this afternoon that we have seen while in Taiwan. It came as showers of fairly heavy rain. We only have one umbrella so I let Sister Warner take it and I grabbed one from outside the office door. The first two I grabbed would not stay open so I took the third. The last one had about three broken spokes and only covered a small portion of my body. I only got wet in spots on the way home. Tomorrow we will buy another good one.
I called the Church office building today and got help from the IT department in setting up an email account to make sure I get all of the Vehicle Coordinator emails. I also got a call from Salt Lake to check on some bad CO monitors.
October 20, 2016
I did my first telephone apartment inspection today. I did an apartment with 4 sister missionaries. I thought they responded well and reported honestly. I will do several more tomorrow including some Elders and then be ready to report to Sister Teh.
We filled monthly orders for supplies for all 9 zones. The process is fairly smooth but there is no inventory control system. There is a spreadsheet that will work but hasn't been used for 20 months because keeping it current is labor intensive. I kept waiting for Elder Pothier to have a system and finally came to the conclusion that I would take charge and tell him how I want to keep the inventory current when I take over. He said he will work with me but I recognize that I have a challenge ahead of me.
October 19, 2016
Missionary work is different here than it has been on the other three missions because of the inability to knock on doors, and few referrals are given. Most of the people live in large apartment buildings and the entrances all have guards so missionaries are unable to go into the complexes. They do a lot of engaging people in conversations on the street. Baptisms are slow, but steady. The mission baptized 30 people last month.
We spent most of the day learning how to do reports and process papers.
We came home after work, ate dinner, and then returned to the chapel adjacent to the mission office. The missionaries teach English classes every Tuesday evening in most of the LDS chapels and we wanted to see if there was a possibility to incorporate the banner presentation into the classes. The missionaries teach three classes: one for beginners, one intermediate, and one advanced. Both Sister Warner and I attended all three classes but we did it independent of each other and then met to discuss our findings. We agreed that the banner presentation would not work well in the English class environment. However, as I was standing in the hall waiting for Sister Warner and member came up and started talking with me. I explained why we were there and what we hoped to accomplish. It turned out that he is the bishop of one of the wards. I took him next door, to the mission office, and showed him the banner and did a mini presentation for him. After I finished he said he wants to do the presentations in his ward and will give us all the help we need to set it up. We talked about the need to convert the text to Chinese characters and he will help the missionaries get the correct characters. He will let us test the presentations (train the sisters) on him and his ward leaders before we go live.
When we first started developing the Plan of Salvation presentation in Tahiti we had a vision of what we wanted to do. The final product was a long way from our vision. Already our vision for teaching in Taiwan is taking some unexpected, and inspired turns. President Teh told me when we first arrived that the wards had a lot of less active people and needed help in their reactivation programs. I'm excited about the prospects after tonight's meeting.
October 18, 2016
We were in zone conference all day. Having two General Authorities doing the instructing was amazing. The presentation skills and the quality of the message was very good. The entire presentation was training on better usage of the Book of Mormon in proselyting. I was able to add some of our experience in texting to the general conversation.
Another insight I gained came from reading on page 146 in Preach My Gospel. When setting goals I have long been aware that you needed to measure things you can control. Setting a goal for baptisms is correct but you can't measure you progress toward the goal. You either get the baptisms or you don't. However, a close reading of PGM, page 146 identifies some great clarifying principles. In the second sentence on the page it talks about transforming the hopes of goals (baptisms) into action (things you can measure such as number of contacts, Books of Mormon placed, etc.). Two paragraphs below is a quote of M. Russell Ballard which says we should "master the techniques of living to reach our goals." Taken together it gives clarity to goal settle. We should be able to measure the actions and techniques that we set to reach our ultimate goals.
Elder Funk talked about the challenges of the Church in the Asia area. One half of the world's population lives in the area. To serve as a base for spreading the Gospel among this vast population there are only 35 stakes, and 17 of those are in Taiwan. They don't discuss the growth and activity of the Church in mainland China to avoid conflicts or draw attention from government officials.
The weather continues hot and muggy.
I spent several hours in the evening working on the questions for phone inspections of apartments. I recognize that keeping things positive and not being punitive is important to getting accurate answers. Several apartments have volunteered to be phone inspected and the missionaries seem to like the concept.
October 17, 2016
Tender mercies follow peaceful feelings concerning our being in Taiwan. About a week ago, as we were learning our responsibilities and feeling overwhelmed because of the language barrier, I had great feelings of comfort that all things would be OK. Sister Warner, whose Recorder assignment requires much more Mandarin translation than mine, was particularly upset at the daunting task she faced in trying to understand all the bills and contracts. Today she talked with Taipei Service Center and they were able to explain the invoicing documents and almost everyone has some kind of numerical ID that she can read and look up on the computer. She doesn't need to learn to read Chinese characters. Additionally, the Service Center agreed to enter the baptismal and confirmation records into the Church record system. Sister Warner doesn't need to read those forms either; all she needs to do is scan and attach the records to emails which are sent to Taipei Service Center. It's been a good day.
I had sent out a request for suggestions on doing telephone inspections of missionary apartments. Several responses came back and some of the information was helpful. I met in the afternoon with Sister Teh and explained my ideas to her. She was a little hesitant at first. I asked her to role play with me, she being the missionary in the being inspected by phone. After about 2 minutes she said to go ahead and test the ideas, that it might work. Later President said to test the idea on several apartments. I'll pick several that are close so we can do the telephone interview then immediately go do an onsite visit to the same apartment.
We were interviewed by Elder Funk, Asia Area President, for about 20 minutes. It was a pleasant, relaxed visit. He said he had only met one other couple who had served more than 4 missions. Later we ate dinner at the mission home. Present were President and Sister Funk, President and Sister Teh, and 3 senior couples: Randolph's, Chen's, and Warner's. The conversation was light with lots of funny stories. Elder Funk gave us an overview of the Church in the Asia Area. He was mission president in India from 2010 to 2013. He said that during the time he was mission president if the missionaries-per-population was the same in North America as it was in India at that time, there would have been 13 missionaries in the United States. It gave us a little different perspective. He said that in Hong Kong where he lives in some of the 80 story high-rise apartment buildings the population density is one person per square foot of ground space.
We went shopping during our lunch hour to buy some toys to help entertain the children in our Sunbeam class. After shopping we went down to the food level to eat lunch. We ate at a place where they cook the food right in front of you. The cook watched us struggle with our chopsticks. He then left and went into a back room and returned carrying two forks. We are not very good or efficient with chopsticks yet.
October 16, 2016
We attended church at the Taichung English Branch with the other expatriate members living in the area. I think we had about 40 people in attendance. There is a group of 6-8 young women from the US who have graduated from college and are working here as English teachers on 6-month contracts. Many of the families are here working as executives for the State Department, Nike, Micron, Google and others. (I did a little marketing for DW when I introduced myself in Priesthood meeting.) The branch seems to work smoothly but we did learn that many of the men travel around Asia frequently.
Both Sister Warner and I bore our testimonies in Fast and Testimony meeting today. Later, a member of the branch presidency called us into the office and extend the call to be the Sunbeam teachers for 4 children. He also asked us to speak in Sacrament meeting on October 30th. Our subject is: "Prayer of Faith."
After the block meetings the branch does a pot-luck dinner they call "break the fast." I'd prefer "close the fast" if I were naming it. It gave us a chance to meet and visit with some of the members. I was particularly drawn to Bob Dewitt and his wife. They live in the south of the island and attend church there normally but they came in for the celebration last evening. He works for the State Department Foreign Embassy. She is a nurse and was helpful to Sister Warner in identifying medical resources for the young missionaries. We wish we had met her earlier as we had a sister missionary with ear pain on Friday and we think the infection caused her eardrum to rupture. We had sent her to and ENT and he cleaned her ear out but apparently missed the infection.
While I was typing this entry we received a text from President Teh inviting us to dinner tomorrow evening at the mission home. The Area President, Elder Funk, will be there beginning a mission tour. It's nice to feel like an integral part of the mission.
October 15, 2016
We spent several hours this morning cleaning our apartment. There is a fine black dust that covers and settles on all flat surfaces. I suspect it's particulate matter from the industrial pollution in the air. I vacuumed it, then mopped.
Tonight we attended the celebration of 60 years since the first 4 missionaries came to Taiwan, 1956. Today there are 17 stakes and 107 wards and branches. In the Hong Kong Area there are 35 stakes so Taiwan has about half of the stakes.
The presentation in the celebration was a play about the growth of the Church here. As the program proceeded I reminisced about how from humble beginnings it only takes a few years for the gospel to spread. The story is told and retold throughout the world year-after-year. A few people join the Church, are faithful in their covenants, and others quickly follow. I thought about the simple contributions we have made throughout our lives and someday we will have a true picture of how we were instruments in the hands of God. We see such a small part of the overall plan of gathering Israel.
October 14, 2016
It seems strange that we are in October, almost half through in fact.
We took food to Elder Starkweather and his companion at the hospital on our way to work this morning. Sister Warner pulled off a slick meal. She bought a box of cereal and a pint of milk, added some apple slices, and left him to fix his own. The elders took care of the noon meal. We are impressed with how carefully they take care of each other. Elder Starkweather was released from the hospital about 3:00 PM just about 36 hours after the surgery. We walked from the hospital across the street to the office and his apartment which is upstairs. He came down to the office several times afterwards. What a quick recovery.
I'm doing mostly make-work projects that I can see need to be done. Elder Pothier will be back to continue my training on Monday. I read more in the manual and found files on the computer. Sister Warner, in her brave way, now answers the phones even though most of the callers do not speak English.
We went shopping during the lunch break and bought a mop bucket. It has a mechanism where it spins the water out of the mop so it doesn't need to be rung out. She wanted one that she didn't need to touch the mop part with her hands.
The former mission president (just released this summer) came by with his wife and her mother. They are here for the 60th anniversary celebration of the Church coming to Taiwan. The festivities are tomorrow. Randolph's arranged for them to bring a small bottle of Miracle Whip to me.
October 13, 2016
Our missionary who had his appendix removed is doing better today. He will be released from the hospital tomorrow. We visited him three times throughout the day and took his companion some lunch. The zone leaders came by and spent time with him so his companion could get ready for the day.
Elder Randolph took us to another grocery story and we bought more groceries. He's very good at taking us places and making sure we have what we need. After work we walked to the local grocery store to buy some breakfast cereal for the missionary who had his appendix out. The hospital does not feed the patients.
We struggle some to keep busy because there is so much we don't know and the Elder Starkweather had his appendix out and Elder Pothier is his companion and stays with him so we are mostly on our own.
President Teh announced today that he wants to hold a couples conference on November 4 & 5 at the Sun Moon Lake. I've got to secure reservations tomorrow.
Temperatures range from about 73 at night up to 87 during the daytime. There is always an inversion or haze. Most of the time we can't see the mountains even though they are only a couple of miles away.
October 12, 2016
The water heater wouldn't turn on today (it's an on-demand type) for Sister Warner. I changed the D cell battery and that solved the problem.
The missionary that Sister Warner is replacing, Elder Starkweather, has been sick for two days and this afternoon his stomach pain worsened so we took him across the street to the Chinese Medical University Hospital. After running tests they determined that his appendix need to be removed. We spent most of the evening, until about 8:00 PM at the hospital. The last hour President and Sister Teh were with us. We left before Elder Starkweather was taken to surgery.
Interestingly, we are having a lot of personal contact with President and Sister Teh right now. Besides spending an hour together at the hospital this evening, Sister Warner and I spent almost an hour with President Teh this afternoon discussing how to improve the work flow in the office. We both see that some things are cumbersome because paper is handled too many times and this is complicated because of the language barrier. When the person comes from the Service Center in Taipei we will investigate trying to convert many of our monthly bills into electronic receipt of the bills, and electronic payments.
At lunch we went to the L&M building. It's about a block from the office and is a big building that is all stores. The basement goes down 5 levels and the highest floor above ground is 15 stories. We went to the 10th floor looking for pens. We found the pens and were surprised when we looked out the windows to the east we could see mountains and they were fairly close. I tried to take pictures with my phone but the window I was shooting through was dirty and the pictures aren't that clear.
October 11, 2016
Linda just made the comment that it takes every ounce of energy we can muster just to live here right now. We go to bed early, sleep most of eight hours, and get up ready to go back to bed. However, we are acclimating and improving.
I was able to spend a big part of the day with hands-on learning for my job. Weekly reports come in by email on Monday evening and are compiled the sent out on Tuesday. I did the computer work on the retrievals and learned the sequence.
Sister Warner and I met with President The for an hour this morning. It was productive in that we better understand what his goals, and some of his worries, are. He wants to simplify much of the operation and we are in good positions to do that for him. He gave us permission to combine our office phones with our personal smart phones which eliminates the need to carry two phones and gives us more power. We will send and receive many texts as part of our jobs. The old phones, the ones used by the mission, are the old type where you had to push keys several times to spell words, they don't receive emails, and they don't have GPS capabilities. We will seldom drive anywhere in the mission without the use of our GPS's.
We upgraded my phone today and now I have unlimited email and WiFi. Linda's will be upgraded tomorrow. We got her paperwork done this evening but she didn't have two sources of identification with her so we must go back tomorrow for her upgrade. My local number is 0905-605-300. Sister Warner's will be just one number higher: 0905-605-301.
The Elder who is supposed to be training Sister Warner was sick today so she did get any training. President suggested that he may bring in one of the Elders who previously did her job and have him do some training. My trainer, Elder Pothier, does an excellent job.
October 10, 2016
Today was better at the office but we are not learning much very fast. I emailed President Teh today and asked for a meeting to try and get some resolution for some of my questions. I'm trying to learn both the Operations and Recorder's duties to support Sister Warner, and I'm finding lots of overlap. Part of my issue is just my lack of knowledge into why things are done as they currently are.
The big victory today was finally finding the Inventory list for the mission. It consists of the spreadsheet containing all the items that are stored for use in the mission, or items that are regularly used. It also contains suggested reorder amounts. The file is about 14 pages long, but hasn't been updated since January of 2015 so there is a lot of catching up to do. Part of the meeting tomorrow with president will be to see how up-to-date he wants to keep the inventory list.
The office staff has Saturday as a P-day, but the rest of the missionaries have Monday as P-day. The different days causes a problem in that the missionaries come to the office on Monday to pick up things, use the computers to email home, and just visit. You can guess what that does to productivity.
Today was a national holiday, something like our 4th of July. Most of the stores were closed. We walked about 10 minutes to a variety store to buy some things for the office and our apartment but it was closed. Later, we went with Sister Chen, after she had called the phone company to make sure it was open, to do our phone internet contracts. The person at the phone company said they were open so we took the taxi and checked two different locations and both were closed.
We went to an all vegetarian lunch house, with the Chen's, for lunch. Elder and Sister Chen are Taiwanese, but have lived in Utah since the early 1970's. He served as mission president here in the 1990's. They live in Murray, Utah now and are currently serving as self-reliance missionaries in the Taichung mission.
October 9, 2016
We opted to stay home and watch conference on the computer rather than try to find a ride to a chapel where they were showing the Sunday session in English. I was impressed with the combination of counsel concerning the wickedness of the last days, and the need to have joy and be thankful. Afterwards, as I thought about the consistent themes I realized how much we let the political environment dictate our emotions. How can there be hope for lasting happiness and prosperity from people who are hungry for power, prosperity, and personal satisfaction without regard for those they propose to lead. It seems to me that why the Church leaders preached to diligently about not being swayed away from the Church is that the external pressures, imposed by government, will increase and threaten and eliminate some of our freedom of religion as we currently understand it. Wouldn't it seem silly to get mad at God for letting bad things happen, things he has foretold since the beginning of time.
I spent several hours in the evening working on the office responsibilities chart. There are currently two manuals, one for Operations and one for Recorder. However, there is a lot of overlap between the two, and multiple areas that no one seems to be responsible for. I started on this project to try and make the recorder's job more in line with Sister Warner's computer skill levels, but the deeper I get into the processes the less clear the desired outcome becomes.
The time difference between here and Utah is still a little confusing. In my mind I think they are on the same day as we are but that's not true. On the Internet today all the programs I looked at were doing Saturday activities, but it's Sunday here.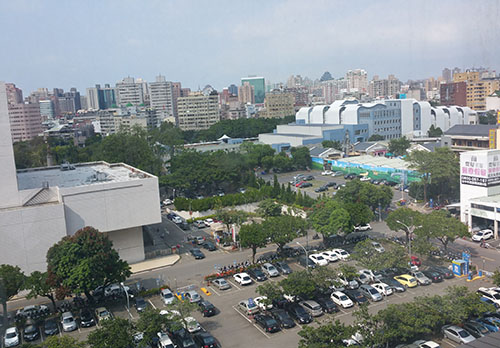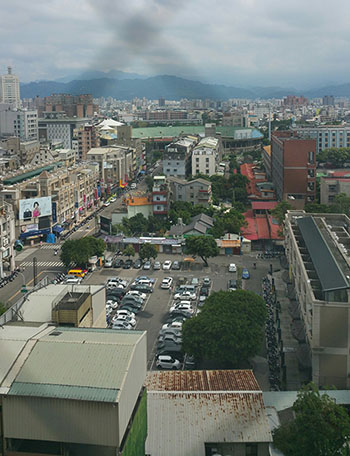 October 8, 2016
Today was our P-day and we went with Elder and Sister Randolph our to the Taiwan Glass Factory. They have a nice museum. I took a lot of pictures but because the creations are mostly behind glass plates in showcases it was difficult to not get reflections. There were many very artistic and beautiful creations. There must be large silicon deposit on the island because glass art has been common here for many years.
They had a house that was mostly glass, except for the poles and beams, that had some beautiful murals painted and etched on the walls. In the back was a Buddhist shrine and many people went to the front of the shrine, lite a punk stick, bowed repeatedly to the idol, and then walked away. I felt really bad to see the idol worship, especially realizing that there we stood with the fullness of the Restored Gospel and no way to communicate with them. We have a precious gift we were unable to share. We had a tour guide part of the time we were in the glass house but I struggled to understand him so I mostly wandered and took pictures.
We returned to our apartment and Linda took a nap while I worked on our job assignments. There is so much to learn in our new assignments and some of it seems almost impossible for us to do. The most challenging is in Linda's responsibilities to record newly baptized members records. The data is written by hand, usually very small, and in Chinese characters. Google Translate handles typed text some but won't do anything with written characters. Also, all the invoices come to her and they are mostly written in Chinese characters as well. President Teh returns tomorrow and we will see what ideas for help that he might have. Later we watched the Priesthood session of General Conference.
October 7, 2016
This afternoon at the office a young, returned missionary came in to visit. He had served here and has been home about a year. The Elders were talking with him and he said he was from Chattanooga, Tennessee and was a BYU student. The Elders came and got me because we had recently talked about me serving there as a young missionary. I came out and visited and then asked him if he knew Phil and Gloria Smart. He said they were his grandparents. I told him I had baptized his grandmother. He said he didn't even know she was a convert. Small world. We took a picture with him and he emailed it to the Smart's.
My duties are coming together better now that I have outlined the handbook and asked lots of questions about who does what. A portion of the duties listed in my handbook are no longer performed, they've been discontinued. The big worry that surfaced is they don't seem to have any inventory control system, or even a list of current inventory. In addition they have a rented garage (which we haven't seen yet) that contains materials from the past 9 years. Soon we will need to go over and do a complete inventory, clean up, and resupply operation. That will be a couple of long, hot days.
Sister Warner's assignment is going to need to be changed some. The language problems and lack of strong computer skills on her part make the job seem impossible to her. This weekend I'm going to review her job assignment, and compare it with my duties, and then make some proposals on redirection of her work. I will propose giving her some of my duties that need great follow-up and execution, but don't require a lot of computer work.
We came home a few minutes early from the office and I worked on combining and separating our job descriptions. Later we watched the Saturday afternoon session of Conference.
I put a new belt on the dryer fan tonight and it works better but still not really good. The dryer is simple and may not be very efficient.
October 6, 2016
We arrived at the office just after 8:00 this morning. We both spent much of the day trying to learn our duties. I reviewed, and outlined, the operations manual to identify those things for which I am responsible. The more detailed I become the more questions I have.
Sister Warner is really frustrated because so much of the Recorders job requires being about to read Chinese characters. We keep asking why do the baptismal record forms need to be in characters and not English. After they explain it to us we still wonder why not.
President and Sister Teh returned from zone conferences today and took us out to dinner. It was a timely visit and we were able to discuss ideas to improve and simplify some of the record keeping. Sister Teh has already begun organizing the inspection of apartments and sharing the load among several senior couples. She clarified for Sister Warner on the medical information she would like to be notified of. President is going to see if we can find a better way of doing new memberships because the interpretation of the Chinese characters is extremely time consuming because the translation programs won't read hand-written characters.
October 5, 2016
Medical issues seem to come quickly when the missionaries learn Sister Warner is here. They must be giving referrals to fellow missionaries because we are getting more calls: strained knee, sore toes from torn toenails, sore throats, allergies, eye infections. All these have come in and Sister Warner's phone has been set wrong and didn't even ring. I wonder what it will be like now the phone does actually ring?
I spent most of the morning out running errands with Elder Randolph but not with much success. I did get some small bolts and nuts and was able to repair a broken door hinge and a shelf at our apartment later in the evening.
I spent several hours in the morning reading the Operations Manual and then several hours training with Elder Portier in the late afternoon. One of the points of clarity I hope to get from President Teh to how closely he plans on following the Operations Manual. If he intends to do all the inspections, inventory control, and apartment managing, I'm going to be very busy.
October 4, 2016
We spent a lot of the morning trying to finish our grocery and household shopping. We went back in the afternoon to finish the household portion of our shopping. In the early afternoon we attended a Zone training meeting.
I took the back off our clothes dryer to see why it wouldn't dry clothes and learned that a small belt that turns the fan was broken. I'll try and get another belt from Panasonic tomorrow.
October 3, 2016
We spent the day at the office. First thing I did was look up on the Internet how to set my wrist watch to the correct day and date. The rest of the day was spent getting forms filled out so we can stay in the country longer than 30 days. We also got Linda's phone set up as a hot-spot. They want us to try it for a week to make sure it will work before we sign an 1-year contract. In all of the stores have you take a number when you arrive and then sit, or stand, until your number is called.
President Teh wants Sister Warner to become the Mission Recorder and me to be the Operations person. We started training with the young Elders in the afternoon, whose places we will take. We have about 2 weeks to get the systems down before we will be on our own. One of Sister Warner's major responsibilities is to make sure invoices get processed and over to Elder Randolph so he can pay the bills. It's quite a challenge because most invoices are hand-written in Chinese so she has to use Google Translate and look at the writing and hope it's legible enough to be translated into English. I handle all the ordering of supplies, bikes, name badges, etc. I'm also responsible to inspect about 45 missionary apartments on a regular basis. The president wants to shift more responsibility onto the missionaries so we will do more checking up to make sure things get reported and completed.
We are both tired tonight, still adjusting to the time change. The banner I mailed arrived today.
We haven't seen much of the countryside yet, but the cities are all masses of a mixture of old buildings and massive high-rise apartment and office buildings. Most of the people live in small apartments. On Saturday, which is our P-day we will drive out into the countryside with the Randolph's.
I was able to download all of Conference onto a flash drive at the office today so we can start watching tonight.
October 2, 2016
The adjustments to climate, location, time difference, and temperatures in addition to the stress of being in a new country are exhausting. However, we have done this before and will just stay relaxed.
Parking is a real issue in the crowded city. The mission complex, office, home, a chapel, and some staff residence are about a 15 minute walk from our apartment. The cars are all parked at the complex because there is no parking where we live. Most of the driving uses a GPS to find addresses. We noticed that when President and Sister Teh were driving us back from the airport on Friday evening that she watched the GPS and gave him turning instructions. Our plans are that early next week we will get our phones fixed with new chips so we can have Internet connectivity in our apartment and on our phones. In one of the stores we were shopping in yesterday I had some Wifi so I could check my emails. Also at Church today I was able to check emails.
We attended a Saturday evening session of a stake conference last evening. We wore earphones to hear the translator. The messages were basic concerning raising good families, obeying parents, living the gospel. We met several expatriate families after the meeting. Most are executives with multi-national companies such as Google. We will get to know them better in the English branch when we start attending there.
We got home about 10 PM and crashed for the night. We sleep until about 3 AM and then just nap after that. It will take a week or so to get fully adjusted to the time change.
We got up at 5:00 AM to get ready for the day. After breakfast we did some re-arranging of the furniture in our apartment to better accommodate our needs. I moved a drop-down desk into the bedroom corner to give me isolated study space. Our furniture is a mixture of old and older but will be adequate for our needs.
We attended Stake Conference in the morning and then rode home afterwards with President and Sister Teh. I asked him many questions about missionary work, successes, retention, where the missionaries teach most often, and stake activities on reactivation. I'm putting together an basic understanding of what is in place. Most of the investigators are found by the missionaries by street contacting, not by knocking on doors. President said most of the actual teaching takes place in the church buildings not in homes. President is encouraging the missionaries to try and teach more in the homes. Most apartments/homes are small and family rarely have more than 2 children.
Buddhism teaches the worship of ancestors and older people fear that if the youth become Christian they will no longer worship the previous generations. This belief is an obstacle prevents many people from joining the Church or from staying active when they do join.
Meanwhile, President said he wants us to learn the duties that the two office Elders are doing so Sister Warner and I can take over that function.
We laid down for a nap after lunch and I slept about 2 hours and Linda was down for almost 4. It makes me wonder how well I will sleep tonight.
October 1, 2016
We lost a day coming to Taiwan because we crossed the international date line. Our start was delayed out of Salt Lake City because of fog in San Francisco. We were delayed more in San Francisco but still arrived in Taipei only about 2 hours late. We had upgraded to Custom Comfort which gave us more leg room but there is still no comfortable way to sleep on airplanes.
President and Sister Teh picked us up at the airport in Taipei and drove us back to Taichung–about a 2 hour drive. They are great people and will be good to work with. He wants to use the banner to help in reactivation because he said the stakes have a great need here currently. There are 9 stakes in our mission and one mission branch which is out on a island.
Our apartment is sufficient for our needs. We slept about 5 hours and then got up moved into our space. The apartment was clean on the surface and we only have some dusting and sweeping under furniture. Later today we will attend a Stake Conference. Before then we will go with Elder and Sister Randolph to do shopping and learning the area.
September 27, 2016
We received an email from Church Travel today and our visas are in Salt Lake at the Church office building. We arranged to drive to the building and Kristen, the travel lady, met us in front of the building and delivered our passports and visas to us. We fly to Taiwan in two days. The rest of the day was spent in hurry-up mode as we try to get everything in order.