A little of everything - July 18-25
T'was a week of salmon, halibut, and yes, more salmon.  The fillet tables were hopping every evening and there were so many fish boxes on board the catamaran was only able to do 2/3rds it's normal speed. Ok, just kidding.       
The weather this week was a mix of everything. The tides early in the week were moderate and increased as the days progressed.  Most of the fishing grounds were fished every day regardless. We are beginning to master the art of catching rock fish, expanding the possibilities for our guests.
This week we had a group of retired sailors with us.  On Wednesday we all wore Hawaiian shirts and on Saturday, as we were leaving Doc's, we sang Anchors Away with them.  It was a nice, patriotic goodbye and made us all feel a bit nostalgic.
Lynda reports that the demand for space next year is extremely high, so don't delay your plans. We are taking reservations out to 2027 for those of you who like to plan ahead.  Thank you for making Doc's a part of your lives.  We hope to see you all "reel" soon.   ~ Doc's Crew
Fish are Jumping - July 10-17
I asked a guest how they would describe this week and they quickly responded, "It was perfect!".  But then again, a fishing vacation at Doc's is always a perfect way to get away.  This last week started with winds and ended with calm waters.  As the skies cleared, the Fairweather range was mirrored on its glassy surface.  There were lots of whales putting on shows and other critters sighted.
We had several people join our 100# club this last week.  The halibut continue to impress.  There are lots of little ones this year as well.  
The salmon are in strong numbers.  We saw kings, silvers, chums, and the plentiful pinks come across the dock.  As we cruise Homeshore on our way back to Juneau, everywhere one looks there are fish jumping. 
Thank you all for a great week at Doc's.  We look forward to seeing you "reel" soon at that special place we call Doc's.
Fishing update - July 4-9
What a nice week it was this last week at Doc's.  We had several new members inducted into our 100# club.  The big halibut are off to a great start and it looks like we will be adding many more new inductees as the season progresses.   Salmon fishing has remained the same.  We continue to see some nice silvers mixed in with the other species.  There was plenty of reels singing as line was being stripped off.  
The weather continues to be dry.  After our wet spring, we are grateful to dry out a little.  If it stays dry though, we will need to start watering the garden.  Wildlife continue to put on a show.  Large rafts of sea otters have been spotted in Icy Passage daily.  Whales are in large abundance as usual.  George, our bull sea lion, has not been seen this year.  His replacement is still being named but is a regular already every evening.  Wherever your summer plans take you, we hope you keep your lines tight and sails trimmed.  Fish on!
Fishing update- June 27-July 3, 2021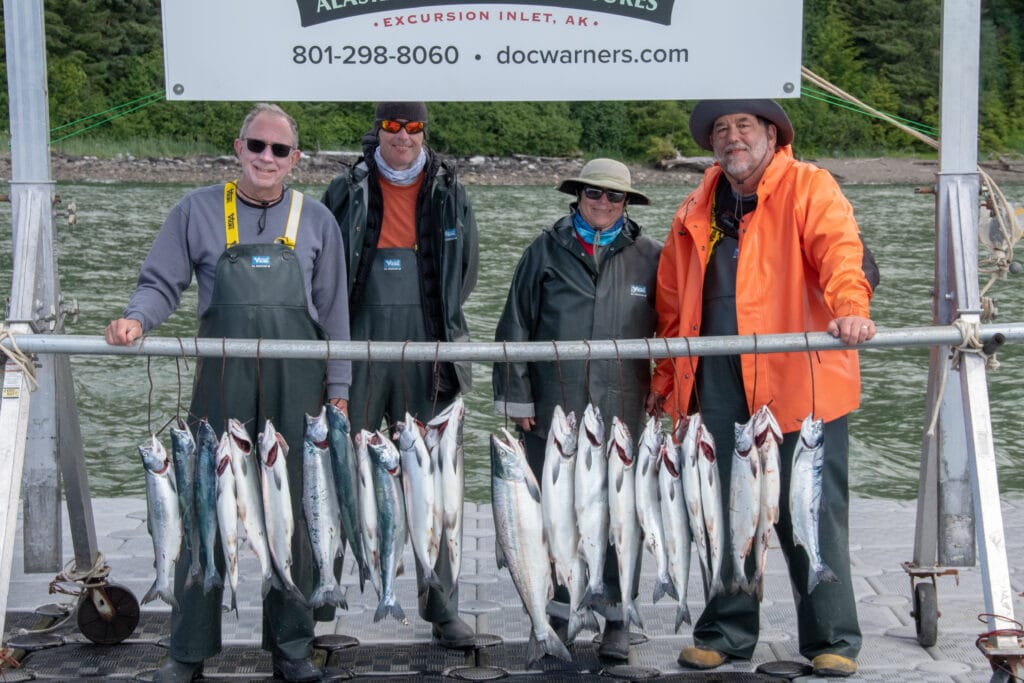 The story of the week was wind!  After a short-lived smooth start, the wind and waves were busy this last week.  Despite having a bumpier ride, guests roamed the entire fishing grounds all week.  As we leave the dock this morning, the waters have returned to their normal calm self and many are planning their next foray at Doc's. 
The salmon catch continues to exceed expectations. They are in early and in good quantities. We even had a few nice kings to add to the mix this last week.  It appears that the actual returns are going to be stronger than the preseason forecasts.  Halibut this week were medium to small in size.  There were plenty that were nice and thick.  The catch was spread out.  Thank you all for another fantastic week at Doc's.  See you all again "reel" soon.
Fishing update- June 20-26, 2021
The 2021 season is finally underway! This week we had a real mix of weather and fish.  Overall the group did well and they are planning their return to Doc's. 
The salmon are already in decent numbers. Guests caught pinks, chums, silvers, and reds this week.  Some of them were exceptionally large for this time of year. We only saw a few kings.  The halibut are looking strong again.  We had several fish over 100 pounds and many smaller ones. In some areas there were a lot of juvenile fish.  It looks like the future halibut will continue to be great. 
We had a variety of weather this week.  The week began with sunny days but then a storm came through late Wednesday and Thursday.  The storm kept people close to home.  Friday the fleet spread itself back over the entire fishing ground.  It didn't seem to matter though, the catch yielded many nice fish on all days.
Ready, set, fish on!  See you "reel" soon at Doc's.  ~ Doc's Crew
Fishing Update – 2020 End of Season
The 2020 season is in the history books. As we look back on the year, it has been remarkable. Early this spring we came in to remodel and complete Fairweather. The cabin turned out great and was completed before guests arrived. We were fortunate to complete many nice additions before things turned upside down by the pandemic.
As the season progressed we had some who were unable to make it because of virus concerns. Many were grateful of our 100% refund policy and most rolled their reservations to 2021 and 2022. This means that things are looking very robust for next year so give us a call sooner rather than later.
Those that did brave the travel and dealt with the restrictions were treated to our best halibut year ever. We easily ran through three years worth of 100# club pins. It was an amazing summer to fish for those large behemoths.
The salmon also came in larger numbers than anticipated thanks to the cooler and wetter weather.
Looking forward to next year, we are expecting good fishing, excellent catching, and many fond memories. Thank you all for making Doc's that special place in all our hearts. As always, we hope to see you again "reel" soon on your next adventure.
Fair winds and tight lines,
The Doc Warner's Crew