The final morning of my fishing adventure was upon me before I knew it. All week I wanted to catch a king salmon, but I had not completed my goal. Early in the morning, July 3, my father and I found a school of pink salmon. I made simple mistakes and lost five humpies right before pulling them in the boat. As you can imagine, I was flustered. Eventually, I landed two and my father five. The fishing died and we moved to Double Anchor to finish our afternoon of fishing. After catching several halibut, we decided to go to the land slide for one final troll. By the time we arrived at our destination, we only had 15 minutes to fish before we needed to return to the dock for the final time.
I set up the downrigger with little hope of catching anything in our small time frame. Ten minutes passed without any luck. I began to clean up the boat in preparation for ending our day when my rod bent and released from the downrigger. Assuming it was another pink, I lackadaisically picked up my rod to reel in my catch. Much to my surprise, the fish at the end of my line ran took 100 feet of line. My heart started to pound as time stood still. I had hooked a king salmon!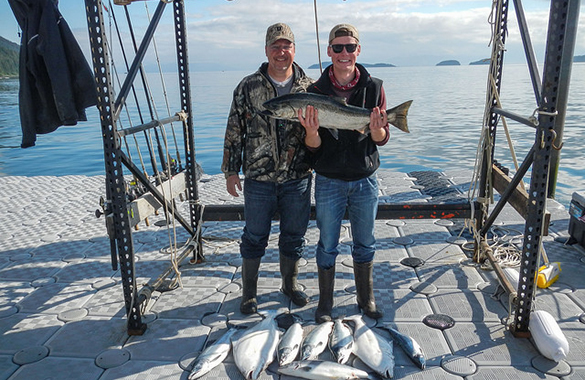 With this morning's mistakes lingering in my mind, I fought the king with all the patience I could muster. It seemed as though the salmon was taking more line than I could reel in. For 15 minutes I played tug-a-war with the chinook, all while my father stood next to me coaching my technique. When I finally reeled the fish close to the boat, my father picked up the net and swiped at the fish, lifting it out of the water and into the boat.
Quickly, we picked up the salmon and slapped him down on the ruler. Success! The king measured in at 32 inches and I couldn't have been happier. I screamed ecstatically and hugged my dad. I'm surprised Doc's staff couldn't hear me 2 miles away. Thanks to our perseverance and one last ditch effort, my dream was realized.
I caught a king salmon just in the nick of time.
-This fish tale comes from a guest, Kaden R, during the second week (June 28 – July 4) of the 2015 season.