INGREDIENTS
4 salmon steaks, 3/4 inch thick
1/2 teaspoon salt, divided
1 small onion, chopped
1 stalk celery, chopped
1/4 cup butter
3 cups cubed bread
3 cups sliced, fresh mushrooms
2 tablespoons chopped parsley
1 tablespoon lemon juice
1/4 cup cream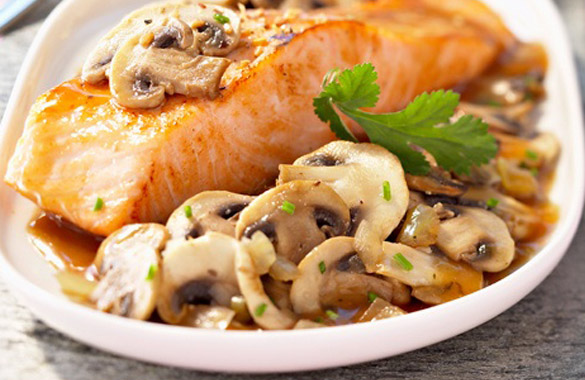 INSTRUCTIONS
Preheat oven to 350 degrees. In a greased, shallow baking pan, arange salmon steaks and season with 1/4 teaspoon salt. In a large skillet, saute onion and celery in butter until tender.
Add bread, mushrooms, parsley, 1/4 teaspoon salt, and lemon juice; mix well. Spoon stuffing on top of salmon steaks. Drizzle cream over top.
Bake for 25 – 30 minutes.
Serves 4.