INGREDIENTS
1/2 medium onion, chopped
1/4 cup margarine, divided
1/4 cup flour
2 cups milk
2 cups smoked salmon, crumbled
1/4 teaspoon pepper, or to taste
1 pint cottage cheese
1 tablespoon dried parsley
1 tablespoon Worcestershire sauce
1/4 cup grated Parmesan cheese
9-12 lasagne noodles, uncooked (yes, uncooked)
1/2-3/4 pound grated mozzarella cheese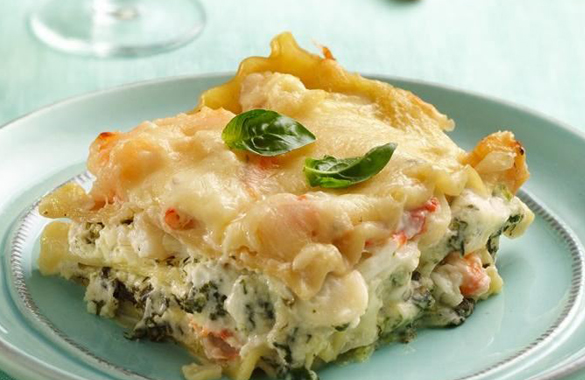 INSTRUCTIONS
Saute the onion in 1/2 the margarine. Cook until onions are soft. Add remaining margarine, then blend in the flour and gradually add milk to make a sauce. Add smoked salmon and pepper. In a bowl, stir together cottage cheese, parsley. Worcestershire sauce, and parmesan cheese.
In a greased, 9X13X2-inch casserole dish, layer creamed fish mixture, cottage cheese mixture, uncooked lasagne. Then add mozzarella cheese. Repeat, ending with creamed fish mixture.
Bake in a 350° oven for 45 minutes covered, and an additional 15 minutes uncovered.