Halibut and Salmon Fishing in Alaska
We wouldn't call it a "Fishing Lodge" if we couldn't provide the Alaska Halibut Salmon fishing experience. A 300-pound Halibut, though rare, isn't a dream. Neither are those elusive 50-pound King Salmon. More abundant are the fighting Silver Salmon that seem determined to tow your boat across Icy Straits. And, there's more!
Pink Salmon, Chum Salmon, and Dolly Varden (the fish, not the country singer) are always a good challenge, to say nothing of the rock fish, cod and other sea creatures vying for your attention (and eating your bait). With all these fish, you are virtually guaranteed a successful fishing experience.
When you start planning your Alaska Halibut Salmon fishing trip, you will need to consider whether you want the thrill of catching the large 20 to 50 pound King salmon, or if you're more into the thrill of seeing the Silvers thrust themselves skyward as they try to dislodge your hook. Or maybe you prefer the peace and tranquility of fly fishing the streams loaded with Pinks, Chums, Silvers, and Dollies. Then again, maybe you'd like to combine catching several of these great fish with some halibut fishing. Once you've made your decision on what you want to catch, you will have a better idea of when to schedule your trip to Doc Warner's.
At Doc Warner's you plan your itinerary. Each day you choose where you want to fish and how long you want to stay at your chosen location, whether you want to fish one of the 5 nearby streams or on the protected waters of the Icy Strait and Excursion Inlet, the choice is yours to make.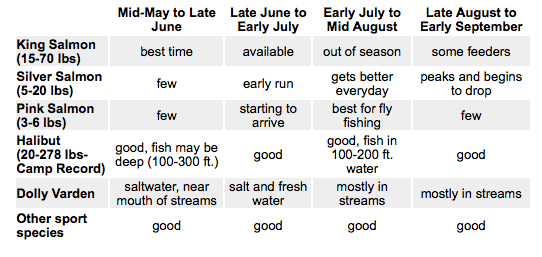 The many islands and sheltered coves and inlets of this area protect you from the unpredictable and often times rough water conditions of the open ocean. The calm, protected waters provide a safe place to fish from one of our 17-foot or 18-foot, specially designed fishing boats. Powered by either 60-hp or 75hp Yamaha 4-stroke engines, these boats carry you efficiently across the water.
A typical day of fishing includes jigging for halibut, cod, and rock fish during the slack tides and trolling for salmon when the tides make bottom fishing more difficult. In the afternoon, it's more halibut and salmon fishing, or if you wish, you can test your fly-fishing skills both in the streams and in the saltwater. The bag limits in Alaska are generous and there are a lot of fish to catch. Your 2-halibut and 6-salmon of each species (except Kings) limit per day means you'll probably tire out before the fish do! Doc Warner's is the ideal location to enjoy the solitude of fishing protected waters, away for the bustling crowds.
At the end of the day, you pilot your boat back to camp where our dock crew will meet your boat, tie it up, and begin to process your fish. In the mean time, you are off to the lodge for a hot shower and an all-you-can-eat tasty hot dinner centered around fabulous tales of the day's exciting adventures. Everything from the big-one that got away, to the spectacular sight of the humpback or killer whales that breached within just yards of someone's boat are re-lived.