What's up at Doc's? We thought you'd never ask! Check back every Tuesday and Friday. We will post regular updates here so that you can follow the exciting progress that is Spring 2020. There's always lots going on around here!
Tongue and Groove
June 23rd Update All of the walls and ceilings in our remodeling project will have tongue and groove installed. This is a time-consuming part of the project but makes things so beautiful! After installation, everything gets sealed to protect against the moist environment of SE Alaska. It's almost ready for YOU! We cannot wait for you to see this beautiful, upgraded building!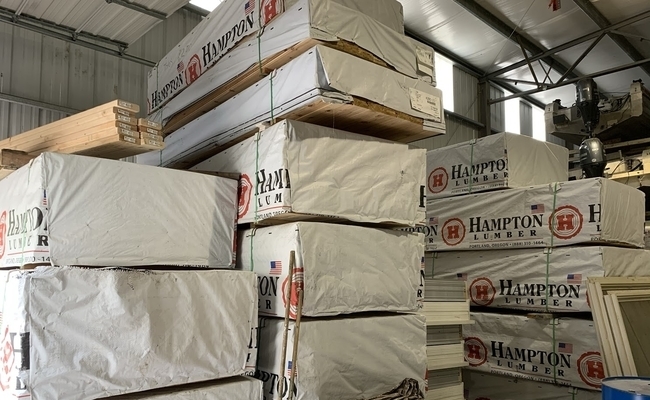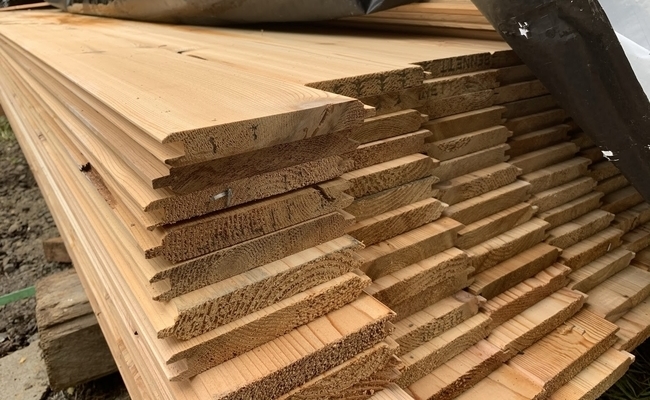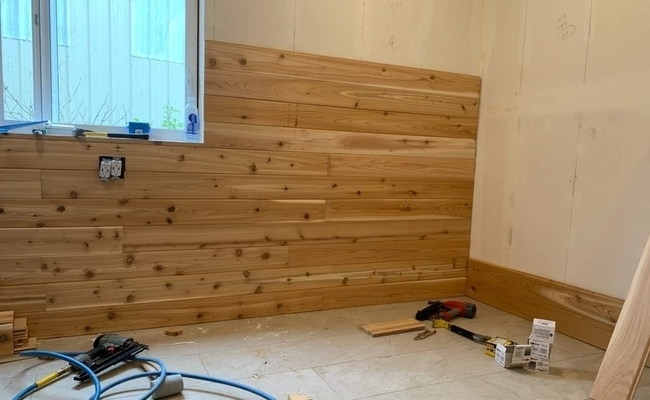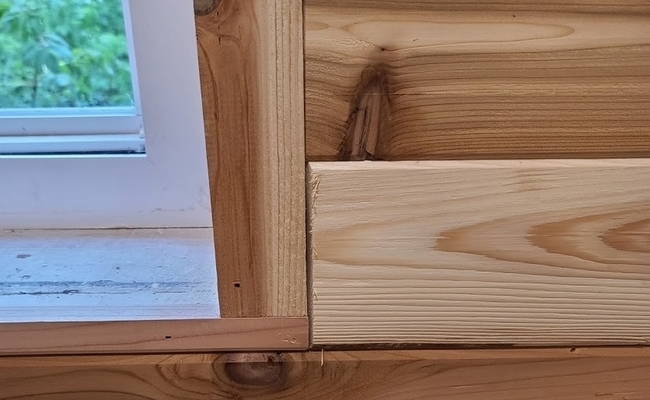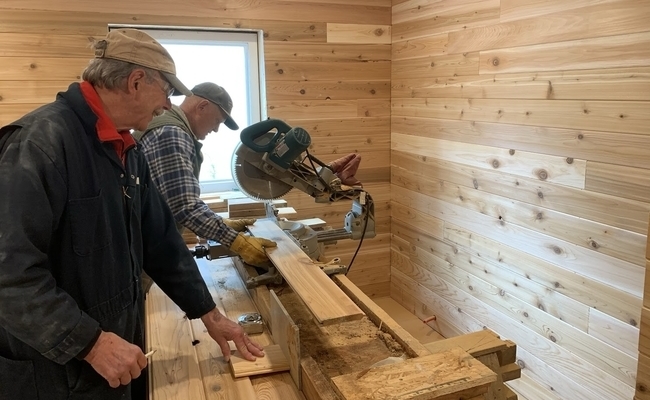 Siding
June 19th Update More of our construction supplies arrived via the barge. The barge docks about 2 miles to our north which means we get to be creative in how we transport oddly sized or heavy items back to the lodge. Generally, we opt to disconnect part of the dock and float it to cannery. As you can see, our construction staff is hard (ly) at work moving siding.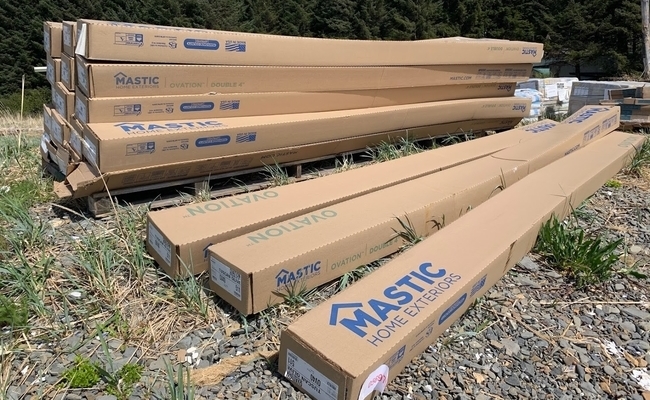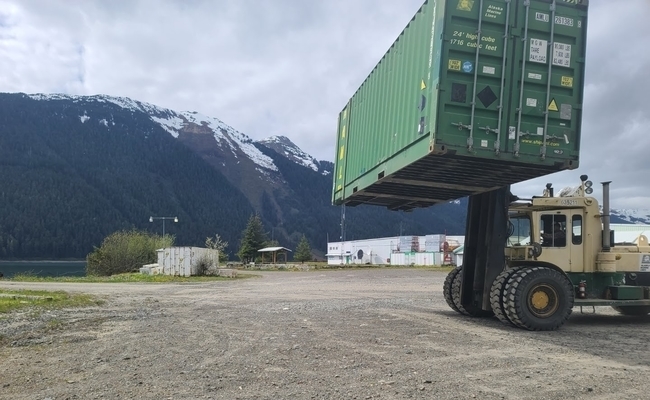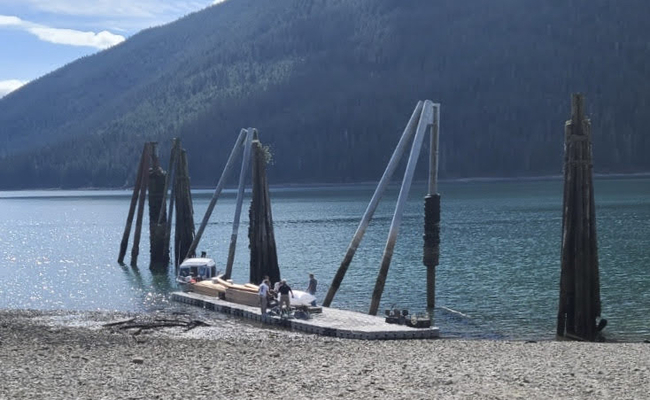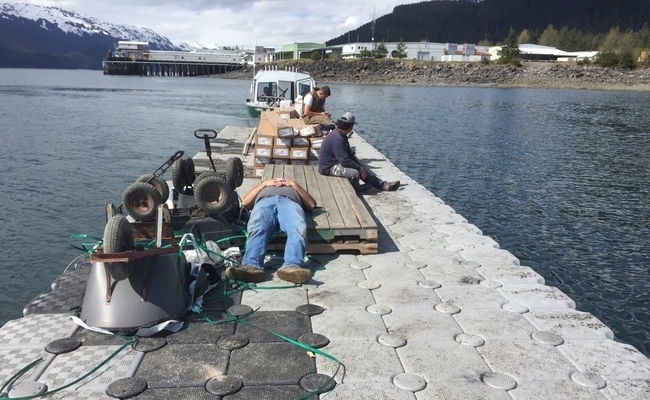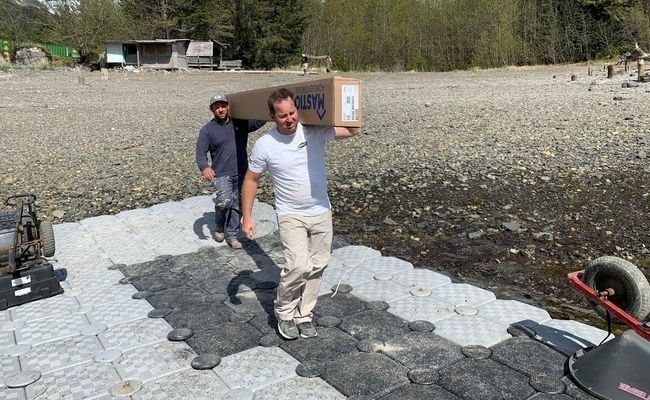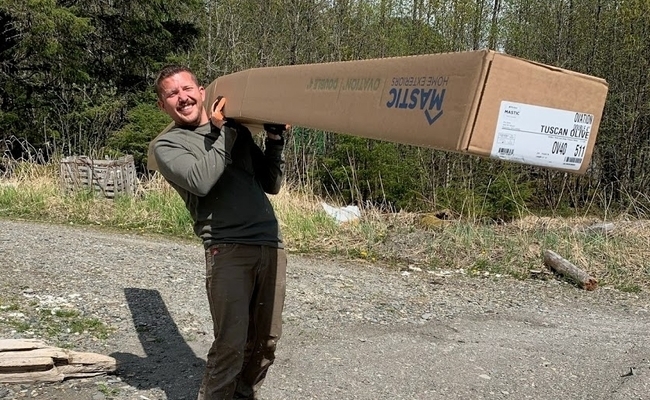 Tile We Meet Again
June 16th Update Sorry for the corny titles, but some days are just like that! After sheetrock comes tile. We have opted for 12" x 24" tiles and wow do they look great. Thanks to some superhuman efforts by our tile crew, the tile is down and grouted. We estimate that, including bathroom walls, this crew has laid about 9,000 sq feet of tile in less than 2 weeks. Our construction crews typically work 10-12 hour days. Whew!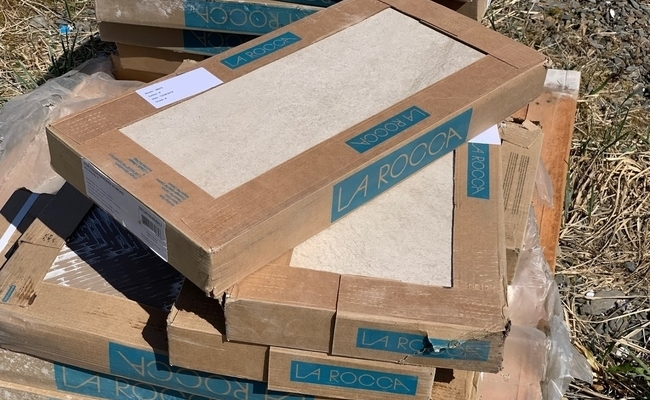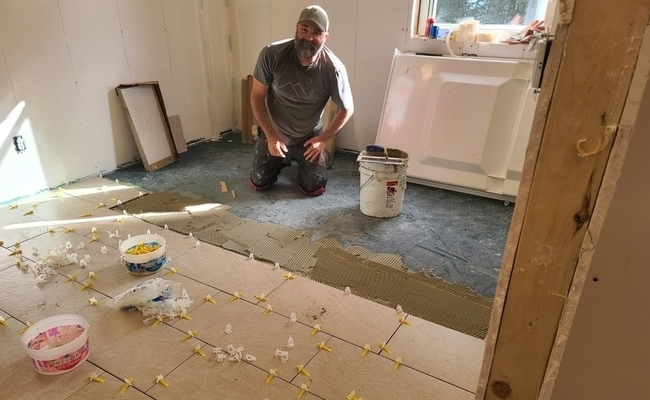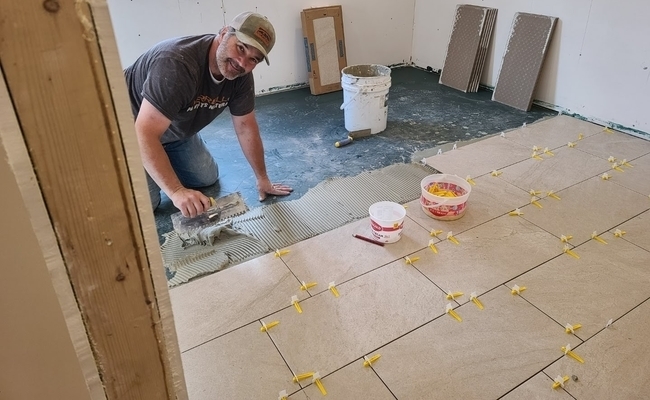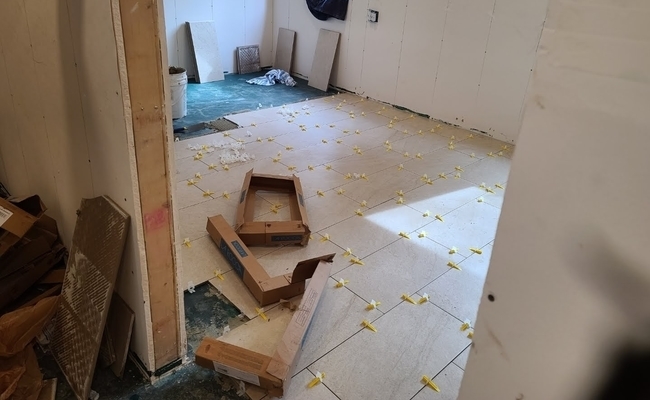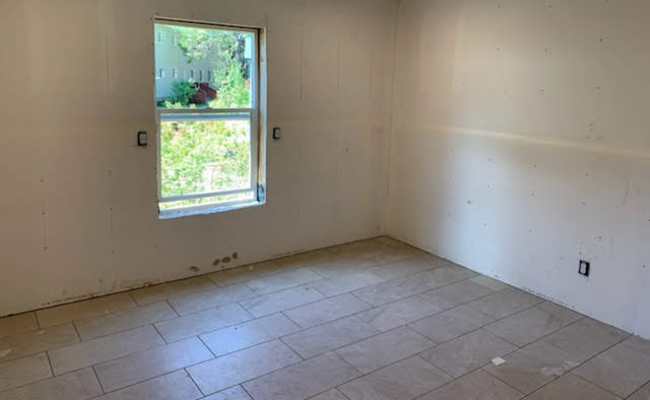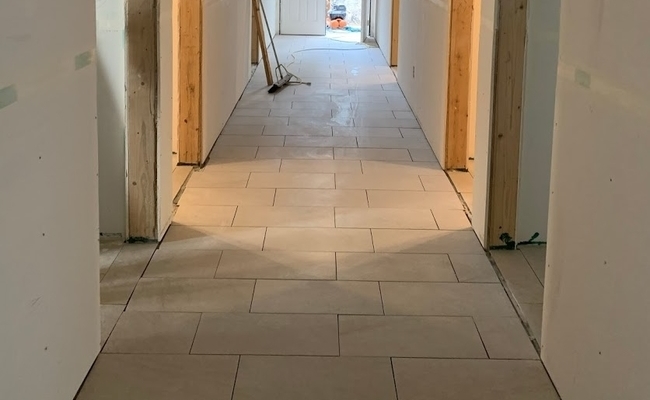 Sheetrock – Rockin' and Rollin'
June 9th Update Now that the rough electrical and plumbing are in, it's time for sheetrock! Crews have been working extra hard on this project. If you've ever had the pleasure of working with sheetrock, you know this is hard, heavy work. Thanks to some amazing men and very hard work, it looks great and was completed earlier this week. They even got all of the seams taped. You'll see in these photos that Doc has a few cameos! He has been in on the work from day 1 as part of the advanced crew.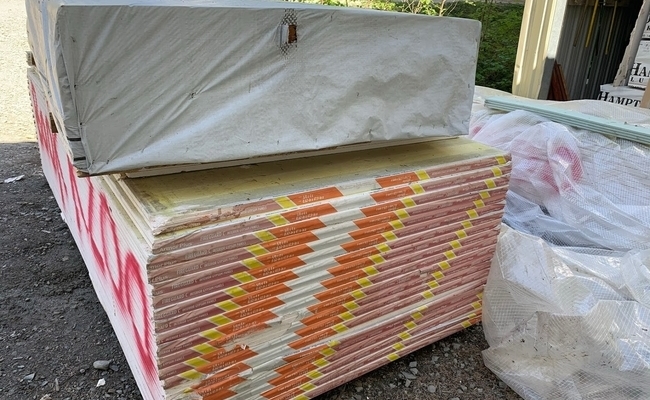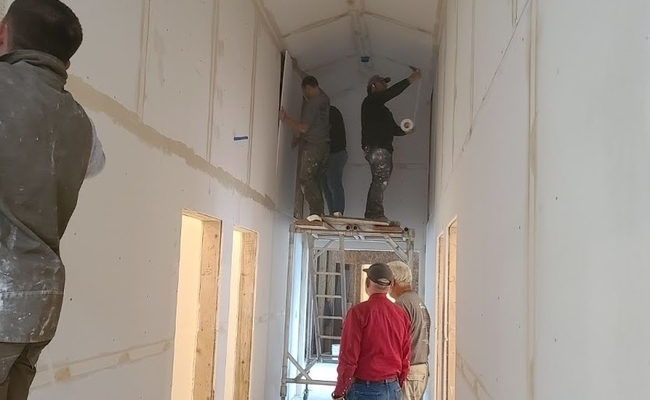 Freight Day
June 5th Update During the off season, we gather many of the supplies needed for lodge operations. Each spring, we load dozens of pallets of goods which are trucked to Seattle and then barged to Excursion Inlet. You may recognize some familiar faces hard at work. If you've heard us say we are a logistics company with a fishing habit, this is, in part, what we are referring to. Need something moved from point A to point B? We can do that!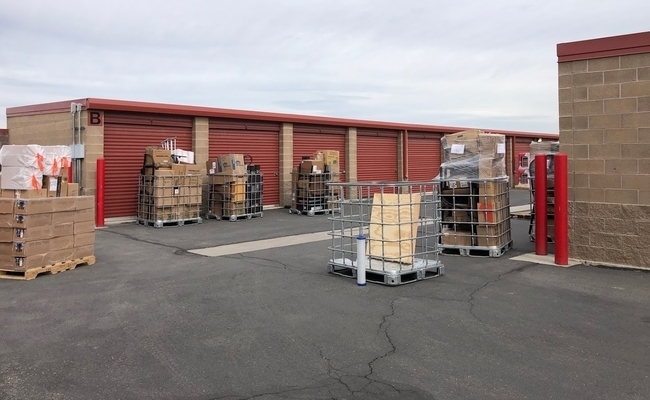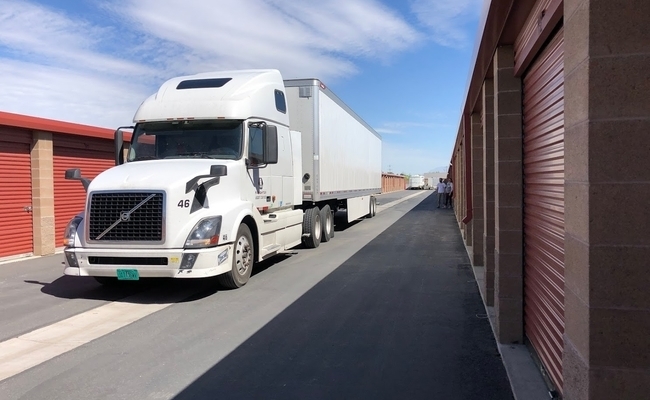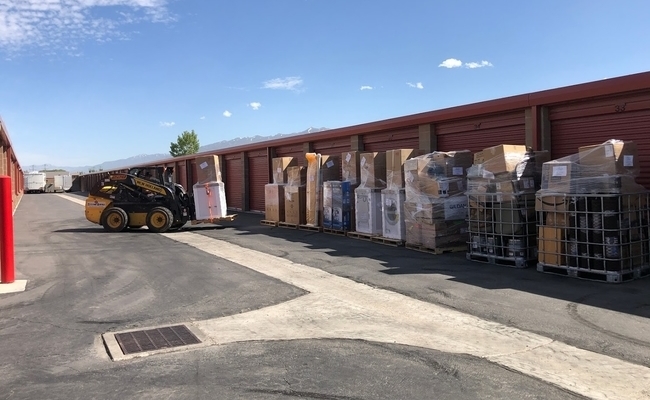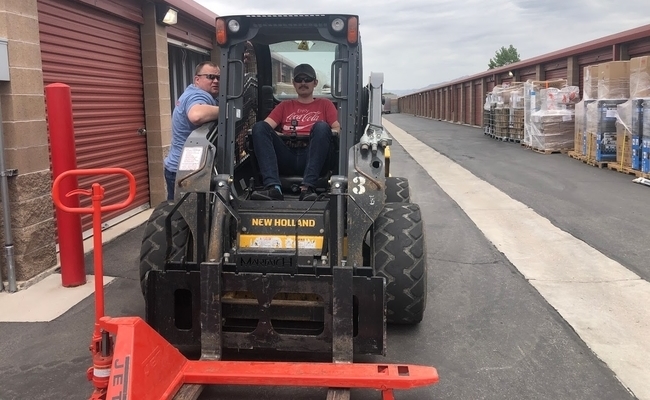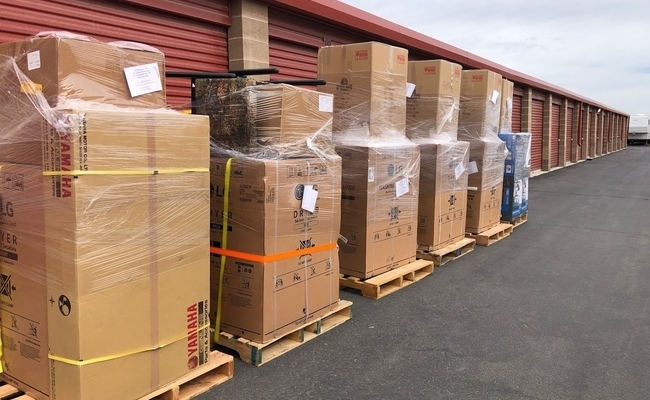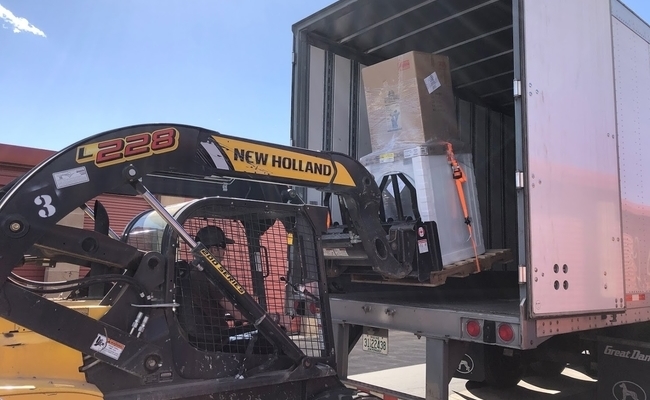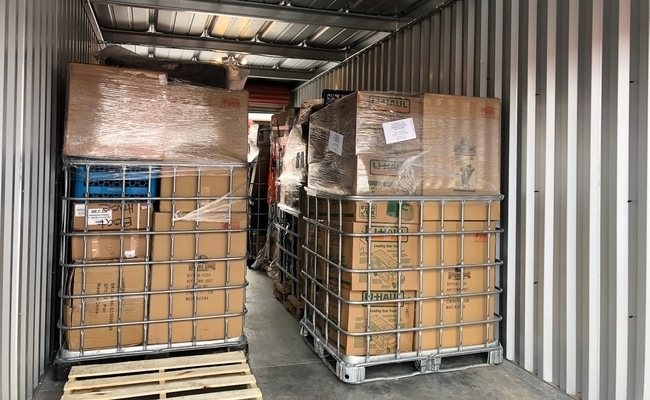 Freezer Upgrades
June 3rd Update This year we added 2 new refrigeration units to the freezer. This will allow us to bring the temperature lower even faster to make sure your fish are frozen solid prior to departing the lodge. We are excited to put this new, increased freezing capacity to the test!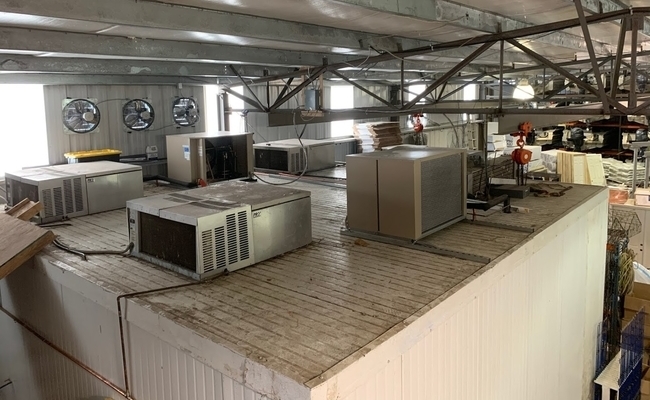 New Stairway
May 30th Update Part of the remodel includes a new set of stairs and entry for the building. Mark and Doc have been busy putting this project together. We think they did a great job!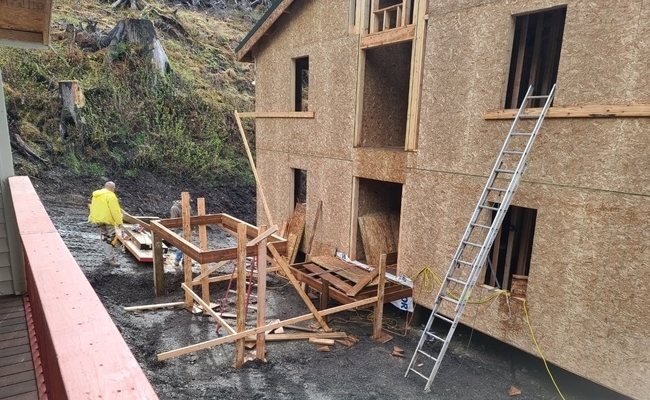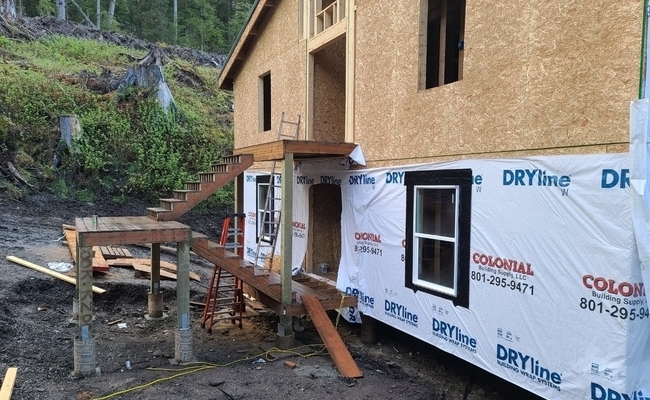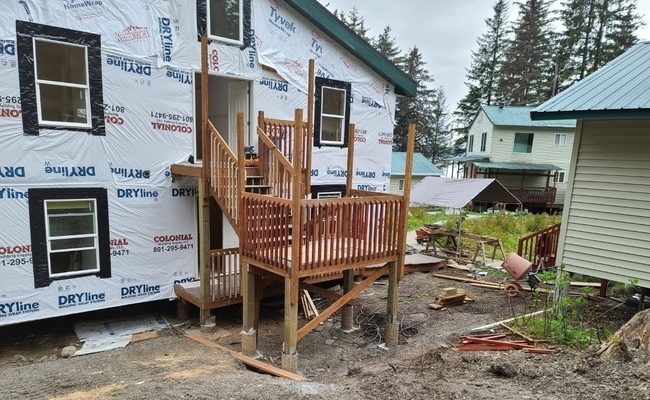 Birthday Time!
May 26th Update Occasionally our guests have the opportunity to enjoy a birthday while they are with us. We try to be creative with our celebrations as you can see here. Happiest of birthdays to you Chip & Josh!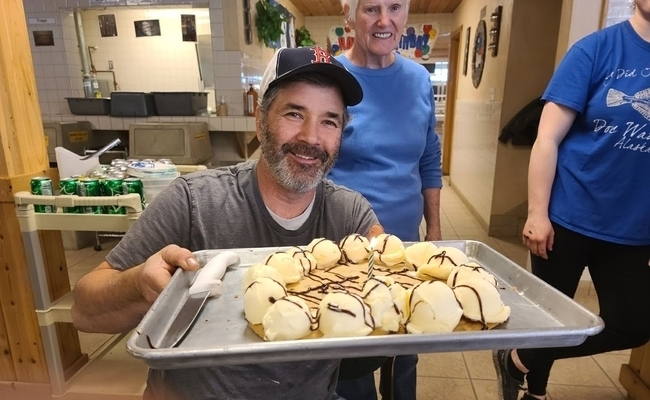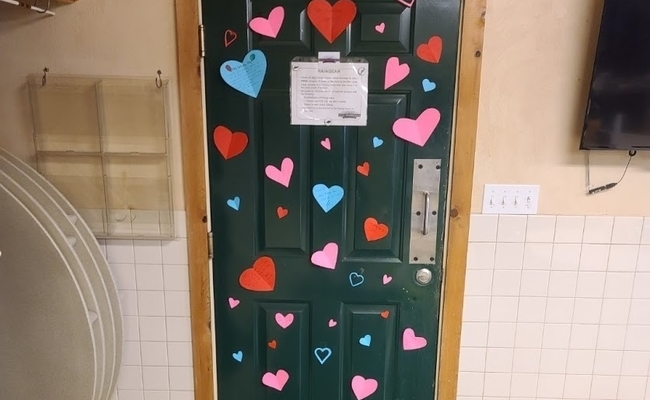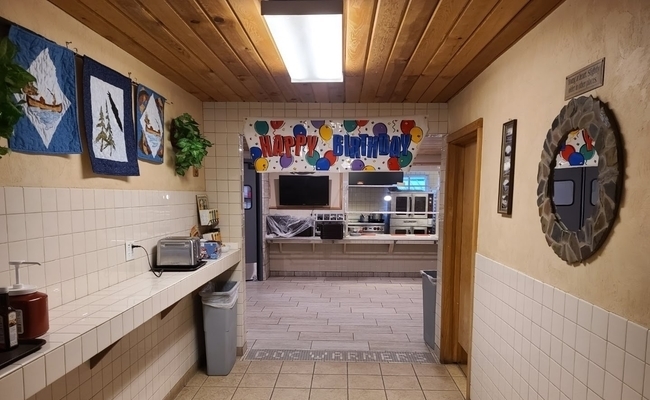 Critters
May 22nd Update Wildlife have returned from their winter hibernations! We have a Sitka deer doe and fawn wandering about, there are whales galore in the inlet right now, and this big brown bear came for a stroll along the beach the other day. When we have only a small crew, there are more animals around the lodge. When we bring our staff in, things get busier and the animals move to quieter spaces. We have also seen some curious river otters and our first sea lion. We'll know its summer after George shows up.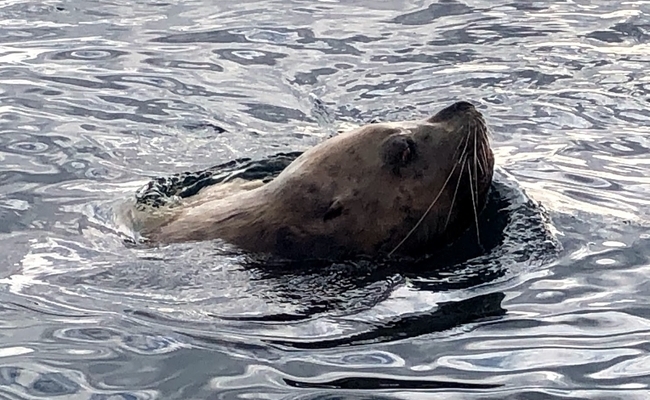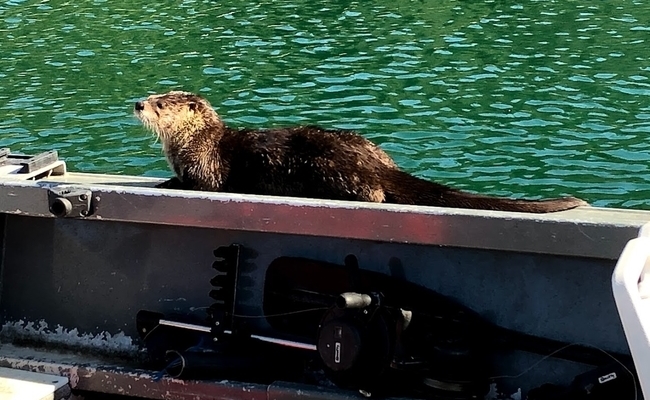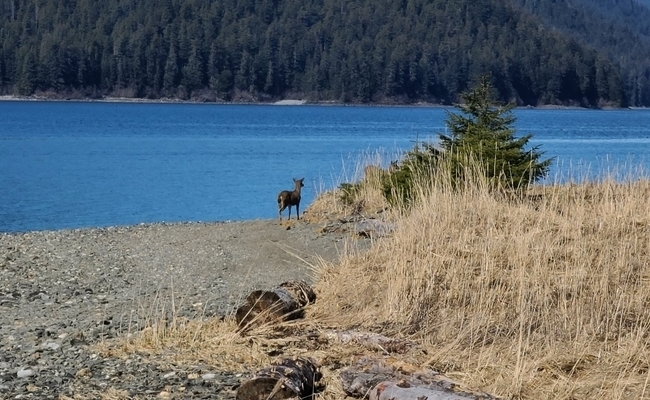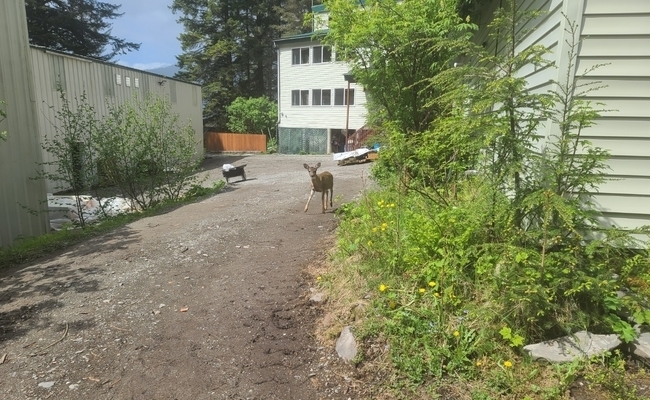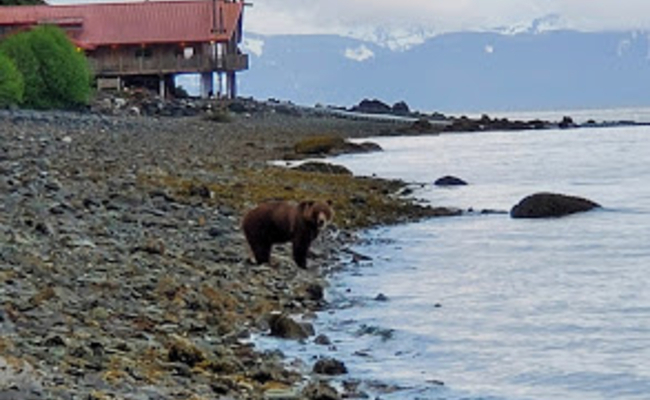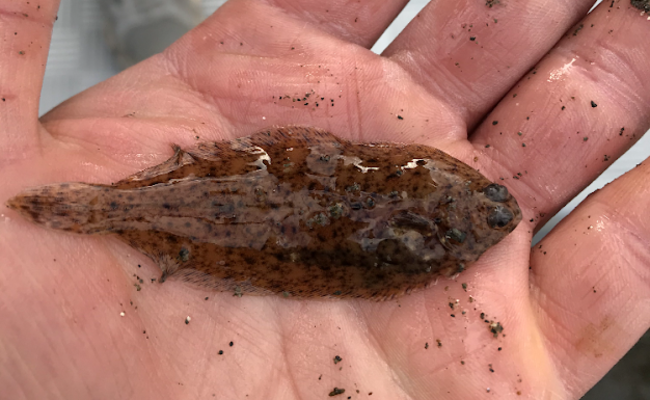 Electrical
May 16th Update The electrical work is almost complete! After we gutted the Prestridge cabin, moved the walls and reframed the new rooms, it was time to run the new wires. While we had the electricians on site, we added some lighting to the exterior of the boat house. Believe it or not, it does get dark during preseason and at the end of the fishing season. We think these lights illuminate the courtyard nicely.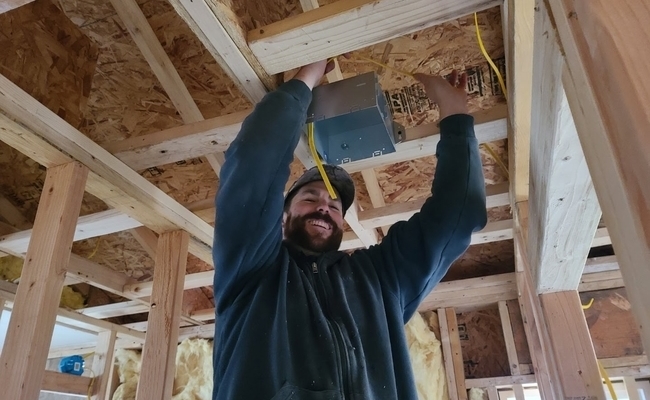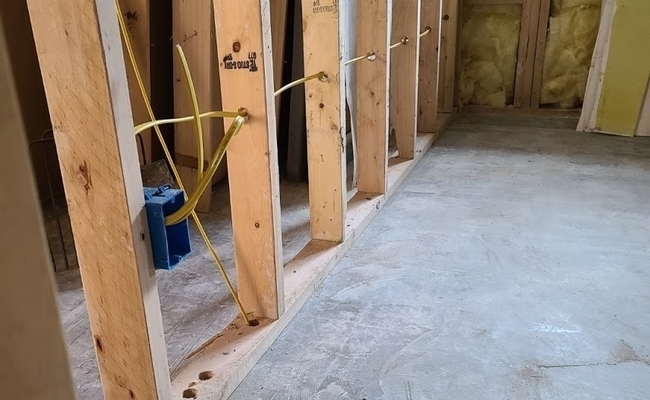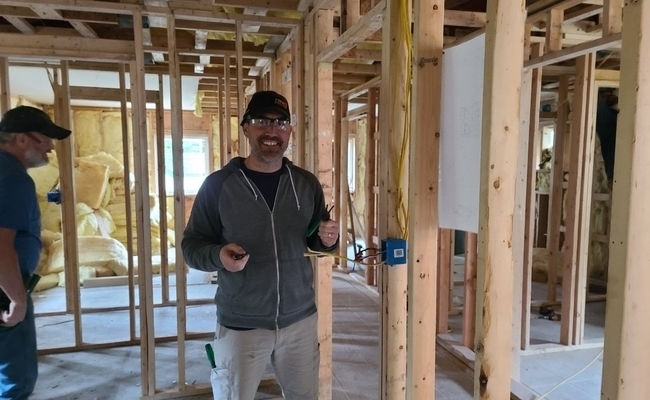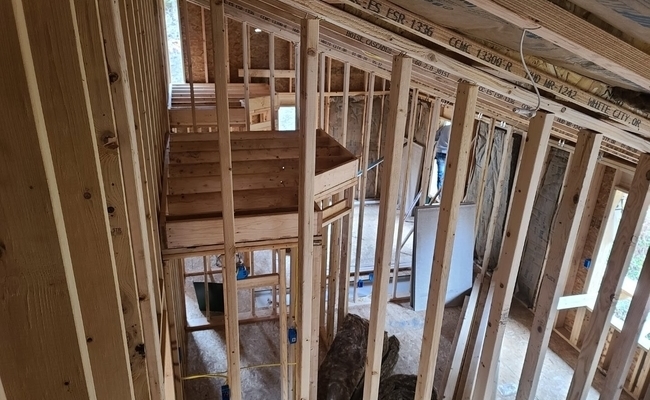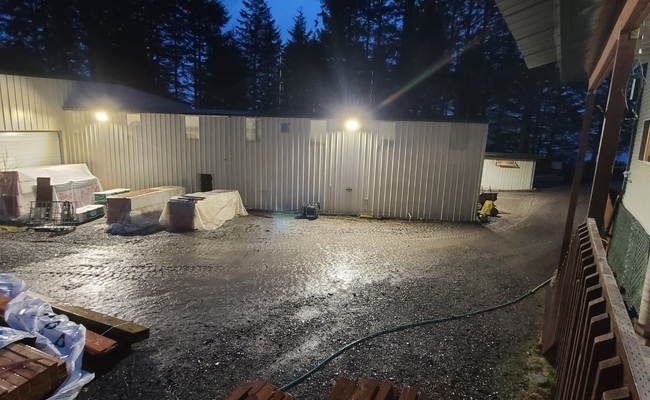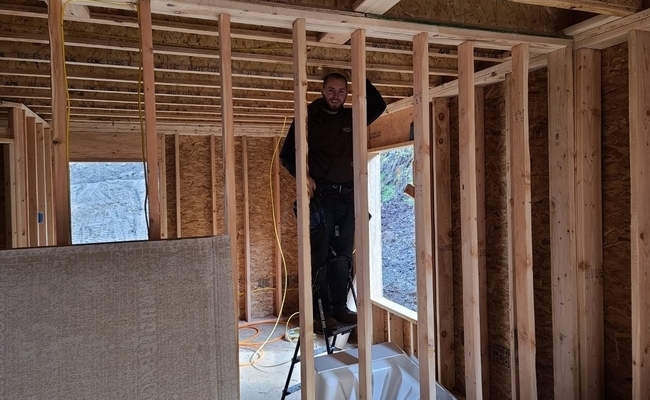 Plumbing
May 13th Update Plumbing is also nearly complete. All of these new bathrooms require lots and lots of piping and fittings to connect to the main system. While we were at it, we have added a fire suppression system capability to this building. We have added a boiler system for hot water in the showers. Not only that, this building will be heated by the boiler! Yay for improvements!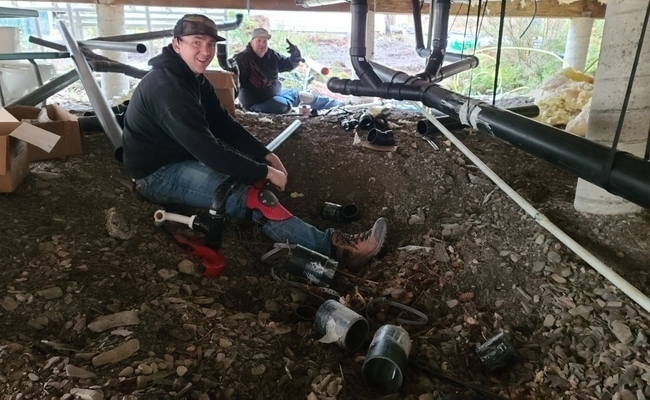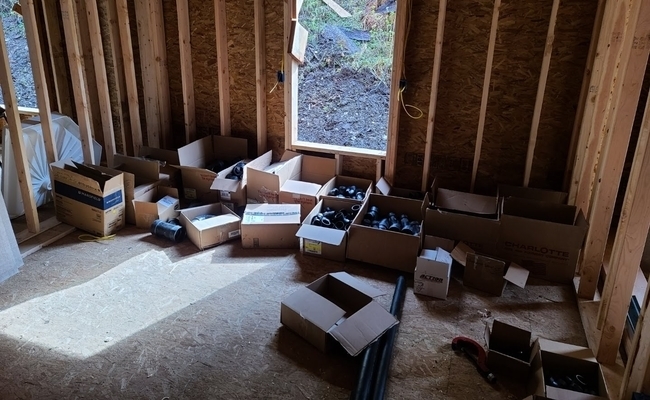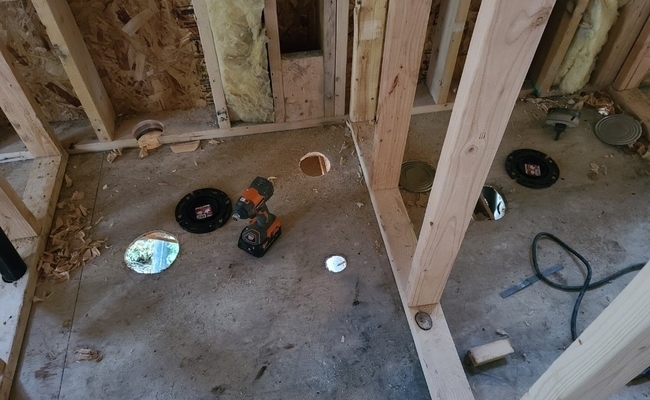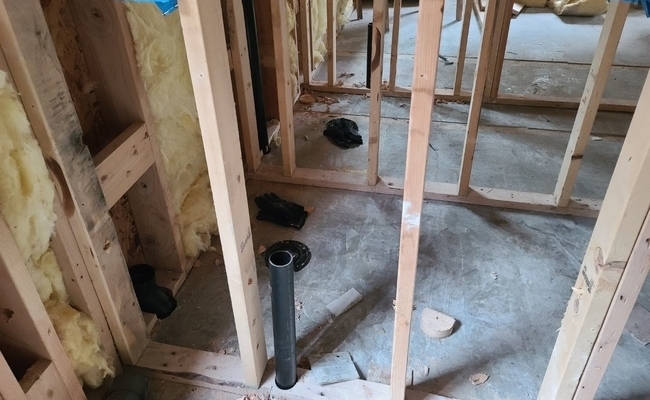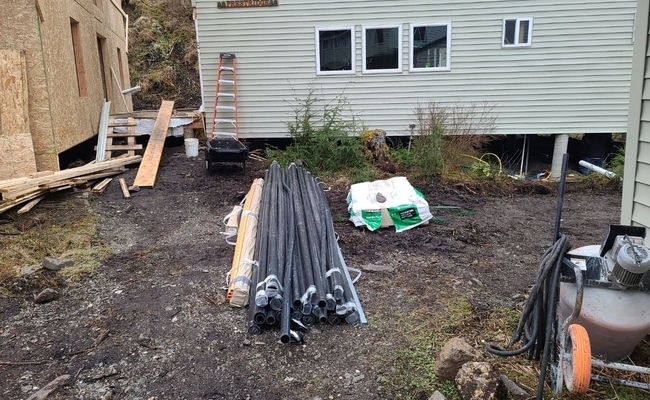 Road Work
May 8th Update We have enjoyed having some workers who are adept with our excavator. We have regraded the "road" that leads from the dock up into our campus. Correct slope and better draining will make things less sloppy on those "occasional" rainy days.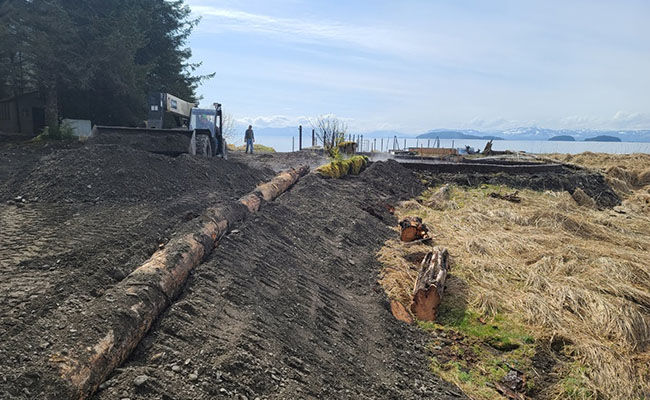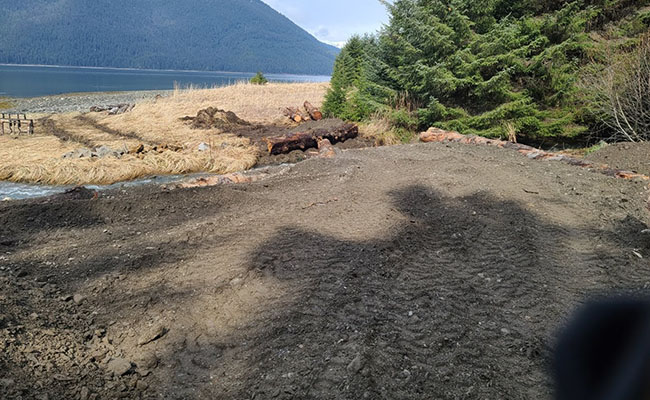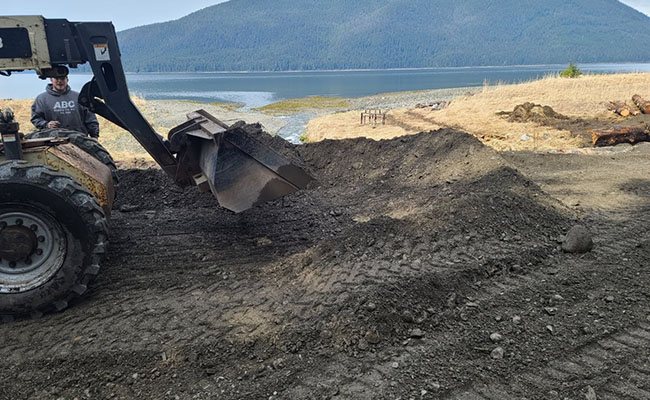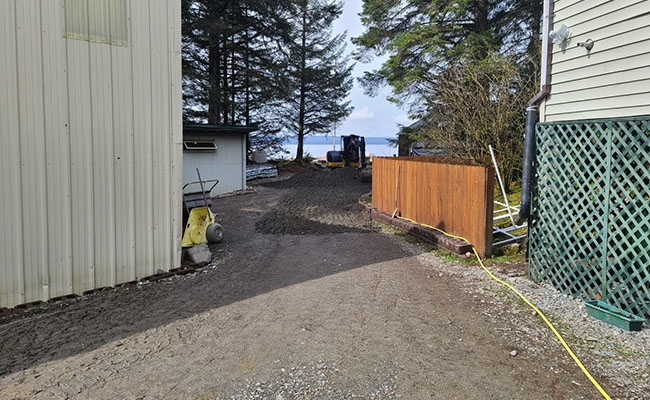 Duncan Creek
May 5th Update Spring has come to the lodge! Temperatures continue to be about 10 degrees Fahrenheit below normal, but we are now seeing temperatures in the 50's on a regular basis. Along with warmer air, the snow has turned to rain and has it rained! You can see from these photos that Duncan Creek is full with a fast current. You'll notice those metal crates with rock in them (gabion cages). These help with our water intake because the system likes a deep pool to draw from. It also serves to protect against erosion at the stream bank where the water intake is located. Ask Mark for a tour on your next visit!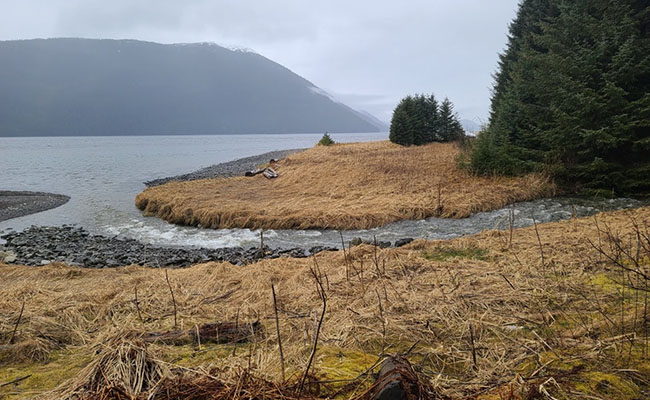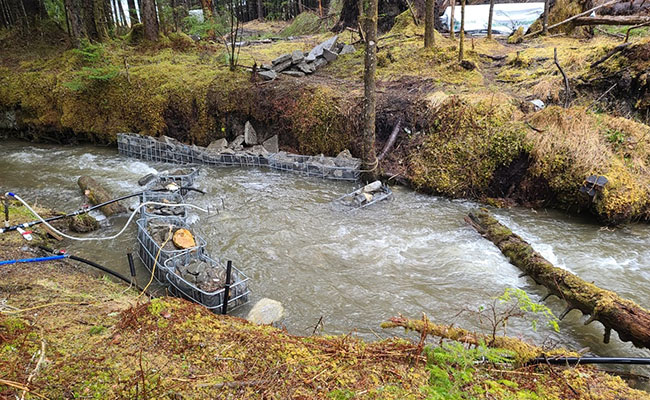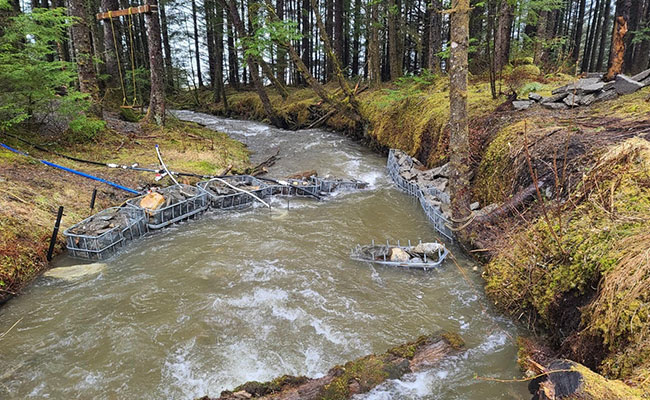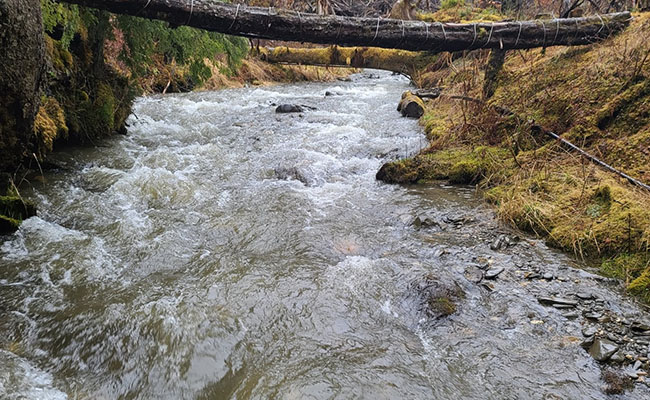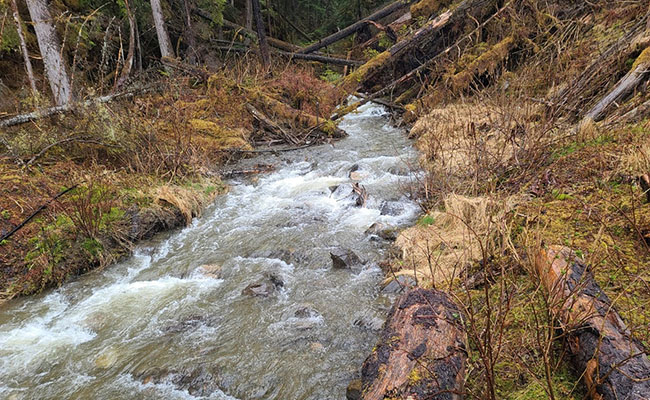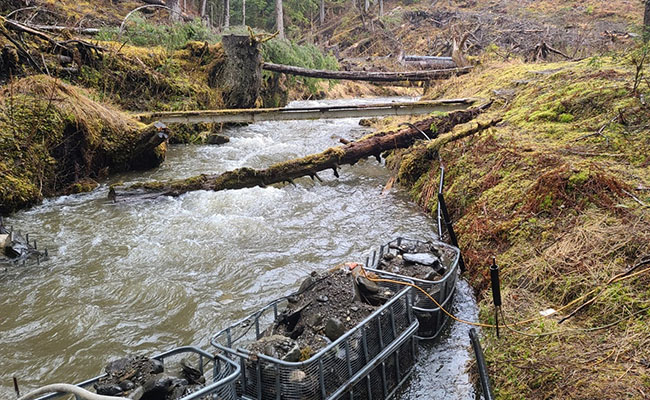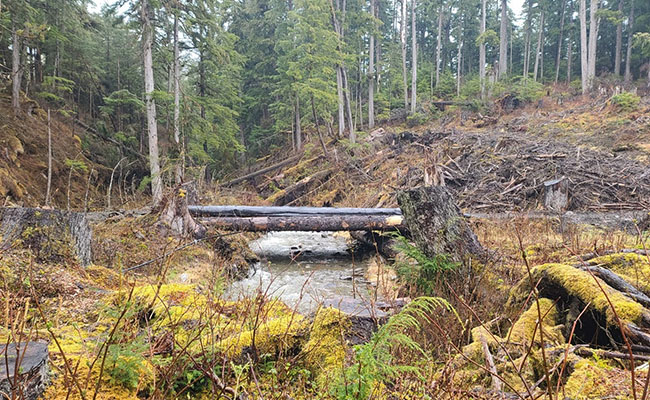 Prestridge Clean Out
May 1st Update We have begun the process of cleaning Prestridge out. First up? Removing all of the reusable items which includes some of the tile, insulation, doors, windows, fixtures, furniture, and bedding. We have to move the items into another building for storage away from the weather. Next, we have begun removing sheetrock. Soon we will be moving interior walls to create larger rooms which each have their own bathrooms. We are excited to have our entire campus become deluxe!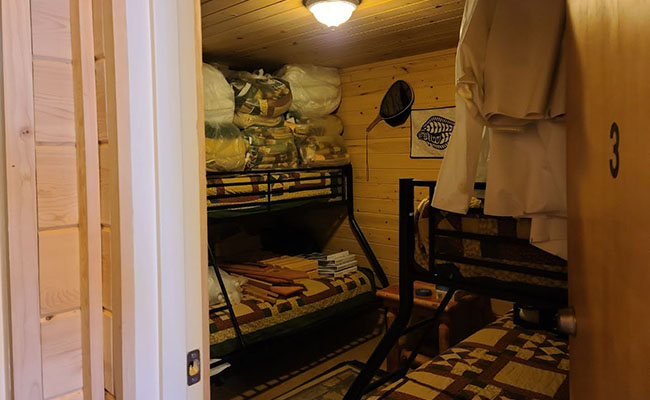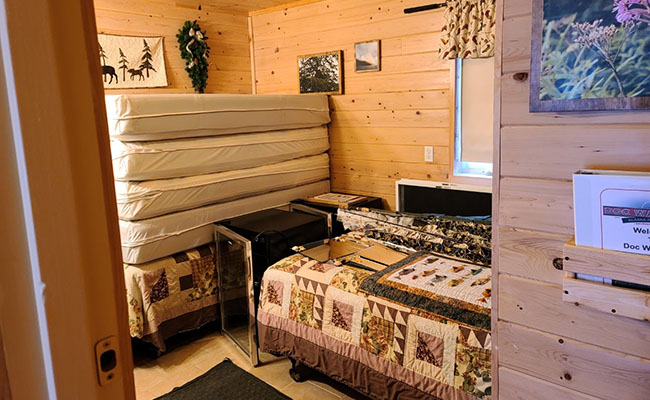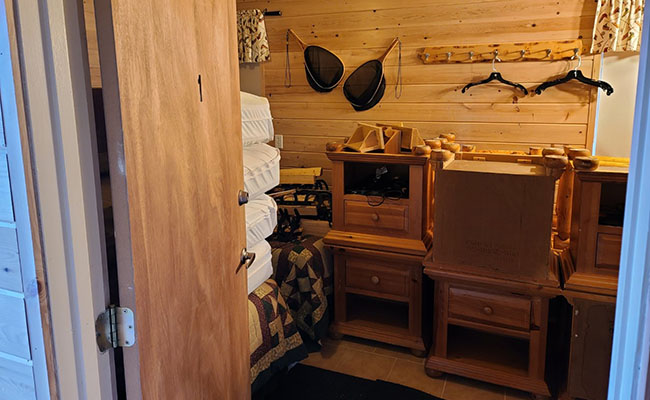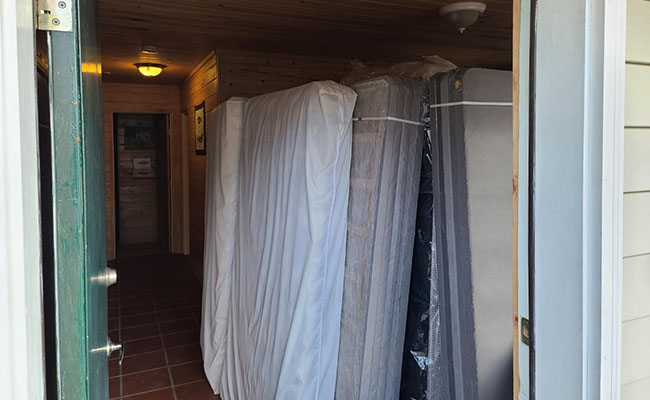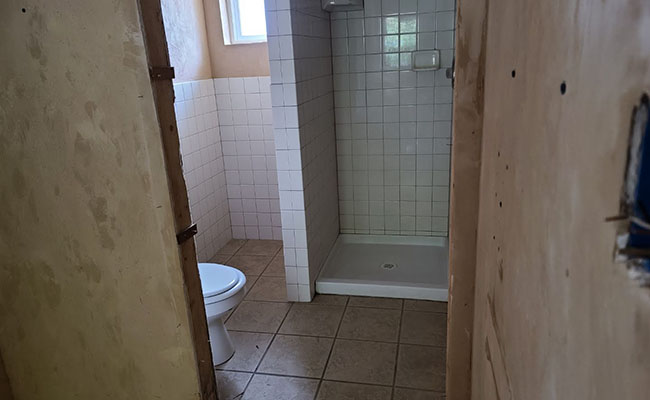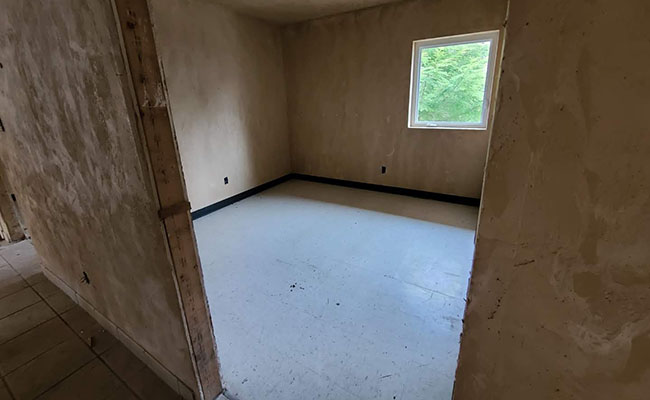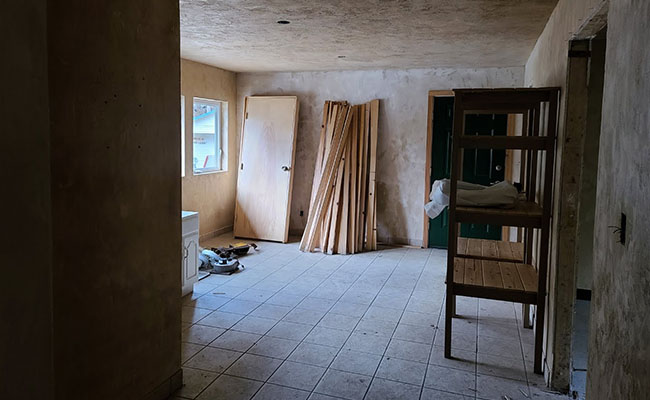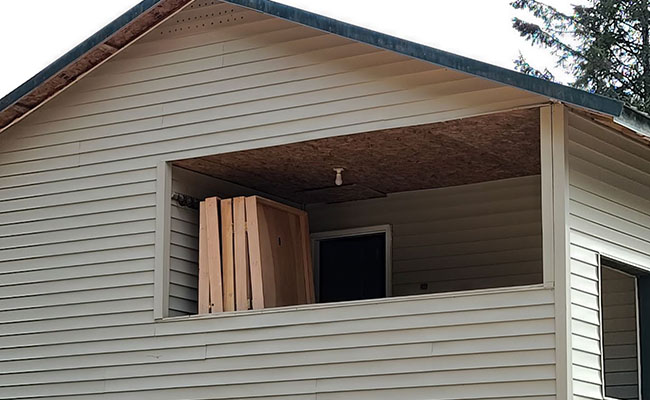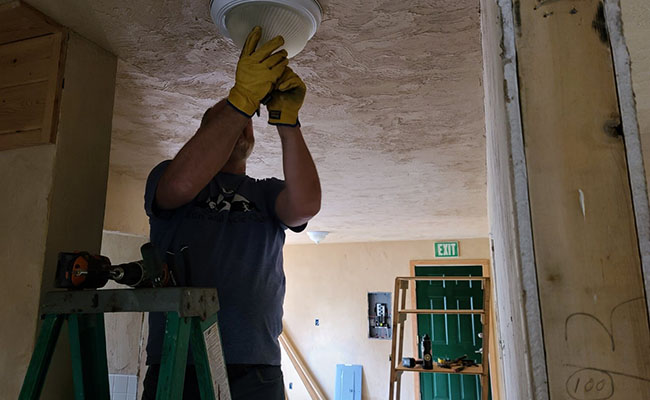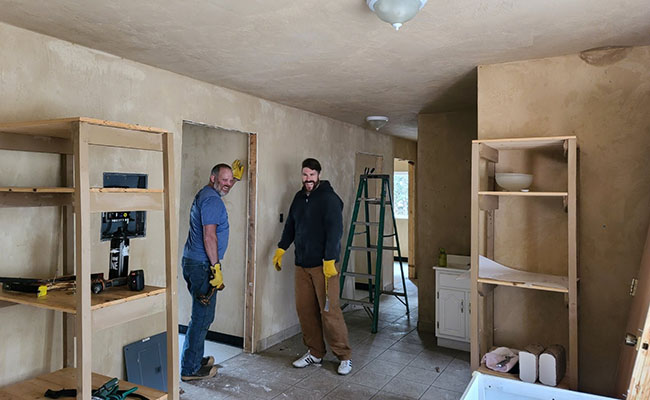 Weather is a Challenge
April 28th Update Sometimes we are asked why we are open for such a short season. Well, the weather can be a little unpredictable in the spring and fall. We had a pretty good little storm come through which created what we fondly call a "water rodeo" with our normally stable dock. Some of our less experienced staff had a pretty good time trying to walk on the dock as it reacted to the wave action. We enjoyed their attempts!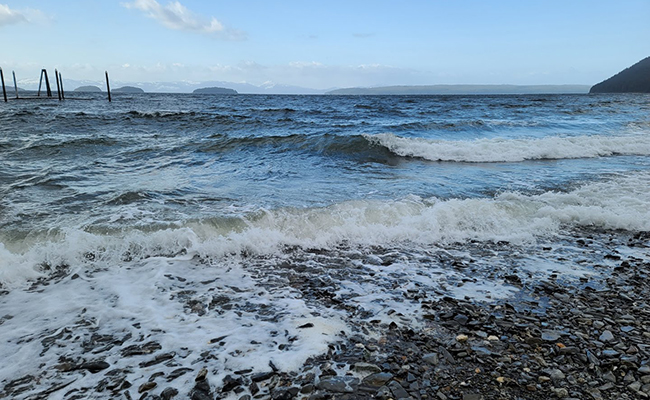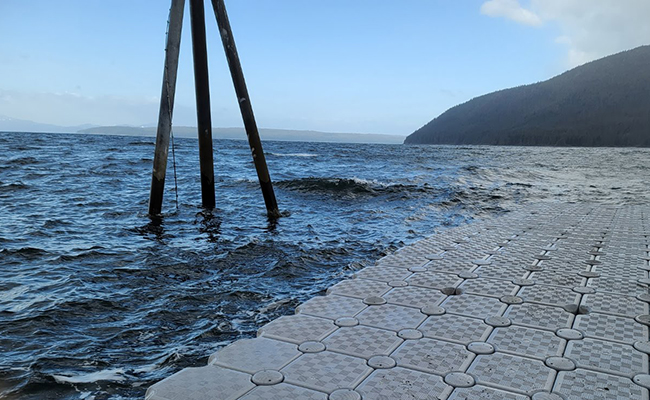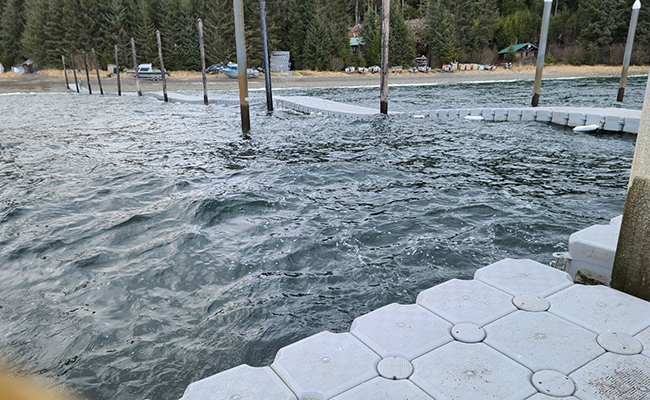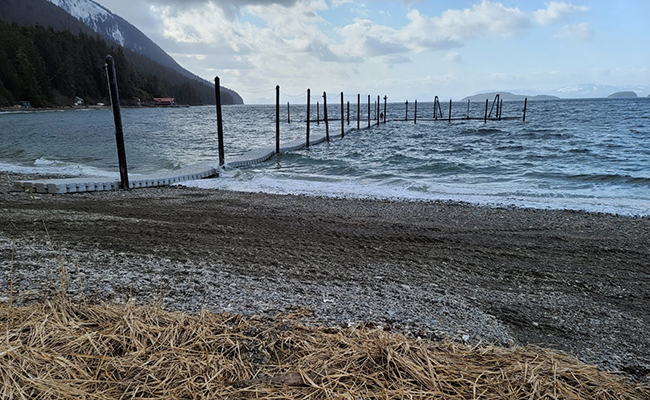 Kitchen Remodel
April 22nd Update Because one remodeling project isn't enough, we have also been remodeling behind the scenes in the kitchen. Much of this work began last fall. We've been putting the finishing touches on over that last couple of weeks and thought we'd give you a sneak peek. Improvements include all new tile that's less slippery when wet, new doors into the dish washing area, lighting and well, we will just let you be surprised when you see what we've been up to!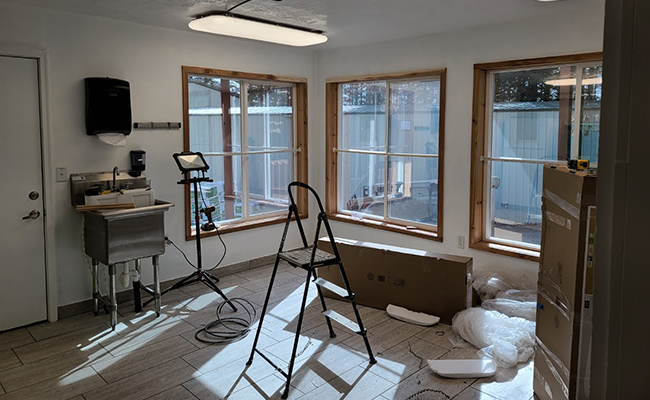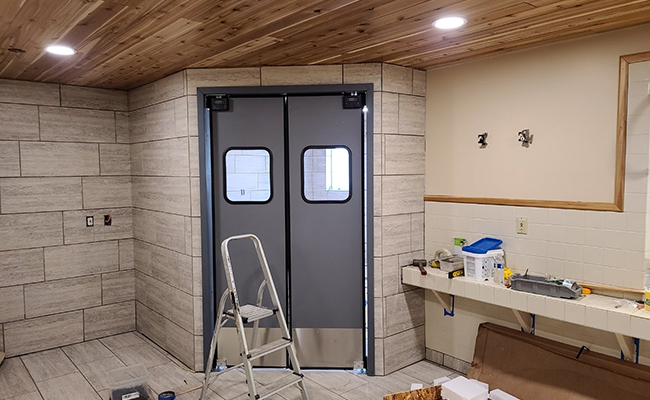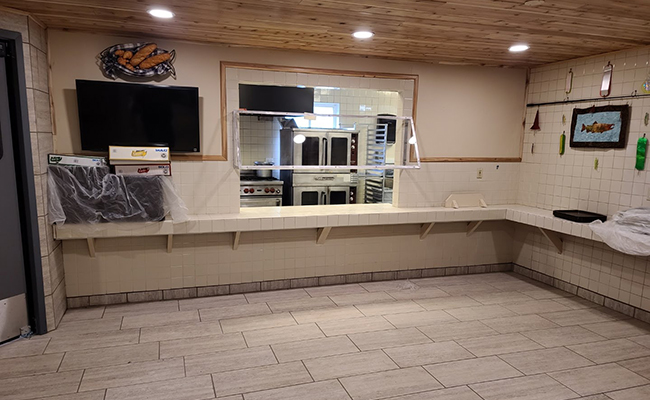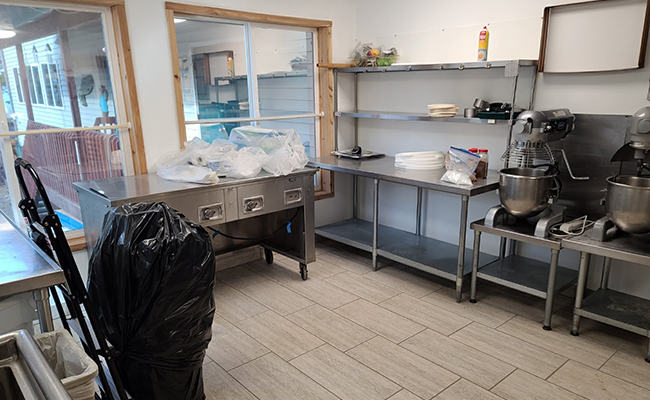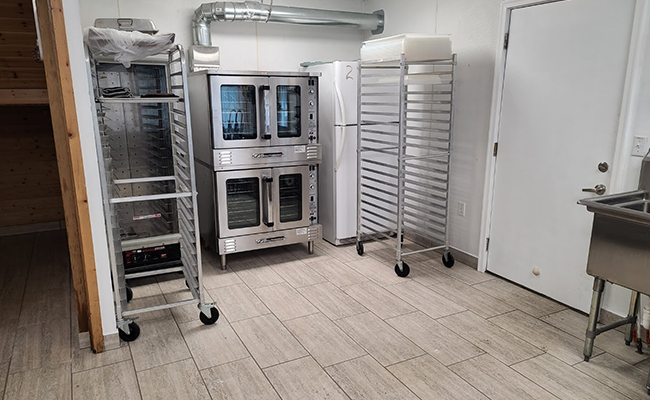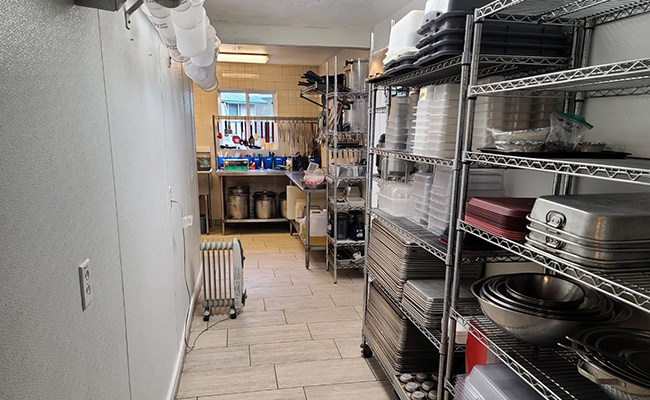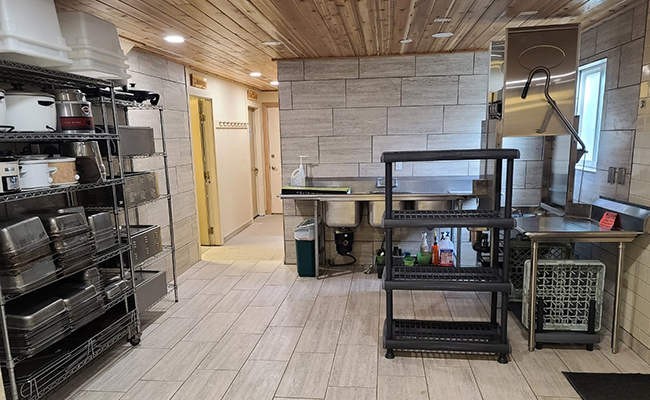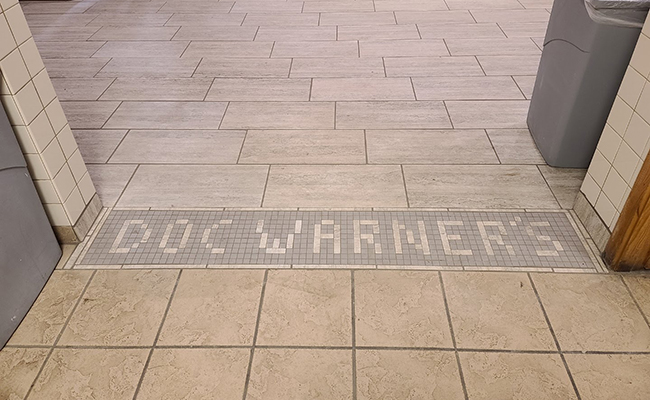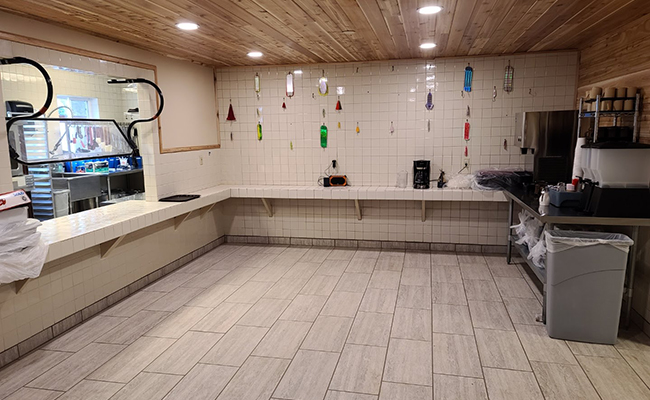 Dock
April 17th Update At the close of each season, we pull the dock out in large segments for winter storage. One of our first orders of business in the spring is to start putting pieces in. This allows us the ability to launch boats should we need to make a quick run to the cannery airstrip to pick up staff. You may remember that we reconfigured part of the dock last year to utilize the black cubes in an artful way. This made putting the dock back in this spring a little more challenging. But, if you know Doc, you know that he loves a good puzzle! We were eventually triumphant in getting it all put together correctly. Now if only the fish would come in!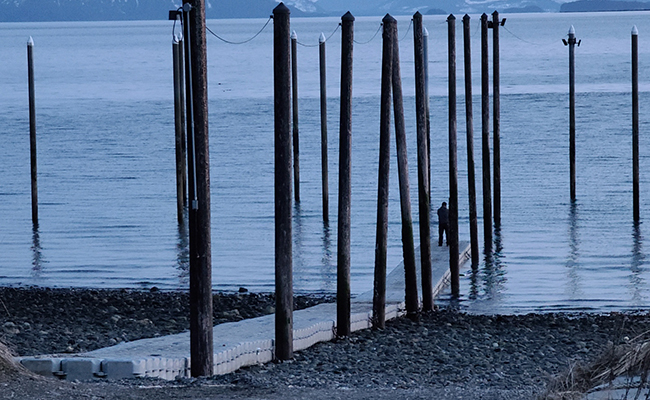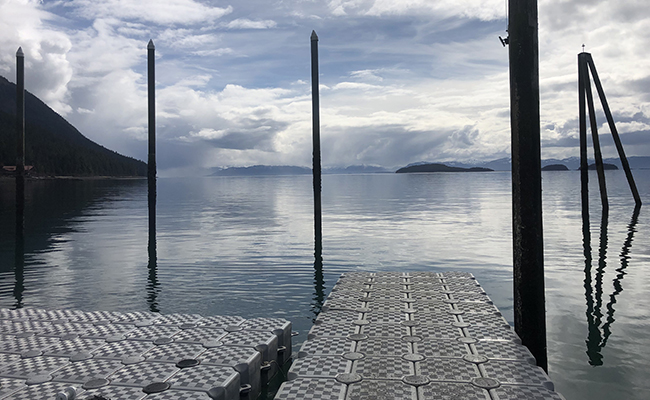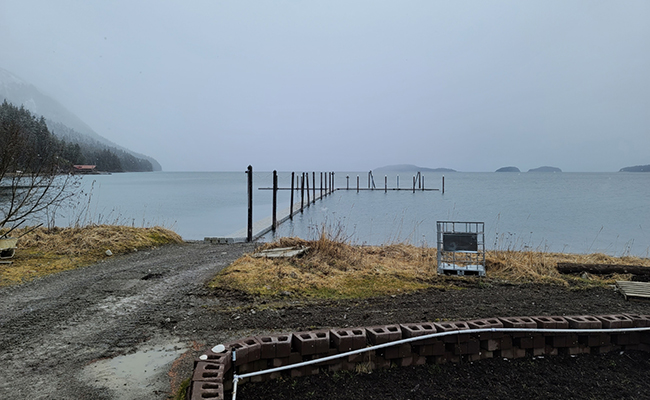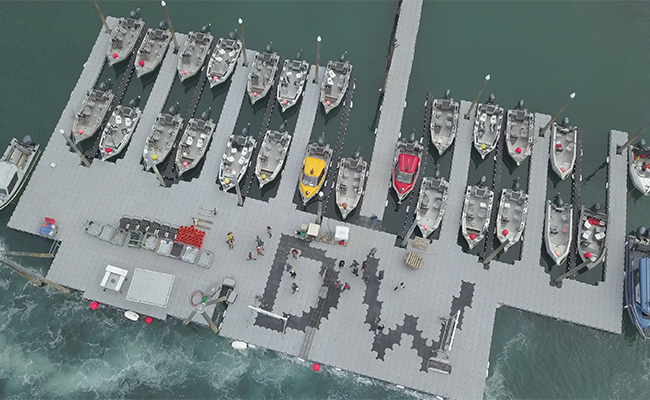 Garden Upgrade
April 14th Update Moving the topsoil to the garden area will allow us to enlarge our garden. We plan to add rhubarb and some berries with this new, larger space. The soil that we have moved over is acidic from the evergreen trees, so we treat it with Lime to make the pH better for our produce. Lots of yummy lettuce will soon be on its way!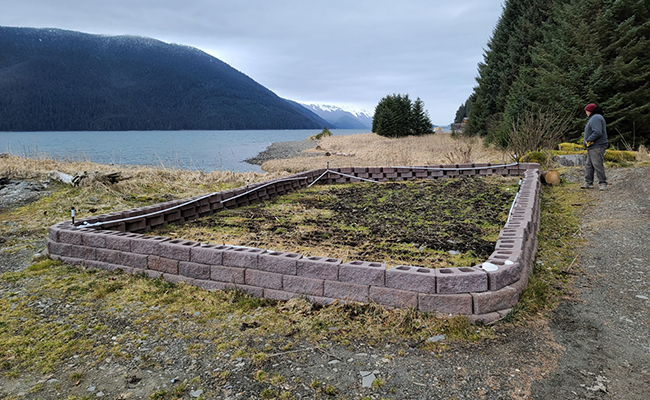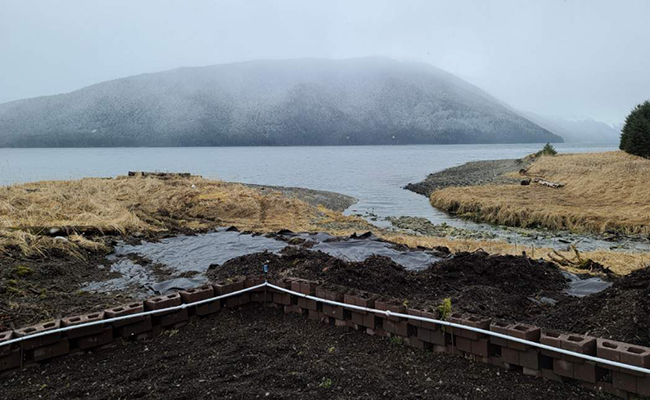 Freight
April 10th Update On Wednesday (3/25), the MV Lite Weight arrived with our first round of building supplies. This Korean War era landing craft is the main source of freight delivery during the offseason when the barge doesn't come to our area. We will receive several more deliveries from them before we have all of the construction supplies on site. As you look at it with the telehandler on and then in front, you get an idea of the size of this vessel. For those of you who are really curious, the specs for the Lite Weight are: Cargo Deck Dimensions: 17′ x 45′ Cargo Capacity: 130,000 pounds Propulsion: Four Detroit 6-71 Diesel's Average Cruising Speed: 10 knots Draft: 4′ light / 6′ fully loaded Generators: 35 kw, 25 kw, and 3.5 kw onboard Accommodations: 2 Staterooms for 6 plus crew, Full Galley, Washer/Dryer, and Shower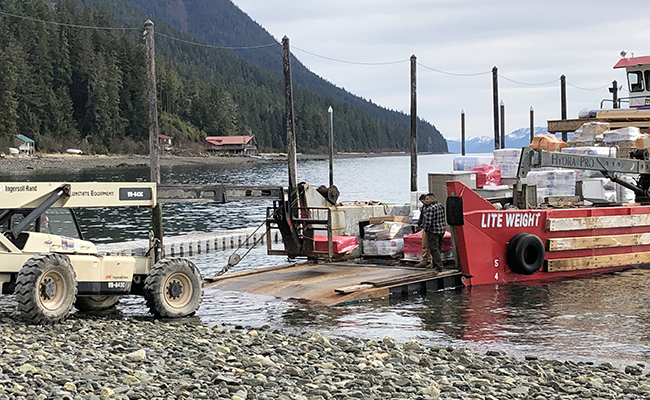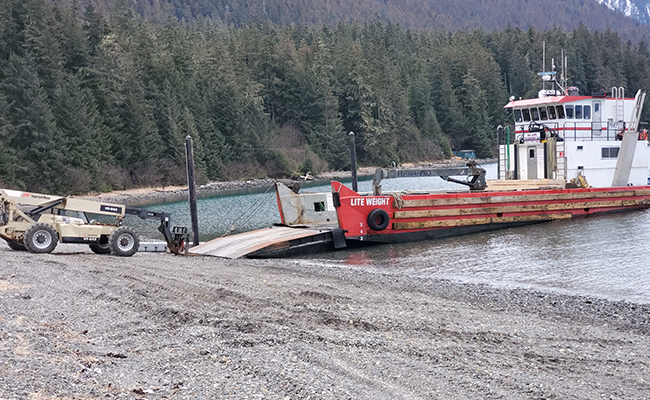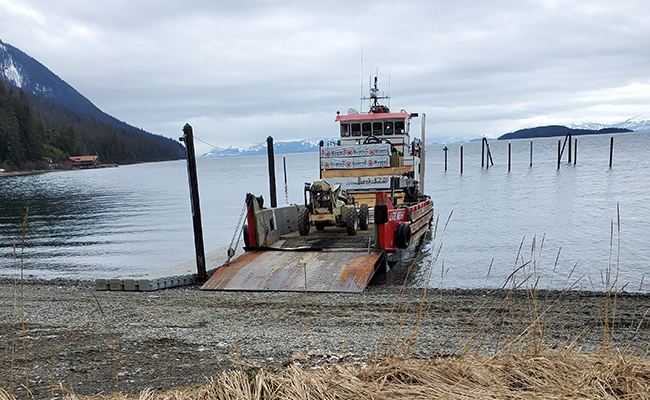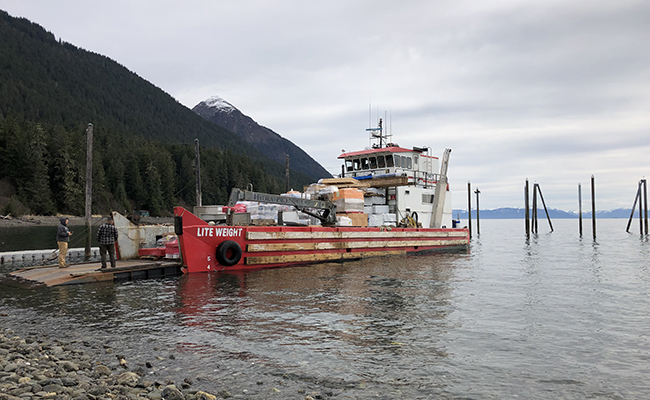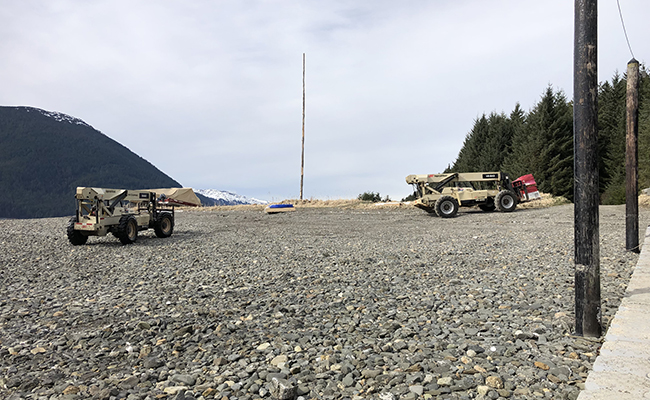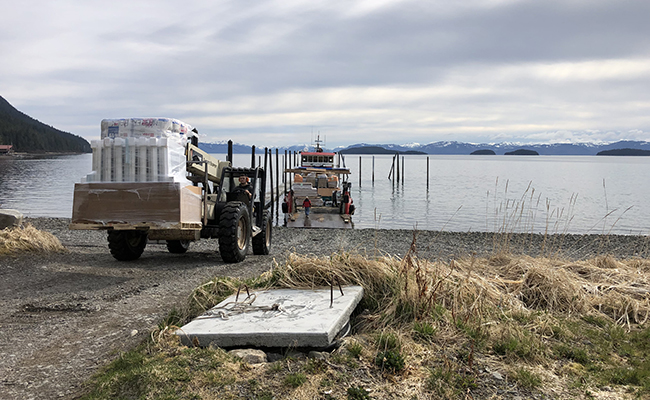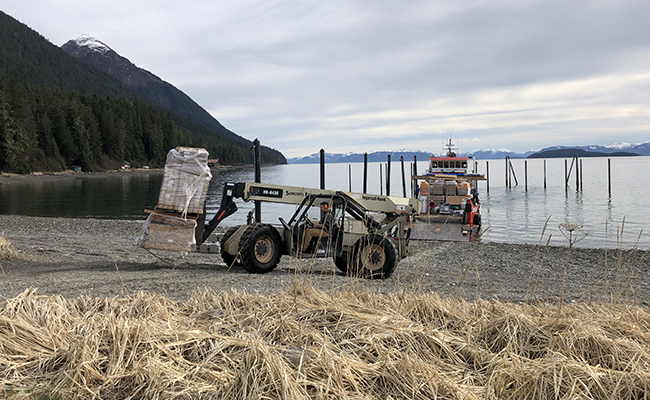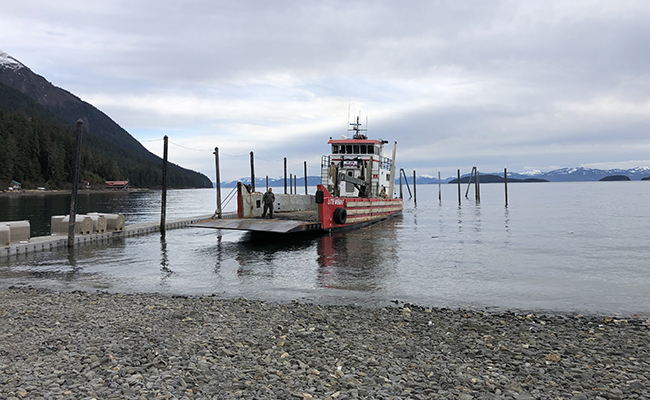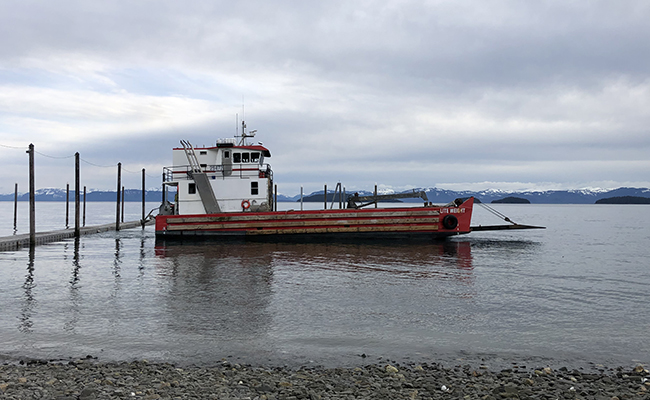 Clearing Land/Topsoil
April 7th Update As you may be aware, we have a huge remodel/construction project scheduled. This project will complete the upgrade of our facilities so that each guest room will have a private bathroom. We have been planning this project for years and, prior to Covid-19, this seemed like the year to get it done. We were too far along the purchase/shipping process to pause when the virus outbreak began, so we've decided to press forward. We are confident that this virus will be the stuff of memories long before it's time to come fishing! Our main building crews will begin to arrive in early April and then progress will really be evident. To be ready for them, we spent some time grading the land, removing 3 huge stumps and moving the topsoil to our garden space (more on that to come).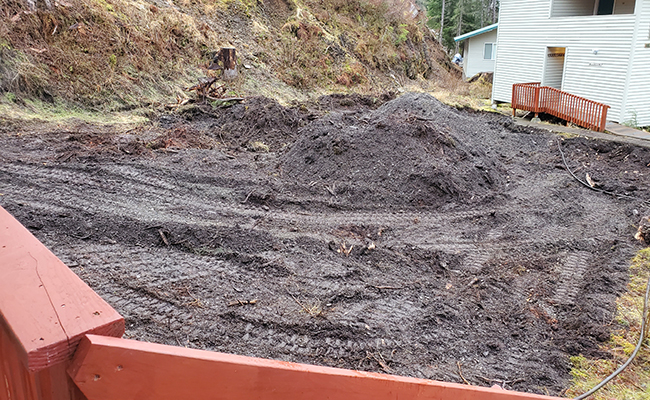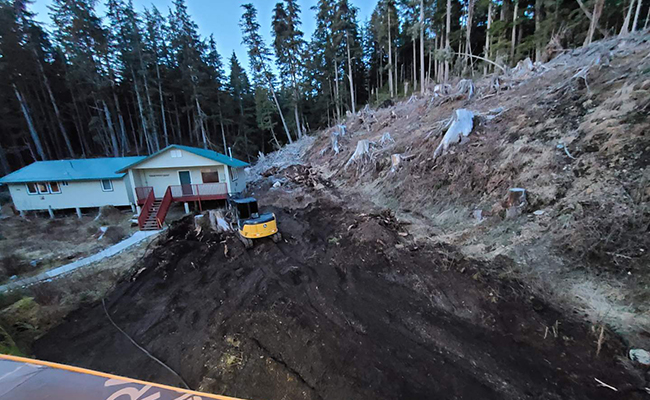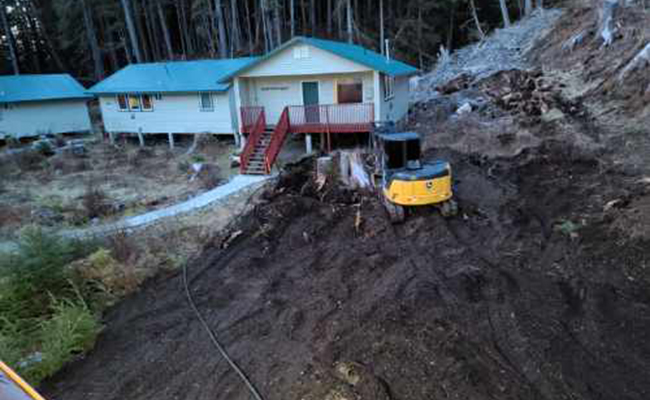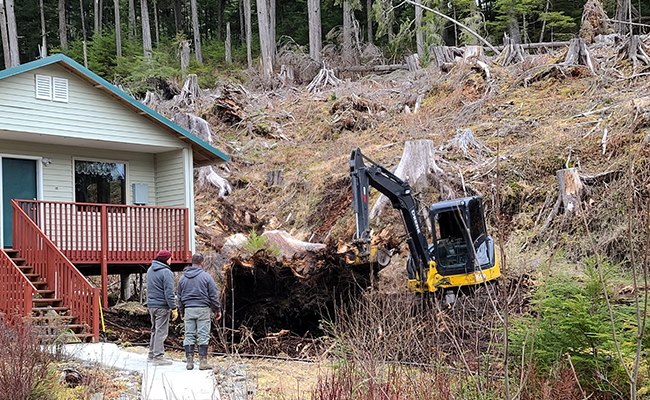 Weather
April 3rd Update The weather is great–if you like cold weather. The past few days the temperatures have been mostly in the 30's. However, we could use a little global warming for the next week or so. On March 28th the temperature will drop below freezing and stay there until April 1st. Several nights the forecast is for temperatures in the mid teens. Showers in the bathhouse are limited to tortuous baring your skin to the cold air, stepping onto the cold tile floors, and trying to dry with a towel which has been soaked by the steam from the shower. Otherwise, the shower's great. Did we mention it's cold here? The next few days are forecast to be in the 20's – for the high – with gale force winds. We will take the water collection system back offline so that we don't have to worry about frozen pipes. It'll be a few more weeks before it can stay up and running.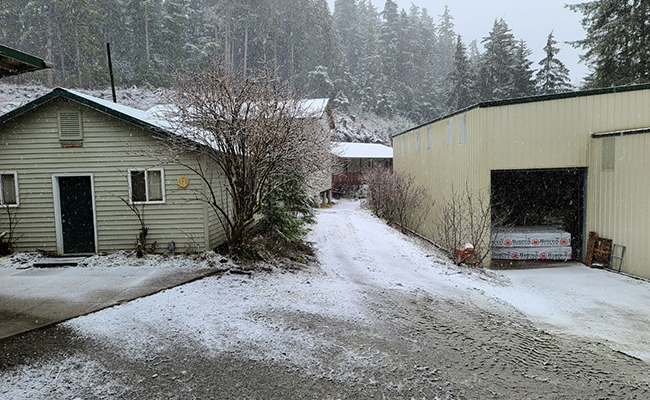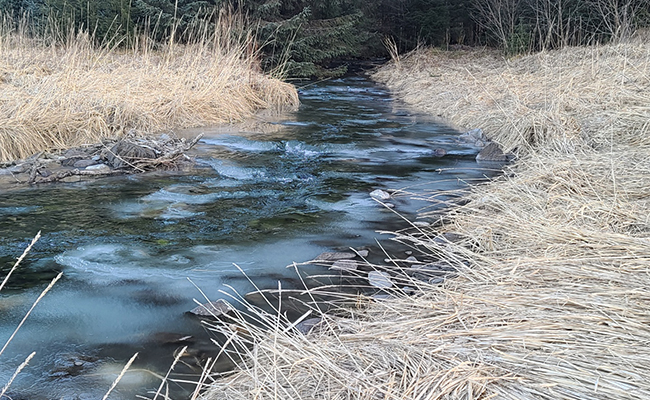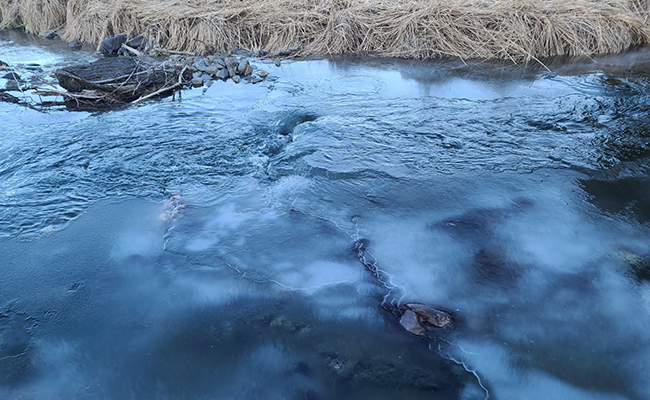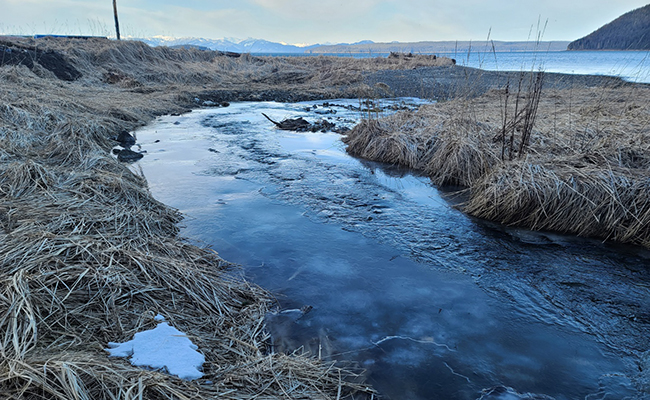 Arrival
March 31st Update Our advanced crew of 4 men arrived on Monday afternoon (3/23) to open the lodge and prep for future crews. When we arrive each spring, the first order of business is to start the generators. Next, we work on getting the water system up and running. As you can see, without the dock in, Mark gets to wear waders and piggyback everyone and all the groceries to the shore. Yes, that is a paddle that the float plane pilot is using to combat current/wind as he keeps his plane in position to offload. We also got all of the heavy equipment started so that we could empty the boathouse for the freight that is soon to arrive.