RECIPE INGREDIENTS
1 lb bacon cooked and crumbled
2 tablespoons bacon grease
1 med onion chopped
2-3 celery stalks chopped
6-8 med potatoes cubed
2 tablespoons parsley
2 teaspoons dried basil crushed
1 bay leaf
1-2 lbs salmon and/or halibut cut in 1 inch cubes
10-12 cups milk or half and half
1 teaspoon lemon and pepper seasoning (to taste)
Salt and pepper to taste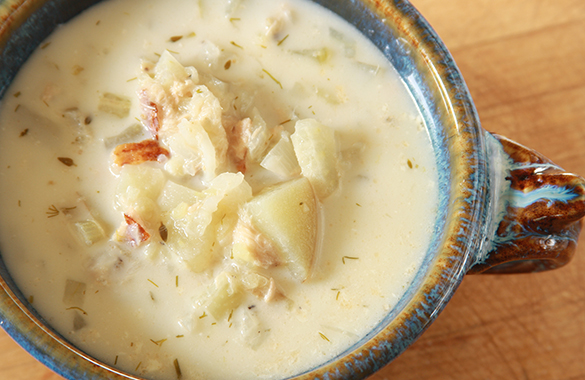 INSTRUCTIONS
Cook bacon, crumble, and set aside. Save the bacon grease. On low heat in heavy 8-quart pan, saute onions in bacon grease until soft but not brown (about 5 minutes). Add bacon, celery, potatoes, parsley, basil, and lemon & pepper seasoning. Cover ingredients with water and bring to a boil. Cook until potatoes are slightly cooked, add milk. Bring to a simmer; do not boil. Add fish. Continue to simmer until the fish is cooked. The fish will change color when it is cooked. Salt and Pepper to taste. Makes 10 servings
VARIATIONS
Add one can of Cream of Mushroom soup.
Use powdered milk in place of the milk.
If using milk add ¾ cup butter to make it creamier.
To thicken broth: Mix 2 tablespoons flour, 2 tablespoons corn starch and 1 cup water, making a paste. Drizzle into chowder while stirring gently.