At Doc Warner's Lodge, we want your trip to be a successful one. By using underwater cameras, we have learned how halibut feed and how to prepare the best bait for halibut fishing. We want this to be the type of haul we send home with you.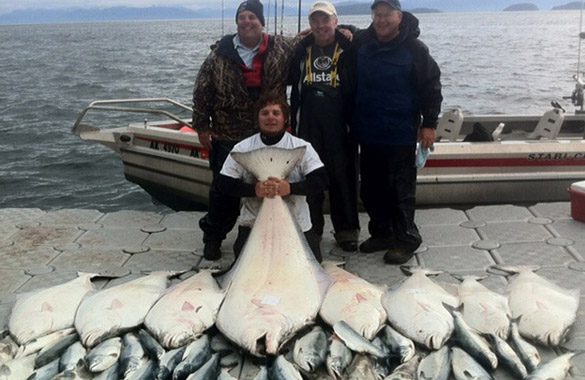 Selecting and Hooking the Bait
First, halibut like to take the bait by the head first. Poke the hook through the body of the herring and then out of the head.
Second, use fresh bait. Fresh bait is more attractive and will stay on the hook longer. Frozen bait can deteriorate quickly and fall off the hook.
Halibut also like salmon bellies or heads or cod. Tip the hook with a small piece of herring. See securing the bait below.
Never use spoiled bait as halibut will not eat rotten bait.
Securing the Bait
One difficulty in halibut fishing is knowing if your bait is still on your hook after a few strikes. We have found two ways to avoid such a conundrum:
–       First: Miracle Thread is a clear thread used to secure the bait straight onto the hook so it won't slip off after being struck by the halibut. We stock Miracle Thread in the store!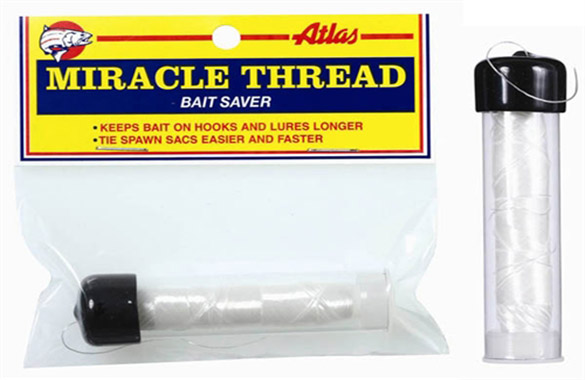 –       Second: Start by placing a larger piece of bait on the hook and tip the hook with herring. Use the head or belly of a cod or salmon or a cod fillet. Do not use a salmon fillet as it is a game fish. The larger bait provides a scent track to attract the halibut. and if the herring happens to come off after a few strikes, the larger piece of bait will still be there.
Types of Bait
Both live bait and artificial baits will attract halibut. Live bait includes any part of a cod or salmon heads and bellies. And, of course, herring. We typically use herring or herring with something else.
Artificial bait/lures include jig heads with grubs, bomber squid setups, or regular jigs. We stock a variety of these in the store.
We also stock scents to enhance whichever type of bait you are using.
Another way to improve the scent track is to use a chum bag. We use a mesh bag and add salmon heads, pieces of herring, some cod, etc.  Tie to the anchor and let the anchor down. The chum bag creates a great scent track to attract the halibut. Chum bags are available in our store and fish parts are available from the dock staff on the dock.
Word of the Wise
Use fresh bait! Some think the stinkier the bait, the better. Our experience has been the opposite: fish prefer fresh bait.