Many of our first time guests have two pressing questions before they arrive. 1) How much fish can they expect to take home? and 2) How do they transport that fish home?
The first answer is up to you. If you catch your daily limits, you will be taking home plenty of fish.
Fish Boxes Are Checked Luggage
We have a list of items to bring on our website. Try to keep it to a minimum. If you can get everything into a carry-on, that is best. To help reduce the number of needed clothing items, we have a coin-operated laundry facility at the lodge.
Your trip includes two fish boxes. These are checked as luggage and are subject to airline fees. Additional boxes are available for purchase.
The Fish Boxes
The Doc staff will fill your fish boxes with frozen, vacuum-sealed fish fillets the morning of your departure. The boxes can weigh up to 50 pounds.
Our boxes are airline approved for shipping perishable items. They are a foam box with a cardboard wrapper and will keep your fish frozen for up to 24 hours.
Make sure your fishing boxes are labeled properly. We will give you some labels to put on your boxes. Include your name and phone number on your labels. That way the airline can give you a call if your boxes get lost.
When you get into Juneau on Saturday, check your boxes as soon as you get to the airport if you are flying that day.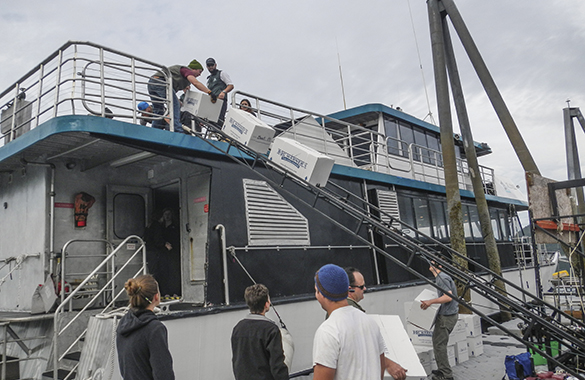 Freezers at the Airport or Hotel
Most hotels in Juneau have freezers for fish storage. Contact your hotel to arrange this service. There is also a commuter airline at the airport that will freeze your fish.
If during your journey home you have a long layover, check with the airline to see if they will put your fish in a freezer for you.
All of these options will charge you for the freezer space. In the past the price has ranged from $10-$15 per box per night. If you use the commuter airline's freezer, be sure to check with them about their opening and closing times. Make sure you have at least two hours from the time they open until your flight.
If you are planning to do any side trips while in Alaska, we highly recommend you plan those for the front end of your trip and not the back end simply because you won't want to worry about storing your fish.
Other Shipping Options
There is not a good connection with UPS or FedEx from Juneau. Your best bet is to take it home as checked luggage.
If you have other special needs or circumstances regarding shipping your fish, just talk to us and we can go over other options.
Thawed Fish
It is possible that some of your fish may be partially thawed by the time you make it home. Don't be worried. This won't hurt the fish. It will be just like the fish had been on ice for a while.
This may happen if you have a fairly large catch on the last day of the week and the freezers don't have enough time to completely freeze your catch before your departure. Just get them into the freezer at home as soon as you are able.
The vacuum sealers at the lodge do a good job of creating tight seals. Occasionally, you will have a broken seal from transit. You will notice a broken seal because it will look like air is trapped in the bag with the fish. Our recommendation is to eat that fish first. If a seal stays tight, it is possible keep the fish for at least two years without having freezer burn.
Final Thought
Be careful with your boxes. Depending on the going rate in the supermarket for salmon and/or halibut, your boxes can be worth over $1000 in fish.