RECIPE INGREDIENTS
4 Salmon Fillets
1/4 cup olive oil
1/2 cup soy sauce
2 cloves of garlic minced
2 T brown sugar
2 t black sesame seeds
Salt and pepper to taste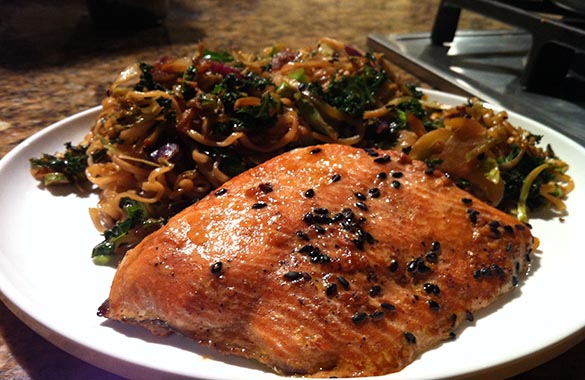 RECIPE INSTRUCTIONS
Combine olive oil, soy sauce, garlic, and brown sugar. Pour mixture into a oven-safe, glass dish. Place salmon fillets face down in the mixture to marinate. Allow marinade to work for at least 1-2 hours, covered in the refrigerator (if marinating overnight, place mixture and fish in ziplock bag).
Preheat oven to 400 degrees Fahrenheit. Turn salmon over in glass dish so skin is resting on the bottom of the dish. Cook salmon in oven for 10 minutes or until flaky. Baste with sauce from the pan half-way through. Sprinkle the baked salmon with black sesame seeds and serve with your favorite stir-fry of vegetables (broccoli, Brussels sprouts, and red cabbage with ramen noodles pictured).
Serve on warm tortillas with shredded cabbage and sour cream sauce (add cilantro, lime, garlic, and salt/pepper).
This recipe is courtesy of Jessica Garrett. Thanks, Jessica, for sharing this delicious recipe (and pictures) with our Doc Warner's guests.
Be sure to let us know in the comments below what you thought of this recipe or submit your own recipe and photos to markw@docwarners.com.